This shrimp and vegetable skillet is the perfect marriage of Cajun spice and healthy cooking. It's a quick, one-pan meal with tons of flavor. The Cajun shrimp and sausage are cooked with garlic, onion, bell peppers, yellow squash, zucchini, and herbs for a healthy dinner that won't disappoint!
It may seem like an odd pairing to some because cajun food typically contains more heat; however, this version uses just enough spice to produce a balanced meal without it overpowering your taste buds or causing you to reach for cold milk afterward. Let me show you how easy it is to create this dish in your own kitchen tonight.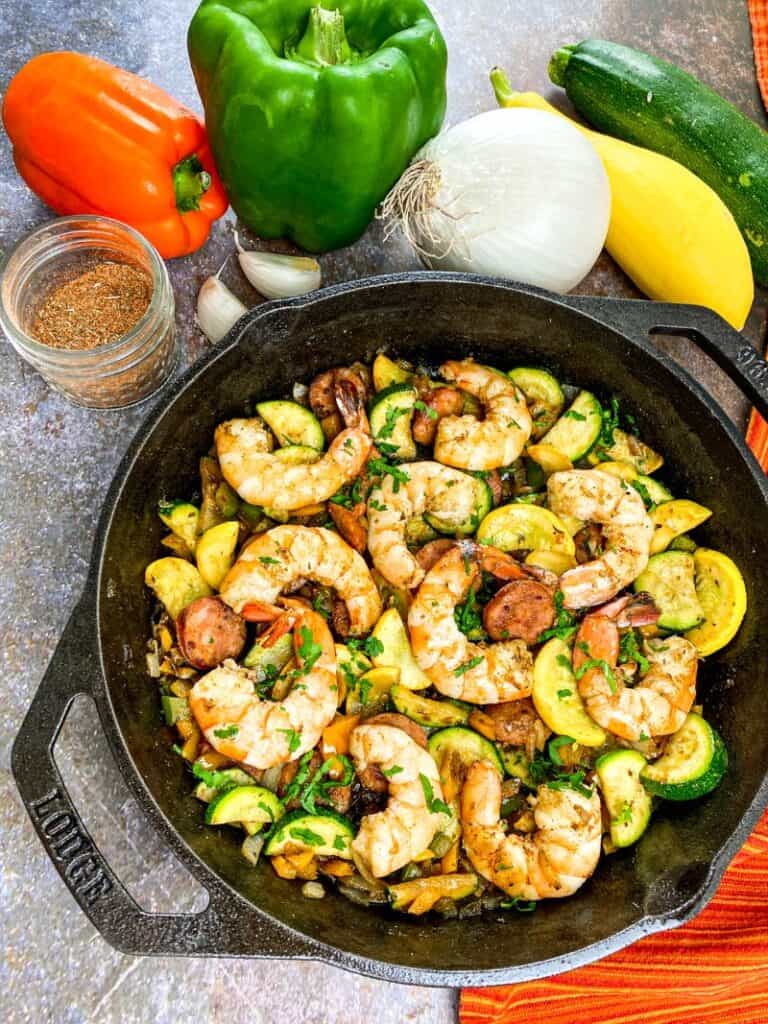 Spicy Shrimp and Veggie Skillet
When you need an easy weeknight meal that the whole family will love, this is it! It comes together fast so you can have dinner on the table in about 30 minutes. Who doesn't love that?
And, of course, it's very versatile, too. You can change out the veggies according to whatever you have on hand. Pair this shrimp and sausage with spaghetti squash or sweet potatoes or even broccoli or spinach! You can't go wrong.
If you love simple seafood meals as much as we do, you'll also want to try our Honey Garlic Shrimp and Broccoli Stir Fry, Spicy Shrimp Tacos, Shrimp-Stuffed Avocados, and Honey Orange Glazed Salmon with Asparagus.
Why you should make this dish tonight!
Quick: This meal is finished, from prep to cooking time, in about 35 minutes. That's quicker than you can order takeout and wait for it to be delivered!
Tasty: This recipe uses cajun seasoning, garlic, and onion to produce a deliciously flavored meal with just enough heat to feel satisfied.
Healthy: This meal is packed with protein and veggies: Shrimp is high in protein which will help you stay fuller longer after eating. The vegetables add fiber and nutrients without sacrificing taste.
Completely customizable: You can use almost any vegetable you want to add to this dish because it tastes good with all kinds of variations. You can also play around with the amount of Cajun seasoning used based on your own preferences regarding spice levels.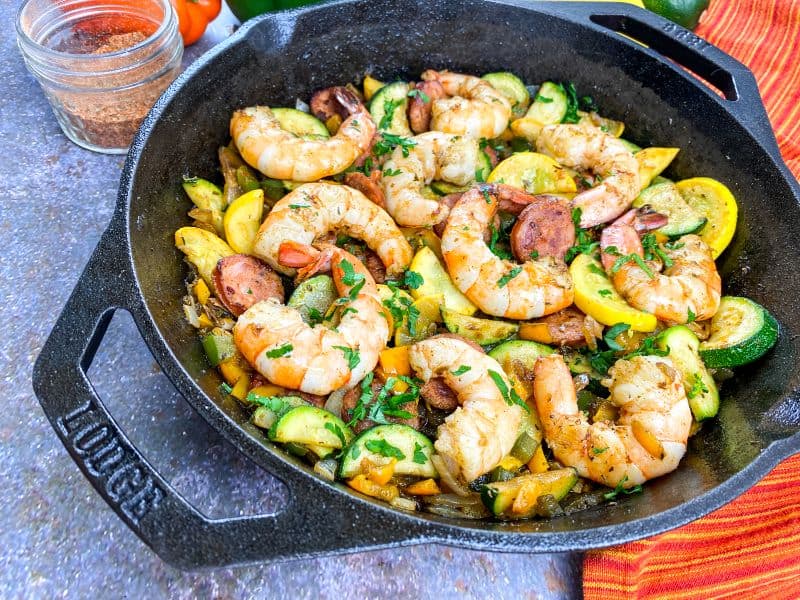 What You'll Need for this Shrimp and Sausage Skillet
Shrimp: You can use fresh or frozen shrimp, but if using frozen, make sure you thaw it first. The shrimp should be peeled and deveined.
Sausage: This recipe uses Cajun Andouille sausage links, but you can use your favorite spicy sausage links or omit this ingredient altogether if you prefer a simple seafood meal.
Veggies: We used bell peppers, yellow squash, zucchini, and onions for this version, but you can use whatever veggies you have on hand that can cook in the same amount of time.
Spices, Herbs, and Seasonings: Use a homemade Cajun seasoning or your favorite store-bought version (affiliate link).
How to Make Cajun Shrimp and Veggies
Brown the sausage, about 4-5 minutes.
Season and cook the shrimp until opaque.
Cook the veggies along with the garlic and the rest of the Cajun seasoning.
Stir the shrimp and sausage in with the veggies, and serve hot.
Yield: 4-6 servings
Cajun Shrimp and Vegetable Skillet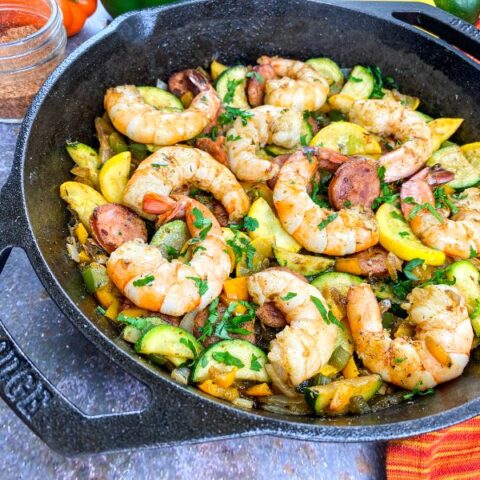 This quick and easy Cajun shrimp skillet is a great way to get dinner on the table fast without coming up short on flavor. It's ready in just 35 minutes!
Ingredients
1 lbs. jumbo shrimp, peeled and deveined
3 T. extra virgin olive oil, divided
3 3-oz. Cajun Andouille sausage links, sliced
½ medium white onion, finely diced
2-3 large cloves garlic, minced
1 medium orange or red bell pepper, finely diced
1 medium green bell pepper (or ½ large), finely diced
1-2 T. Cajun seasoning, divided*
Sea salt and black pepper, to taste
1 small yellow squash, sliced and cut into half rounds
1 small zucchini, sliced and cut into half rounds
2 T. fresh parsley, finely chopped
Instructions
Toss the shrimp with one tablespoon olive oil and one-half tablespoon Cajun seasoning* (homemade or store-bought). Set aside.
Set a large skillet over medium heat and add the Andouille sausage. Cook, stirring occasionally, until the sausage is browned, approximately 4-5 minutes. Transfer sausage to a plate and set aside.
Add one tablespoon olive oil to the skillet, along with the seasoned shrimp. Spread shrimp in a single layer; do not overcrowd them. Cook, stirring once, just until the shrimp is opaque and starts to curl, approximately 2 minutes. Do not overcook. Transfer shrimp to the plate with the sausage.
Add remaining olive oil to the skillet, along with the onion, garlic, and bell pepper. Sprinkle with additional Cajun seasoning to taste, and stir to combine. Cook, stirring frequently, until the vegetables soften, approximately 4-5 minutes.
Add the yellow squash and zucchini to the skillet and cook, stirring frequently, just until browned and crisp-tender, approximately 2-3 minutes.
Remove from heat and stir in the Andouille sausage, shrimp, and fresh parsley. Stir to combine and serve immediately.

Nutrition Information:
Yield:
4
Serving Size:
1
Amount Per Serving:
Calories:

486
Total Fat:

31g
Saturated Fat:

8g
Trans Fat:

0g
Unsaturated Fat:

19g
Cholesterol:

278mg
Sodium:

3314mg
Carbohydrates:

17g
Fiber:

3g
Sugar:

8g
Protein:

36g
These nutritional calculations might not be accurate. Please speak with a licensed nutritionist to assist you.
Variations On This Recipe
Want to change things up? It's simple to do just by swapping out the veggies. Use broccoli, mushrooms, sugar snap peas, spinach, spaghetti squash, or asparagus. You can also leave out the sausage or swap it out for a different type if you can't find Cajun andouille sausage.
Tips for This Dish
Have leftovers? Store them in an airtight container in the fridge for 3-4 days max.
It's a great dish for meal prepping during a busy week, but it's best reheated in a skillet rather than a microwave.
Shrimp tends to get a little rubbery in the microwave, but if that's your only option, it's fine.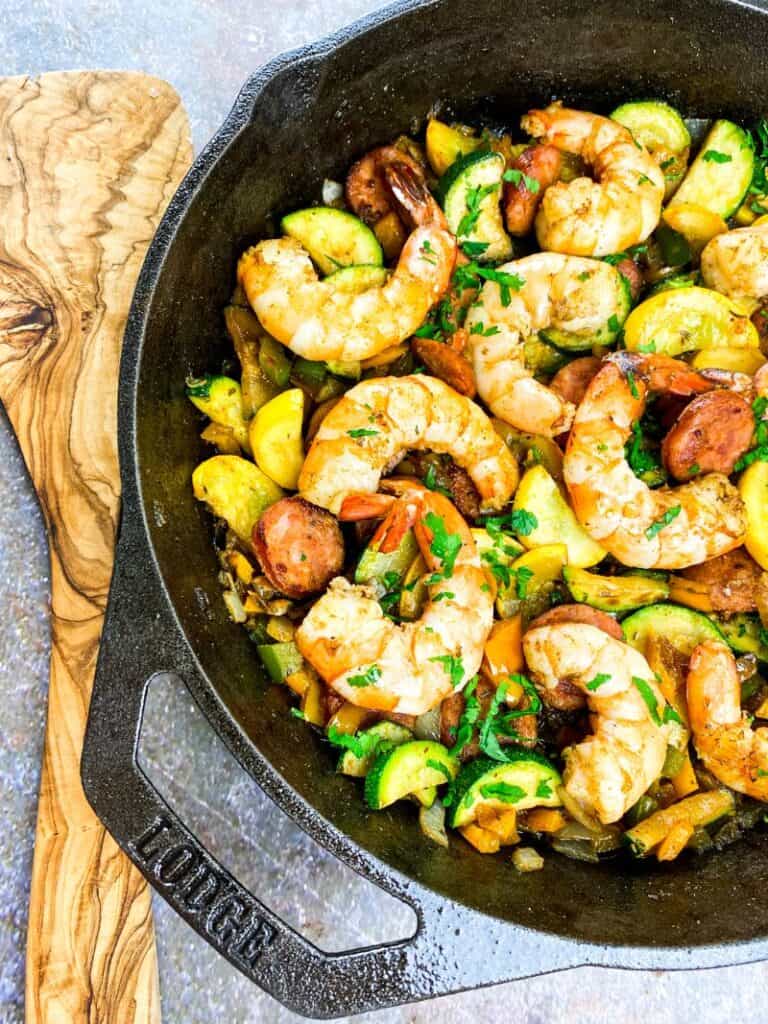 More Seafood Recipes