Making salmon patties can be intimidating if you don't have the right technique or recipe. You mix all of your ingredients together, form them into a patty, and fry it in the skillet – but then you realize that they fall apart as soon as you try to flip them over!
Trying to maintain their shape and keep those delicious bites of goodness together is easier said than done. But don't worry – we've got some easy tips and tricks for ensuring your salmon patties stay completely intact when cooked!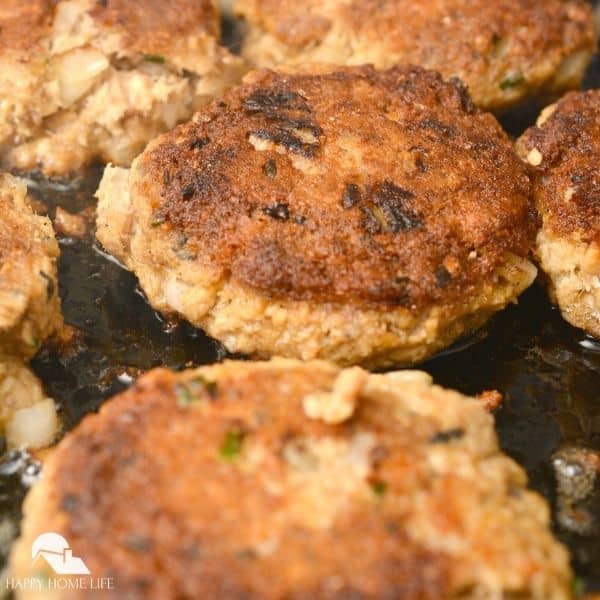 And, even better: our Keto Salmon Patties Recipe will help give those savory patties an extra boost of flavor. Let us show how easy it is without the hassle so that you can get dinner on the table with only minimal effort.
How do you keep salmon patties from falling apart?
The key to ensuring that your salmon patties stay together as you flip them over is to shape them correctly and not overmix the ingredients. Make sure you use just enough eggs, breadcrumbs, and seasonings so that the patty holds its shape without feeling too dry or crumbly. Also, don't press down on the patty after you've shaped it – this will make it too dense and won't hold together.
When cooking in a skillet, be sure to preheat your skillet with oil or butter before adding the patties. This will help create a nice golden crust that holds everything together. And when it's time to flip, don't be afraid to get your spatula underneath the patty and gently turn it over confidently.
Follow these simple tips, and you'll be sure to create perfect salmon patties every time! And don't forget to try our Keto Salmon Patties Recipe.
How many carbs are in a keto salmon patty?

Our Keto Salmon Patties Recipe makes four servings containing around 2.5 grams of carbs. This is a great meal for those following the keto diet, as it's low in carbs but still packs a ton of flavor! The ingredients are easily accessible, and you can make them in 30 minutes.
What can I substitute for egg in salmon patties?
You have plenty of options if you're looking for an egg-free way to make delicious salmon patties. Instant mashed potato flakes can be used as a substitute for one egg in a recipe. Alternatively, you can use a "flax egg" by combining one tablespoon of ground flaxseed mixed with three tablespoons of water or a quarter cup of silken tofu. Chia seeds or ground flax seeds can also be used as a substitute for the egg.
Can you eat salmon on keto?
You can definitely eat salmon on a keto diet! Salmon is a great source of lean protein and healthy fats and is also carb-free. It is an excellent choice for anyone looking for a nutrient-dense, low-carb food. Salmon is also packed with omega-3 fatty acids, which provide numerous health benefits. Additionally, it is minimally processed and free of harmful ingredients. All in all, salmon is a fantastic food to include in any keto diet!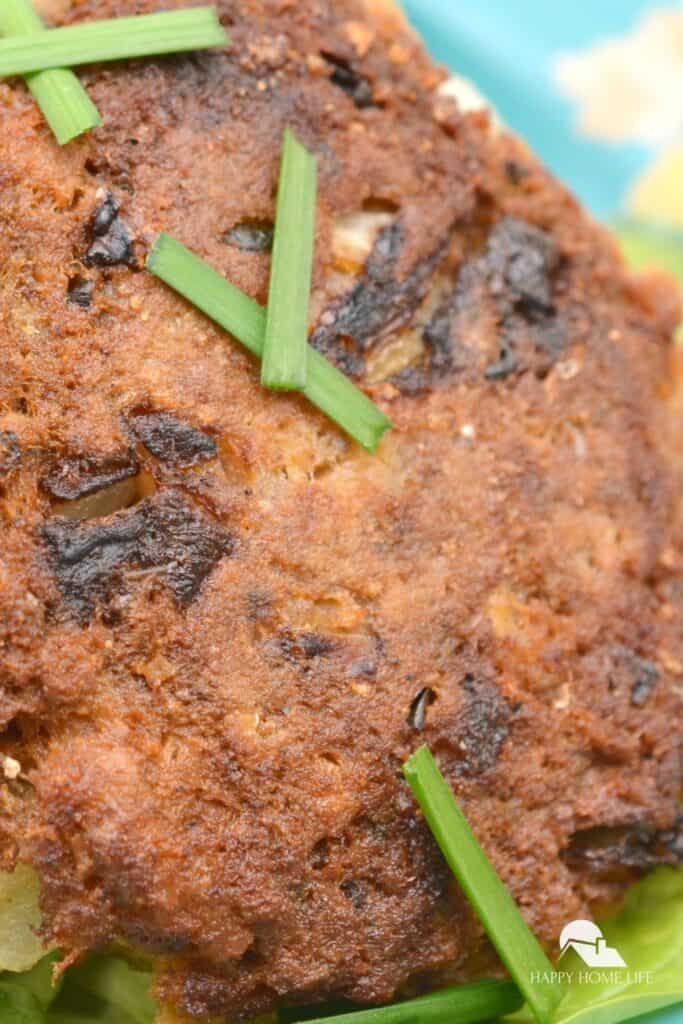 About Our Keto Salmon Patties:
One such recipe is Keto Salmon Patties Recipe. This dish uses two cans of pink salmon and contains no bread crumbs, eggs, cheese, or flour. It's also packed with protein and omega-3 fatty acids!
This Keto Salmon Patties Recipe is a nutritious and delicious meal, perfect for those who follow the keto diet.
What are the ingredients:
The recipe includes two cans of pink salmon, drained thoroughly before mixing in with other ingredients, including a tiny onion, a beaten egg, ½ cup crushed pork rinds (which replaces bread crumbs), and plenty of fresh chives.
Add two tablespoons of Worcestershire sauce, one teaspoon of garlic powder, and salt and pepper to taste.
Sauté the mixture on a pan with olive oil and butter for about ten minutes until it's browned before flipping it onto a plate lined with paper towels (to catch any excess grease).
If you make the salmon patties from a fresh can of salmon, refrigerate them for up to three days.
If you use leftover canned salmon, store it in an airtight container and keep it in the freezer for one month or six months if frozen correctly.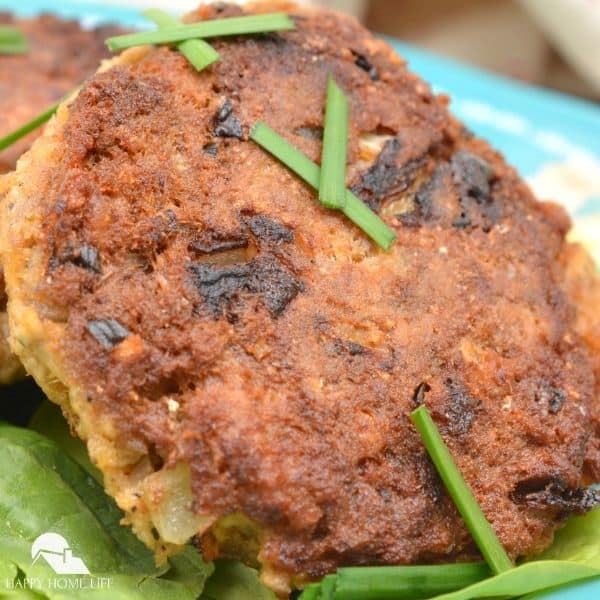 What are the ingredients to make this recipe?
For this recipe, you are going to need the following ingredients.
Two Cans of Pink Salmon – Drained Thoroughly
One Onion Finely Chopped
One Egg Beaten
Half Cup Pork Rind Finely Crushed
Two Tablespoons Fresh Chopped Chives
One Teaspoon of Garlic Powder
Ketchup Sauce
Salt and Pepper To Taste
How to Make Keto Salmon Patties Recipe
Now that you have all your ingredients, it is time to make these salmon patties. Follow the directions below.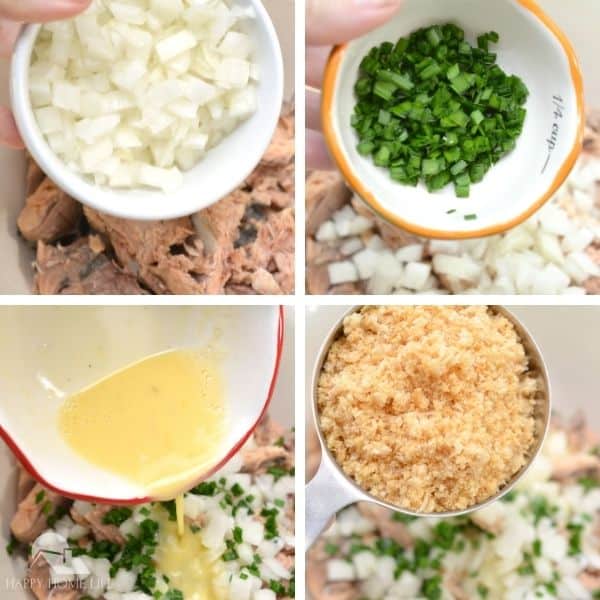 In a large mixing bowl, add two cans of drained pink salmon plus one small onion, finely chopped one beaten egg, and incorporate.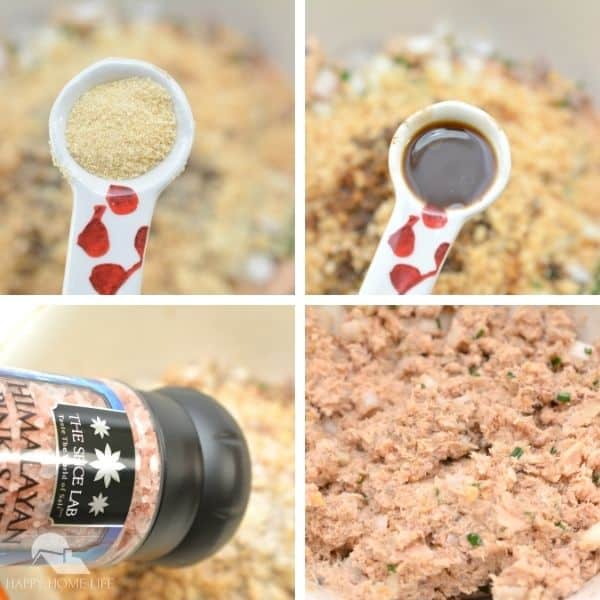 Add in ½ cup freshly crushed pork rinds and two tablespoons fresh chives.
Mix two teaspoons of Worcestershire sauce, one teaspoon of garlic powder, salt, and pepper to taste.
Next, wash your hands and mix all of your ingredients.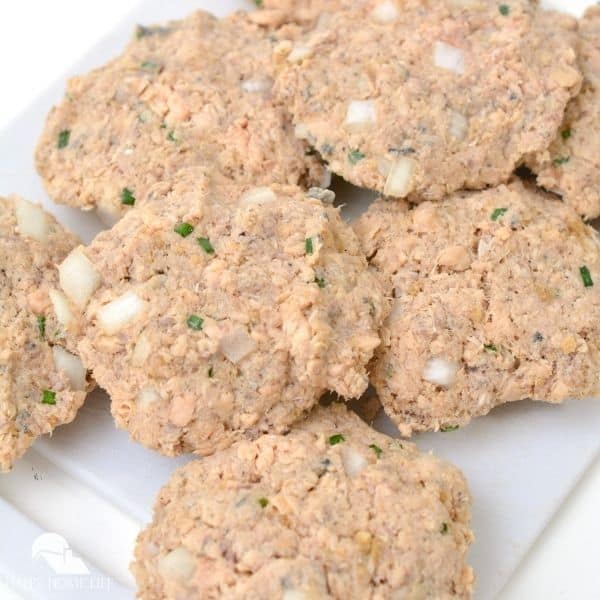 Form the mixture into eight even patties.
Pour half a tablespoon of olive oil and half a tablespoon of unsalted butter into a large frying pan on medium heat.
Place four patties into the hot pan and cook for five minutes on each side until they are golden brown and crispy.
Repeat this step with the other four salmon patties.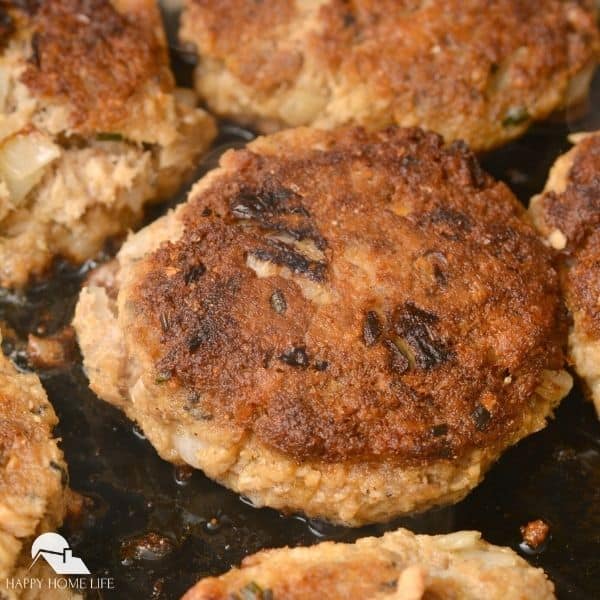 Place the patties into a place with a napkin and let it drain the excess oil.
Serve patty topped off with sour cream or your favorite herb if desired!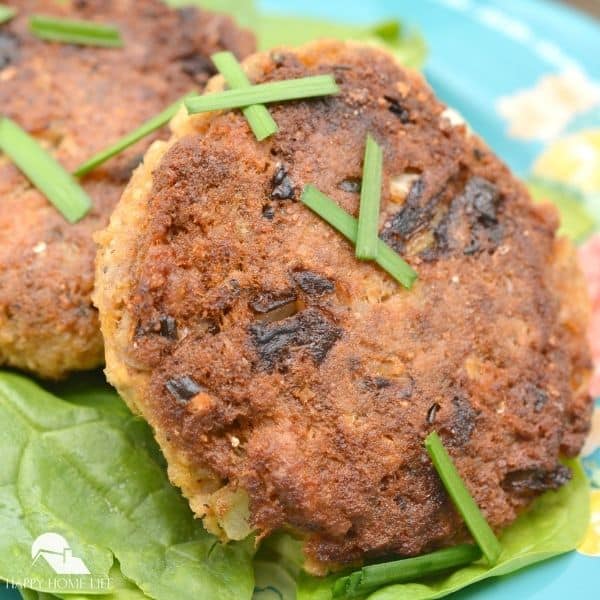 Now that you know everything about this recipe, it is time to see how it tastes!
Share this Keto Salmon Patties Recipe if you want your low-carb friends to have some delicious meal ideas!
Yield: 8 patties
Keto Salmon Patties (With Pork Rind)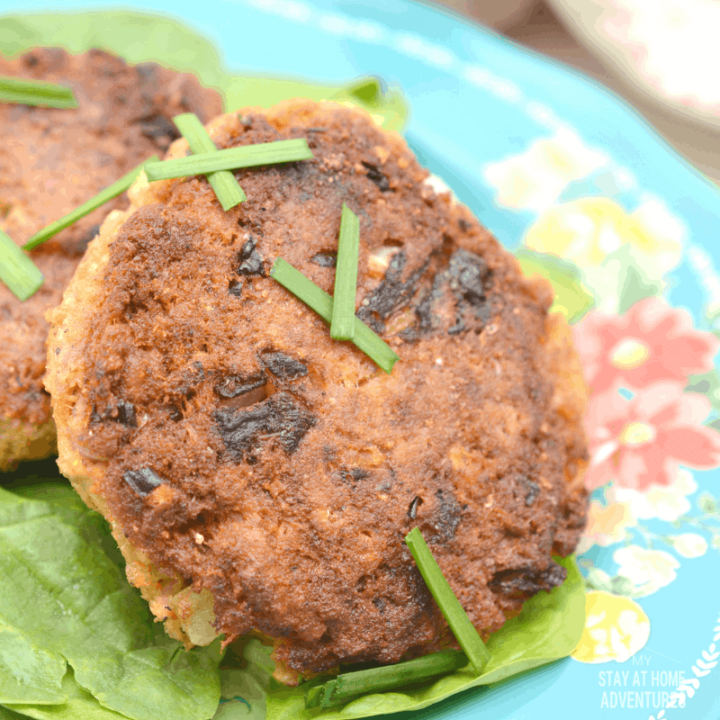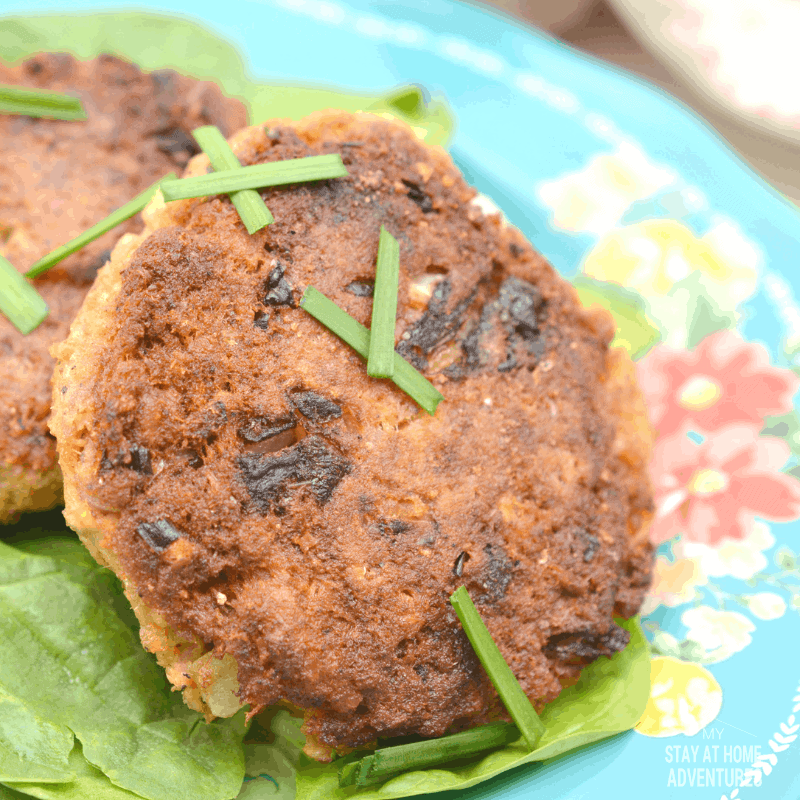 Keto Salmon Patties are a fast and easy way to get in your protein for the day without having to worry about whether or not you're getting enough healthy fats.
The omega 3s found in salmon help with brain function and heart health, while the coconut flour will keep you feeling full all morning long!
Ingredients
2 (14.75 oz.) Cans Pink Salmon
1 Egg beaten
1 Small onion finely chopped
2 tbsp. Fresh chopped chives
½ c. Pork rind finely crushed
2 Worcestershire sauce
1 Garlic powder
Salt and pepper to taste
1 tbsp. Olive oil
2 tbsp. Unsalted butter
Instructions
Drain two cans of pink salmon completely, and place them into a large mixing bowl.
To the mixing bowl, add in 1 small chopped onion and 1 beaten egg.
Mix in ½ cup of finely crushed pork rinds and 2 tablespoons of fresh chopped chives.
Add in 2 teaspoons of Worcestershire sauce and 1 teaspoon of garlic powder, plus salt and pepper to taste.
Use your hands to mix together all of the ingredients well.
Form the mixture into 8 even patties.
Heat 1 tablespoon of olive oil and 2 tablespoons of unsalted butter in a skillet over medium heat.
Once the skillet is hot, add in the salmon patties in a single layer, careful not to crowd the skillet. You make have to use two skillets or cook the patties in two separate batches.
Cook the patties for 5-7 minutes on each side, making sure to brown and sear each side well.
Let the patties drain on a paper towel for a minute once removed from the skillet and serve with fresh sour cream or your choice of chopped herbs.
Nutrition Information:
Yield:
8
Serving Size:
1
Amount Per Serving:
Calories:

127
Total Fat:

9g
Saturated Fat:

3g
Trans Fat:

0g
Unsaturated Fat:

6g
Cholesterol:

51mg
Sodium:

142mg
Carbohydrates:

2g
Fiber:

0g
Sugar:

1g
Protein:

9g
If you love salmon, you don't want to miss our Honey Orange Glazed Salmon with Asparagus sheet pan meal! It's a quick and easy dinner idea.
And here are some side dishes to go with salmon if you need some culinary inspiration.