Salmon is a salmon dinner staple, but if you're looking for some side ideas to give your salmon dinner a boost, then this blog post has just what you are looking for! There are so many different ways to spice up salmon that any salmon lover will be excited.
It is said that salmon contains a lot of omega fatty acids, which are great for brain health and heart function in general. The best thing about this fish? It has so many different flavors you can work with all year round. This dish is so versatile and can be paired with vegetables, rice, pasta, or you could even wrap salmon in a tortilla!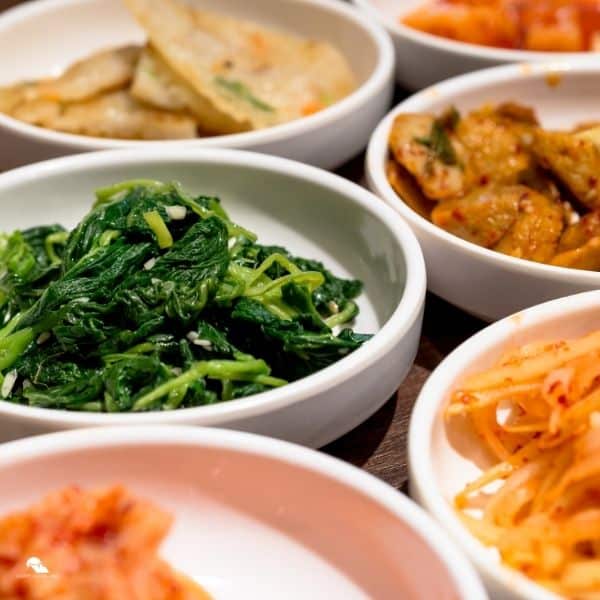 There are so many different ways to spice up salmon that any salmon lover will be excited. There's nothing that can't go with salmon, from mashed potatoes and rice pilaf to roasted vegetables and oven fries. So try one of these recipes out tonight!
So what are the side dishes that make goes great with salmon? Below are some ideas for you!
And if you're looking for salmon dinner ideas, try our Honey Orange Glazed Salmon or our Keto Salmon Patties. So good!
Mashed Potatoes
One of our favorites mashed potato recipes to go with salmon is Roasted Garlic Mashed Potatoes from A Dash from Megnut. This recipe is gluten and dairy-free.
Garlic Roasted Potatoes
These Garlic Roasted Potatoes are a super easy and delicious side dish or appetizer for any salmon meal. They are garlicky and crispy on the outside and so tender on the inside.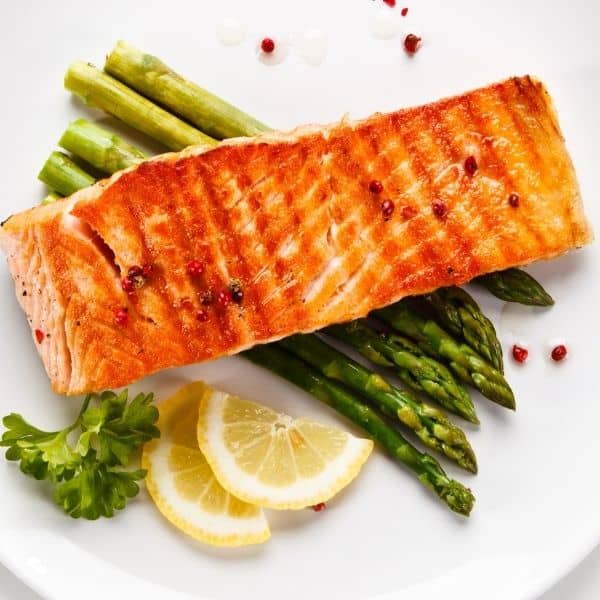 Grilled Asparagus
This grilled side dish goes well with salmon. Grilled Asparagus that is charred and tender at the same time is what we recommend.
Roasted Beets
Roasted beets side dish goes well with salmon, and if you don't know how to roast beets, then Belly Full can show you!
Creamed Spinach
Creamed Spinach served with salmon is so good. This delicious garlic butter creamed spinach salmon recipe is one we recommend you try!
Sauteed Butternut Squash
Sautéed Butternut Squash recipe is a great way to incorporate some of the fall flavors that are in season now. The ginger and garlic combined with spices like cinnamon, nutmeg, and cardamom will bring warmth back into your home, while the butternut squash will help you get your veggies for the day!
Sautéing it also helps break down some of its tough fibers that make them harder to digest. Pair this dish with salmon for an easy protein-rich dinner.
Wild Rice Pilaf
Wild rice pilaf is a delicious, healthy side dish that can accompany a variety of dishes. It's great with fish and meat! This wild rice pilaf recipe will help you make this nutritious dish for your next meal.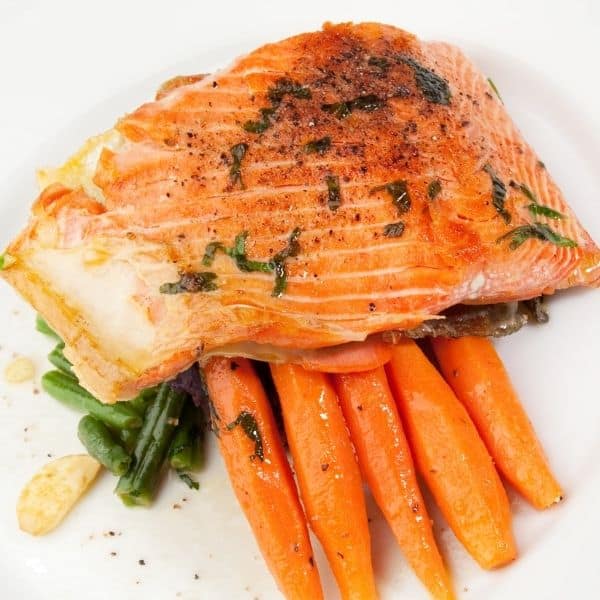 Roasted carrots
What do you serve with salmon? Roasted carrots!
They're so amazing, and the great thing about them is that they can be made in advance and stored in the fridge to have on hand at all times.
You'll love this recipe, and I'm sure it will become an instant favorite!
Lemon Broccoli Rabe
Lemon Broccoli Rabe is a great side dish for any fish. It's tangy and light, so it doesn't overpower the delicate flavors in your meal. This recipe is perfect for those who like to try new things or look for something different to do with broccoli rabe!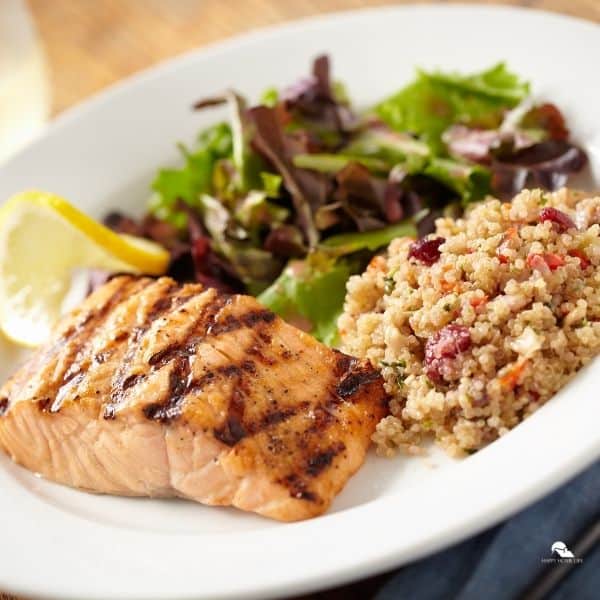 Quinoa Salad
Quinoa is a gluten-free, high-fiber food that makes for an amazing side dish. Quinoa salad can be served as a main course or as a side to fish like salmon. It's healthy and delicious!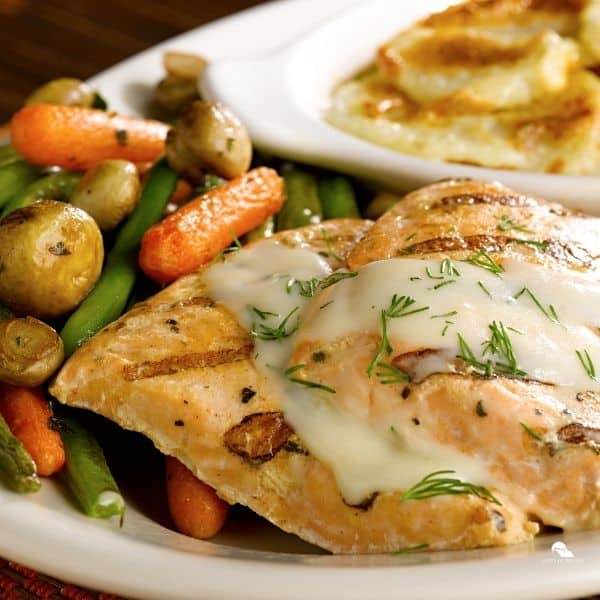 Vegetable Medley
I have a dish that is one of my favorites and always makes me feel happy. I really like to make it for my family whenever we are having dinner. It's easy, healthy, and tastes great! This Vegetable Medley recipe!
My favorite part about this recipe is how colorful the vegetables are when they're finished cooking. Of course, you can also add extra ingredients to your medley if you want to!
Oven Fries
I'm always on the lookout for new side dishes to serve with salmon. One of my go-to's is oven fries, but I am not a fan of the traditional recipe because it doesn't taste like much.
This variation has some interesting flavors and spices that make it unique and flavorful! Check out the recipe below.
Potato Wedges
Do you have a side dish to serve with your salmon that is quick, delicious, and easy? This post will show you how to make Potato Wedges.
They are crispy on the outside and soft on the inside. Pair this side dish with any fish for a meal that is sure to please!
Salad and a Vinaigrette Dressing
Salad with vinaigrette is a great side dish for salmon. Vinaigrette, which is just fancy talk for an oil and vinegar-based dressing, can be used to dress up any salad and make it taste amazing.
This recipe will show you how to make the perfect vinaigrette that goes well with everything! The key ingredient in this recipe is balsamic vinegar which has a rich flavor that pairs nicely with vegetables or other salads.
Spicy Corn on the Cob
What side dish is perfect for a salmon dinner? Spicy Corn on the Cob might be just what you're looking for! This recipe doesn't only taste great, but it's also easy to make and won't take up much time.
You can serve this dish with many different types of fish, so if you don't like Salmon, feel free to substitute any other type of fish in this recipe. Give it a try and see how much your family enjoys it!
Green Beans with a Lemon Butter Sauce
I am so excited to tell you about this unbelievably simple green bean recipe that goes well with any fish dish! I love making green beans for dinner, and they are a delicious side dish for your favorite fish.
This is a super easy recipe, and it will definitely be one of my go-to recipes in the future.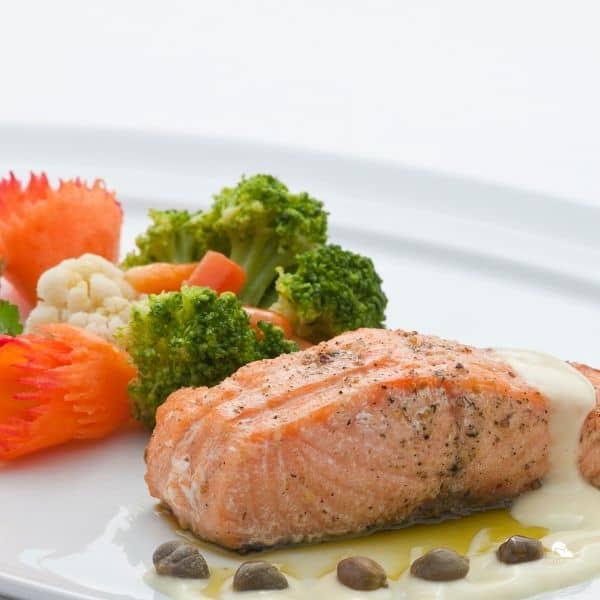 Roasted Cauliflower and Broccoli Florets
Cauliflower is an amazing vegetable, and I love that it can be roasted to create a crispy outside while leaving the inside soft. This recipe pairs cauliflower with some lemon, garlic, and thyme for a dish that will go great with any protein!
Discover this delicious Roasted Cauliflower and Broccoli Florets!
Garlic Bok choy
You are about to find out how to make a delicious side dish that is healthy and full of flavor. Garlic Bok choy is a vegetable that can be eaten raw, but it tastes better when cooked!
This recipe will show you how easy it is to cook this amazing side dish. It's so good with fish like salmon or tuna, so try it out tonight for dinner!
Baked Sweet Potato Fries
If you're looking for a side dish to go with your salmon, try these baked sweet potato fries! They are not only delicious but also healthy and quick to make. Sweet potatoes are loaded with vitamins A, C, B6, potassium, and iron. This will be the perfect side dish that will complement your meal!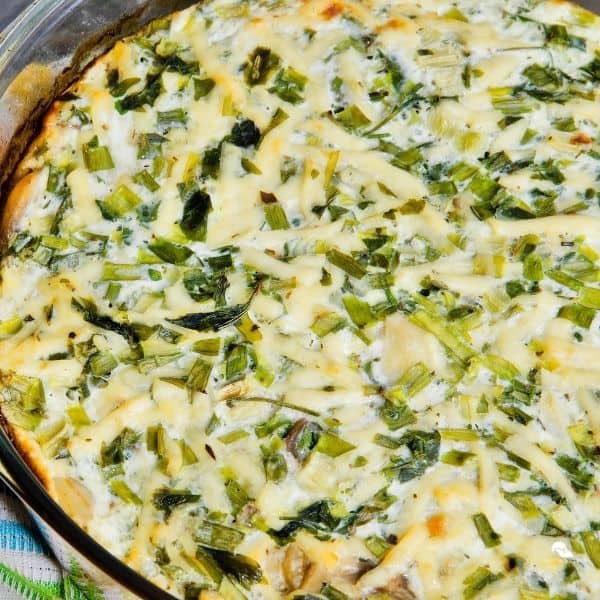 Green Bean Casserole
I have always been a fan of green bean casserole because it is so easy to make and tastes delicious. I am now wondering how well this dish would go with salmon as the main course? Try this recipe:
Asparagus with Dijon Cream Sauce
If you are looking for a side dish to serve your salmon, the best option is Asparagus with Dijon Cream sauce. It is delicious, and it goes well with fish. This recipe will show you how to do it step by step so that you can make this wonderful side dish on your own! Enjoy!
Roasted Vegetables
Did you know roasted vegetables are a good side dish for salmon? This recipe is quick and easy to make. It's great if you're looking for something quick, healthy, and delicious. You can cook this meal in under 45 minutes!
This recipe for steamed cabbage is a great side dish to add to your salmon dinner. It will complement the richness of the salmon and provide additional fiber and nutrients, making it a healthy option to accompany this delicious meal.
Quinoa
Quinoa has become a popular food in recent years, and for a good reason. It's a plant-based protein that can easily be made into a side dish or main course. This is an easy recipe to make with just 5 ingredients!
Pasta with Marinara Sauce
You may have eaten pasta with marinara sauce before, but do you know how it pairs with Salmon? I am going to show you a recipe that will be sure to please anyone! The pasta is rich and flavorful, is fresh and succulent. What are you waiting for? Let's get cooking.
Couscous
Couscous is a great side dish for salmon. I make this easy couscous recipe often, and it's always a hit with my family! It's also vegetarian-friendly, which means it can be served as a main dish if you're on a meatless diet. Give it a try, and let me know what you think!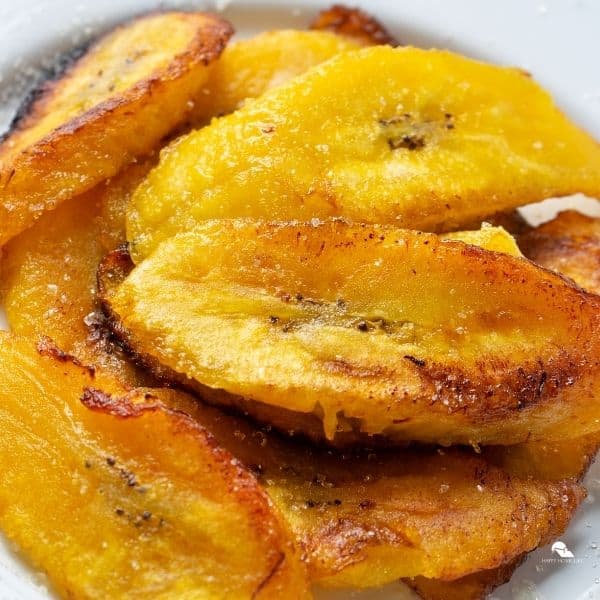 Sweet plantains
Sweet plantains are a great side dish for fish and meat. They can be used as a substitute for potatoes, rice, or bread. Plantains are also incredibly nutritious – they contain potassium, magnesium, vitamins C & E, and folate! Don't forget to try out this sweet plantain recipe with your next salmon meal.
Lemon rice
Lemon rice is a popular side dish in Asian cuisine. The recipe for this dish consists of steamed white rice, fresh lemon juice and zest, soy sauce, salt, butter or margarine, green onions (diced), water chestnuts (cubed), and cooked shrimp. This dish is best served with a light fish like salmon.
Ratatouille
Ratatouille is a classic French dish that typically consists of eggplant, zucchini, bell pepper, and tomato stewed in olive oil. Ratatouille rice is a simple side dish for salmon or other fish dishes and can be made with any vegetables you have on hand. Your family will love it!
There are so many delicious sidYou can make for your salmon dish few will have the most impact on flavor. I suggest trying Quinoa Salad, Sweet Plantains, Roasted Asparagus, or Lemon Rice as they all complement salmon well while also adding extra nutrients to the meal.
Yield: 3 servings
Pan-Fried Salmon Plus Salmon Dinner Ideas Sides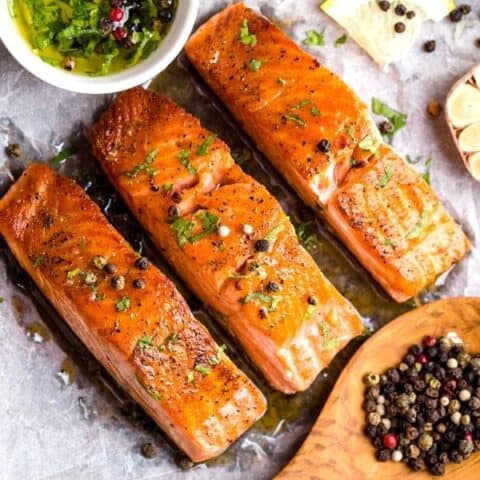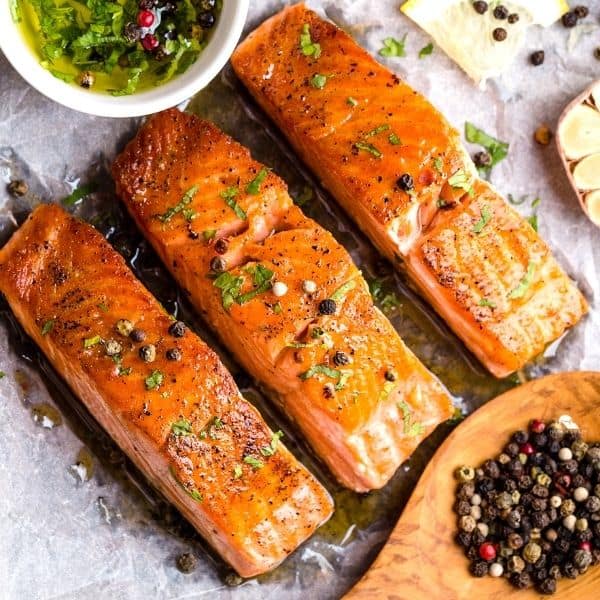 Pan-fried salmon is a great way to enjoy the fishy flavor without having to go fishing first.
It's also much easier and faster than cooking on the stove or in the oven - fry it up, chop some fresh parsley and lemon, and you're good to go!
This dish has many variations depending on your favorite spices, but this one is quick, easy, and delicious for any time of year.
Remember to serve it with the ideas listed below as well.
Ingredients
3 (5- 6 ounce) salmon fillets (about 1-inch-thick) - with skin or no skin you decide
2 tablespoons olive oil or avocado oil
salt and black pepper to taste
Instructions
Before starting, make sure your salmon is at room temperature.
To pan-fry your salmon, add the oil to a large nonstick pan or skillet and heat it over medium-low heat.
As the oil is heating up, season the salmon with salt and pepper.
When the oil is hot enough and ready to place the salmon, increase the heat to medium-high.
With the skin-side up, place the salmon in the pan and cook until golden brown on one side, about 3-4 minutes.
Using a spatula, carefully turn the salmon over and cook until the skin is crispy enough for your liking, about another additional 2 -3 minutes.
Your salmon is ready to serve.
Notes
You can leave the skin or remove it using a spoon or a knife.
Serve with any of the salmon side ideas listed below. Click the links and get the recipe!
Nutrition Information:
Yield:
3
Serving Size:
1
Amount Per Serving:
Calories:

123
Total Fat:

14g
Saturated Fat:

2g
Trans Fat:

0g
Unsaturated Fat:

11g
Cholesterol:

0mg
Sodium:

194mg
Carbohydrates:

0g
Fiber:

0g
Sugar:

0g
Protein:

0g
These nutritional calculations might not be accurate. Please speak with a licensed nutritionist to assist you.