What else is better than a good full-sized pie dessert? I would say none – not until I took a bite of my favorite mini pumpkin pie, but in insanely cute and mini form.
Adding warmth and spice to your home with a quick pie recipe is great. This one is guaranteed to be easy to follow and a time saver. So, brace yourselves with some sumptuous treats for fall weather and special holidays.
Which is better for pumpkin pie, condensed milk or evaporated milk?
Both condensed and evaporated milk can be used in pumpkin pie recipes, but they yield slightly different results. Condensed milk is usually sweeter and thicker than evaporated milk, adding a rich sweetness and creaminess to the pie.
On the other hand, evaporated milk has a more subtle flavor and thinner consistency, which may allow the pumpkin flavor to shine through more prominently.
Ultimately, it comes down to personal preference and the specific recipe being used. Some recipes may call for both types of milk or even heavy cream for an extra decadent result.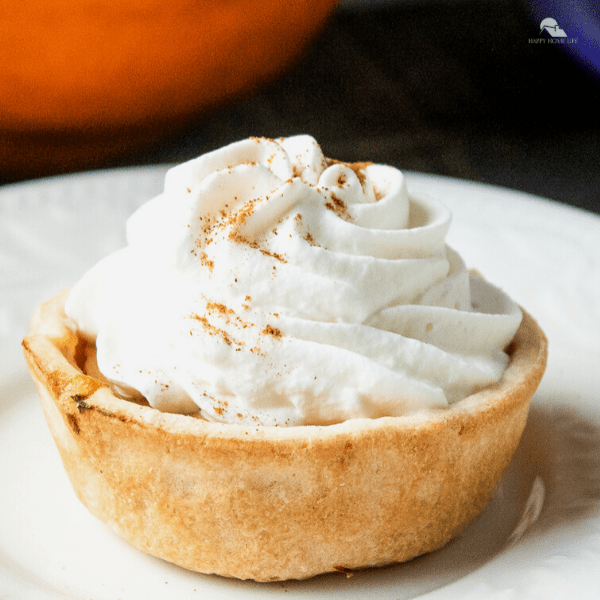 How do Mini Pumpkin Pies differ from traditional ones?
Well, taste-wise, this is your all-time favorite pumpkin pie you dig into during Thanksgiving Day. Except that it comes in handy that you can eat it with your bare hands.
Check our latest dessert recipes:
There is so much to love about this mini version of our favorite pumpkin pie. Apart from their small form, they are fun and suitable to make with kids too. You do not need to put so much work to produce a stellar-looking crust, nor decorate the edges, unlike the regular pie.
Also, putting a filling can be a lot manageable. In addition, baking and cooling time will be completed less time, way quicker than the traditional one. Moreover, notwithstanding the difference between the two, both are certainly deeply flavored and deliciously spiced.
Can I use ready-to-bake pie crust?
Certainly, I am using a premade pie crust that can be readily available to purchase at your favorite grocery stores. You can also grab a store-bought pumpkin puree and save yourself the hassle.
Can we store the mini pumpkin pie in a fridge?
Absolutely! Homemade pumpkin pie needs to be refrigerated. Because these contain egg-based filings, it might not be safe if left on the counter unattended for more than two hours after baking. Just make sure to hit them in your fridge and cover them thoroughly. This will give your mini pies an extended life for up to 4 days.
Trying to make room for a full-size pie in your fridge might be a challenge, but freezing mini pies is easy. They are freezer-friendly and can shove even onto smaller spaces.
What goes well with a Mini Pumpkin Pie?
You can never go wrong being a little extra in giving a personal touch to garnishing. Elevate your dessert experience with a dazzle or a scoop of something beautiful and nice. The good thing about mini pumpkin pies, or pies in general: you can incorporate their taste well with many rich flavors.
And while we enjoy its simple and classic look with no toppings at all, you would probably love it more with tasty whipped, nuts, or any fruits on top. To give you an idea, here are 5 delectable toppings to spice up your classic mini pie:
Caramel Peanut Glaze – this is made with brown sugar, butter, cream, and peanuts.
Crunchy Pecan Topping – this is made with chopped pecans, brown sugar, melted butter.
Coconut Cream Topping – this is made with cream cheese, sugar, egg yolk, and some sprinkle of coconut flakes.
Honey Whipped Cream – this is made with only honey and whipped cream
Dairy Cream Topping – this is solely dairy sour cream plain or Sweetened
What ingredients do I need for Mini Pumpkin Pies?
You only need to get a few things from your supermarket. Gather the following items to get started with your eight-ingredient home-made pumpkin pies:
Ready-to-bake pie crusts
pumpkin puree
evaporated milk
brown sugar
large eggs
ground cinnamon
ground nutmeg
ground cloves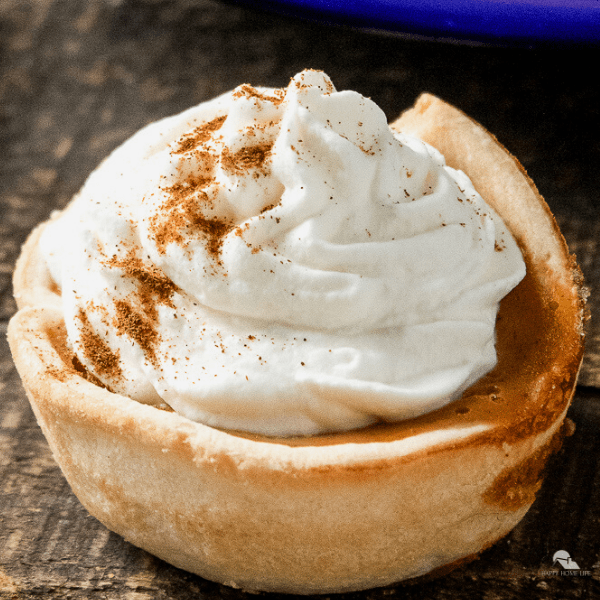 How can I make Individual Pumpkin Pies?
I always love finding ways to make baking and cooking a little lighter for everyone. Provided that the above ingredients are complete, you are now ready to proceed with our simple baking process. I can sum up the whole process into just 5 simple steps: Preheat, Cut, Mix, Fill, and Bake.
PREHEAT
First, preheat your oven to 425֯F and spray a 24-cup mini muffin pan with non-stick cooking spray. Then just set aside.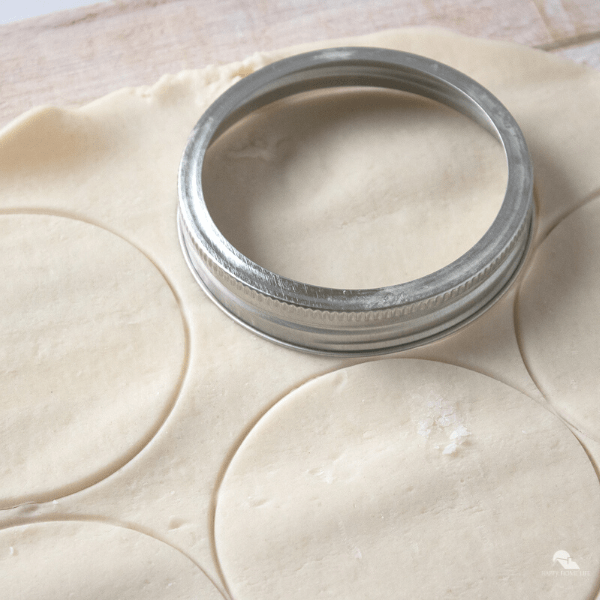 CUT
Using a wide-mouth jar lid, cut out circles on your ready-to-bake crust. Then, give a quick press to all the pie circles into the muffin cups. If needed, gently knead and roll out any extra dough left from the rings to make a total of 21 circles.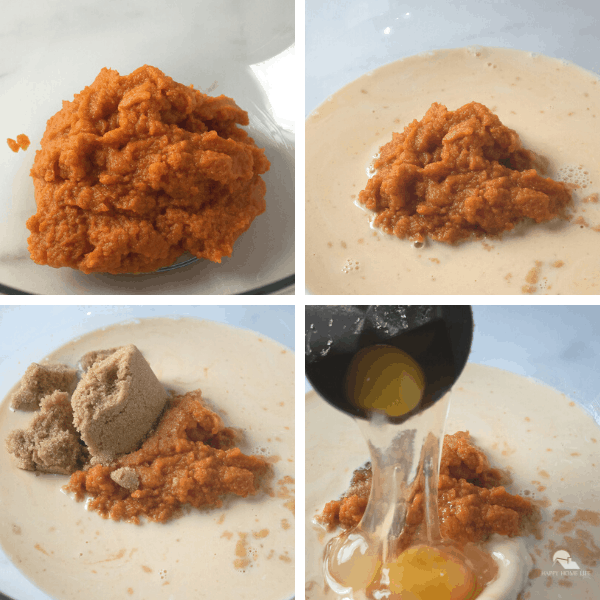 MIX
In this step, you only need to whip together all your pie filling: pumpkin puree, milk, sugar, eggs, cinnamon, nutmeg, and cloves. Whip until the ingredients are well incorporated and smooth.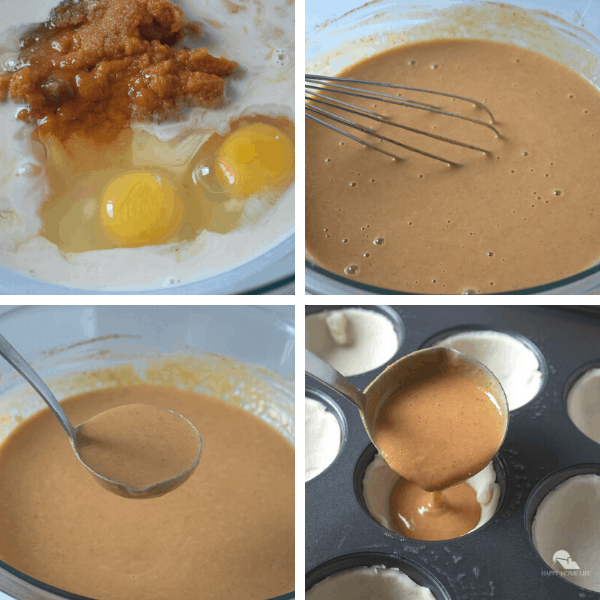 FILL
Get the pumpkin pie filling mixture and pour it into the mini pie shells uniformly. Also, give extra attention not to let it overflow to avoid a mess when the dough rises during baking. Maintain about 2/3 fill in each cup.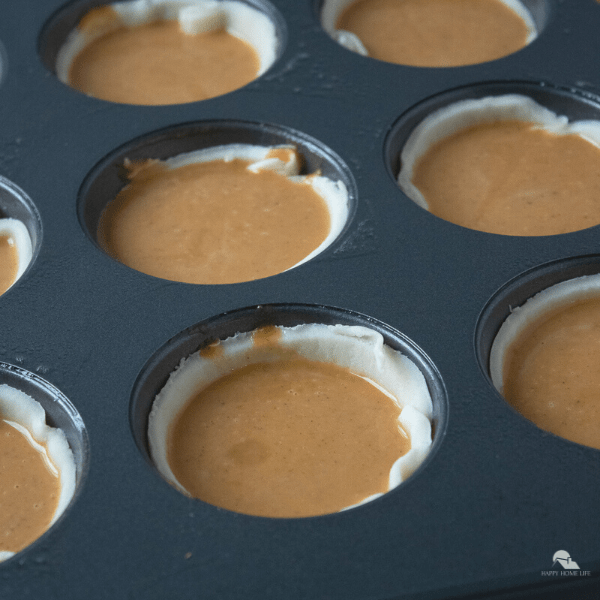 BAKE
Place in the preheated oven and bake for 10 minutes. Reduce temperature to 350֯F and bake an additional 10-12 minutes until pie filling is set and a toothpick inserted into the center comes out clean.
Make sure you remove the mini pies from the oven. If you feel like serving and snacking on them right away, give them some time to cool down first. Before removing it from the muffin tin, a good 10-15 minutes will do. By then, your mini but yummy dessert is ready to be popped in.
But if you feel a little extra today, Top 'em!
Depending on your liking, you can forgo this step or add your desired toppings. You can pick from the topping ideas that I mentioned above or choose any of your preferences. In my case, I prefer a simple whipping cream and garnish with some ground cinnamon.
Just feel free to be creative and be generous enough with whatever you want to top it with. So please give it a touch of your favorites and make it your Personal Mini Pumpkin Pies!
Yield: 21 Mini Pies
Mini Pumpkin Pie Recipe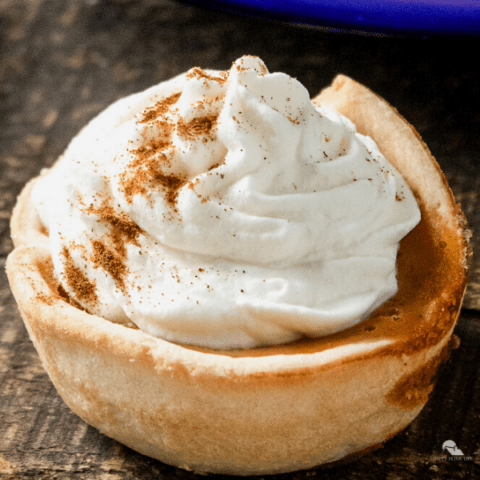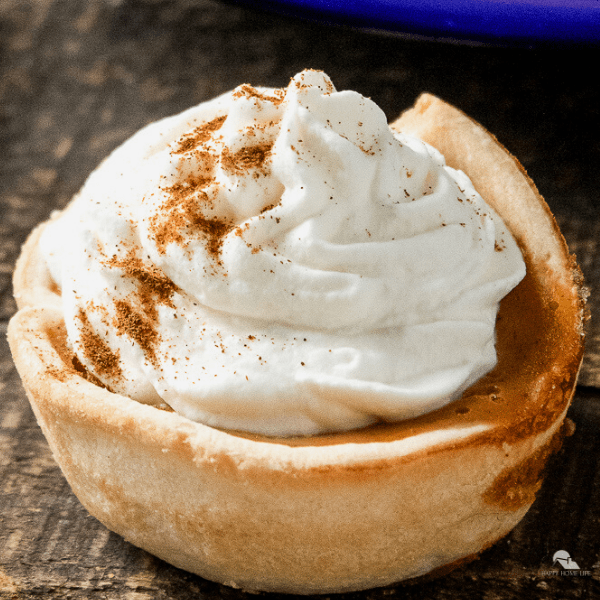 Who doesn't love pumpkin pie? The best part of eating pumpkin pie is the rich, creamy texture. This recipe gives you all that goodness without a ton of sugar and fat.
I'm not going to lie, and these mini pies are a little time-consuming. But they are really worth it!
You can whip up a batch for your next holiday party or Thanksgiving dinner and impress everyone with this delicious treat!
Ingredients
15-oz. package ready-to-bake pie crusts
15-oz. can pumpkin puree (not pumpkin pie filling)
12-oz. evaporated milk
¾ c. brown sugar
2 large eggs
1 t. ground cinnamon
½ t. ground nutmeg
¼ t. ground cloves
Instructions
1.Preheat oven to 425°F and spray a 24-cup mini muffin pan with nonstick cooking spray. Set aside.

2.Cut pie crust out into circles using a wide-mouth jar lid. Push pie circles down into the muffin cups. If needed, gently knead and roll out any extra dough left from the rings to make a total of 21 circles.

3.Mix pumpkin pie filling ingredients in a large mixing bowl until smooth. Divide filling among the mini pie shells.

4.Place in the pre-heated oven and bake for 10 minutes. Reduce temperature to 350 and bake an additional 10-12 minutes, until pie filling is just set and a toothpick inserted into the center comes out clean.

5.Remove from oven and cool for 10-15 minutes before removing from muffin tin and topping with whipped cream. Garnish with some ground cinnamon, if desired, and enjoy!

Notes
Toppings: Whipped cream and ground cinnamon, if desired.
Nutrition Information:
Yield:
21
Serving Size:
1
Amount Per Serving:
Calories:

165
Total Fat:

8g
Saturated Fat:

3g
Trans Fat:

0g
Unsaturated Fat:

4g
Cholesterol:

23mg
Sodium:

123mg
Carbohydrates:

21g
Fiber:

1g
Sugar:

9g
Protein:

3g
These nutritional calculations might not be accurate. Please speak with a licensed nutritionist to assist you.
Pumpkin Desserts You Have to Try