Let's talk about the best fall squash recipes you are going to love, shall we? As the leaves turn and the weather cools, it's time to start thinking about fall cooking. One of the most versatile and delicious ingredients of the season is squash. From butternut to acorn to spaghetti squash, there are endless possibilities for incorporating this nutrient-rich vegetable into your meals.
But where do you begin? Don't worry – we've got you covered with a collection of easy and delicious fall squash recipes that impress your taste buds and dinner guests. Whether you're looking for a cozy soup or a hearty main dish, these recipes will help you make the most of this seasonal favorite. So grab your apron, preheat your oven, and get ready to enjoy some fall-inspired goodness!
You might enjoy these recipes: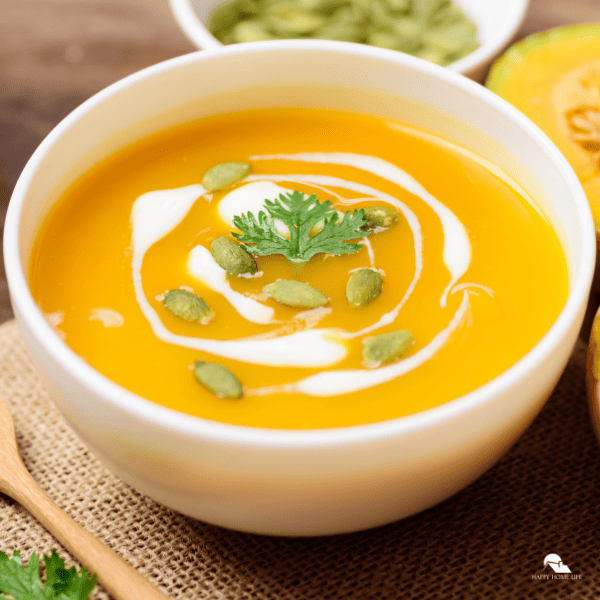 What are the different varieties of Fall Squash?
One of the most popular varieties of fall squash is the pumpkin. It's famous for its use in pies during the holiday season, but it can be used as an ingredient in many other dishes like soups and stews. Another favorite variety of fall squash is butternut squash, which has a creamy texture and a sweet taste that makes it perfect for roasting or making soup. Acorn squash, on the other hand, has a slightly nutty flavor and goes well with savory spices like sage or thyme.
Here's a list of must-try fall squash recipes you'll surely enjoy with your family and friends:
Butternut Squash Soup
Butternut squash soup is a popular soup that is made from pureed butternut squash, which is a type of winter squash. This soup has a smooth and velvety texture with a slightly sweet taste. It's perfect for cold weather days or as an appetizer before dinner.
This soup can be garnished with various toppings like croutons, chives, or even roasted pumpkin seeds to give your bowl of soup an extra crunch.
Roasted Acorn Squash Rings
Roasted Acorn Squash Rings are perfect for those who want to add more vegetables to their diet or for those who are looking for a tasty way to enjoy squash. Roasting acorn squash rings creates a crispy, caramelized exterior while maintaining the tender, juicy interior.
Pumpkin Curry
Pumpkin Curry is a flavorful dish perfect for those cool autumn evenings, and it's easy to make even if you're not an experienced cook.
So what exactly is pumpkin curry? It's a savory dish made with chunks of pumpkin, spices, and a creamy sauce. The exact ingredients vary depending on the recipe, but common additions include onions, garlic, ginger, turmeric, cumin, coriander, coconut milk or cream, and vegetable or chicken broth.
Spaghetti Squash Casserole
If you are looking for a healthy casserole dish, then Spaghetti Squash Casserole is the answer! It's made with spaghetti squash, which is a nutritious vegetable that resembles spaghetti when cooked. The dish also includes other ingredients like vegetables, cheese, and meat (optional) to make it even more flavorful.
Roasted Delicata Squash Salad
Roasted Delicata Squash Salad is a tasty dish that has gained popularity in recent years. This salad combines the sweetness of roasted delicata squash, with the saltiness of feta cheese and the crunchiness of toasted almonds. It is a perfect meal for vegetarians or anyone who wants to try something new.
Squash and Apple Soup
Squash and apple soup is a warm, comforting dish that's perfect for chilly autumn days. As the name suggests, this soup is made with both squash and apples, creating a unique combination of flavors that's both sweet and savory. It's also incredibly easy to make, making it a great choice for beginner cooks.
Butternut Squash Mac and Cheese
Butternut squash mac and cheese is a delicious take on the classic comfort food. This dish combines the traditional cheesy goodness of mac and cheese with the rich and creamy flavor of butternut squash. The result is a dish that is both satisfyingly indulgent and surprisingly healthy.
One of the best things about butternut squash mac and cheese is that it can be customized to suit any taste preferences or dietary restrictions.
Stuffed Acorn Squash
Stuffed Acorn Squash is a winter squash with a sweet, nutty flavor, and it's named after its acorn-like shape. The dish is made by cutting the squash in half lengthwise, removing the seeds and pulp, then stuffing it with various ingredients.
The possibilities for stuffing are endless! You can use anything from quinoa to ground turkey to create your filling. Some popular options include sausage, rice, vegetables like mushrooms or bell peppers, cheese, or nuts like pecans or walnuts. Once you have your filling ready to go, simply spoon it into the hollowed-out squash halves and roast them in the oven until soft and golden brown on top.
Stuffed Acorn Squash also makes for an impressive presentation at dinner parties or family gatherings.
Roasted Kabocha Squash
Roasted Kabocha squash is a healthy vegetable that has been gaining popularity in recent years. This Japanese variety of winter squash has a sweet, nutty flavor and a bright orange flesh that makes it perfect for roasting, baking, or pureeing into soups and stews. The skin of the Kabocha squash is also edible and adds a pleasant texture to any dish.
One of the great things about Roasted Kabocha squash is its nutritional value. It is low in calories but high in fiber, vitamin A, vitamin C, potassium, and beta-carotene. This makes it an excellent choice for anyone looking to maintain a healthy diet while still enjoying tasty food.
Pumpkin Risotto
Pumpkin risotto is a dish that is popular in Italy. It's a creamy and savory rice dish made with pumpkin puree, chicken or vegetable broth, Parmesan cheese, onions, garlic, and Arborio rice. Pumpkin risotto is perfect for the autumn months when pumpkins are in season.
The cooking process of pumpkin risotto requires constant attention as it needs to be stirred continuously while slowly adding the broth until the rice absorbs it completely. The pumpkin puree is added towards the end of cooking to give the dish its signature flavor. This process creates a creamy texture that melts in your mouth with every bite.
Pumpkin risotto can be served as a main dish or as an accompaniment to meat or fish dishes. It pairs well with roasted vegetables and a glass of wine.
Spicy Butternut Squash Chili
Spicy Butternut Squash Chili is a vegan-friendly dish that's perfect for those who want to enjoy a flavorful but meatless meal. This chili recipe is packed with nutrients from the vegetables and spices.
One of the key ingredients in this recipe is butternut squash, which is rich in vitamins A and C, fiber, potassium, and magnesium. The spicy kick comes from chili powder, cumin, paprika, and cayenne pepper. These spices add flavor and have many health benefits, like reducing inflammation.
Zucchini Bread
Zucchini bread is a healthy treat that has been around for many years. It is a type of quick bread that is made with grated zucchini, flour, sugar, eggs, oil, and other ingredients. Zucchini bread can be enjoyed as a breakfast food or as a dessert.
The texture of zucchini bread is moist and tender, with the mild flavor of zucchini that adds to its uniqueness. The added benefit of using zucchini in this recipe is that it's loaded with vitamins A and C, potassium, and fiber, making it an excellent source for health-conscious individuals.
Zucchini bread can be easily baked at home by following simple recipes available online or in cookbooks. This delicious cake-like loaf can also be customized by adding chopped nuts like walnuts or pecans, chocolate chips, or dried fruits like raisins to give it different variations of flavors.
Squash and Sage Pasta
If you're looking for a hearty and delicious meal that's perfect for fall, Squash and Sage Pasta might be just what you need. This dish features the comforting flavors of squash, sage, and pasta that come together to create a savory and satisfying meal.
Maple-Roasted Acorn Squash
Maple-roasted acorn squash is a savory side dish made by roasting acorn squash, then drizzling it with maple syrup for a sweet and savory taste. The result is a meal that's both healthy and indulgent.
Acorn squash is packed with vitamins and minerals, making it an excellent addition to any diet. The flesh of the squash is rich in fiber, vitamin C, potassium, and magnesium. Furthermore, the seeds are loaded with protein and healthy fats. Roasting acorn squash brings out its nutty flavor while also softening its texture.
Cheesy Spaghetti Squash Gratin
This dish is perfect for those who want to avoid traditional carb-heavy pasta dishes without sacrificing flavor. The result is a warm and comforting casserole that's perfect for any occasion. Cheesy Spaghetti Squash Gratin can be served as a side dish or even as a main course if you're feeling particularly hungry.
Pumpkin Pancakes
Pumpkin pancakes are a delicious breakfast option that is perfect for the fall season. Made using pumpkin puree and warming spices like cinnamon, cloves, and nutmeg, these pancakes are fluffy, flavorful, and incredibly easy to make.
Acorn Squash and Sausage Soup
Acorn squash and sausage soup is a flavorful dish that's perfect for chilly nights. This hearty soup combines the sweetness of acorn squash with the savory taste of sausage to create a deliciously balanced meal. The recipe is easy to follow and requires only a few ingredients, making it an ideal choice for beginner cooks.
Squash and Apple Galette
Squash and apple galette is a dessert that you might have heard of, but don't know much about. Well, let me tell you all about it! A galette is a type of French pastry that's essentially a free-form tart. It's made by rolling out the dough into a circle, then piling on a filling and folding the edges over to create a rustic, pie-like shape.
The squash and apple galette filling typically includes thinly sliced squash (such as delicata or butternut) mixed with sweet-tart apples like Honeycrisp or Granny Smith. The mixture is seasoned with warm spices like cinnamon and nutmeg, which gives it an autumnal feel. The filling is then placed in the center of the rolled-out dough, leaving enough room around the edges to fold them up and create the characteristic galette shape.
Butternut Squash Lasagna
Butternut Squash Lasagna is a great variation of the classic Italian dish. It's made with layers of lasagna noodles, creamy butternut squash puree, and melted cheese. This dish has quickly become a favorite among vegetarians and non-vegetarians alike.
Spicy Roasted Delicata Squash
Spicy Roasted Delicata Squash is a side dish that can be enjoyed all year round. This dish is made by roasting the delicata squash with a blend of spices, creating a flavorful and savory taste. Delicata squash is a winter squash variety that has a creamy, sweet flesh that pairs well with spicy seasonings.
Curried Squash and Pear Soup
Curried Squash and Pear Soup is a hearty, delicious dish that is perfect for those chilly fall evenings. The soup uses a combination of butternut squash, pears, onions, garlic, curry powder, and chicken broth. It's easy to make and packed full of flavor.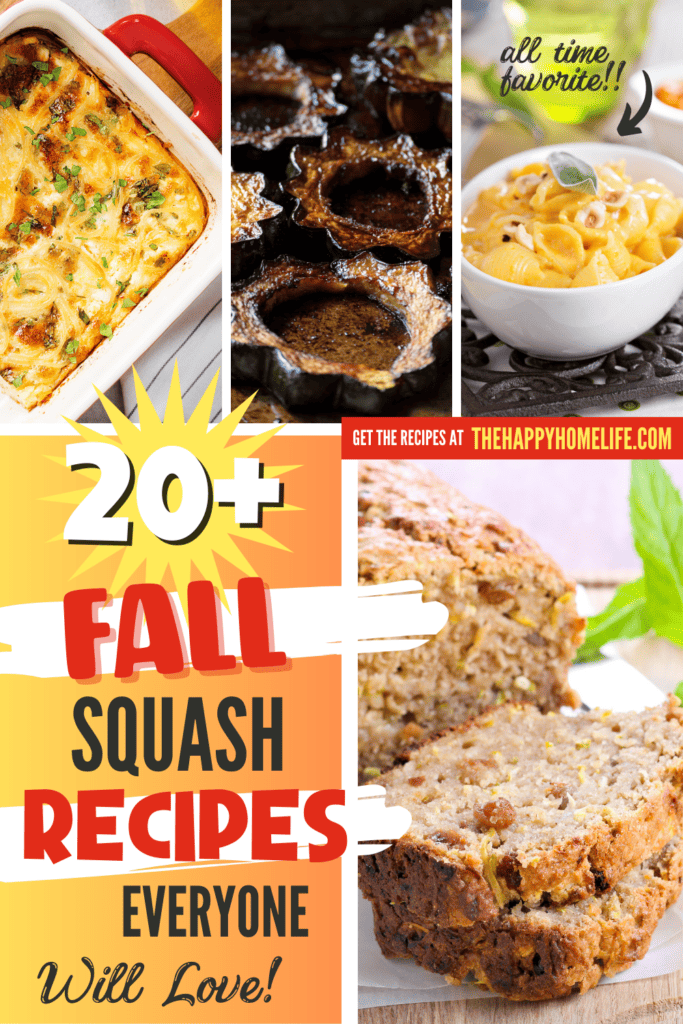 Fall squash is a versatile ingredient that can be used in various dishes. Whether you are making a hearty soup or a sweet dessert, there is a fall squash recipe for every occasion. With its rich flavor and nutritional benefits, incorporating more fall squash into your diet is an easy and delicious way to stay healthy during autumn. Feel free to experiment with different squash and spices varieties to create unique recipes. So grab a butternut or acorn squash from your local farmers market and start cooking!