I always believe that no food deserves to end up in the trash bin – not even for your leftovers. So, if ever you are stuck with some cold steak on your fridge from yesterday's barbeque night, don't ever think of throwing it away. Here are some must-try recipes for dinner to transform your boring leftover steaks into amazing and creative new meals!
Can you eat leftover steaks?
Absolutely, you can. Just make sure to consume leftover steaks that were not left at room temperature for several hours before being refrigerated. Whether you want to devour it cold or warm, both are safe to be eaten either way. If you want to warm it up, you can use a pan, an oven, or a microwave.
While leftover steaks taste fine after being preheated, you can always try something more exciting and appealing to your eyes and to your taste buds. We can always create an interesting meal out of the ordinary, turning it into mouth-watering salads, stir-fries, sandwiches, and more. You can simply slice it thinly and beautifully, toss it with some veggies, or drizzle some new flavor sauces. And Hola! You have a whole lot of new meals for your second-day lunch or dinner.
How long is leftover steak good for in the fridge?
Your cooked meats will be safe in the fridge for three days according to the U.S Department of Agriculture (USDA). Just be certain that they are stored appropriately, including keeping your fridge at 40°F. Moreover, if you are planning to extend their life quite longer, keep them inside the freezer at a temperature of 0°F or below. By doing so, your frozen steak is safe and can be left for a maximum of three months time.
How do you make leftover steak tender?
If ever you think that keeping the meat tender and juicy after being cooked is a hopeless case, just think no further. With proper reheating methods, leftover steaks can still be incredibly appetizing. Here are three ways you could try:
1. Adding some broth – On the stovetop, you can try adding some beef broth before putting the steak. By doing so, the broth will help retain the steaks' moisture that will keep it from drying out. This will keep it juicy and more flavorful. Just make sure to not let it overcook.
2. Sous Vide – This is a gentle technique of cooking steaks. It is a commonly used method, especially in restaurants, to produce precise doneness of meat. It is done by vacuum-sealing the meat and cooking it in a water bath at the appropriate temperature. This method can be used for cooking or preheating meats.
3. Using Oven – Give yourself a good 20 minutes when reheating your steak in the oven. If you do it the right way, your leftovers will be as flavorful and juicy as they were the first time you cooked them. Just make sure to give it a good sear for a minute or two in the searing pan before serving.
At some point, your cravings for your favorite steak felt overwhelming, that you cooked more than you can consume. In such situations, the last thing you could ever do for your delicious chunks of meat is to let it go to waste. So the next best thing you can do is give it a second life for another meal. Here are 11 creative leftover steak recipes you can try right away!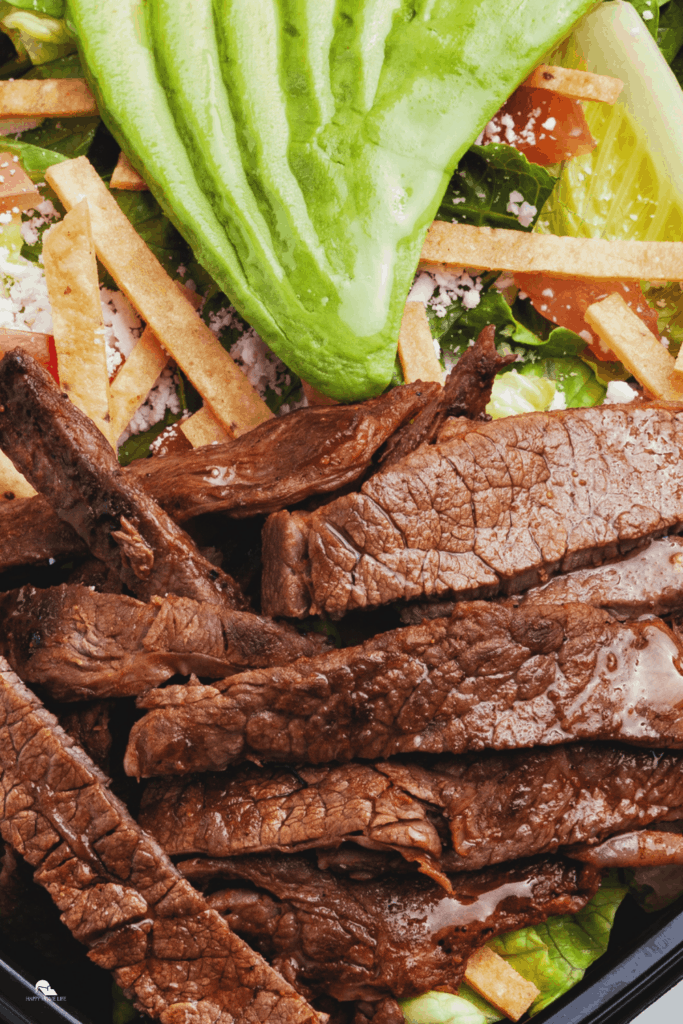 Are you in a rush to prepare dinner? Make this your weeknight meal, loaded with flavors with a quick prepping time. Season well with pepper and salt, add beautiful slices of bell pepper, and finish with some garnishing of scallions and sesame seeds. You can now have a perfectly tasty and bright main dish for your table tonight!
Try this gem recipe for your leftover steaks. Bring life into your plates by adding a savory sauce of mushroom and marsala wine. Perhaps, you can never go wrong with a piece of steak joined with a creamy sauce for your dinner. These two are insanely a match made in heaven. Give it a shot now to know!
How could we not love a good stir fry beef broccoli? Although the traditional way of cooking beef broccoli is undeniably tasteful, you sure should not miss out on the enhanced flavor the cooked steak version has to offer. Apart from the juicy goodness you get in every bite, this delectable recipe is also very easy and convenient to prepare. You can only spare a few minutes, and you are done with a tasty meal in no time.
Level up your usual fried rice for breakfast or dinner time. Get a full meal out from your leftover cuts. Give it a nice toss and mix. Be generous enough when drizzling your natural seasonings. You can enjoy a meal with rice, veggies, and meat all-in-one. You sure never tasted fried rice as rich and flavorful as this leftover steak fried rice. Head to your kitchen and try this hearty recipe!
This one is up for an instant grab. If you are in the mood for nibbling on a sandwich for lunch or dinner then spare a good 15 minutes for this one. Take a nice tender piece of meat and slice it thinly. Try a good mix of flavors and texture in one pile. Let your mouth savor the goodness of the juicy meat, caramelized onions, creamy dressing, and a lightly toasted bun.
Can we all just agree that leftover steaks make a great quesadilla? These meaty and cheesy treats are great for the whole family. This recipe might convince you to set aside some good meat after every steak night. It can be a relatively easy and fun meal to prepare.
Give your leftover steak a more refreshing look. This 15-minute Thai recipe will surely make you turn into a salad person, in case you are not. Your nicely sliced tender meats would be more palatable laying on the bed of leafy greens with a good mix of fresh herbs that intensifies the flavor. This one's surely a better-than-take-out meal for you!
This will definitely be your go-to pasta recipe when you are left with nothing, but a few leftover lumps of meat in your fridge. Stretched out your steak by cutting it nicely into smaller pieces and get ready to incorporate with a flavorful sauce. You sure can never resist this delectable recipe, this tastes just right that even your little kids would love.
Another sumptuous meal transformation that is perfect for our pasta lovers. What I love about this recipe is how it retains the tenderness and juiciness of every beef chunk, notwithstanding that it has been recooked and repurpose. The sauce is generously seasoned and the meal as a whole is packed with flavors. Give in to this meaty goodness pasta recipe and share it with the whole family.
Bring warmth into your home for dinner with this hearty soup recipe made with leftover steak. This one is great comfort food that soothes you with its aromatic taste and smell. Also, the good thing about this is it is a low-carb-friendly recipe. Moreover, it's a humble meal that is super frugal. You can just stretch out a few chunks of leftovers, and you can now feed the whole crowd.
Bring in a vibrant-looking delish meal for dinner tonight. This appetizing dish deserves a spot on your family table as this is not only appealing to stare at but definitely great to dig into. Allow yourself to add life to your boring steak, and transform it into a creative and sumptuous salad. Get yourself moving and prepare some tonight!
Yield: 2 Servings
Leftover Steak and Potato Hash (11 Must-Try Leftover Steak Recipes)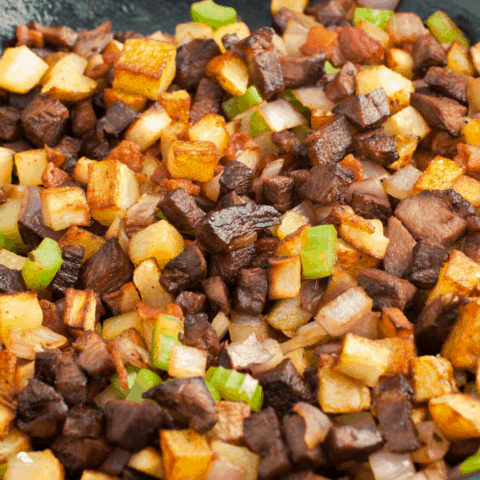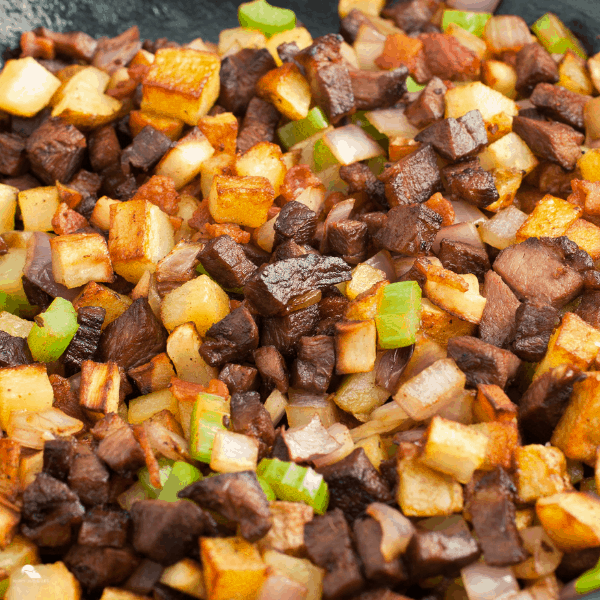 Don't let leftover steak go to waste! Instead, try out this quick and easy hash recipe or one of these other 11 must-try recipes. You'll be glad you did.
This is one of the best recipes for breakfast, lunch, or dinner. It's hearty and filling- perfect for a cold winter day.
The recipe is easy to make, and it only takes about 20 minutes from start to finish!
So get your family in the kitchen with you today and whip up this tasty dish!
Ingredients
Olive oil
1 medium onion, chopped
1 small jalapeno, seeded and minced
2 teaspoons minced garlic
1 large or two medium leftover baked potatoes, cubed
Steak seasoning, to taste
8 ounces leftover sirloin steak, sliced
Instructions
Add enough olive oil to coat the bottom of a large skillet and heat over medium-high heat.
Add the onions and jalapeno and cook just until the onions start to soften.
Stir in the garlic and potatoes and cook until the potatoes start to turn golden brown.
Add the steak and cook until heated through.
Notes
Once the steak is heated through, you can top with cheese, cover, and turn to low heat until the cheese melts.
You can also top with fried eggs.
11 Must-Try Leftover Steak Recipes
Below are 11 Leftover Steak Dinner Ideas in case this recipe is not what you desire at the moment:
Nutrition Information:
Yield:
2
Serving Size:
1
Amount Per Serving:
Calories:

526
Total Fat:

23g
Saturated Fat:

7g
Trans Fat:

0g
Unsaturated Fat:

13g
Cholesterol:

104mg
Sodium:

325mg
Carbohydrates:

43g
Fiber:

5g
Sugar:

5g
Protein:

36g
These nutritional calculations might not be accurate. Please speak with a licensed nutritionist to assist you.