With crab season almost to an end this is the perfect time of year to get deliciously fresh crab meat. This Simple Seafood Salad Sandwich is perfect for a healthy lunch!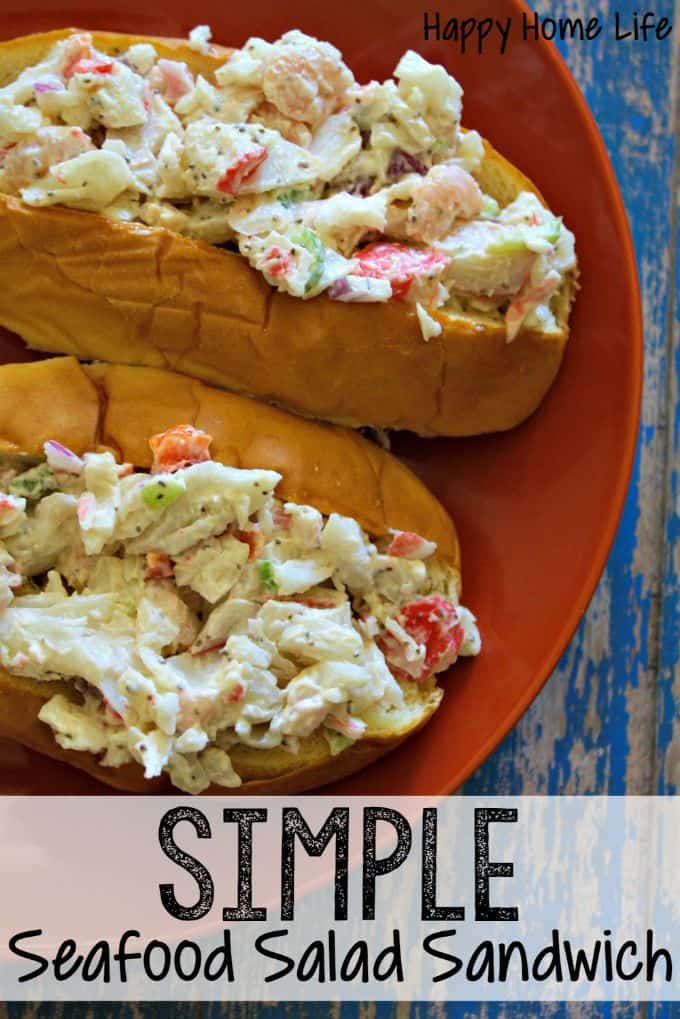 This is one of my kids favorite go to's. My kids who refuse to eat most seafood love this. This is also a great dish to take to events such as a potluck as it tastes fabulous with crackers too!
Ingredients Needed for a Simple Seafood Salad Sandwich
To make seafood salad recipe with crab meat and shrimp you are going to need the following ingredients:
cooked seafood, such as crab meat, shrimp or lobster (I like mixing shrimp and crab)
mayonnaise or salad dressing
salt
Greek seasoning (find it here)
pepper
celery stalk
small onion
For sandwiches you will also need 4-6 Hot Dog Buns (these ones are our favorite).
Now that you have gathered all of the ingredients to make
Simple Seafood Salad Sandwich it is time to make it!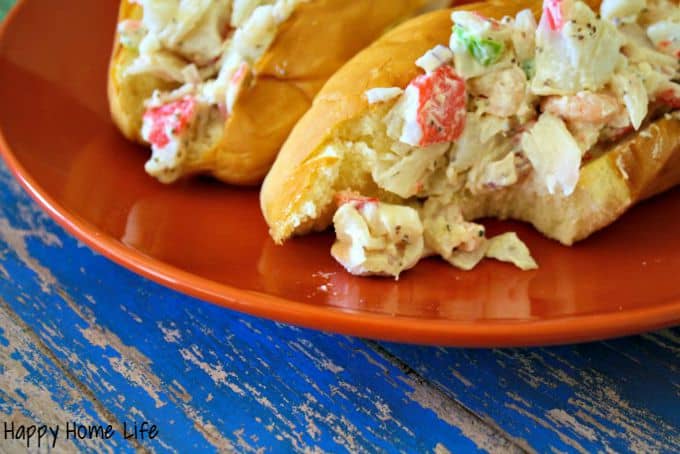 Directions:
Mix all ingredients except buns.
Fill buns with seafood mixture.
SUPER SIMPLE!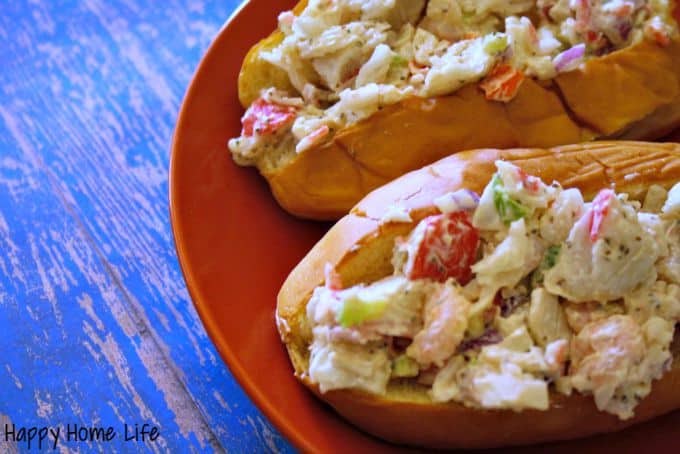 ---
Alternatives to Seafood Salad:
Tuna Salad:
Substitute 1 can (9 ounces) tuna, drained, for the seafood. Stir in 1 teaspoon lemon juice.
Chicken Salad:
Substitute 1 1/2 cups chopped cooked chicken for the seafood.
What can I serve with Simple Seafood Salad Sandwich?
You can serve chips, veggies, anything you heart desires.
Can you freeze seafood salad?
No! This recipe contains mayonnaise which does not freeze well. When you freeze this seafood salad and thaw it, it will be oily.
Freezing this seafood salad is not recommended.
Simple Seafood Salad Sandwich
Ingredients
1 1/2 cups chopped cooked seafood, such as crab meat, shrimp or lobster (I like mixing shrimp and crab)
1/2 cup mayonnaise or salad dressing
1/4 teaspoon salt
1/4 teaspoon greek seasoning (buy here)
1/4 teaspoon pepper
1 medium celery stalk, chopped (about a 1/2 cup)
1 small onion, chopped (about a 1/4 cup)
Instructions
• Mix all ingredients except buns.
• Fill buns with seafood mixture.
Notes
Alternatives to Seafood Salad:
Tuna Salad: Substitute 1 can (9 ounces) tuna, drained, for the seafood. Stir in 1 teaspoon lemon juice.
Chicken Salad: Substitute 1 1/2 cups chopped cooked chicken for the seafood.
This post may contain affiliate links which might earn us money. Please read my Disclosure and Privacy policies here
Wake up and smell real energy-boosting foods that work better than coffee!
 Sometimes when we wake up in the morning, whether it is weekend or a workday, most of us can't seem to get started unless we've had our energy-shot for the day, and that comes from our coffee, right?
That's what we've been counting on for years, not believing for a moment that there are quite a few other things that can really kick-start our day. The thing is with coffee, yes, it sure does make us feel great as the caffeine gets to work, but once it starts wearing off not too long. Afterward, then we are still left feeling sluggish and foggy again – that's when we reach for another cup, maybe even with a bit more sugar added this time to keep up with the day's hectic schedule.

7 Energy-Boosting Foods That Are Better Than Coffee
If you truly do want to last all day and stay alert and 'with it', there are some other better ways than coffee to supercharge your day – there literally are high energy boosting healthy foods to stop you yawning before night time comes along.
Beneficial bananas
Bananas have plenty of vitamin C in them, plenty of fiber, as well as antioxidants and they have a lot of natural sugar in too, fructose, sucrose, and glucose – these are converted into energy in your blood and the high fiber helps the sugar to be absorbed slower, to give you the energy to last right through the day.
Super salmon
How does a smoked salmon and cream cheese bagel sound for breakfast? Well, it's got the all-important omega-3 fatty acids which are perfect for brain health and energy production; let alone looking after your heart. Fish serves you protein to stave off those hunger pangs, giving you energy and crushing any of those post-carb yearnings that we all know about.
Lusty lemon water
Plenty of us don't drink enough water, but some warm water with natural lemon juice is hydrating to the body and skin and has plenty of vitamin C added as well. Studies show that those who don't have drink plenty of water in the day feel the tiredness and fatigue setting in more than those who do.
Great green tea
If you want to switch off the coffee and add a bit more zest to your life and diet, then green tea is for you. It has also got caffeine in, but far less than your cup of Joe. Green tea helps you concentrate too, filled with antioxidants and nutrients that can give you quick boost during your day.
Extraordinary eggs
Eggs are abundant in protein and iron, and that means you get real sustainable energy for a busy day. Eggs have a nutrient called choline in them too, excellent for the brain, the muscles, and metabolism.
Sensational smoothie
A smoothie with nuts is the ideal breakfast drink to start your day because it is full of minerals, vitamins, and fats. Furthermore, they are downright delicious! Filled with fiber too, to keep your blood sugar levels balanced and protein to keep you full for longer. Just the nuts stashed away in your desk at work can give you an energy boost if you haven't got time for the smoothie. Check out some healthy delicious smoothies to make here.
Gorgeous Greek yogurt with some berries
To get the most out of your snack, just choose some low-fat Greek yogurt; staying away from the flavored one because they come with plenty of sugar added. For that extra sweetness, just add in some delicious fresh berries with a bit of honey to control the sweet tooth in you. And if you want to go the extra mile, you can toss over your yogurt some delectable crunch toppings such as granola, which contain the necessary fiber.
Energy that lasts all day long from natural foods
Coffee is a pretty amazing drink, that's for sure. It's no wonder it is the most popular drink in the world with over 400-billion cups consumed each year! But it has its drawbacks; ad excessive consumption will leave you dehydrated, cause headaches, and quick energy drops after drinking it. It needn't be the go-to solution for your energy boost, there are way more nutritious and energy promoting options and delicious too; one that will have you jumping out your bed to face whatever comes your way!