One of the best flavors for fall is pumpkin.  This 2 Ingredient Pumpkin Cake will get your fall taste buds flowing, but it won't have you slaving away in the kitchen!
I had heard for years about this recipe…and have no clue who the original creator is…but I honestly didn't believe that it could turn out to be anything to write home about.
I have to say I was wrong!  (you can ask my husband, I don't admit that very often, lol)
This simple recipe produces a moist and flavorful cake with such little effort that I almost feel guilty!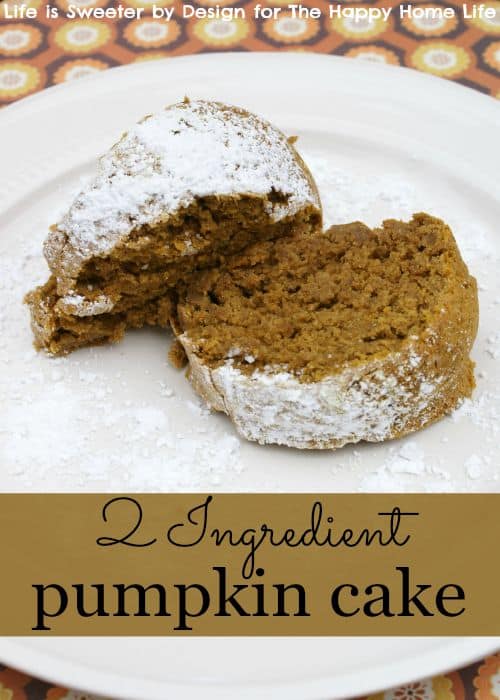 My first experience making 2 Ingredient Pumpkin Cake was last year around Thanksgiving.
We were having a big feast at my job, and I needed to bring two desserts.  I figured I would make the cake and if it didn't turn out that I would stop somewhere on my way to work and buy some ready to eat pies!
Luckily for me, this dessert was a hit.
When I say it was a hit, I mean I had people asking for the recipe!  To me, that is recipe success!!
So even though I don't think you need a lot of instructions to make this simple cake here goes!
How to Make 2 Ingredient Pumpkin Cake

What are the ingredients for 2 ingredients pumpkin cake?
Box of spice cake mix (any brand)
Can of pumpkin puree
That's it!
We used Libby's 15 oz can for this recipe, but we have also used other brands.
Now that you have the ingredients follow the next step.
Step 1 – Mix the two ingredients together.  
I mixed the mixture with a hand mixer the previous year, and it worked fine.  For this recipe, I used my new Kitchenaid, and it was terrific!
Back to the recipe!
You mix the cake batter until it is well blended.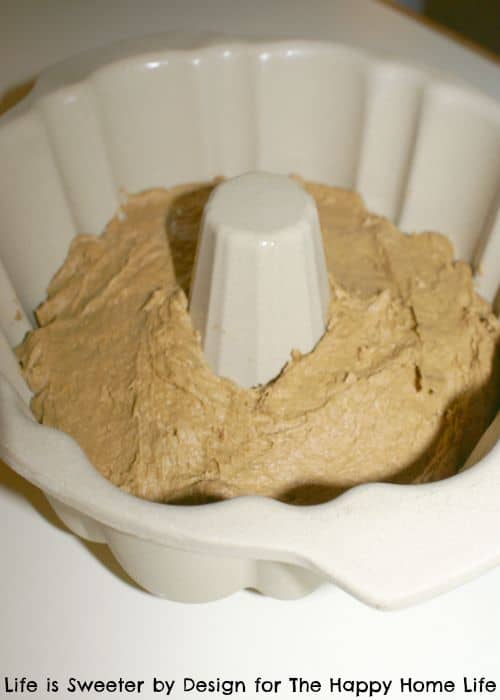 Step 2 – Transfer the mixture to a  bundt pan.
This cake mix batter is not the usual consistency, so be prepared!  It is much thicker than a standard cake mix batter.
The reason the bundt pan works well with this recipe is that the top of the cake isn't going to be that pretty when you take it out of the oven.
It is kind of bumpy looking because the cake mixture isn't nearly as liquidy as a regular cake.
Turn the bundt pan, and you will have a pretty cake!
Step 3 – Bake the cake around 30 minutes at 350 degrees F.  
The time you bake it may differ from what the box says.  Just watch the cake, and when it looks done.
It starts to pull away from the sides of the pan; it is done.  You can also test it with a toothpick if you want.
Step 4 – Once you remove the cake from the oven and let cool.
Step 5 – flip it over on your serving platter and sprinkle with powdered sugar is you desire.

Your 2-Ingredient Pumpkin Cake is Done!
You have just made a very inexpensive and very easy dessert that is good enough to take to a party!
What is your favorite fall dessert to make?  Have you ever tried 2 Ingredient Pumpkin Cake?
If you like easy desserts, you make want to check out my 2 Ingredient Lemon Bars!
(Visited 282 times, 1 visits today)