You don't have to wait for fall to enjoy the delicious flavors of pumpkin spice. This iced pumpkin spice latte vegan recipe is perfect for any time of year. It's easy and refreshing, even on those warm days in early fall! And it only has six simple ingredients so you will be sipping your drink in no time flat. Get ready for your new favorite fall treat with this DIY pumpkin spice latte recipe that anyone can make at home!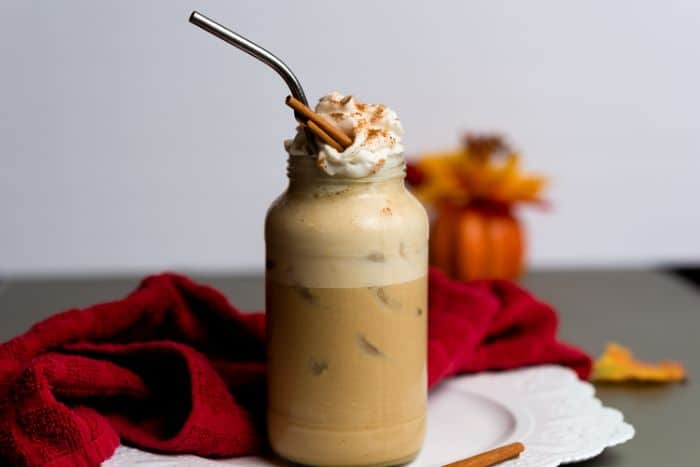 It's that time of the year again. The leaves are changing, the air is getting colder and pumpkin spice lattes are all around us. But what if you're a vegan? There's no need to go without this autumnal favorite! In this blog post, we'll show you how to make an iced vegan pumpkin spice latte recipe from scratch.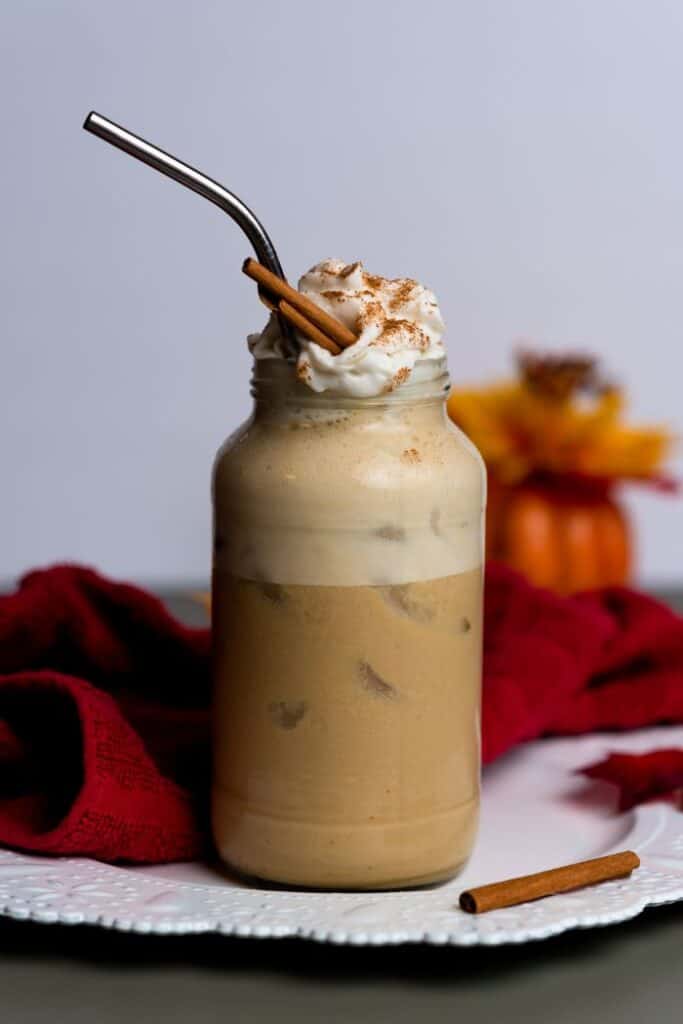 Why You'll Love This Iced Vegan Pumpkin Spice Latte
We don't think you'll need convincing when you see how delicious this looks, but just in case you do, here are some reasons to treat yourself to a yummy iced pumpkin latte today!
Pumpkin spice is everything!
You can make it in about 5-10 minutes.
It's creamy and delicious.
It's served over ice, so you can enjoy it even if it's really hot during the fall where you are. You're welcome, Southerners.
Even your non-vegan friends will totally love this version.
Equipment Needed to Make a Vegan Pumpkin Latte
You probably have everything you need already, but here are some of our favorites for making lattes and smoothies. The following links are affiliate links; we earn a commission on eligible purchases.
Ingredients for Your Iced Vegan Pumpkin Spice Latte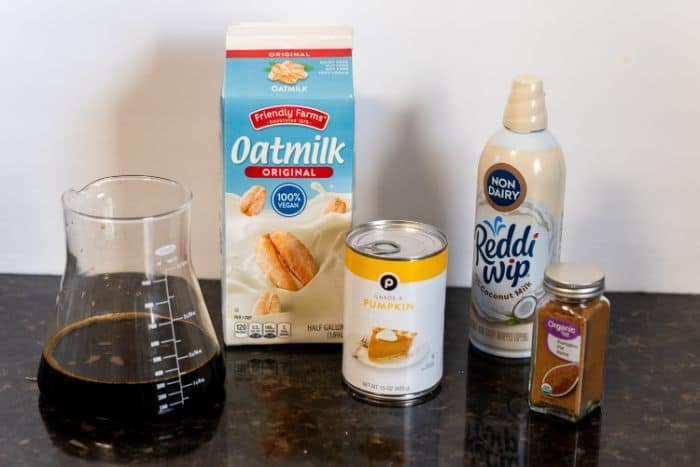 2 cups vegan milk (We used oat milk)
4 tbsp cold brew coffee (or espresso shots)
2 tbsp pumpkin puree
Nondairy whipped cream, optional (We used coconut milk whipped cream)
Pumpkin pie spice, optional
Sweetener of your preference (We used 2 teaspoons of white sugar)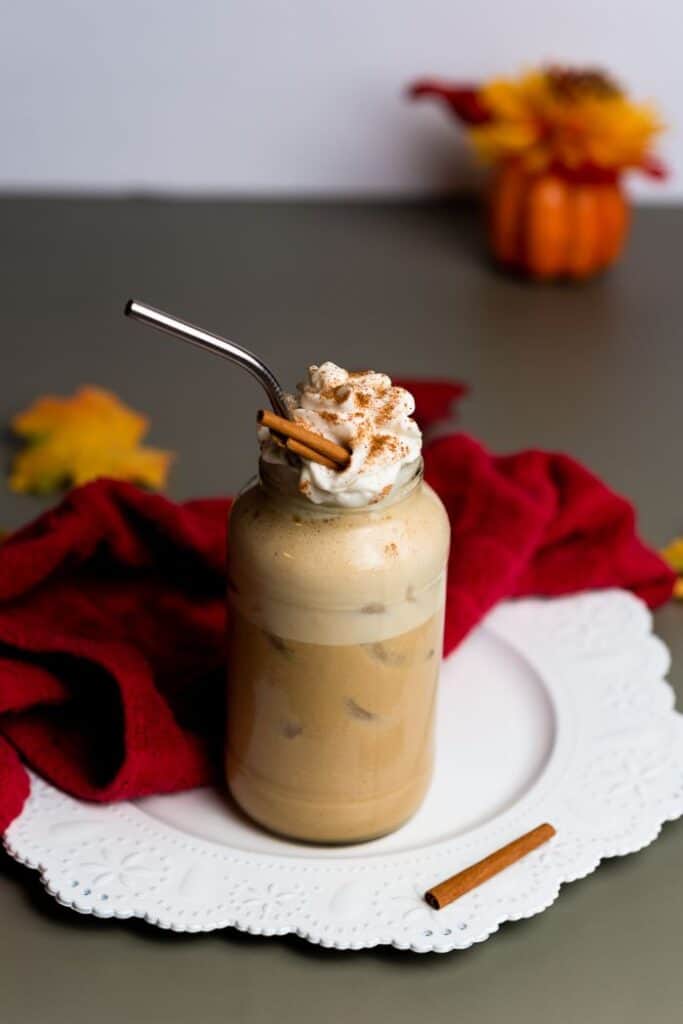 How to Make a Pumpkin Spice Latte Vegan
Step 1 – Blend the milk, coffee, sugar, and pumpkin puree.
In a blender, add your milk, coffee (cold brew or espresso shots), sugar, and pumpkin puree. Blend the ingredients together for a few seconds until they're all mixed. If you'd like to make this a frappe, add a few handfuls of ice and blend a little longer.
Step 2 – Pour into glasses.
Grab two large glasses (we like using Mason jars or Ball jars for smoothies and other drinks). Fill them about 3/4 full with ice. Divide the blended latte between the two jars.
Step 3 – Add toppings.
Top your pumpkin lattes with vegan whipped cream and pumpkin pie spice powder. Serve immediately.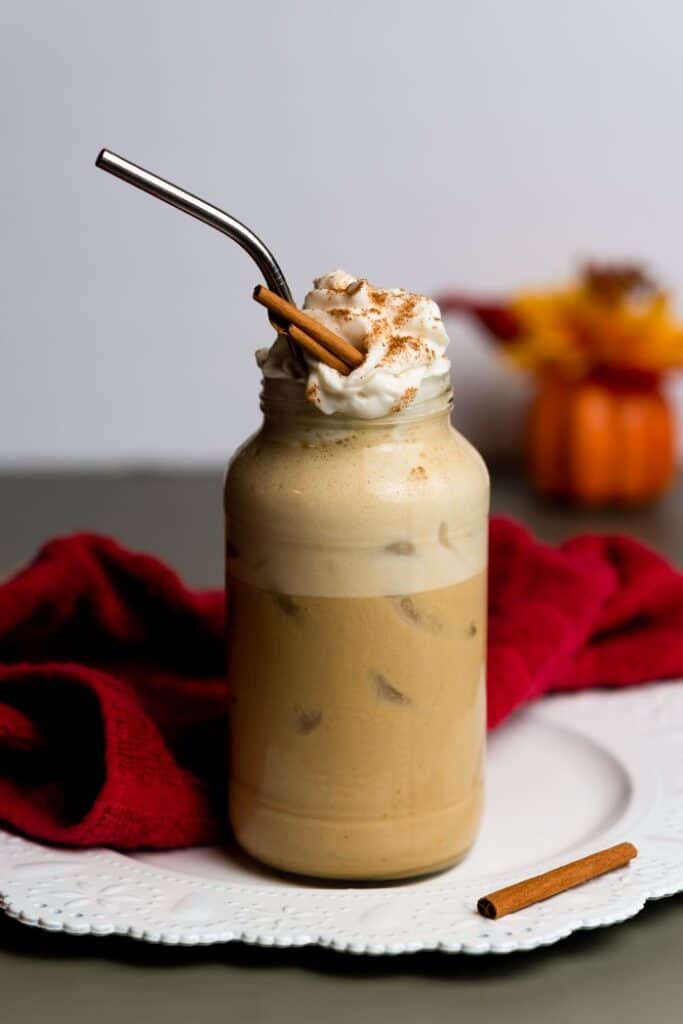 What to Pair with Your Vegan Pumpkin Spiced Latte
Looking for a dessert to pair with your vegan psl? Here are just a few yummy ideas!
Popular Substitutions and Additions
Here are a few ideas to make your vegan iced pumpkin spice latte even more decadent.
Add pumpkin spice to the blended pumpkin and liquids. About 1/2 a teaspoon should do.
Use a pumpkin-flavored coffee.
Drizzle with caramel syrup.
Crumble some pumpkin spice cookies and sprinkle the crumbs on top of the whipped cream.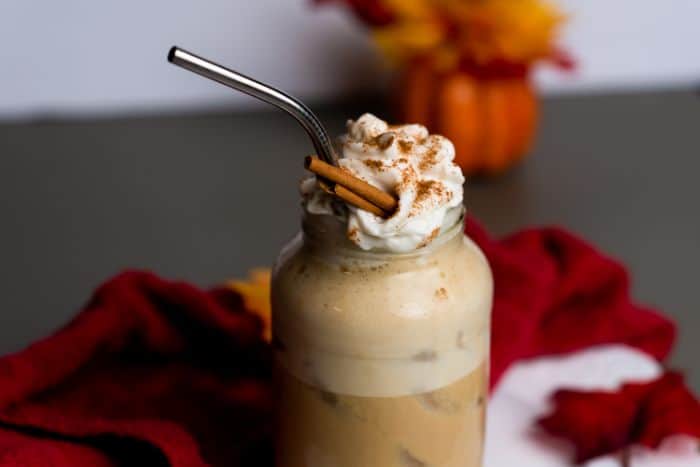 Homemade Vegan Pumpkin Spice Latte FAQs
Are Pumpkin Spice Lattes Vegan?
Typically, pumpkin spice lattes bought at Starbucks, Dunkin Donuts, and other places are not vegan if they're made using the regular recipe. However, you can request that the barista use dairy-free products. For example, request oat milk or almond milk instead of regular milk. However, you'll need to skip the whipped cream as only two locations carry vegan whipped cream made from lentils as of 2021.
However, this recipe for iced vegan pumpkin spice lattes is totally vegan!
Do Pumpkin Spice Lattes Have Dairy?
Yes, pumpkin spice lattes from Starbucks and most chain coffee shops contain dairy milk. There's also dairy in the whipped cream. You'll need to request a change in the type of milk and skip the whipped cream in most cases to keep your drink vegan.
Our homemade pumpkin spice latte recipe does not have dairy.
Where Can I Get a Vegan Pumpkin Spice Latte?
Make one yourself! This recipe is super simple and uses fairly common ingredients, so you can whip one up yourself in less time than it would take to drive to Starbucks.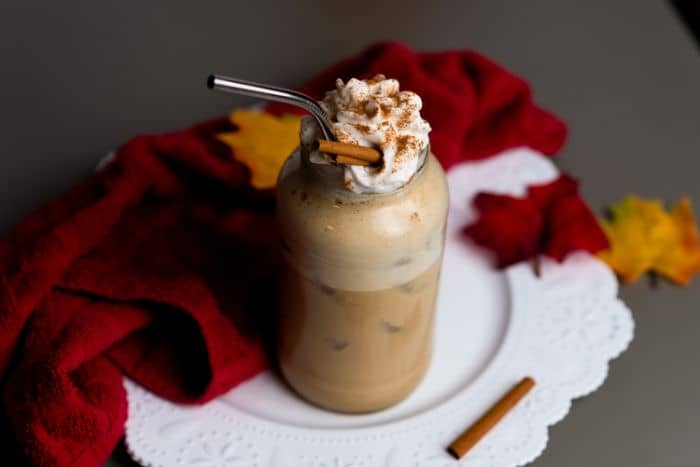 Other Pumpkin Recipes You'll Love
Note: The following recipes may not be vegan. Read the ingredients carefully and make vegan substitutions where needed.
More Drinks for Autumn
Chocolate Santafereño (Colombian Hot Chocolate)
Champurrado Mexicano (Mexican Hot Chocolate)
Homemade Coffee Drink Recipes (20+ ideas!)
Don't forget to come back and let us know how your easy vegan pumpkin spice latte turned out!
Yield: 2 lattes
Iced Vegan Pumpkin Latte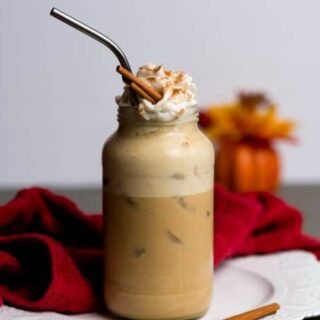 This vegan pumpkin latte is creamy, cold, and delicious! It's the perfect drink for fall, even if the weather is still warm wherever you are. Get your pumpkin spice fix at home with this yummy drink!
Ingredients
2 cups oat milk
4 tbsp cold brew coffee
2 tbsp pumpkin puree
Nondairy whipped cream, optional
Pumpkin pie spice, optional
2 teaspoons white sugar
Instructions
In a blender add milk, coffee (you can use premade cold brew or espresso shots), sugar, and pumpkin puree. Blend for a few seconds until all mixed. If you'd like to make it a frappe, at a few hands full of ice and blend a little longer.
Grab two large glasses (I like using mason jars), fill them with ice for about ¾ of the glass, divide the blended latte into both glasses, and then top with whipped cream and pumpkin pie spice powder. Serve immediately.
Enjoy!

Notes
You can use any non-dairy milk you like for this pumpkin spice latte recipe.
Nutrition Information:
Yield:
2
Serving Size:
1
Amount Per Serving:
Calories:

163
Total Fat:

2g
Saturated Fat:

1g
Trans Fat:

0g
Unsaturated Fat:

1g
Cholesterol:

2mg
Sodium:

11mg
Carbohydrates:

36g
Fiber:

2g
Sugar:

24g
Protein:

2g
These nutritional calculations might not be accurate. Please speak with a licensed nutritionist to assist you.