I love cooking with pumpkin puree. It is the ultimate Fall recipe ingredient. And to be honest, it makes me feel like I am cooking "healthy" when I add pumpkin to a recipe. It's a vegetable, right? My favorite pumpkin recipe is Pumpkin muffins. They are easy to transport, fairly healthy and my kids call them "cupcakes" and think they are getting a special treat. They loved when we made these Mini Pumpkin Muffins with Cream Cheese Frosting Stems.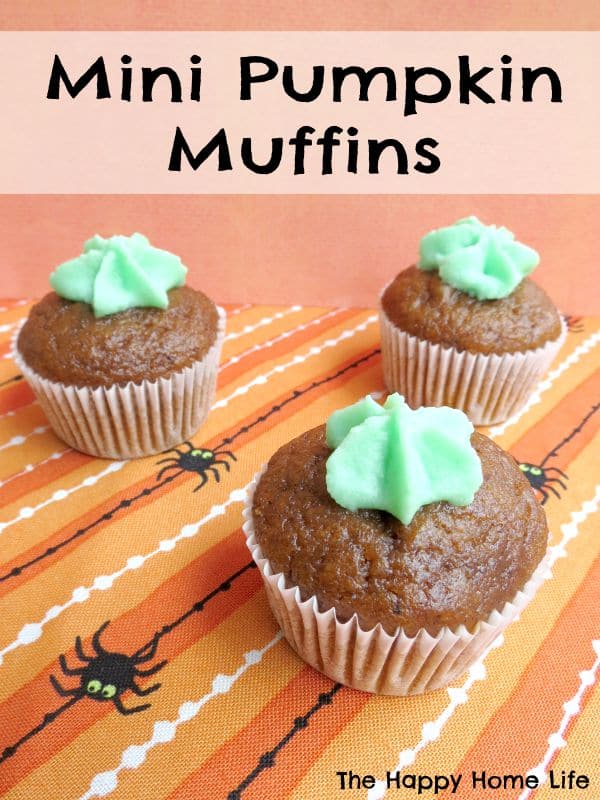 These mini pumpkin muffins were a hit at our local block party! They are small enough for the little kids and tasty enough for the adults. Be sure to make a lot since they will go fast!
Supplies: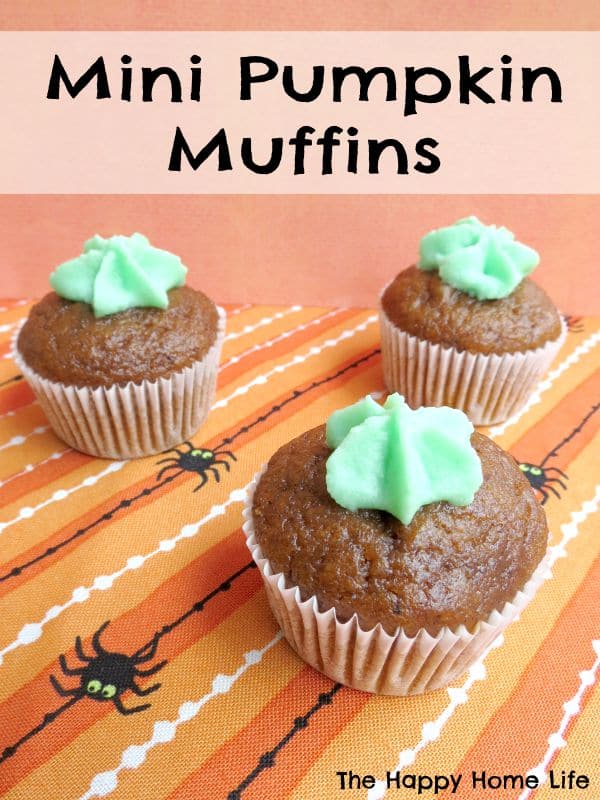 Yield:
Mini Pumpkin Muffins With Cream Cheese Frosting Stems
Ingredients
1 1/2 cup all purpose flour
1 tsp. cinnamon
1 tsp. allspice
1 tsp. nutmeg
1 (15 oz) can pumpkin puree
1 1/2 cup white sugar
1/4 cup vegetable oil
1/4 cup water
2 large eggs
Instructions
Preheat your over to 325 degrees.
Mix the dry ingredients together well. This is especially important to incorporate all of the pumpkin pie spices. If a recipe calls for pumpkin pie spice, I always use an equal mixture of cinnamon, nutmeg and allspice.
Mix the wet ingredients in a second large mixing bowl. Then add in the dry ingredients and mix until everything is well incorporated.
Place mini muffin papers in the muffin tin. Use a large spoon to fill the muffin cups about 3/4 full.
Place the muffin mix in a pre-heated oven for about 15 minutes.
For the frosting, I used my go-to cream cheese frosting that I use every single time I need to make frosting. It is 100% delicious and easy to make. It does make a lot, way more than you will need for the pumpkin stems, so think about only making a half batch. Add the food coloring as you are mixing it in the mixer.
Take your green frosting and place it in a cake decorating bag with a star tip. Make sure the muffins are completely cool before you add the frosting stem. Place the tip in the center of the muffin and squeeze out a small amount of frosting as you lift the bag up. It creates a small 1/2 inch to 3/4 inch tall green stem.
Notes
The kids loved these mini muffins and could not get enough of them. I think my kids ate 5 or 6 the day I made them. While the kids are eating all the mini pumpkin muffins, they can make this easy Pumpkin craft.
Nutrition Information:
Yield:
12
Serving Size:
1
Amount Per Serving:
Calories:

215
Total Fat:

6g
Saturated Fat:

1g
Trans Fat:

0g
Unsaturated Fat:

5g
Cholesterol:

31mg
Sodium:

14mg
Carbohydrates:

39g
Fiber:

1g
Sugar:

26g
Protein:

3g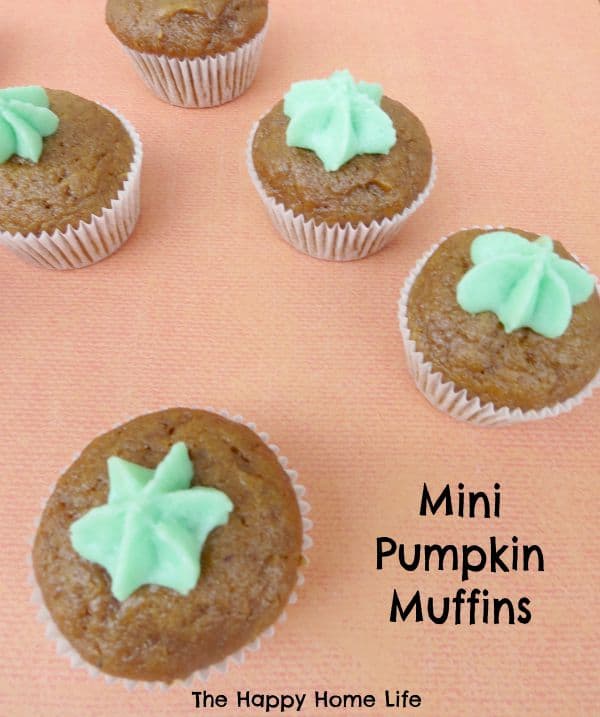 You might also like: