Ah, banana muffins. A breakfast staple that's sure to please the whole family. But what if your muffins are coming out dry and crumbly? There can be a few different culprits behind dry banana nut muffins – don't worry, though, with this recipe, you'll be able to make soft, moist banana nut muffins in no time!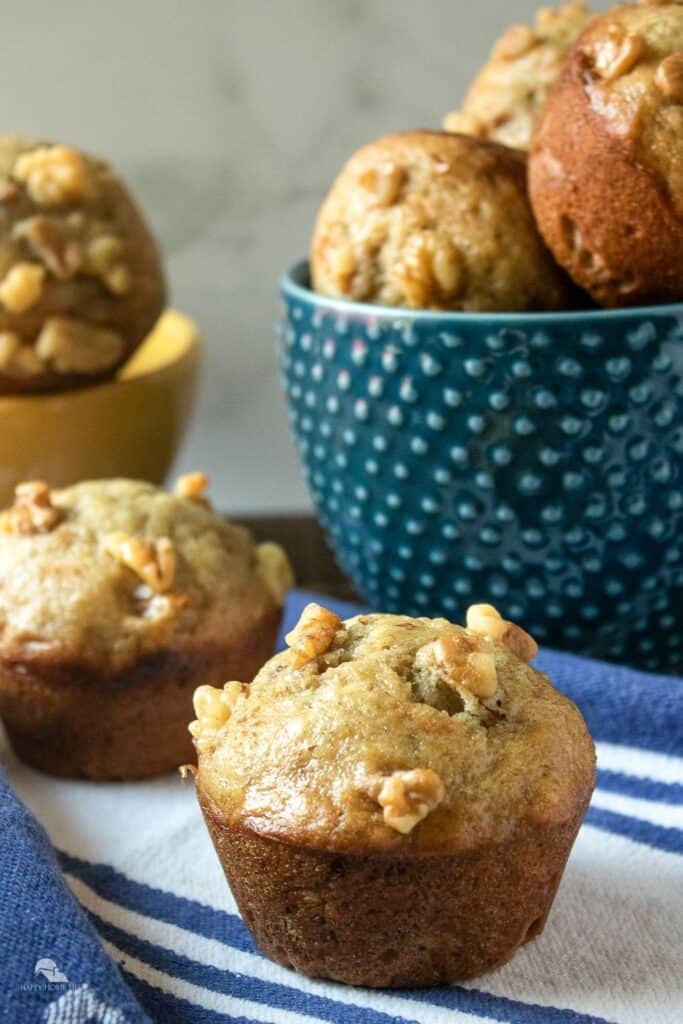 Why are my banana muffins dry?
Banana muffins can turn out dry for a number of reasons. One common culprit is the ratio of flour to bananas. If too much flour is used, it can make the muffins dry and dense. To avoid this, use only enough flour to hold the ingredients together.
Additionally, high-protein flours should be avoided as they have a higher gluten level, which can make your muffins rubbery.
It is also important not to cook your muffins too long or too slowly, as this can cause them to become tough or dry.
Finally, be careful with internet recipes as they may not produce the desired results. All of these factors can contribute to dry banana muffins, so make sure you take them into consideration when baking!
How do you keep baked muffins moist?
One way to keep baked muffins moist is by avoiding overbaking them. You can do this by checking them with a toothpick or cake tester for doneness and removing them from the oven as soon as they are done.
Additionally, you can cover the muffins with a layer of paper towels as soon as they are removed from the oven. This will help absorb any excess moisture they emit during cooling and prevent them from drying.
Another tip is to ensure you use the correct baking temperature and not overmix the batter.
Also, be sure to keep wet and dry ingredients separate while baking and store the muffins in an air-tight container once they have cooled.
Following these tips will help ensure your banana muffins remain moist and delicious.
Why are my muffins dense?
Muffins can become dense and chewy if they are overmixed. This is because the gluten pockets created by the flour need to be compact to make the muffins tender and fluffy. When making muffins, make sure to mix the dry ingredients in a large mixing bowl and all the wet ingredients in another bowl.
It is also recommended that you do not scoop the flour when measuring, as packing it too tightly will result in a dry and hard muffin. Adding a small amount of fat, like 2-3 tablespoons of butter, will help keep the muffins moist.
Lastly, be sure not to overmix when making muffins, as it will result in a dense and rubbery texture. Using these tips should help you create moist and fluffy banana muffins.
Why are my banana muffins rubbery?
If you find that your banana muffins are coming out rubbery, it may be due to overmixing. When the dough is mixed or kneaded too much, it causes the gluten to start developing and can produce a chewy and rubbery texture. This often happens when ingredients are not measured correctly, or too much chemical leavening is used in the recipe.
It is important to take great care to avoid overmixing your batter and be sure to measure your ingredients accurately. Additionally, it's important not to use unripe bananas, as this can lead to a dense, rubbery loaf. By following these steps, you can ensure that your banana muffins will come out moist and delicious!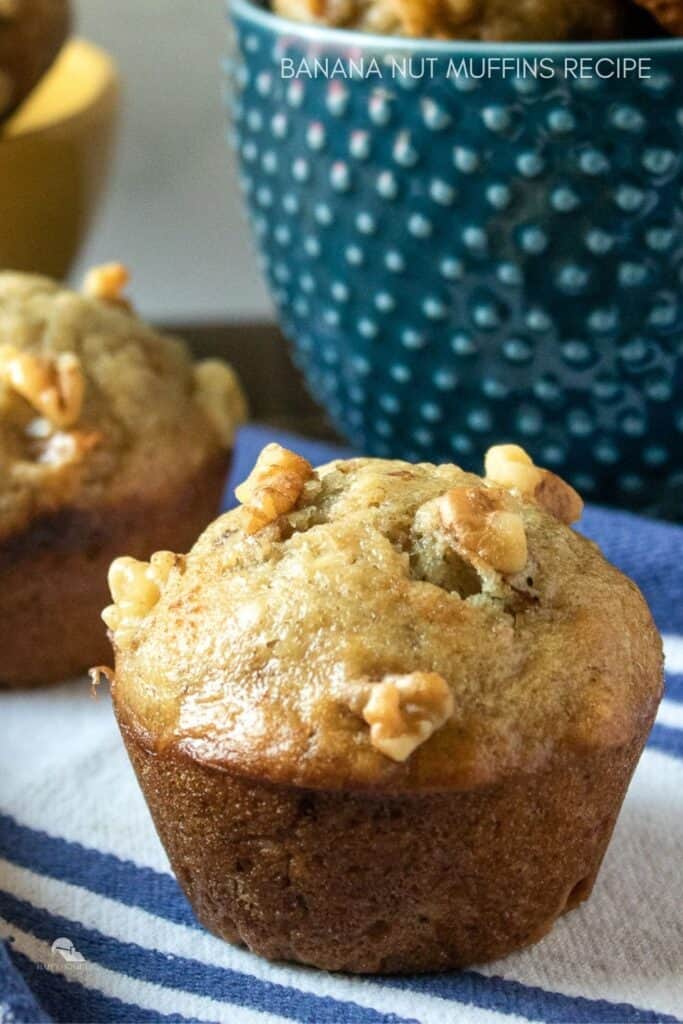 What happens if you put too much banana in banana bread?
Adding too much banana to banana bread can affect the texture and taste of your final product. Too much banana can make the bread overly moist and dense, making it more difficult to bake evenly. It can also make the bread too sweet, as bananas contain natural sugar.
Using too many bananas could also throw off the balance of wet and dry ingredients, making it difficult for the bread to rise correctly. To avoid these issues, make sure you measure the number of bananas you use and always use ripe but not overripe bananas for the best results.
Do you have to use ripe bananas for muffins?
When it comes to muffins, using ripe bananas is a must! Ripe bananas are sweeter, so they add more flavor to the muffins. They also have more moisture, which helps keep the muffins from becoming dry. On the other hand, using overripe, browned skin bananas can add even more flavor and moisture to the muffins.
Additionally, when adding mix-ins like nuts or chocolate chips to the batter, it's best to toss them in a bit of flour before adding them to help keep them from sinking to the bottom of the muffin.
Ensure you use a solid ratio of dry to wet ingredients to ensure your muffins stay moist and fluffy. With these tips in mind, you'll be able to make delicious banana muffins every time!
Banana Nut Muffins
These muffins can be enjoyed on their own or used as an ingredient in other recipes such as Banana Nut Bread or Banana Nut Pancakes. This recipe takes 10 minutes to prepare and 20 minutes to bake, yielding 12 delicious muffins that will please any appetite!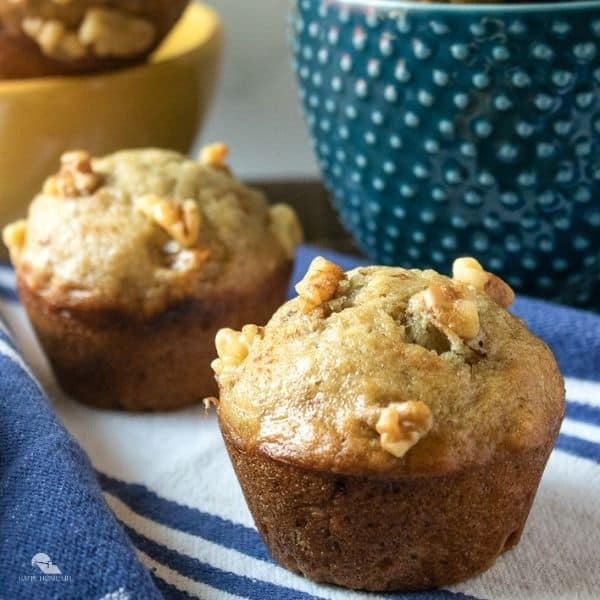 Why are banana nut muffins so popular?
Banana nut muffins are so popular with so many people because they are easy to make, delicious to eat, and versatile for other recipes.
There are many reasons why these muffins are popular with so many people; they can be eaten by themselves or used as an ingredient in a variety of recipes, such as Banana Nut Bread or Banana Nut Pancakes!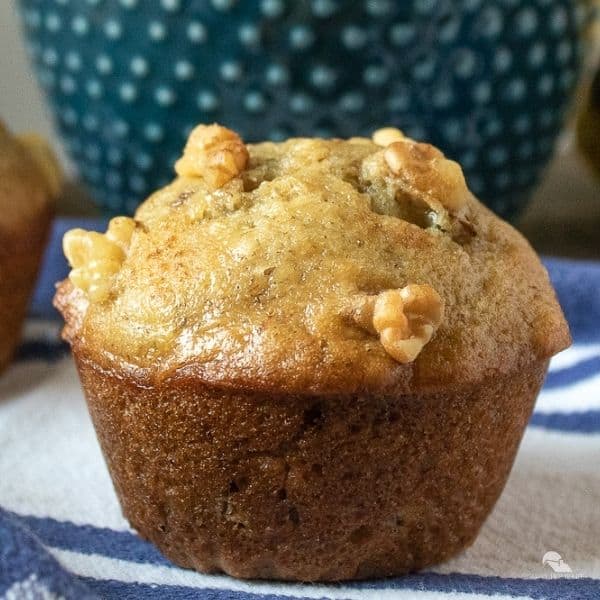 You don't want to miss our Blueberry Muffins for an easy breakfast for the kids. And when the holidays come around, these Christmas Morning Muffins or Mini Pumpkin Muffins are a great way to start your day.
Can you make these muffins ahead?
Yes, you can create this recipe ahead of time by preparing the mixture for the muffins and placing it in a bowl with plastic wrap touching the top. This will keep them moist, fresh, and flavorful!
Can you freeze banana nut muffins?
Yes, you can freeze these muffins.
Prepare the mixture for the muffins and place them in a freezer-safe container or bag with space around each to allow air to flow freely. Allow room for the expansion of frozen goods as they expand when placed in your freezer! Seal up tightly before placing it in the freezer.
To defrost the banana nut muffin batter, place the container in a refrigerator overnight or for about six hours.
Bake them when you're ready to use them!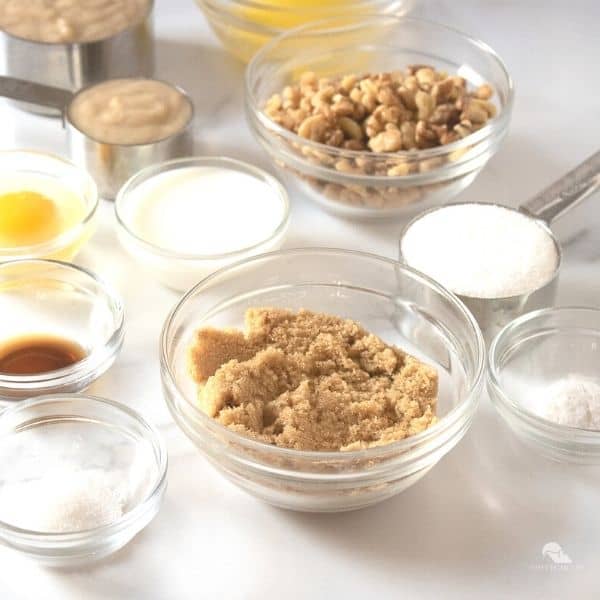 What are the ingredients to make banana nut muffins?
The ingredients to make this recipe are:
bananas – you can use ripe bananas or even overripe bananas!
butter – for more flavor, use unsalted butter;
milk – for a richer taste and to help with the rising of the muffins;
eggs– will bind everything together nicely. One egg per cup of liquid called for is usually sufficient;
vanilla extract – can be substituted with lemon extract;
sugar – granulated or brown sugar of your choice, added to taste. You'll want the muffins to have a slight sweetness to them;
flour – all-purpose flour is best as it's generally a blend of hard and soft wheat flours that produce an ideal texture for baking purposes;
baking soda – helps with rising and leavening in baked goods by releasing carbon dioxide bubbles from the batter during cooking. The acidity also reacts with some ingredients (such as baking powder), leading to additional chemical reactions such as big airy cakes or fluffy cookies.;
salt – brings out flavors when used sparingly, but too much will overpower everything else, so be careful! A little salt goes a long way.;
walnuts – add a bit of crunch to these muffins and is also high in heart-healthy omega-three fatty acids. The addition of walnuts to the batter will make for some tasty little muffin bites!
This recipe yields 12 muffins, but you can bake just as many or as few as you like.
I baked mine in batches so they were all done at once and I didn't have to wait around for them, though if your oven runs hot, it's best not to overfill it with too much baking material.
How to Make Banana Nut Muffins
Now that you have your ingredients, it is time to start making these delicious muffins.
First, preheat your oven to 350 degrees Fahrenheit and grease your muffin pan with non-stick cooking spray.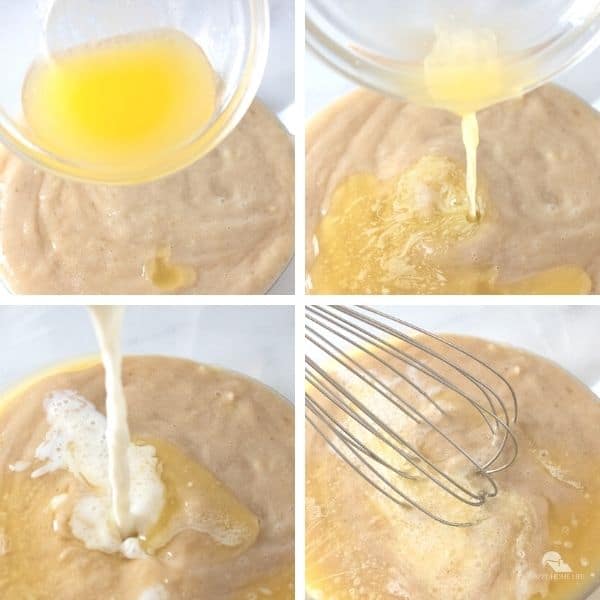 Next, in a medium bowl, add the mashed bananas, butter (melted), and milk and incorporate.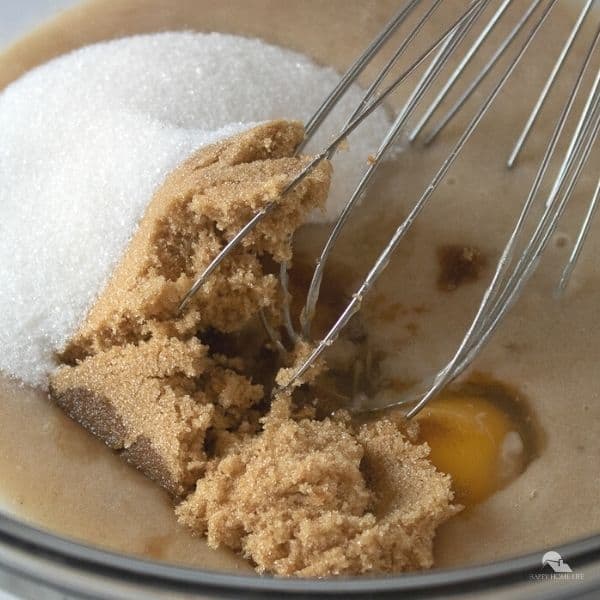 After you have incorporated the ingredients listed above, beat the egg, vanilla, and brown sugar.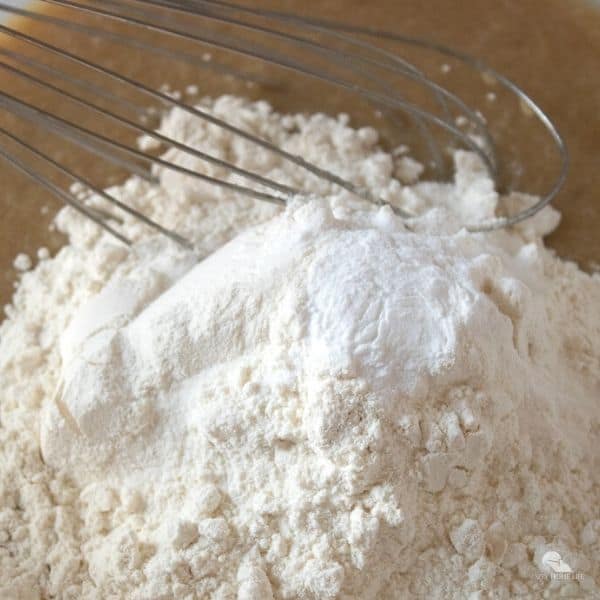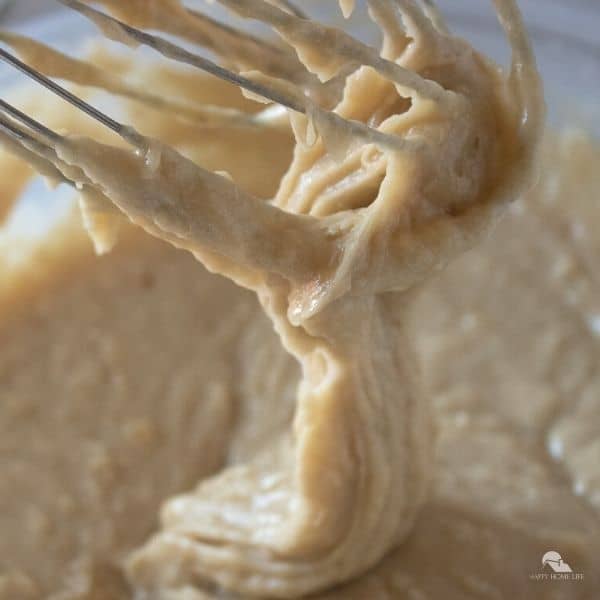 Add the remaining dry ingredients and fold in until just mixed.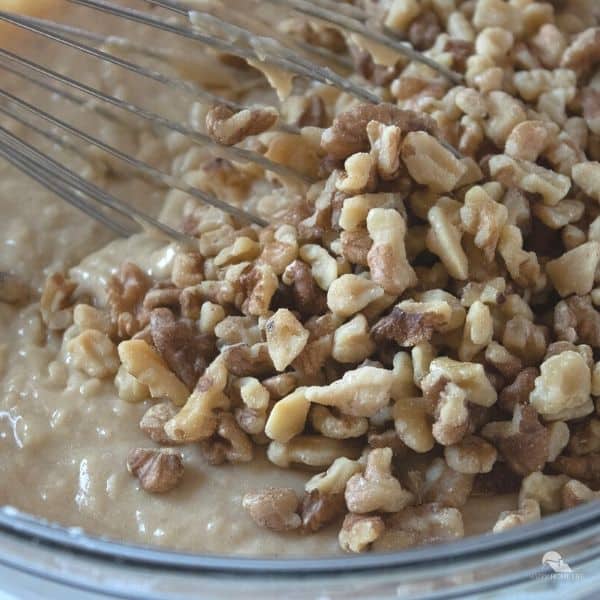 Fold in walnuts before spooning batter into muffin tins and baking for 20 minutes.
Put muffin cups in the pan, and fill about ¾ full. Top with additional walnuts, if desired.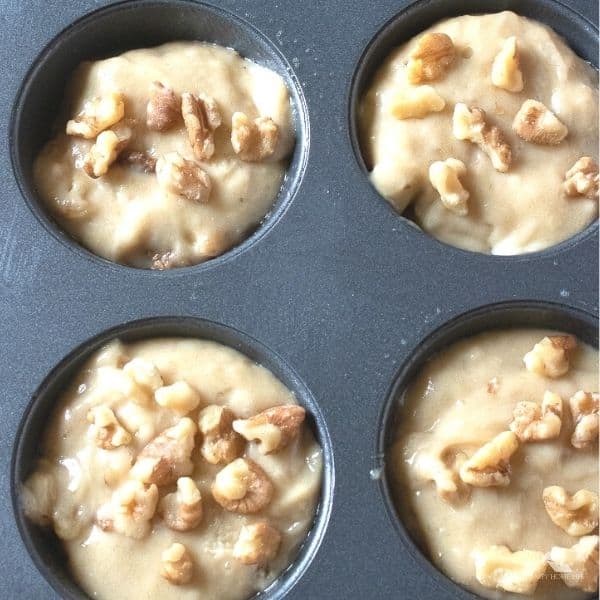 Place the muffins in a preheated oven and bake for 18-20 minutes or until a toothpick inserted into the center of one is clean.
Remove from oven, then let stand for about 4 minutes before transferring to a cooling rack. Remove from oven and cool for at least 5-10 minutes before serving.
Banana Nut Muffins - Easy To Make Recipe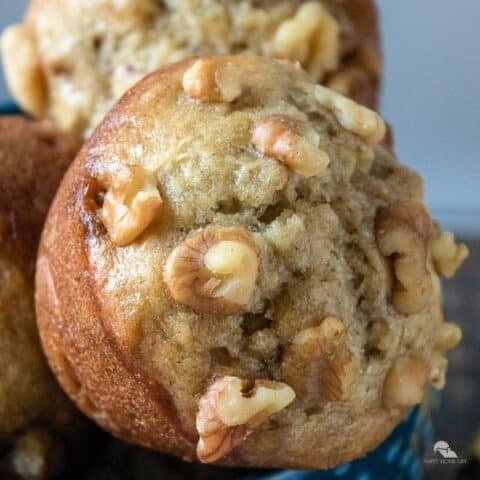 I am so excited to share this recipe for banana nut muffins with you! I have a busy life and love how easy these are to make.
They're the perfect snack or breakfast treat packed with protein, healthy fats, and even carbs.
We've been eating them as snacks all week, and my kids couldn't get enough of them. Enjoy them in less than 30 minutes! So whip up a batch today!
Ingredients
Non-stick cooking spray
3 bananas, mashed
¼ c. unsalted butter, melted
¼ c. while milk
1 large egg
1 t. vanilla
½ c. brown sugar
½ c. sugar
2 c. all-purpose flour
1 t. salt
1 t. baking soda
1 c. walnuts, chopped + extra to top muffins before baking, if desired
Instructions
1. Preheat oven to 350°F. Spray a standard muffin tin with non-stick cooking spray and set it aside.

2. Add the mashed bananas, melted butter, and milk to a large mixing bowl. Mix to combine.

3. Beat in the egg and vanilla, and brown sugar.

4. Add in the remaining dry ingredients and fold in until just mixed. Then, fold in the walnuts.

5. Fill muffin pan cups to about 4/5 full. Top with additional walnuts, if desired.

6. Place in the pre-heated oven and bake for 18-20 minutes, or until a toothpick inserted in the center of a muffin comes out clean. Remove from oven and cool for at least 5-10 minutes before serving. Enjoy!

Nutrition Information:
Yield:
12
Serving Size:
1
Amount Per Serving:
Calories:

307
Total Fat:

13g
Saturated Fat:

4g
Trans Fat:

0g
Unsaturated Fat:

9g
Cholesterol:

29mg
Sodium:

343mg
Carbohydrates:

45g
Fiber:

2g
Sugar:

22g
Protein:

5g
These nutritional calculations might not be accurate. Please speak with a licensed nutritionist to assist you.