Nothing beats a lovely and delicious summer drink when the temperatures rise, the humidity increases, and all you want to do is lay out by the pool. This Frozen Watermelon Slush is a wonderful treat with a base of watermelon, a touch of honey, some lime juice to balance the sweetness, and some fresh mint to make things just a little bit more refreshing. It is ideal for a lazy afternoon outside or a nice dinner with friends.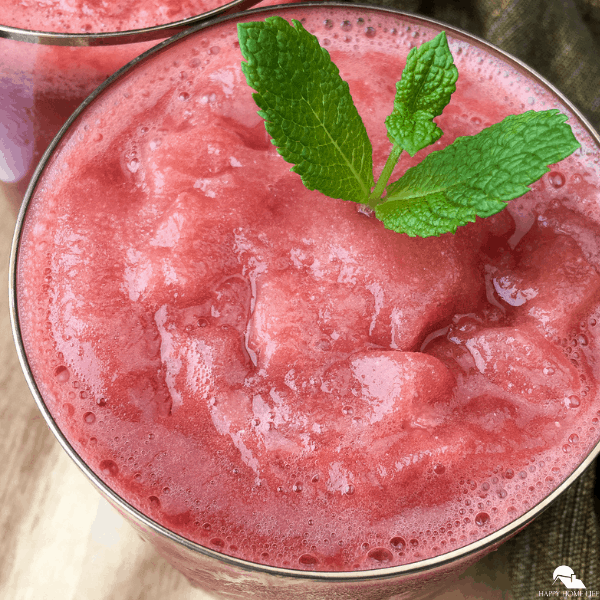 What can I do with watermelon that is not so sweet?
If you cut into a watermelon and find it lacking in sweetness and flavor, the remedy is gin! Simply pour gin over the cubed fruit, cover, and chill for a few hours. As a result, the flavor will have changed when you return to drink it; it will no longer taste like gin but rather like a delicious melon.
Can watermelon be frozen?
Yes, cut the watermelon in half to freeze it. You can cube the melon, freeze it in large chunks, or make little balls with a melon baller or spoon. To quickly freeze the melon, place the tray in the freezer. Pack the watermelon pieces into freezer bags or containers once they've frozen completely.
Are watermelons good for you?
Watermelon contains citrulline, an amino acid that can circulate blood through your body and reduce blood pressure. Watermelon's high lycopene content benefits your heart as well. It has been shown in studies to reduce the risk of heart attacks.
What are the ingredients to make frozen watermelon slush?
This recipe is good for 10 minutes of prep time with an additional time to freeze the watermelon. It is also suitable for 4 to 6 servings. Here are the ingredients that you're going to need:
Seedless watermelon – Should be frozen and cut into small chunks
Chilled brewed Tazo® Passion® tea (or water) – Though optional, it substantially enhances the flavor of this drink when compared to ordinary water.
Lime juice – Freshly squeezed
Honey – Preferably local
Fresh mint – For a refreshing taste
Large ice cubes – Optional
Premium vodka – Optional
Sprigs of fresh mint – For garnishing
Small watermelon wedges – For garnishing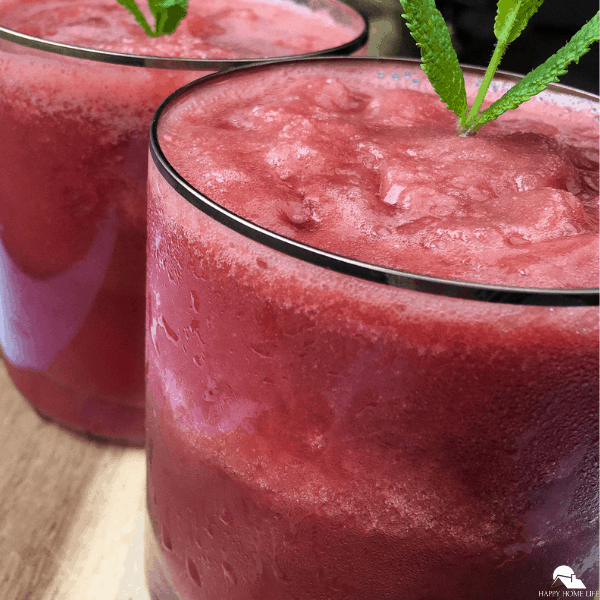 How to make frozen watermelon slush?
Now that you have gathered all of your ingredients, it is time to make this recipe. Follow the instructions below.
Combine frozen watermelon, cold tea or water, lime juice, honey, and fresh mint using a high-powered blender. Blend on high for 2-3 minutes, or until completely incorporated. If necessary, add ice cubes to reach the appropriate consistency.
Then if desired, float a 1 to 112 oz—floater of premium vodka over the watermelon mixture in four chilled glasses. Serve immediately with sprigs of fresh mint and/or watermelon slices if using. Enjoy!
Now that you know all you need to know about frozen watermelon slush, it is time to print or save the recipe with the exact measurements.
Not ready to print? No problem! Save this pin in your Pinterest account by clicking the pin button located in the recipe card.
Yield: 4-6
Frozen Watermelon Slush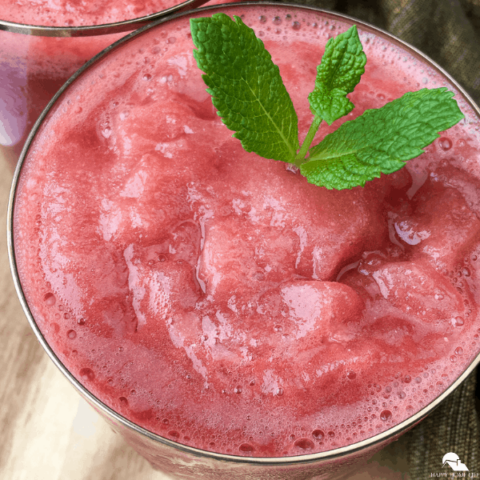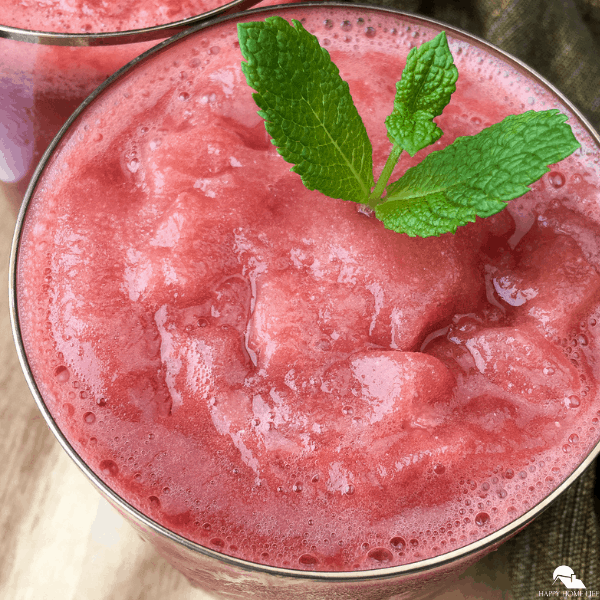 I know what you're thinking, "Watermelon slush?" You don't say. Well, yes, I do have a recipe for a frozen watermelon slush! It's not your typical summer drink, but it is refreshing and delicious.
Plus, this recipe will cool you off on the hottest of days. Who doesn't want that? So get out your blender, and let's go to town with some fruit!
Ingredients
6 c. seedless watermelon, cut into small chunks and frozen
2 c. chilled brewed Tazo® Passion® tea (or water)*
¼ c. fresh lime juice
2 T. honey, preferably local
2 T. fresh mint
6-8 large ice cubes (optional)
4-6 oz. premium vodka (optional)
Garnish: (optional)
Sprigs of fresh mint
Small watermelon wedges
Instructions
Add frozen watermelon, chilled tea (or water), lime juice, honey, and fresh mint to a high-powered blender. Blend on high until thoroughly combined, approximately 2-3 minutes. Add ice cubes, if necessary, to achieve desired consistency.
Pour watermelon mixture into four chilled glasses and top each with a 1 to 1½ oz. floater of premium vodka, if desired. Garnish with sprigs of fresh mint and/or watermelon wedges, if using, and serve immediately. Enjoy!
Notes
Although it is optional, Tazo® Passion® tea greatly enhances the flavor of this recipe when compared to using plain water.
Nutrition Information:
Yield:
6
Serving Size:
1
Amount Per Serving:
Calories:

344
Total Fat:

0g
Saturated Fat:

0g
Trans Fat:

0g
Unsaturated Fat:

0g
Cholesterol:

0mg
Sodium:

6mg
Carbohydrates:

22g
Fiber:

1g
Sugar:

18g
Protein:

1g
These nutritional calculations might not be accurate. Please speak with a licensed nutritionist to assist you.