There's so much you can do with coleslaw that most people don't even consider. Coleslaw is a classic barbecue sandwich topping as well as a side dish. This is a salad that may be hearty and creamy or light and refreshing.
What does the word coleslaw mean?
Coleslaw is the common name and spelling for a side salad that is typically served cold and is listed on restaurant menus (especially those with barbecue, seafood, or fried food options).
It consists of raw shredded cabbage with mayonnaise or vinegar-based dressing. The name comes from the Dutch koolsla, which combines the words kool (meaning "cabbage") and sla ("salad") to form "cabbage salad."
How long does vinegar-based coleslaw last?
For 3-5 days, you could eat homemade coleslaw. This is only true if you keep your coleslaw in an airtight container in the refrigerator. Refrigerated vinaigrette salad dressings, on the other hand, can last up to two weeks. So go ahead and double the dressing and store the rest in the refrigerator.
You might like these posts:
Is it OK to eat fizzy coleslaw?
The salad will get watery as the vegetables lose their crispness. Watery coleslaw, on the other hand, isn't spoiled (as long as there aren't any other indicators of spoilage). It doesn't look particularly appetizing, and the flavor is only average at best, but it's still edible. It's entirely up to you whether you eat or toss the wilted coleslaw.
What are the ingredients to make Carolina coleslaw?
To make this Carolina coleslaw, prep time is 20 minutes plus time to chill and cook time is 2 minutes. Then you are going to need the following ingredients which are good for 4 to 6 servings:
Green cabbage – It offers a sweet, grassy flavor with a mustardy finish.
Red onion – Subtly sweet and mild enough to eat raw.
White onion – Has a white papery skin and mild flavor that makes it easy to use.
Carrots – Taste amazing when crunchy.
Kale leaves – Make sure there is enough moisture around to keep it from drying out.
Sea salt and black pepper – Seasonings that most recipes call for.
Apple cider vinegar – This fruity vinegar is inexpensive and tangy.
White sugar – Dissolves faster and better.
Vegetable or olive oil – To keep the dish moist.
Dijon mustard – It lends a slight zest to the flavor that is hard to imitate.
Celery seeds – The seed of celery has a strong flavor.

How to make Carolina coleslaw?
Now that you have gathered all of your ingredients, it is time to make this recipe. Follow the instructions below.
First off, tenderize tough kale leaves by massaging them with a little olive oil before chopping.
Season cabbage, red onion, white onion, carrots, and kale to taste with salt and black pepper in a large mixing bowl. Set aside after tossing to blend.
Then in a small saucepan over medium heat, combine the vinegar and sugar. Stir the mixture for 1-2 minutes, or until the sugar is completely dissolved. Whisk in the oil, Dijon mustard, and celery seeds after removing the pan from the heat. Pour over the cabbage mixture while it's still warm and toss to blend completely.
Before serving, cover with plastic wrap and store in the refrigerator for 2 hours to overnight. Enjoy!
Now that you know all you need to know about Carolina coleslaw, it is time to print or save the recipe with the exact measurements.
Carolina Coleslaw
Not ready to print? No problem! Save this pin in your Pinterest account by clicking the pin button located in the recipe card.
Yield: 4-6
Carolina Coleslaw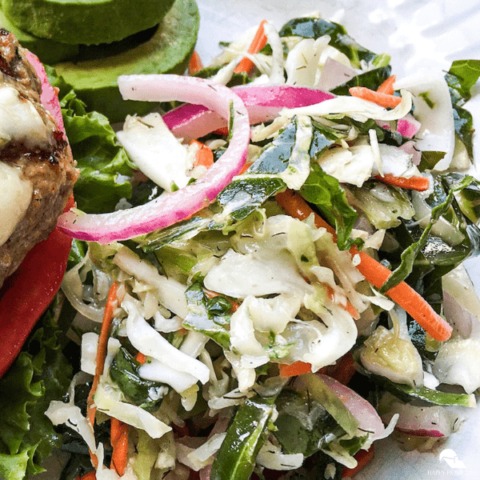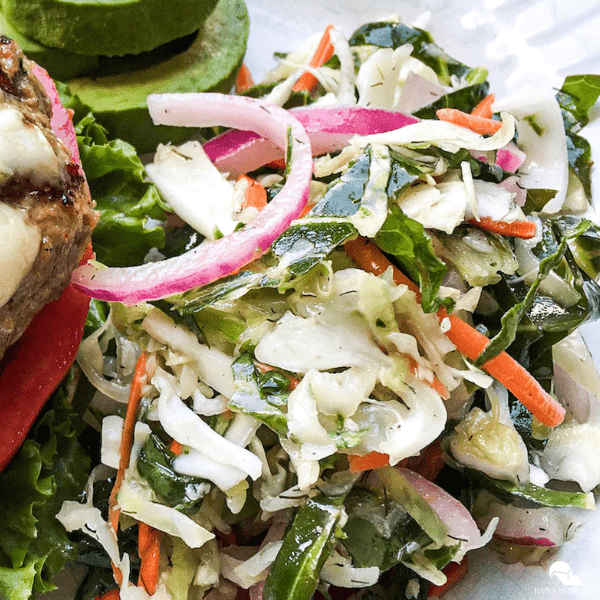 Unlike its creamy counterparts, this southern coleslaw recipe does not contain mayonnaise. While this version is wonderful with Carolina-style BBQ, it is also delicious with grilled burgers, chicken wings, and other picnic or potluck favorites.
Ingredients
1 head green cabbage, cored and thinly sliced
1 small (or ½ medium) red onion, thinly sliced1 small white onion, thinly sliced
3 large carrots, grated
4 large kale leaves, stalk removed and cut into thin ribbons
Sea salt and black pepper, to taste 
¾ c. apple cider vinegar
½ c. white sugar
½ c. vegetable or olive oil
1 T. Dijon mustard
2 t. celery seeds
Instructions
Add cabbage, red onion, white onion, carrots, and kale to a large bowl and season with salt and black pepper, to taste. Toss to combine and set aside.
Add the vinegar and sugar to a small saucepan set over medium heat. Stir the mixture until the sugar thoroughly dissolves, approximately 1-2 minutes. Remove from heat and whisk in the oil, Dijon mustard, and celery seeds. While still warm, pour over the cabbage mixture and toss to combine thoroughly.
Cover with plastic wrap and chill in the refrigerator for 2 hours to overnight before serving. Enjoy!
Nutrition Information:
Yield:
4
Serving Size:
4
Amount Per Serving:
Calories:

296
Total Fat:

5g
Saturated Fat:

1g
Trans Fat:

0g
Unsaturated Fat:

4g
Cholesterol:

0mg
Sodium:

264mg
Carbohydrates:

61g
Fiber:

11g
Sugar:

39g
Protein:

8g
These nutritional calculations might not be accurate. Please speak with a licensed nutritionist to assist you.