You had ham for Christmas. You have ham for breakfast occasionally, and you even sometimes enjoy ham on a sandwich. When Easter rolls around, you just can't stand the thought of another ham extravaganza. We get it. Banish ham from your menu this spring, and try one of these 10 tasty Easter chicken recipes instead. They're delicious, easy, and still fancy enough to serve to company if you're having people over.
No one will even miss the ham when you bring these gorgeous chicken dishes to the table. And if they complain—well—you don't need that kind of negativity in your life anyway.
Let's get to those mouthwatering chicken meals for Easter.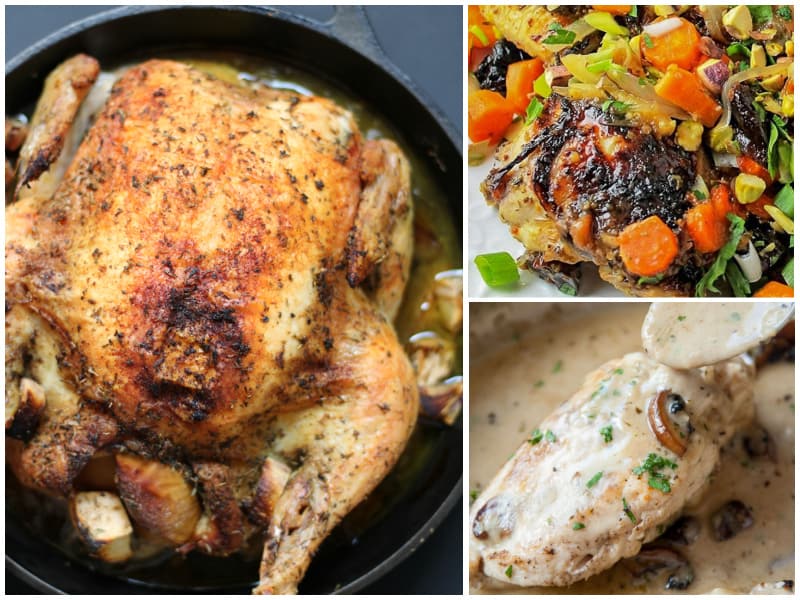 Yummy Chicken Recipes for Easter Dinner
You can't fail at this delish whole chicken roasted in a cast iron pan. Making a classic roast chicken is one of those skills that—when you master it—you feel like you've really made it in the kitchen arena. Not only will it impress your Easter dinner guests, but you may be lucky enough to have leftovers for a salad or sandwich during the week.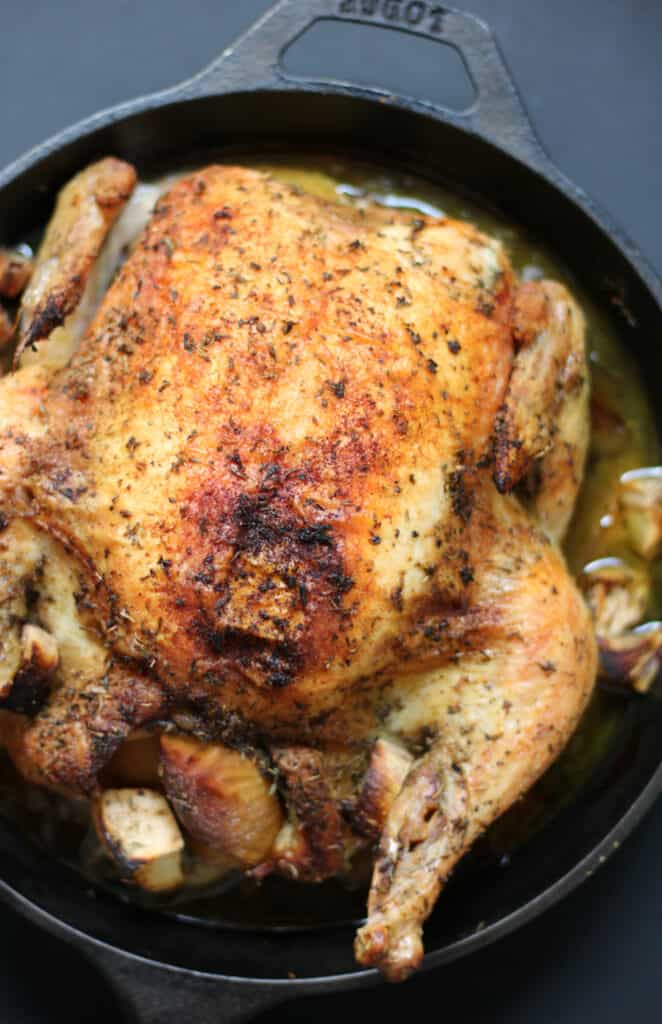 by Strength and Sunshine
If you're not comfortable cooking a whole chicken yet, try this recipe that uses chicken pieces. Make the marinade with soy sauce, honey, orange juice, brown sugar, and a few other simple ingredients. As the chicken simmers in the slow cooker, it becomes tender, juicy, and so flavorful. Finish in the broiler to brown the skin, and it's ready to serve.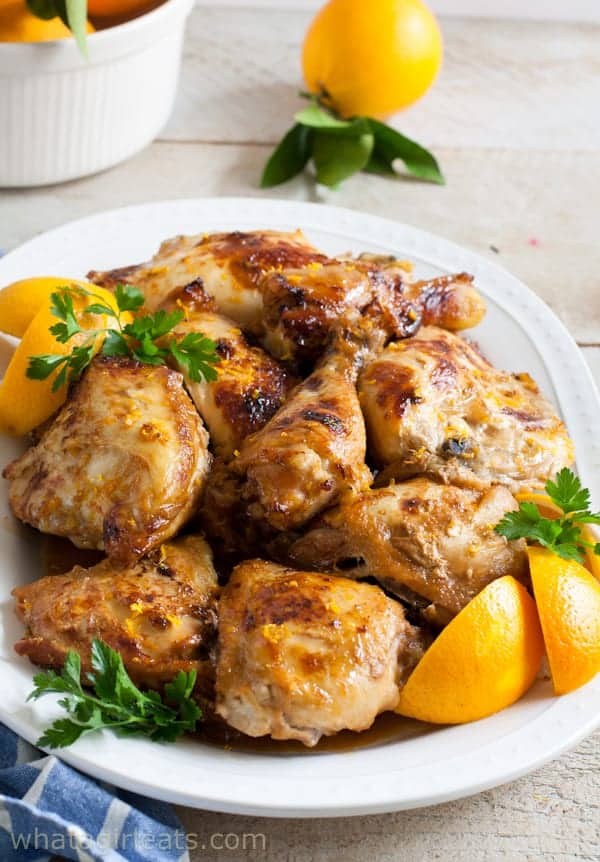 by What a Girl Eats
Your taste buds will go gaga over this chicken stuffed with fresh spinach, artichoke hearts, and three kinds of melted, ooey-gooey cheese. You can't go wrong with cream cheese, Parmesan, and mozzarella cheeses stuffed into thinly sliced chicken breasts. This dish is as impressive as it is delicious.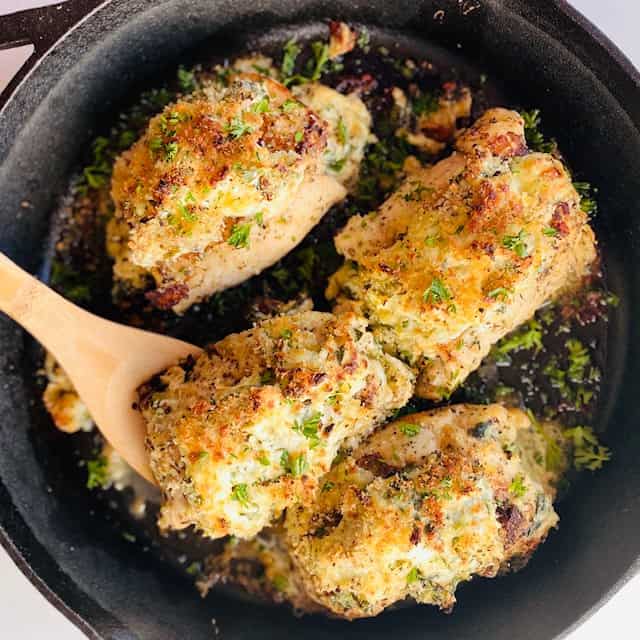 by Aubrey's Kitchen
This make-ahead chicken dish is perfect for serving to company; that's how it got its name! Oranges and lemon give the dish a little zest, while the prunes and honey lend sweetness to the chicken recipe. But the flavor train doesn't stop there—oh, no—it even has a little kick of heat from the chili flakes. This Easter dinner is colorful, flavorful, and company-worthy.
by Two Kooks in the Kitchen
Sometimes, a simple dish is best. This chicken recipe boasts flavor without the fuss. Inside, the chicken is moist and delicious. You'll love the brown, crispy skin on the outside just as much. After all, that's what makes a perfect chicken, isn't it? Add veggies like potatoes, broccoli, or squash to the pan to roast alongside the chicken for a complete meal.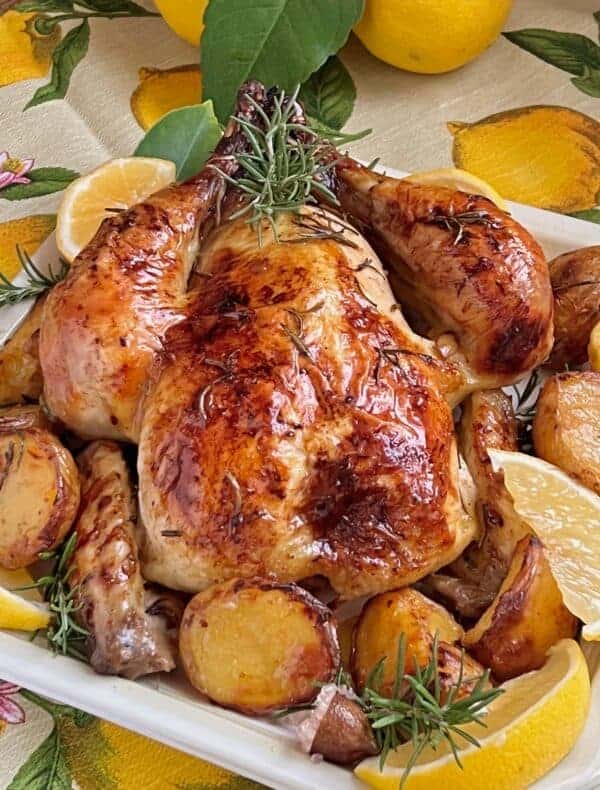 by Christina's Cucina
Five simple ingredients are all you need to make this tasty breaded chicken. It's perfect for a quick and easy Easter dinner but simple enough for busy weeknights, too. Serve alongside some mashed potatoes and roasted vegetables for a special occasion meal, or slice the chicken and put it on a salad for an easy lunch.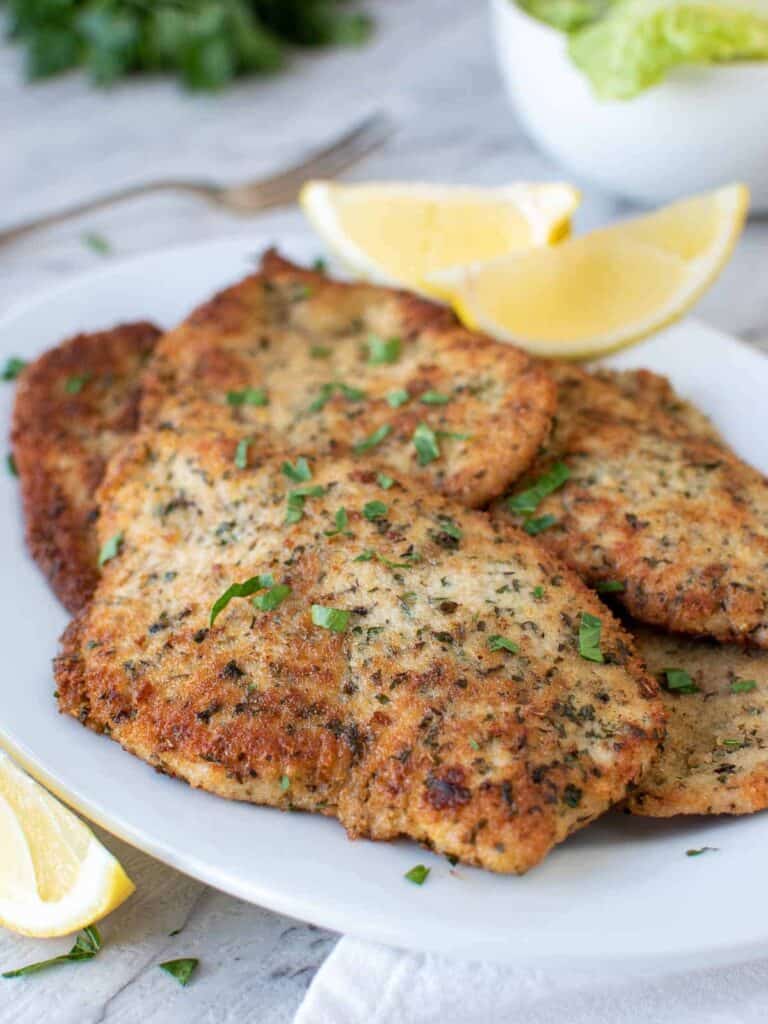 by Marcellina in Cucina
This show-stopping Sunday supper is the ideal chicken dish for Easter Sunday. A whole head of garlic and some lemon are stuffed inside the chicken while the outside is seasoned with fresh herbs and roasted in a creme fraiche glaze. It becomes a gorgeous golden brown in the oven and will look stunning on the dinner table.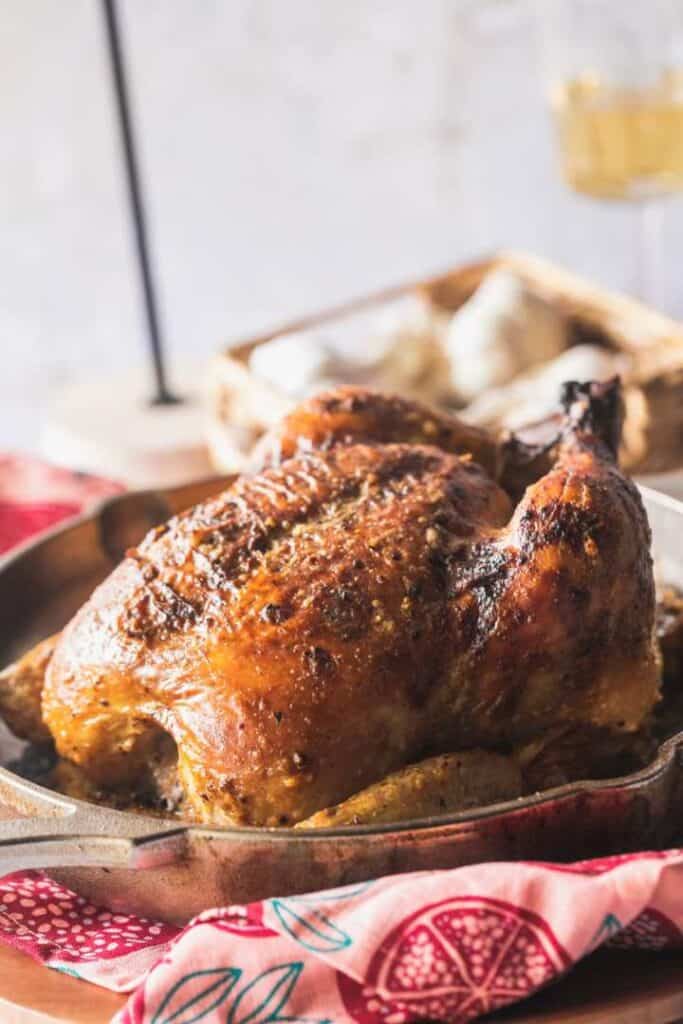 by Sweet Tea and Thyme
Here's another chicken recipe that'll become a regular in your menu rotation, and not just on Easter. The chicken breasts are stuffed with cheese and sautéed mushrooms and served in a creamy pan sauce. Serve this dish with roasted or mashed potatoes, rice, or steamed broccoli.
by Everyday Delicious
Have you ever heard of Spatchcock chicken? It's a whole bird that's flattened out to cook more evenly in the oven. You remove the backbone and breastbone so the chicken collapses a bit. But that's not all—you'll brine it, then coat it in garlic and herb butter, and then roast it to perfection in the oven. Isn't it the most gorgeous golden brown bird you've ever seen?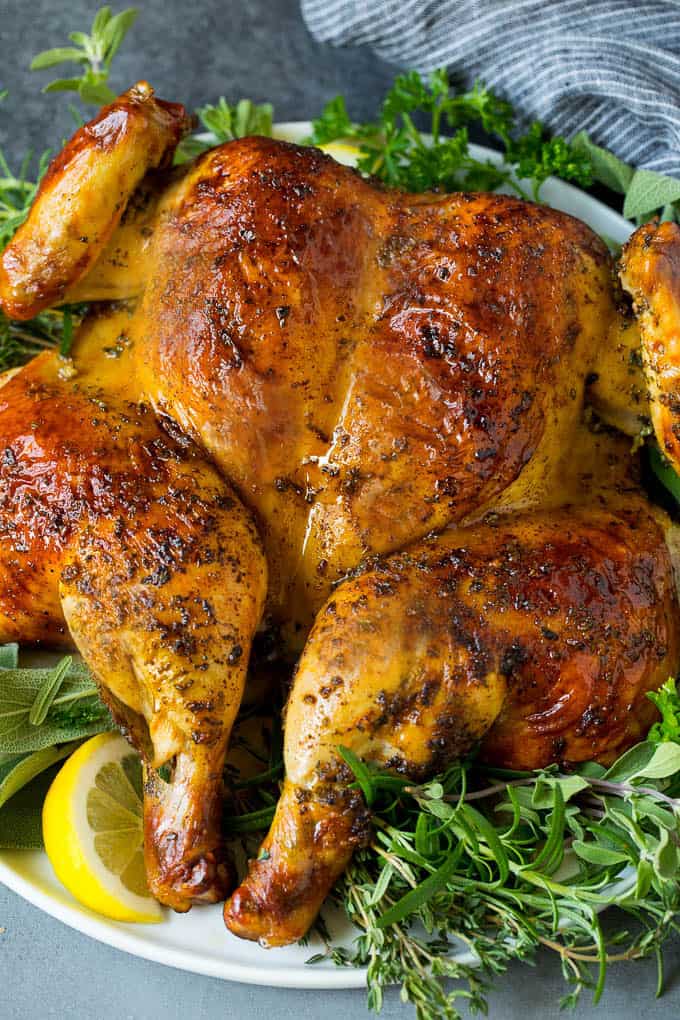 by Dinner at the Zoo
If chicken thighs are your jam and you're looking for a marriage proposal, make this Marry Me Chicken. Alright, maybe you won't get that proposal—but you will learn how to make amazingly delicious chicken, and that's certainly a great skill to have. Plus, it cooks in one pot, so cleanup is a breeze. How's that for an easy Easter dinner?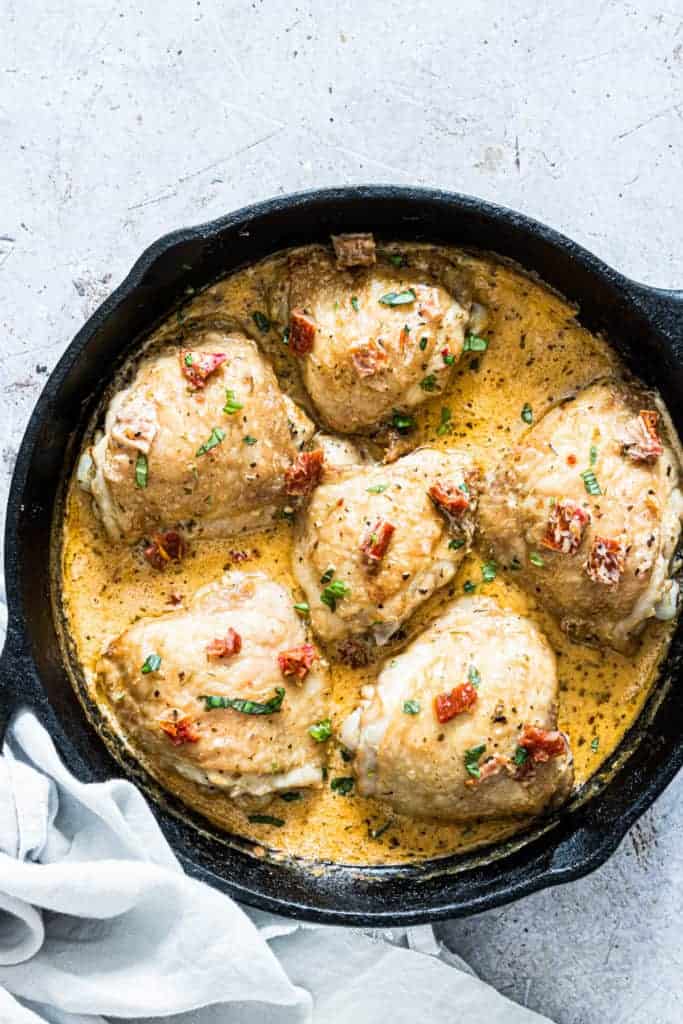 by Budget Delicious
We hope you've enjoyed this list of ten of our favorite chicken recipes for Easter dinner. Which one do you plan on making? Let us know in the comments!
More Easter Recipes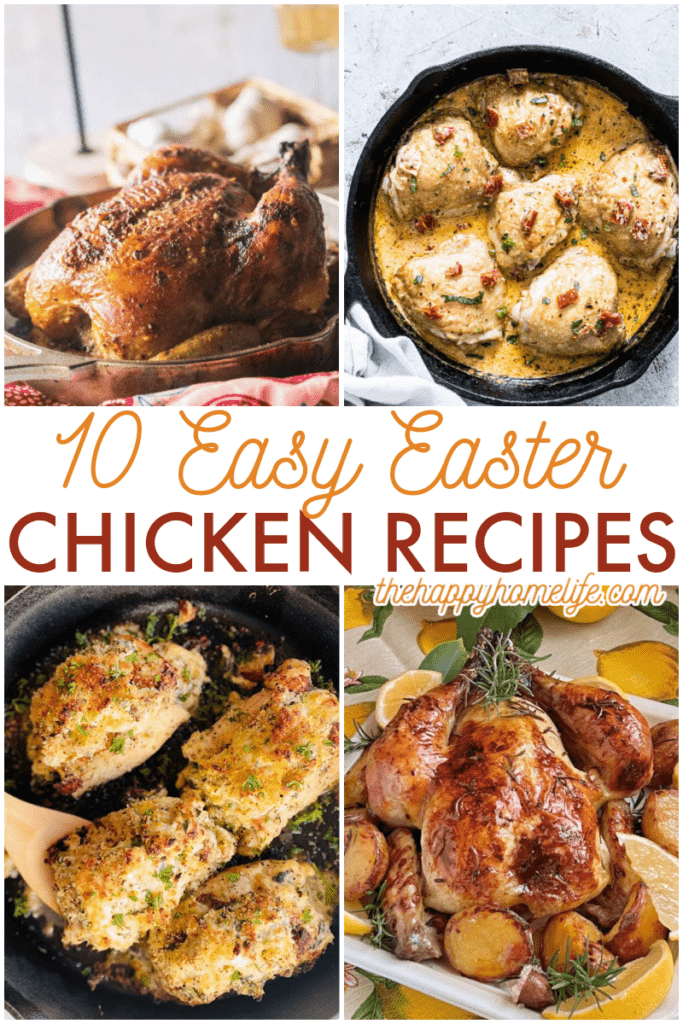 More Easy Chicken Recipes