Air fryers are becoming more popular in the kitchen because they are a new appliance that allows for quick cooking. They can quickly turn high-calorie fried foods into healthy versions. The air fryer is also ideal for convection cooking, which is more effective and quicker than traditional methods.
To make things easier on beginners, we've compiled 20 easy recipes to help get you started with your air fryer!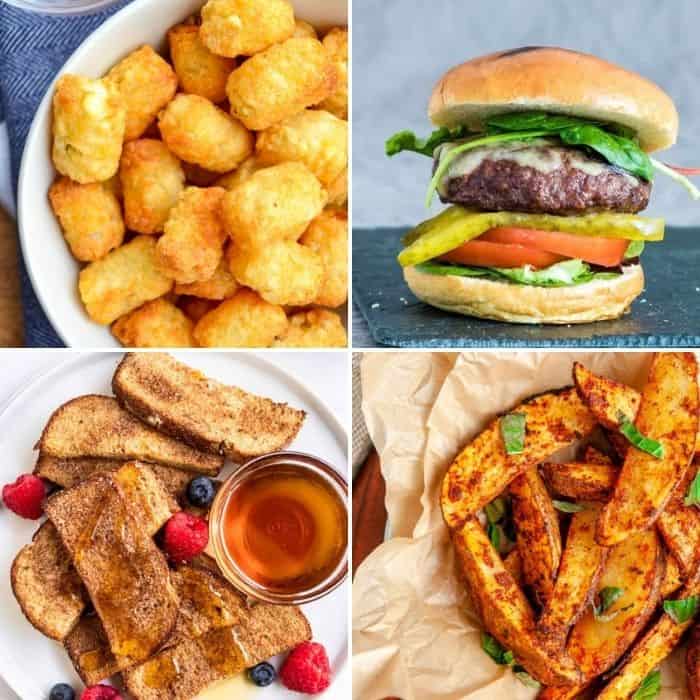 You're a busy person. You don't have time to spend hours in the kitchen cooking dinner. And you've been hearing about these air fryers, but you don't know how they work or what recipes will be good for your new device. Don't worry! We've got 20 easy air fryer recipes that are perfect for beginners so you can get started right away and free up some of your day!
You'll start with an appetizing recipe for French Toast, then move on to something more substantial like Orange Chicken or Steak Kabobs without all the mess of frying it in oil. With this list, there's no need to turn on the stovetop ever again!
We included a few dessert recipes, too, because after all, who doesn't love something sweet to finish off their meal?
What are air fryers best used for?
Air fryers are not deep fryers. They are small appliances that cook food by circulating hot air around the food, as opposed to other cooking methods such as deep frying or baking. Air fryers range in size and power, but most air fryers are compact, affordable, and simple to use. You do not need to drench foods in oil to use an air fryer. Don't use oil at all in most cases.
Air fryers can be used for cooking a variety of different foods such as french fries, chicken wings, fish, vegetables, and even desserts. Fries, for example, are cooked in about 10 minutes, so you can enjoy your meal faster without all the extra oil and calories from a deep fryer. But you don't have to stick to frozen foods. You can cook everything from steaks and burgers to "fried" Oreos in the air fryer. It's super versatile!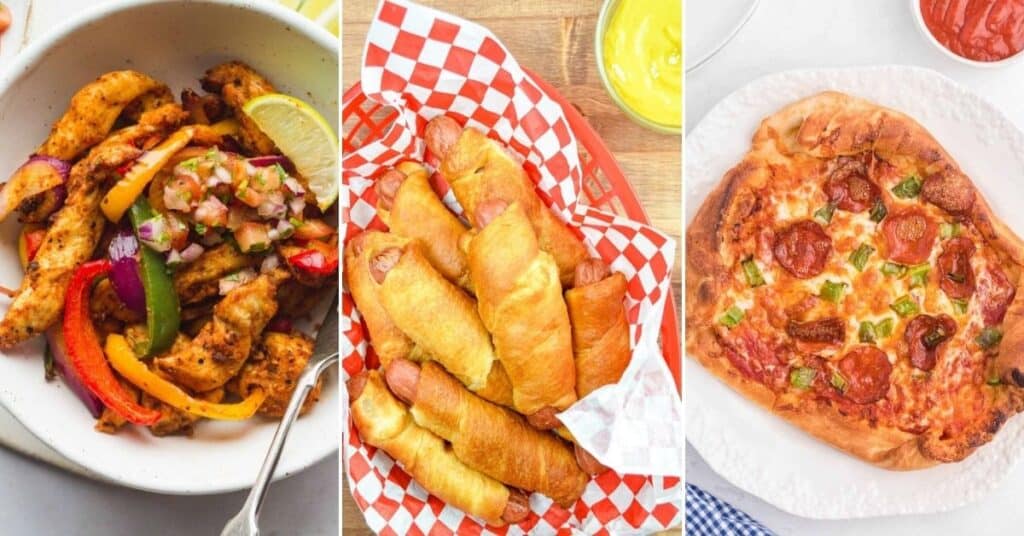 What should I make first in my air fryer?
You've purchased the air fryer, set it up on your kitchen counter, and now you're probably wondering, "Where do I start?" Is it just me, or are new kitchen appliances really intimidating? But there's no need to be intimidated by the air fryer at all. It is, hands down, my favorite kitchen appliance of all time. My Instant Pot is gathering dust in a remote corner of the kitchen. But my air fryer? That baby is used on the daily.
Here are some of my favorite air fryer recipes for beginners to help you get started, too. I've tried to chose recipes with only a few simple ingredients so that if you're totally new to cooking you'll be able to nail them anyway.
Let's get started!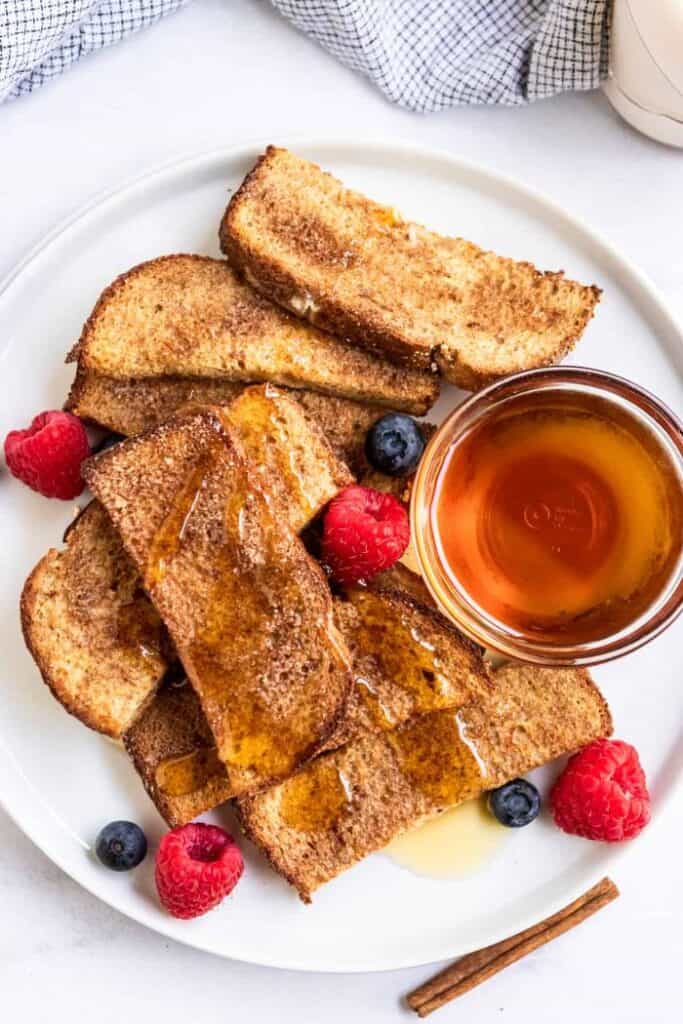 Have breakfast ready in a flash with this air fryer French toast recipe. Five minutes of prep and 10 minutes of cooking are all you need for these crispy cinnamon and sugar-coated French toast sticks. Dust with powdered sugar (optional) and serve with syrup. Yum!
Another great breakfast option are the air-fried pumpkin donuts mentioned in our Fall Breakfast Ideas roundup.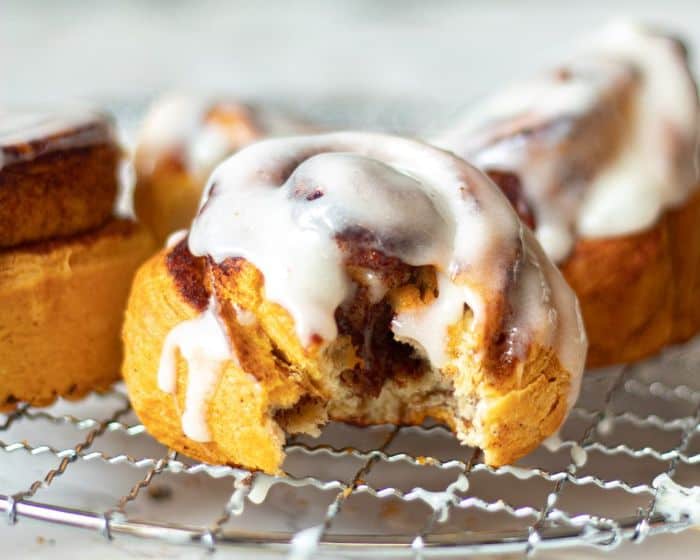 This isn't a recipe as much as it is instructions for making cinnamon rolls in the air fryer. It's great if you don't want to turn on your oven. They're ready in about 20 minutes or so.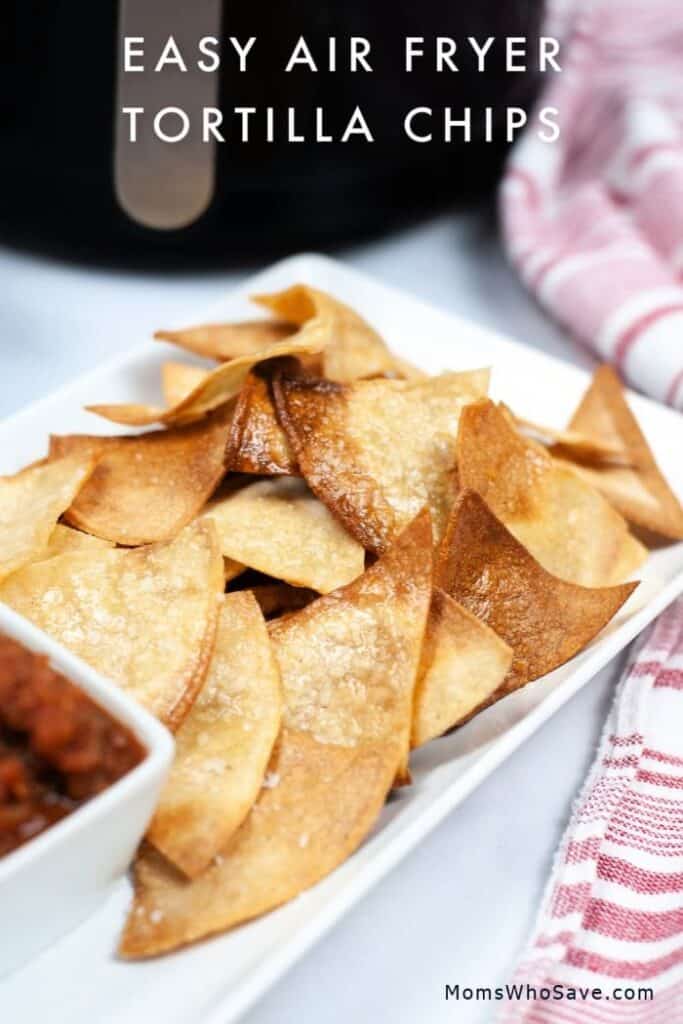 Being able to make salty snacks in a pinch is a great skill to have. Now you can whip up a batch as an appetizer to go with your favorite Mexican dinners or just serve some up for a cozy family night in watching a movie. They're perfectly salty and crispy, ready to dunk into salsa or queso. Yum.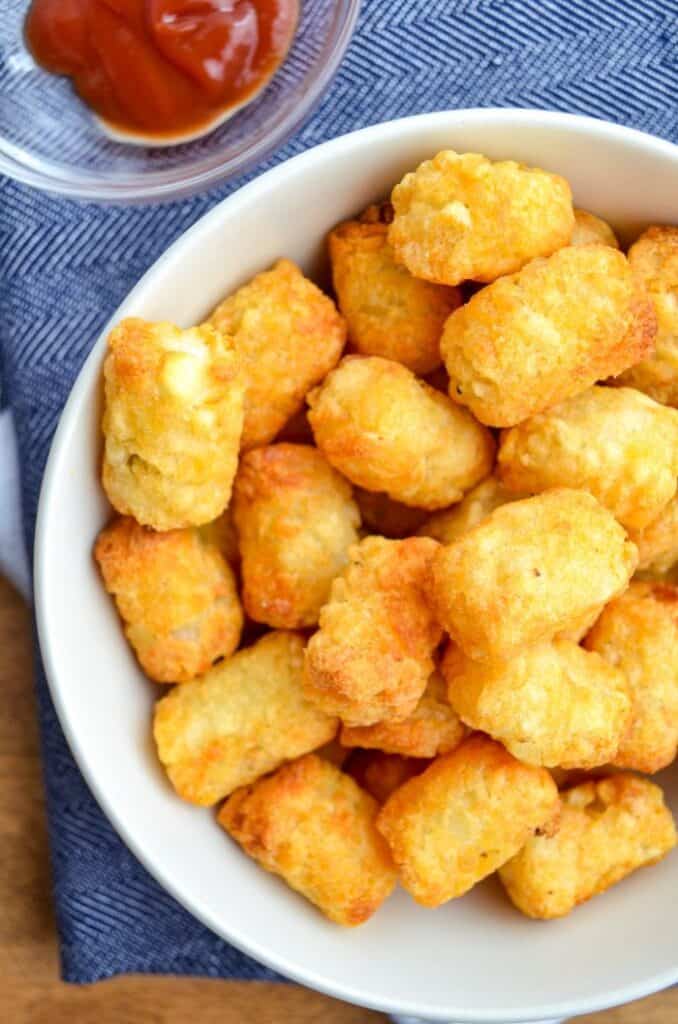 Make perfectly cooked tater tots in the air fryer in about 15 minutes. They're crispy on the outside but fluffy on the inside, which is exactly how you want your tater tots to be. No oil or cooking spray is needed for this kid-friendly side dish.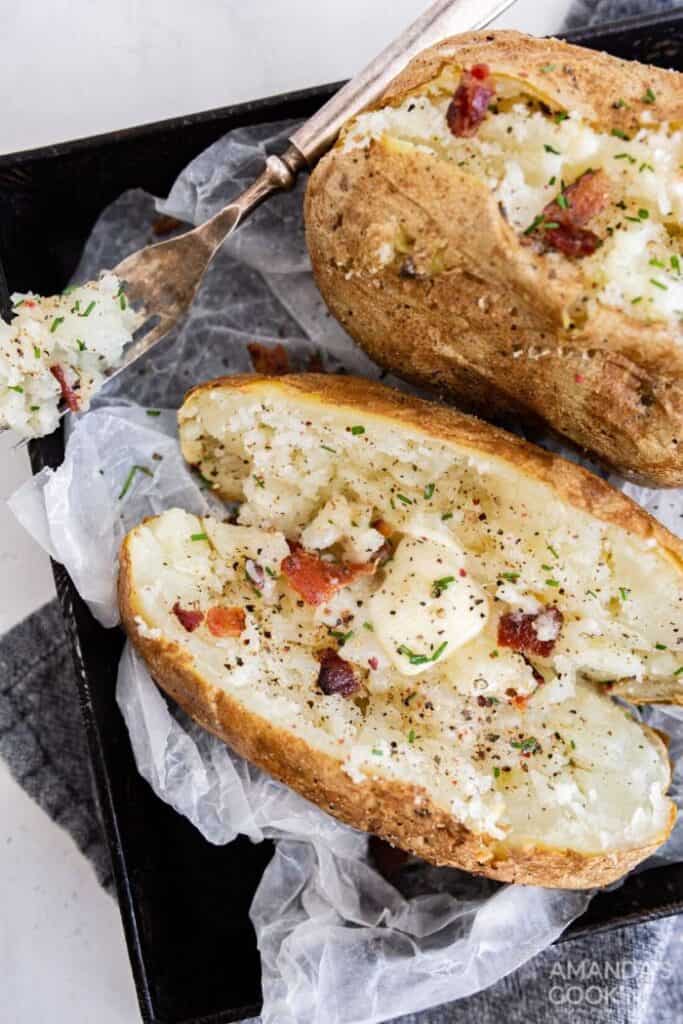 Want some delicious baked potatoes without fussing with the oven? Pop those russets into the air fryer! In about 40-50 minutes for large russets, you'll have the best ever baked potatoes with crispy skin on the outside and fork-tender potato goodness on the inside. You do need to rub a little oil on the potatoes, just as you would for the oven, but not too much! You don't want any oil dripping in the air fryer.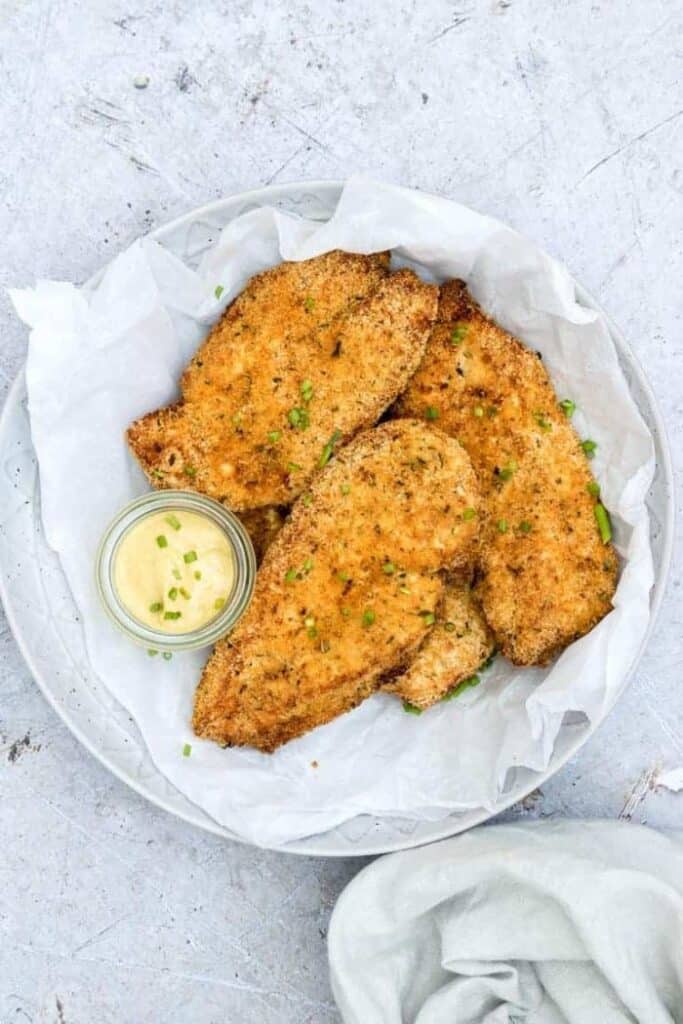 Make fried chicken breasts without the guilt. This version is healthy, flavorful, and so versatile depending on the type of breading, seasonings, and spices you like and can be adjusted to be gluten-free, low carb, etc. It's made with pantry staples, so you should need a trip to the store to have this tasty chicken on your dinner plate in no time.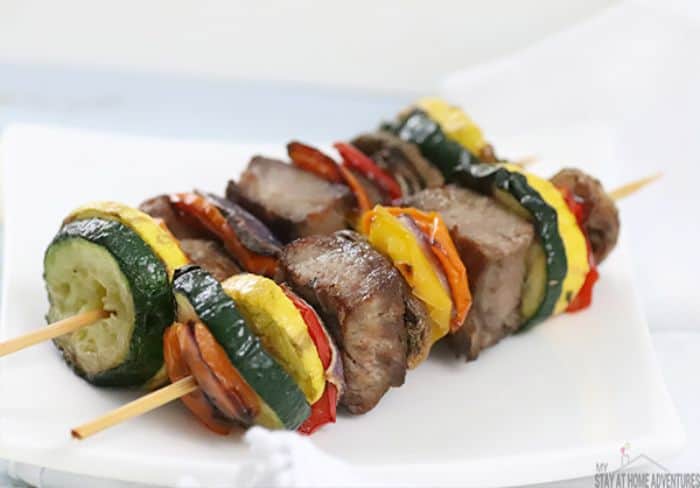 Aside from the marinating time (which is essential for tender, juicy meat), these steak kabobs come together so quickly. With tender steak bites and healthy veggies, these kabobs are a total winner for lunch or dinnertime. Kids and adults like will love them.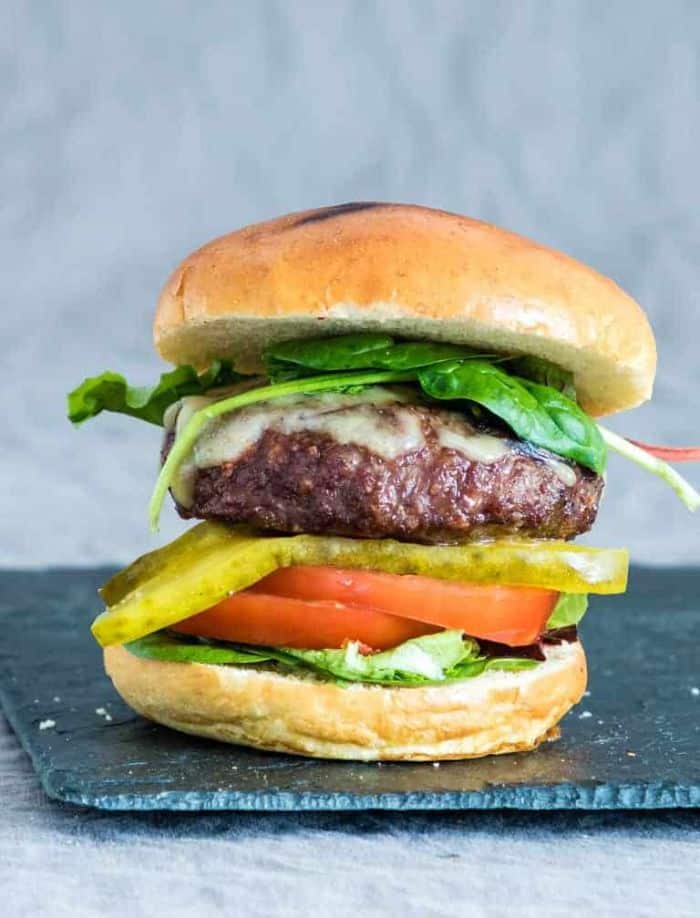 When you're down for a juicy burger but don't want to fire up the grill, try making them in your air fryer. In about 15 minutes, you'll have juicy hamburger patties cooked and ready for cheese, buns, and all the toppings you love. In an extra 10-15 minutes, you can also have the fries ready. Is this the perfect excuse to have TWO air fryers? I think so!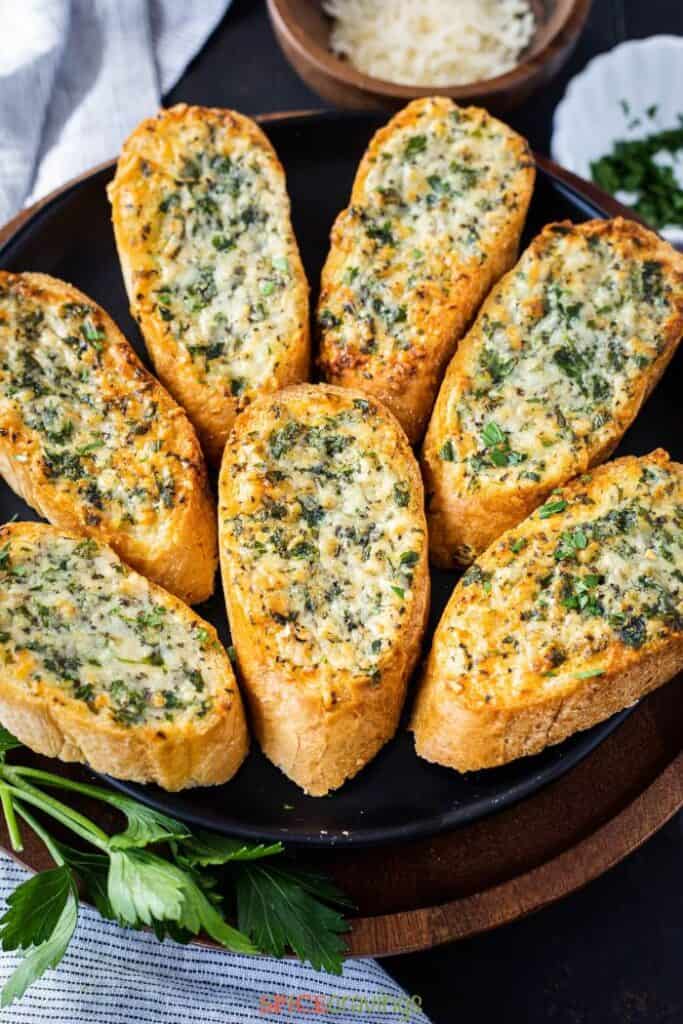 Garlic bread is LIFE! Seriously, it's something I could eat with nearly every meal and now it's even easier with the air fryer. Top thick baguette slices with butter, parmesan cheese, and seasonings to enjoy homemade garlic bread perfection in about 15 minutes from start to finish.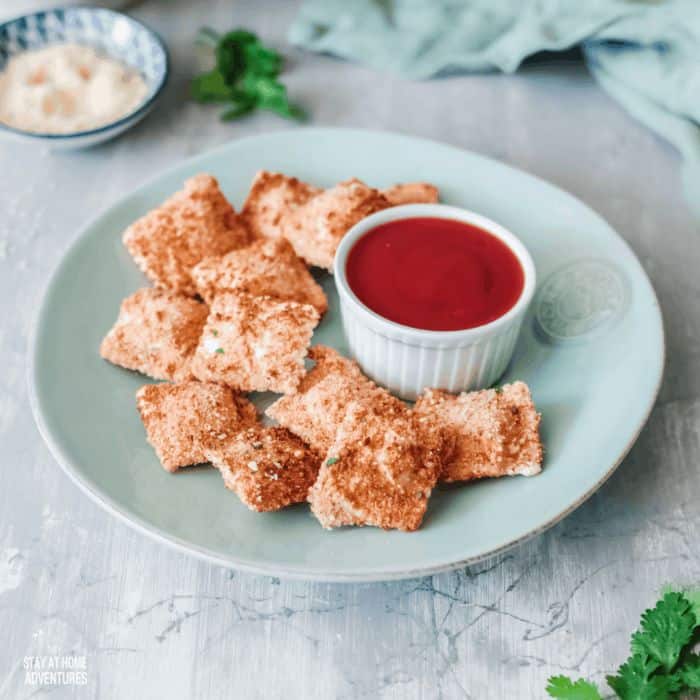 Do you love the taste of fried ravioli but hate the extra fat and calories that come with it? Now you can make this lighter version at home with fresh ravioli, breadcrumbs, parmesan cheese, and a few other simple ingredients. Serve with marinara or your favorite dipping sauce. These ravioli make a great appetizer for parties!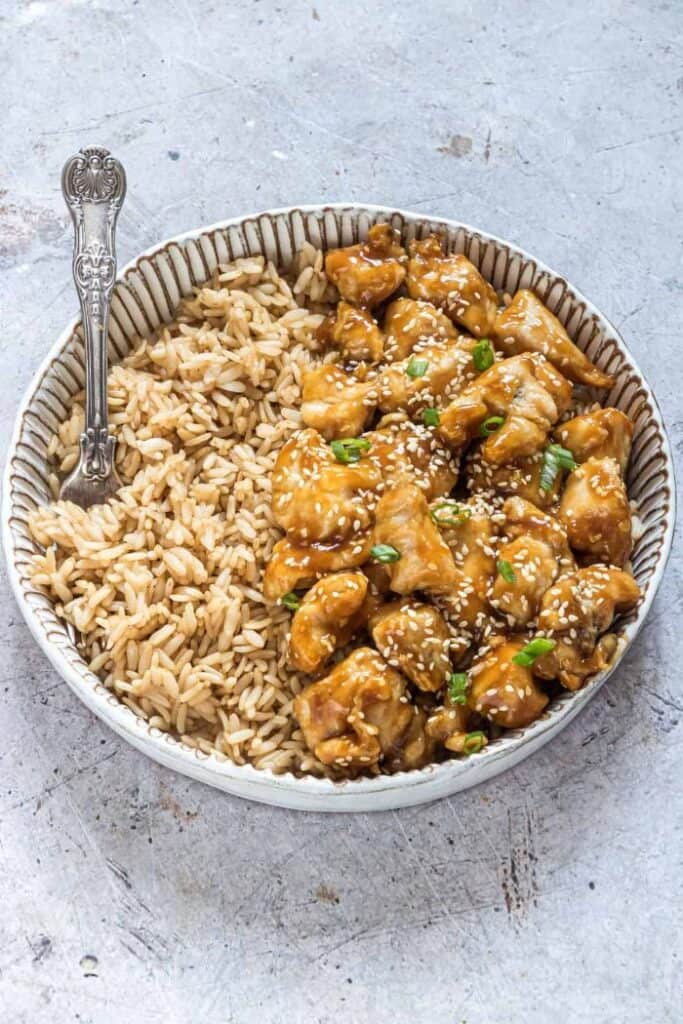 How amazing does this orange chicken look? If you have some leftover rice or minute rice, this is a great option to make a take-out quality dinner at home, for a lot less money and way fewer calories.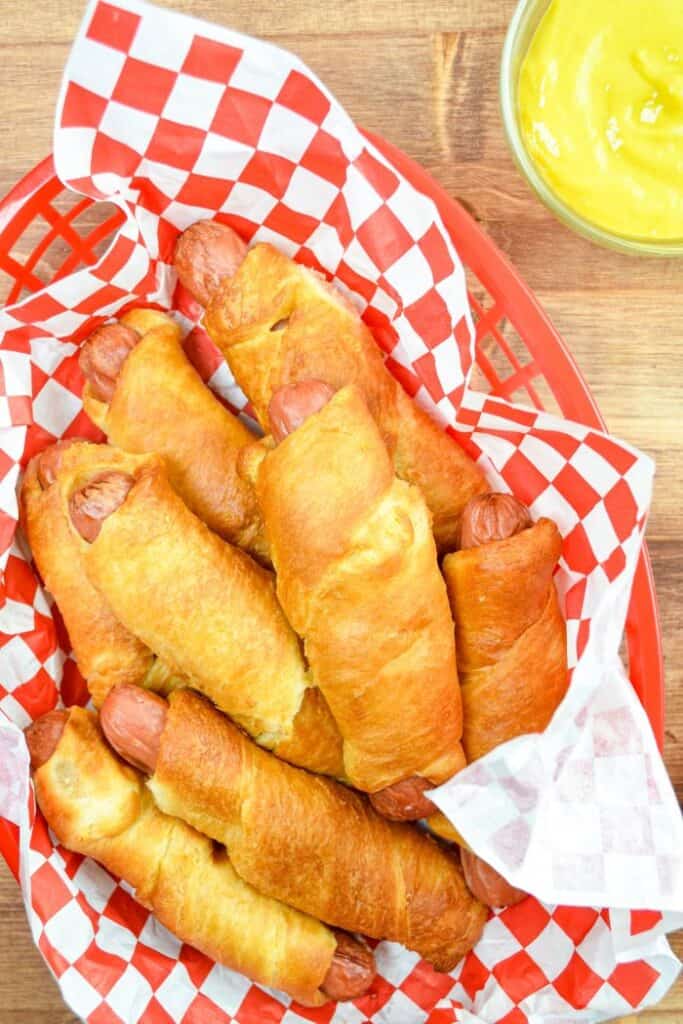 The kids are going to love these pigs in a blanket! And who wouldn't? They'll be perfect for tailgating, for football parties, kid parties, or just a quick kid-friendly meal in a flash. Roll hot dogs in crescent dough, pop them in the air fryer, and you'll have golden brown pigs in a blanket in minutes.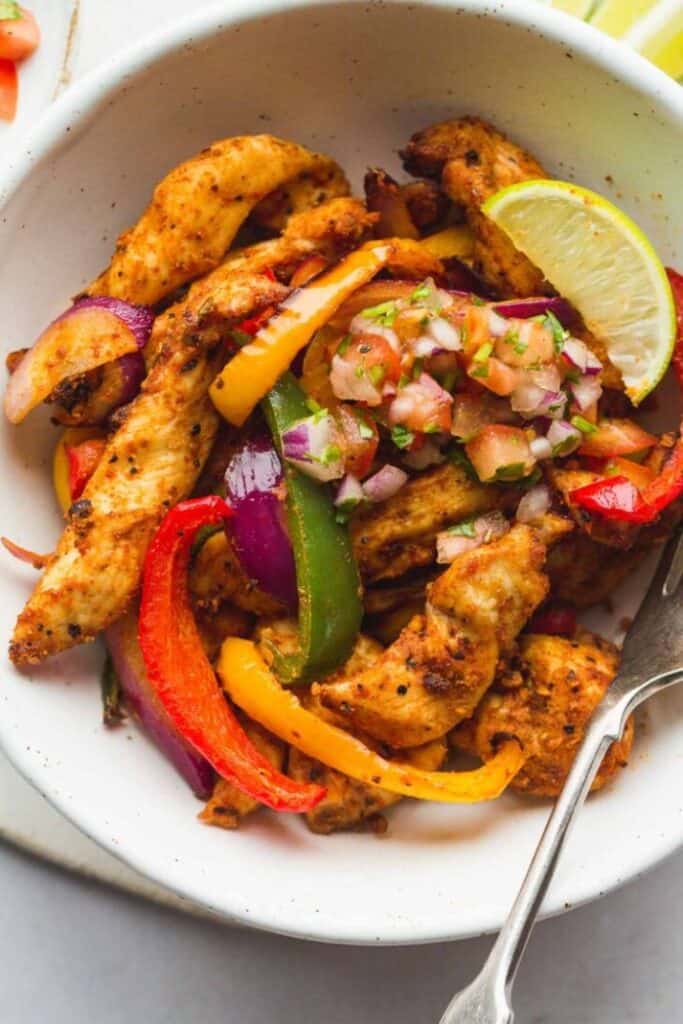 Here's another great air fryer chicken recipe, this time for fajitas! Chicken with bell peppers, onions, and fajita seasoning is cooked up in about 20 minutes. This is a great method for those who only need to make a serving or two instead of a meal for a whole family.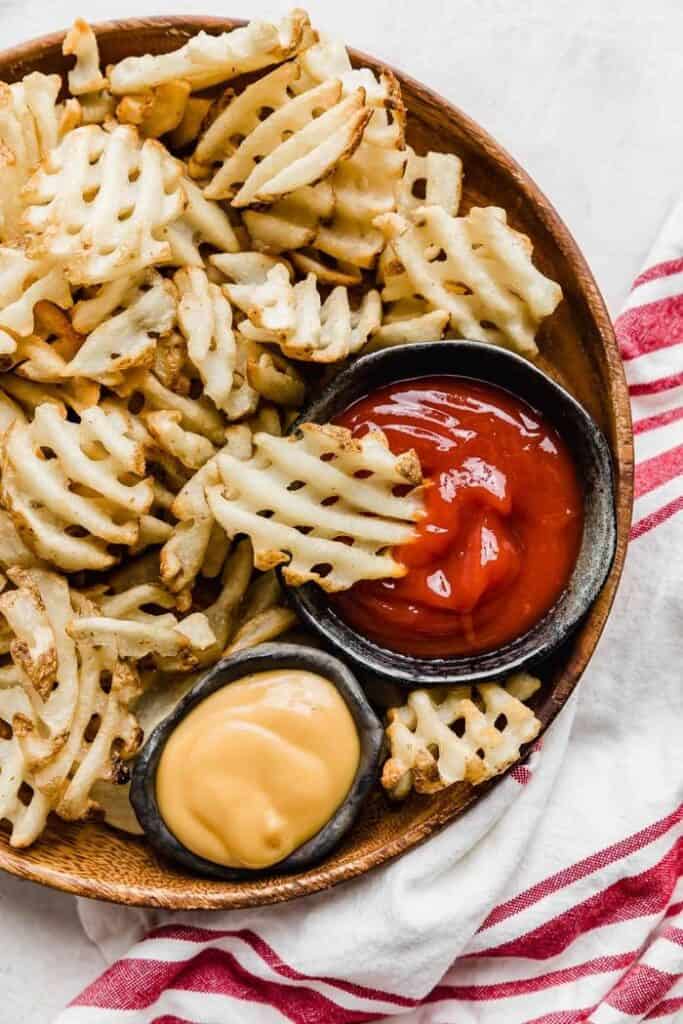 Have you ever made waffle fries in the air fryer? They're so much better than they are in the oven! The air circulating around them helps them to get nice and crispy in all the nooks and crannies, but they're still tender inside.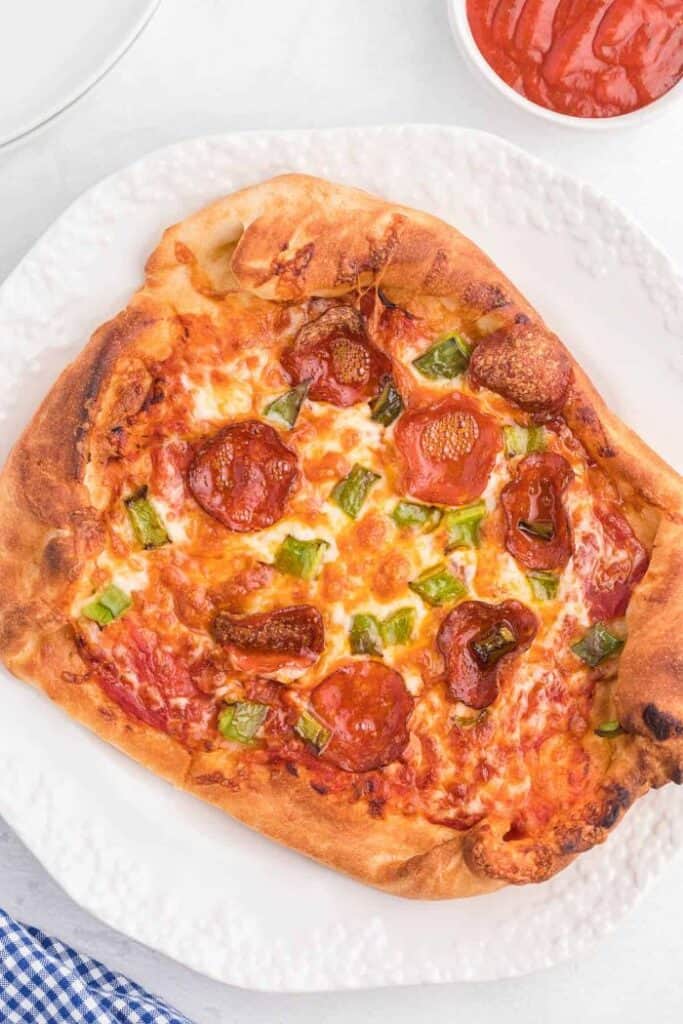 Get your pizza fix without ordering delivery. These air fryer pizzas are so super easy using pre-made pizza crust, sauce, and your favorite toppings. The sky is the limit here. You'll have a personal pizza pie ready in just about 12 minutes, from prep to plate.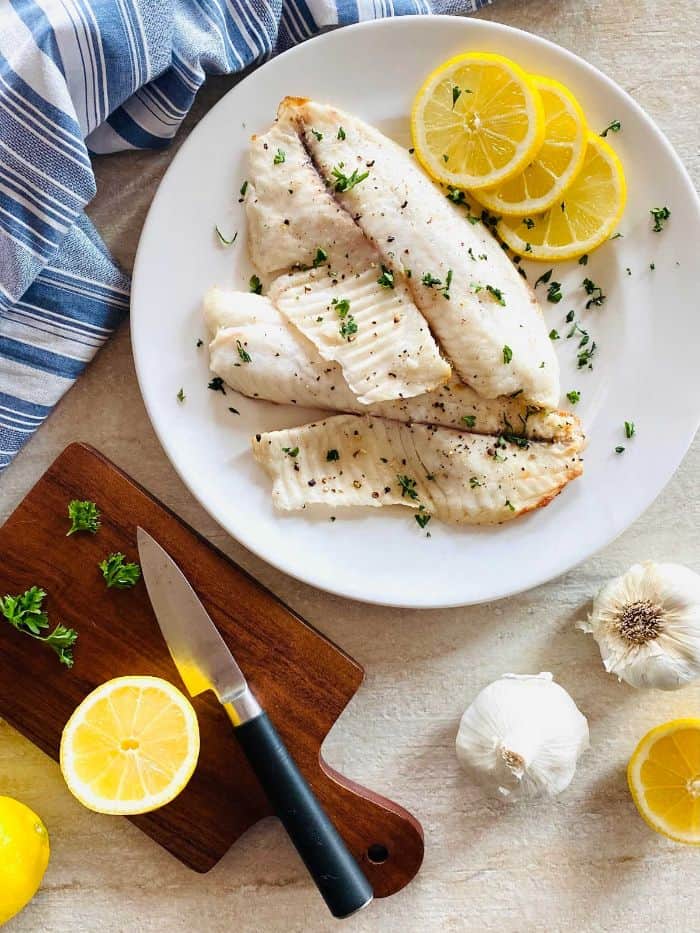 Looking for a Friday fish meal that you can make in your air fryer? Look no further than this easy tilapia recipe with just the right amount of seasonings. The fish cooks up in about 10-13 minutes, ready to pair with your favorite veggies for a healthy meal.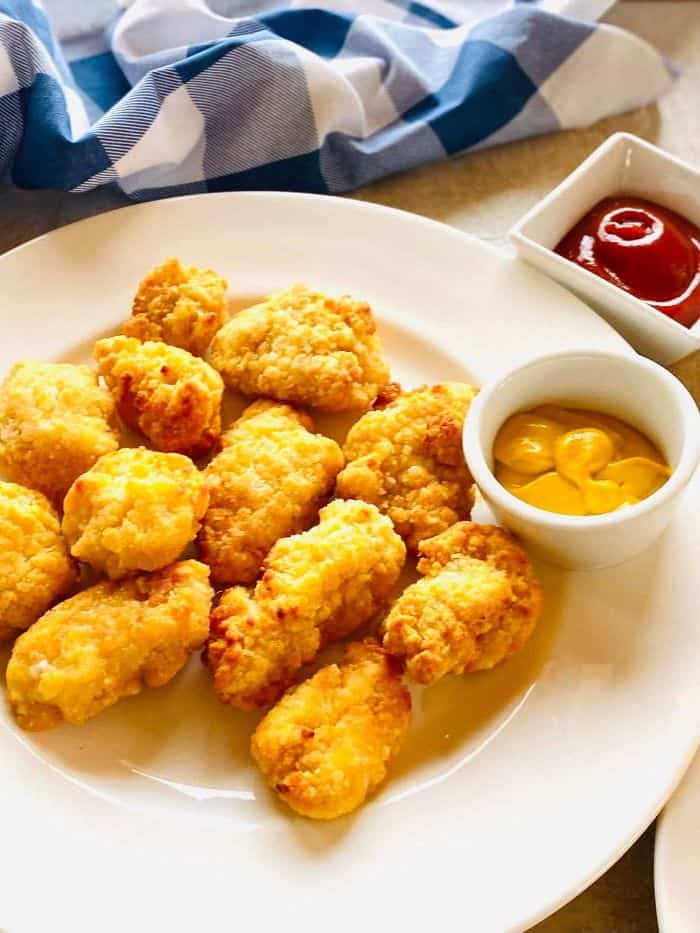 Okay, maybe you don't want to make dinner from scratch, and you just want to know how to make your favorite frozen nuggets in the air fryer. This is the recipe for you! It works with any brand of chicken nuggets. You'll be dunking and dipping your nuggets in no time.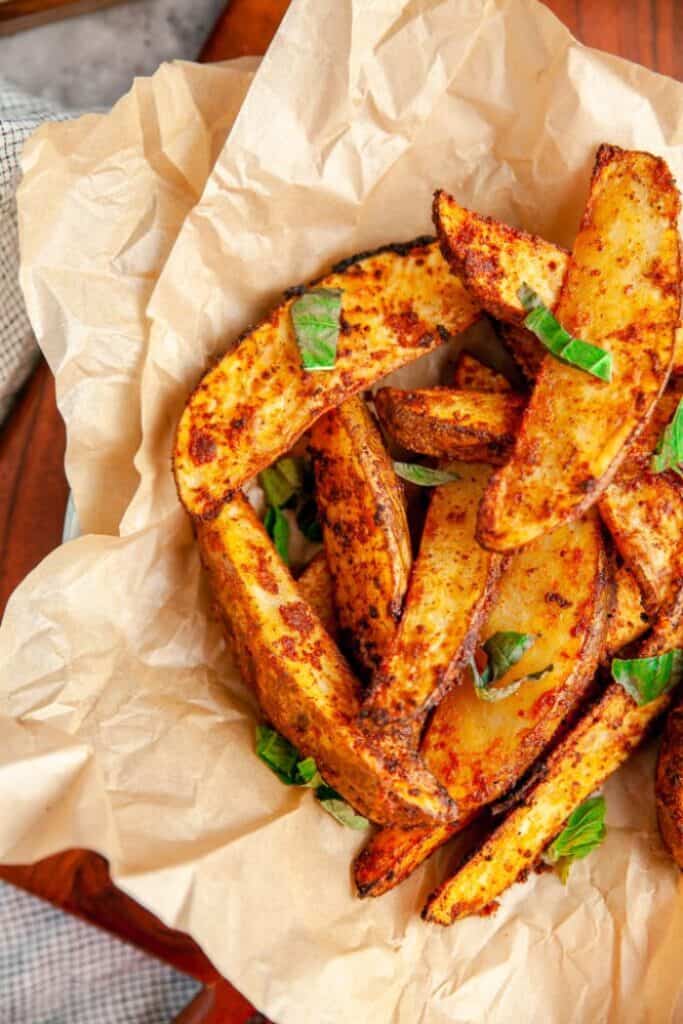 There's nothing quite like potato wedges when you want a hearty potato side. These spicy wedges are crispy on the outside, fluffy on the inside, and seasoned to perfection. In about 20 minutes, you'll have these tasty taters on your plate with some ketchup or dipping sauce.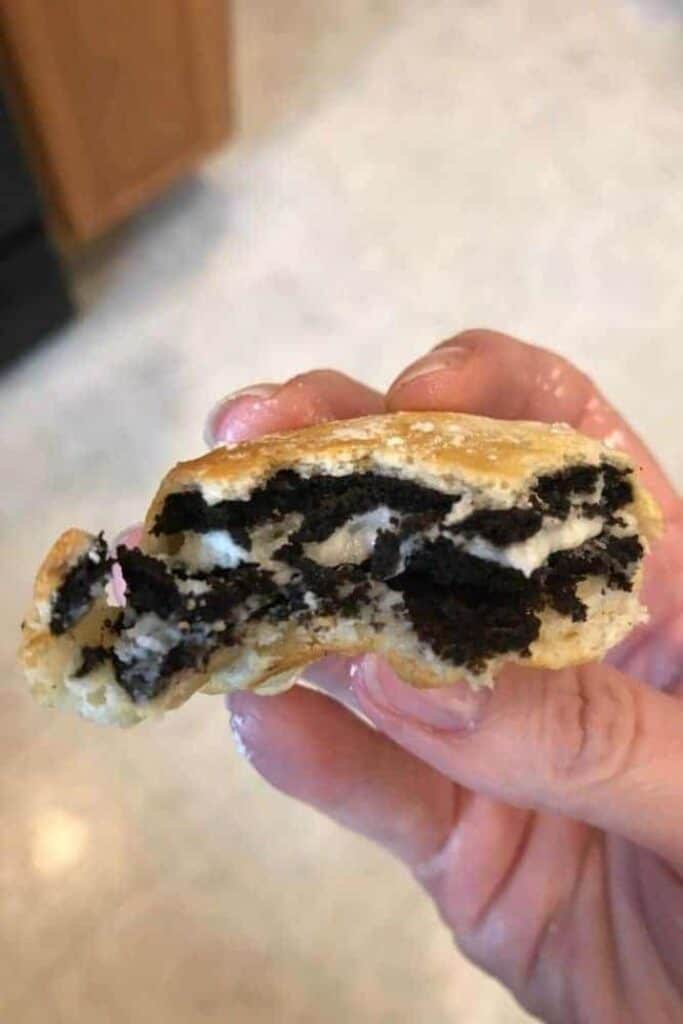 Feel like you're at the county fair again with these air-fried Oreos wrapped in crescent roll dough and dusted with brown sugar. We're not saying this is healthy, by any means, but they definitely have less fat and fewer calories than those dunked in the deep fryer.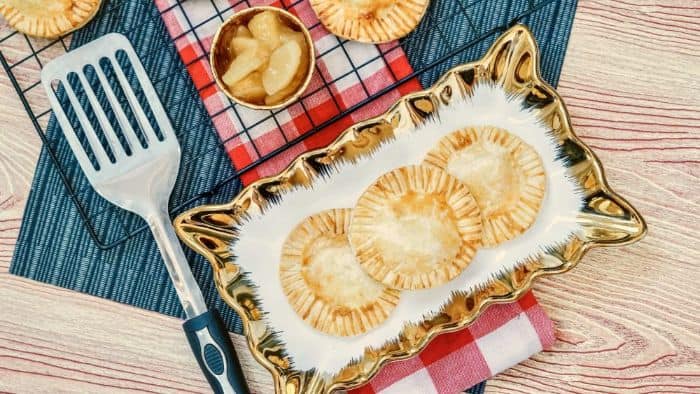 Finish your meal off with something sweet, like apple hand pies! They're so easy in the air fryer using apple pie filling, premade pie crusts, and an egg. Can you believe you only need three ingredients for these tasty treats?
Pin this post if you want to try any of these recipes! They are perfect for anyone getting started with an air fryer. The 20 easy air fryer recipes above should give you a good starting point in your quest to find the best way to cook up healthy (ish), delicious food that is cooked at home and not delivered by someone else. You can use them for anything from appetizers to desserts, so don't be afraid to get creative when using your new appliance! What's on your list?