Ahh…the simple pleasures of a warm, chewy brownie! There's nothing quite like it. But what is the secret to creating an irresistible brownie? If you love a sweet and intense chocolate flavor with a special twist, then this post is for you! Today I'll be sharing our own recipe for Chocolate Peanut Butter Brownies — guaranteed to satisfy your cravings with its mouth-watering goodness.
Not only that, but we'll also share some tips on how to make sure your brownies are perfect every single time. So read on if you want the know-how on baking delicious and decadent treats your friends and family won't be able to get enough of!
What is the secret of a good brownie?
The secret to a great brownie lies in the ingredients and technique used. For example, using room-temperature eggs and melted butter can help make your brownies fudgy. Milk or heavy cream can be used instead of water for extra richness.
Using a recipe like Nigel Slater's and incorporating cocoa powder is key to achieving an "ooier" texture.
To get that perfect crackly brownie top, it is important to use the right sugar type and beat the eggs until they are fully incorporated into the batter.
Before adding the eggs, it is important to whip them up by themselves. Additionally, using better chocolate chips can add extra flavor and richness to your brownies.
Lastly, using just enough flour will help create a structure for your brownies that will keep them from turning into chocolatey goo.
With the right ingredients and technique, you can make a delicious batch of brownies that everyone will love!
What is the key to fudgy brownies?
The key to making delicious fudgy brownies is to use chocolate and butter. Both of these ingredients contain fat, which helps to create a moist and dense texture. Adding extra egg yolk and brown sugar will also help increase the brownies' moistness and flavor.
Finally, whisking the butter and sugar together until well combined will help ensure a fluffy and flavorful texture. With these tips in mind, you'll be able to make the perfect fudgy brownies every time.
Does the toothpick trick work for brownies?
The toothpick trick can be used to test the doneness of brownies. It involves inserting a toothpick in the center of the brownies and seeing if it comes out clean. If there is still some batter sticking to the toothpick, it means that the brownies are not done yet.
Another way to check for doneness is to use a digital thermometer and ensure the brownies' center reaches 170-200 degrees Fahrenheit.
Lastly, you can look for the crack, which should appear when the edges of the brownies are visibly baked, and the center is set. All of these methods can be used to test whether or not your brownies are baking.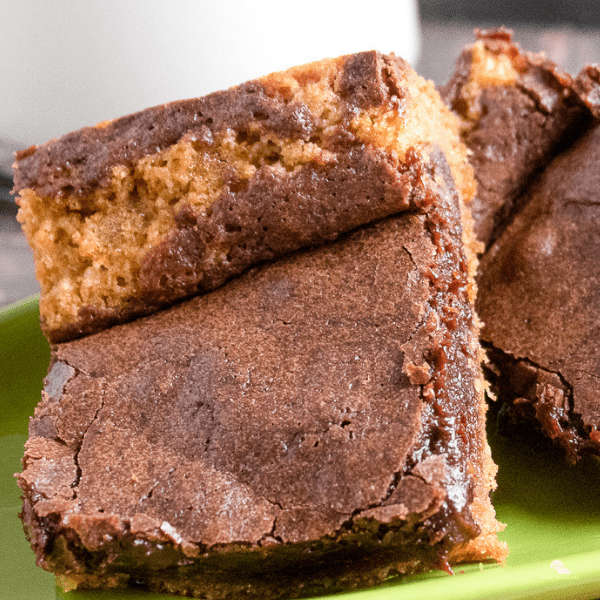 Chocolate Peanut Butter Brownies
Peanut butter brownies are a decadent and indulgent treat that will surely please any sweet tooth. They are made with a creamy peanut butter filling and topped with a rich chocolate topping, making them incredibly rich and delicious.
The use of bittersweet chocolate helps cut the peanut butter's sweetness, while the melted butter helps create a slightly crispy top.
The eggs and egg yolk also contribute to the fudgy, chewy texture of the brownies. The combination of ingredients makes these brownies an irresistible treat everyone will love!
What Makes the Chocolate Peanut Butter Brownies special?
You can always find chocolate brownies everywhere. However, the best combination you can ever have is this chocolate with peanut butter. You can make this goody for 37 minutes only, depending on the type of oven you use. This kind of brownie will blow your chocolate and peanut butter-loving mind.
What type of Peanut Butter Should I Need?
Choosing the best type and kind of peanut butter is a bit challenging. However, there's nothing wrong with using natural peanut butter on your table.
On the other hand, when preparing baked goods, you will need the cheaper stuff you can find in any old supermarket, which will give you the ideal creamy and soft goods.
The cheaper makes it the best because it has sugar and hydrogenated oil that natural peanut butter doesn't have. These two are essentially used to prevent the separation of the peanut butter and would help enhance its spreading.
You are going to love these recipes:
What are the ingredients to make this recipe?
In preparing these extraordinary baked goods, you will need to have two different ingredients in every layer. One common ingredient that you would use for this is the non-stick cooking spray to prevent food from sticking to the pan.
For the chocolate layer, you will need are:
Butter- A half cup of it and must be unsalted and melted to control the exact amount of salt.
Sugar- It has to be granulated to have a more refined outcome.
Eggs- Two large eggs would make a difference since large eggs would add structure.
Vanilla Extract – This would make the flavor enhanced.
Cocoa Powder– It would be best to use an unsweetened one for you to control the sugar in the final result.
Salt- Any salt, but it would be best to have iodized so granules would be less noticeable.
For the peanut butter layer, you will need are:
Peanut butter- The creamy one would fit into the picture of a terrific combination.
Butter- It is recommended to use unsalted and melted butter for you to control salt usage.
Sugar- If you want a more refined texture, granulated would be the best for it.
Egg- When baking, it would always be best to have a large to have a balanced outcome.
Vanilla extract- Aside from the extract that you have on the chocolate layer, you will also need a real vanilla extract in the peanut butter layer.
Flour- To have a denser brownie, you should use all-purpose flour to achieve that.
Baking Powder- A way to make your brownies up and create a cakier result, you should add baking powder.
Salt
Chocolate Peanut Butter Brownies
For you to serve up to 9 people, be sure to follow the procedure provided below. Since the ingredients are all set, let's make this exceptional baked product that you wouldn't surely miss for your life.
To start with, you have to preheat the oven up to 350°F and place an 8" x 8" pan and spray portions with non-stick cooking spray.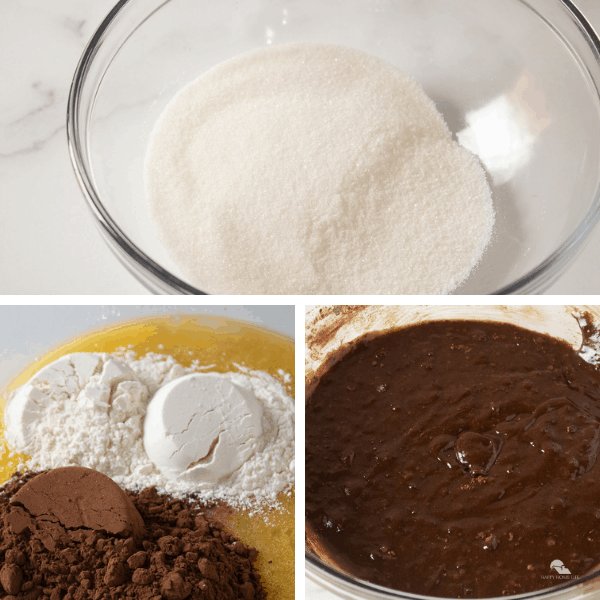 Afterward, you will prepare the chocolate layer in a large mixing bowl. Let's start by adding the flour, cocoa powder, and salt.
Fold it lightly in the flour with cocoa powder, then mix. Note that over-mixing would turn the brownie into a cake-like.
Now, mix the ingredients for the peanut butter layer leaving the flour, baking powder, and salt as the last, and mix thoroughly.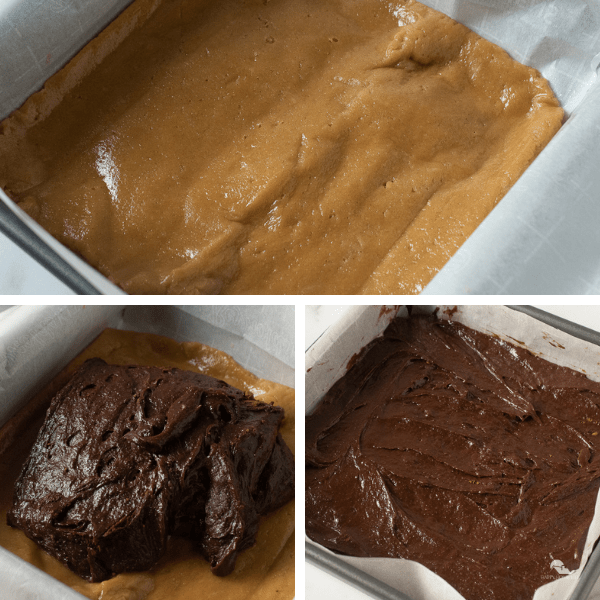 Then, spread the peanut butter layer on top of the pan and add the chocolate layer on top of it, spreading the butter for both layers out evenly.
Finally, bake the brownies for 22 minutes. It may be soft and gooey, but it will settle as soon as it is cooled down. Now you can enjoy the best type of brownies!
Yield: 9 Servings
Chocolate Peanut Butter Brownies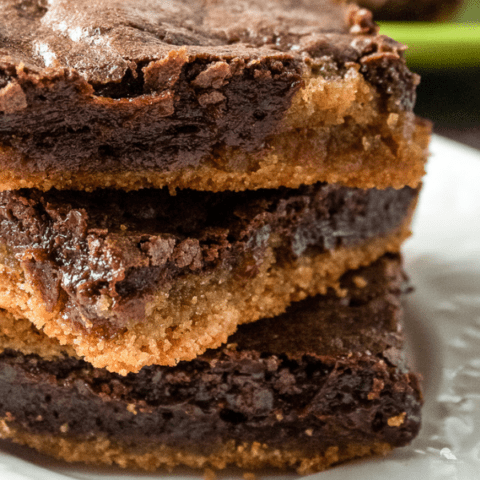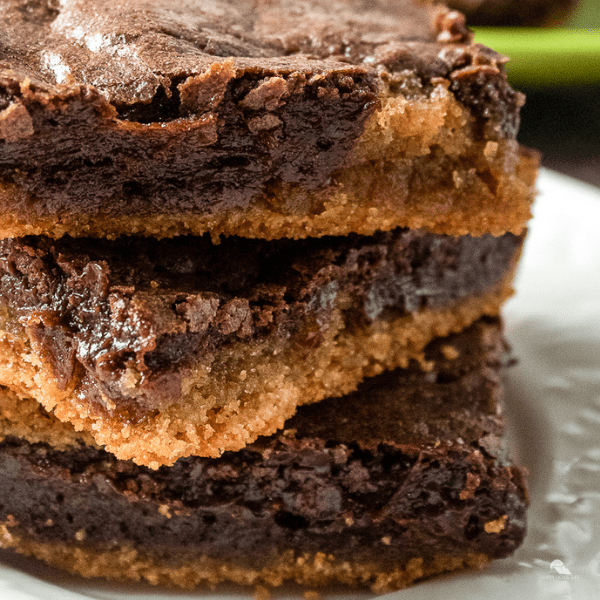 It is hard to find a dessert that can satisfy all of your cravings, but these Chocolate Peanut Butter Brownies are just the ticket.
They are rich and decadent, with a hint of saltiness from the peanut butter and chocolate coming together for an absolutely delicious brownie.
So forget about those pesky diets! You deserve this after such a long day!
Ingredients
Chocolate Layers
½ c. unsalted butter, melted
1 c. granulated sugar
2 large eggs
1½ t. vanilla extract
½ c. all-purpose flour
½ c. unsweetened cocoa powder
1/8 t. salt
Peanut Butter Layer
1/3 c. creamy peanut butter
2 T. unsalted butter, melted
1/3 c. granulated sugar
¼ c. packed brown sugar
1 large egg
½ t. real vanilla extract
½ c. all-purpose flour
1 t. baking powder
1/8 t. salt
Instructions
Preheat oven to 350°F and line an 8" x 8" pan with parchment paper and spray with non-stick cooking spray.
Mix all the ingredients for the chocolate layer in a large mixing bowl, adding flour, cocoa powder, and salt last. Lightly fold in the flour and cocoa powder until just mixed. (Do not over mix, or the brownies will turn out cake-like).
Mix the ingredients for the peanut butter brownie layer, saving the flour, baking powder, and salt for last and stirring until just mixed.
Spread the peanut butter brownie layer on the bottom of the pan and top it with the chocolate brownie layer, spreading the batter for both layers out evenly.
Bake for 22 minutes. Brownies will still be soft and gooey but will finish setting while they cool. Enjoy!

Nutrition Information:
Yield:
9
Serving Size:
1
Amount Per Serving:
Calories:

398
Total Fat:

20g
Saturated Fat:

9g
Trans Fat:

0g
Unsaturated Fat:

8g
Cholesterol:

96mg
Sodium:

189mg
Carbohydrates:

50g
Fiber:

2g
Sugar:

35g
Protein:

7g
These nutritional calculations might not be accurate. Please speak with a licensed nutritionist to assist you.
Total chocoholics like us? Get your chocolate fix with our Decadent Chocolate Cake!