Enjoy these patriotic gluten free Memorial Day desserts at your upcoming cookout or picnic. So many goodies to choose from! All your favorites with none of the gluten.
It's almost Memorial Day, and you know what that means. While we remember our fallen heroes, we'll be firing up the grill, gathering with friends and family, and enjoying some scrumptious desserts. Now, we know some of you are living the gluten-free life, but have no fear, we've got your sweet tooth covered.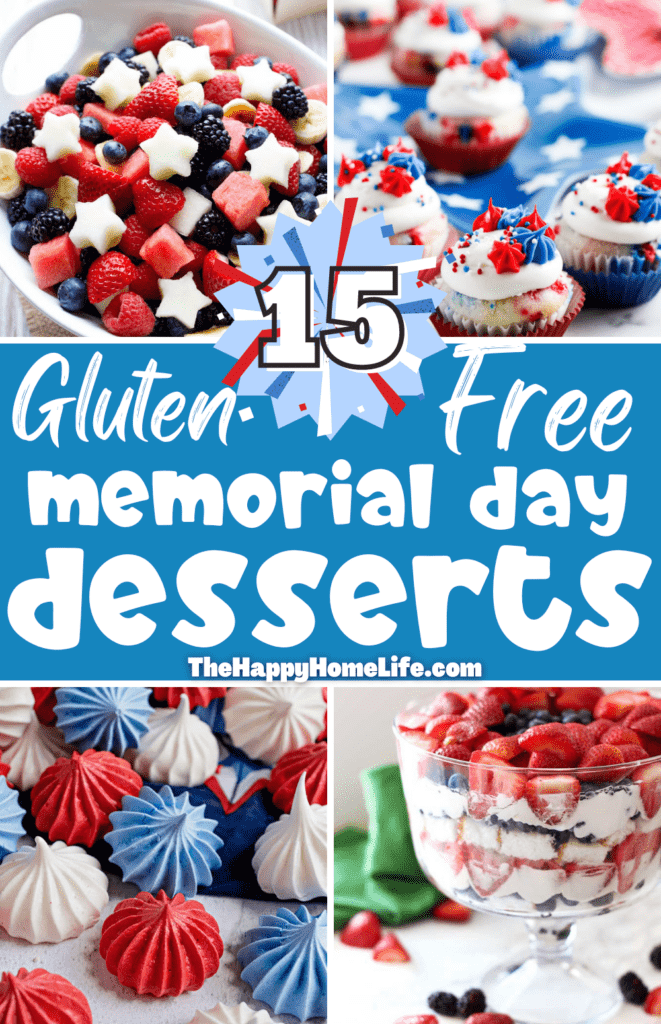 We've put together a list of drool-worthy gluten-free Memorial Day desserts that will tantalize your taste buds and show off your patriotic pride. From a gorgeous American flag fruit pizza to cute patriotic cupcakes, these treats are sure to be the stars of your backyard barbecue. And let's not forget the refreshing red, white, and blue fruit salad that'll have your guests asking for seconds (or thirds!).
These gluten-free dessert recipes will make your Memorial Day celebration as sweet as apple pie!
Table of Contents
Related: What to Serve with Hamburgers on Memorial Day
Easy Gluten Free Memorial Day Desserts
American Flag Fruit Pizza
Kids and grownups alike will love this American Flag Fruit Pizza. With a gluten-free sugar cookie base, cream cheese frosting, and fresh blueberries and strawberries, it's a light and refreshing dessert for a picnic or barbecue. (via Boulder Locavore)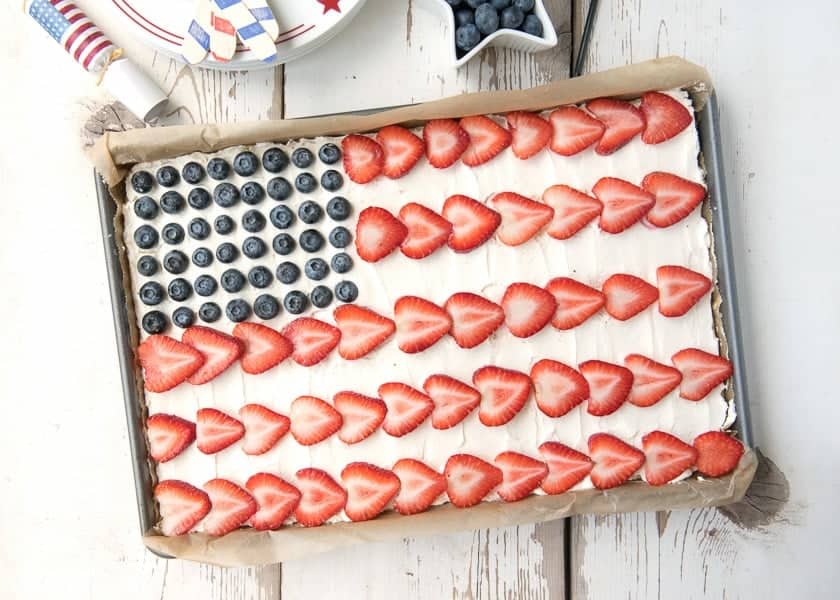 Red, White, and Blueberry Trifle
Layers of gluten-free angel food cake, cheesecake-flavored pudding, whipped cream, and fresh strawberries and blueberries create a visually stunning and delicious summer berry trifle. Plus, there's no baking at all, which is a total win as the weather begins heating up. (via Recipes Worth Repeating)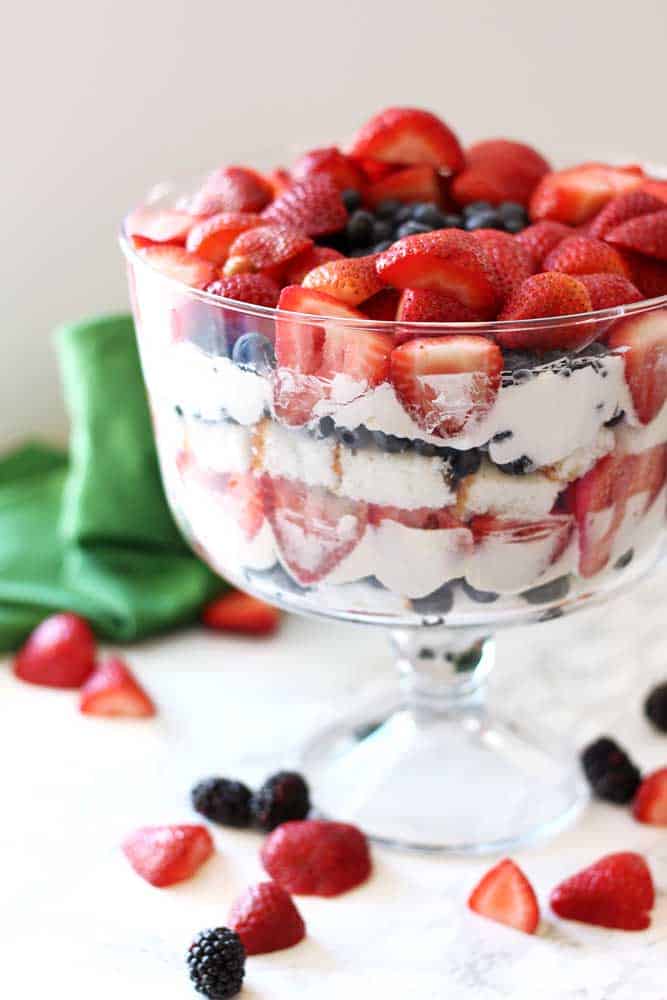 Red, White, and Blue Mini Cakes
You CAN have your cake and eat it too with these patriotic mini cakes that are both Paleo-friendly and gluten-free. Add fresh berries to the cream cheese frosting to finish off this delectable treat. (via Delicious Meets Healthy)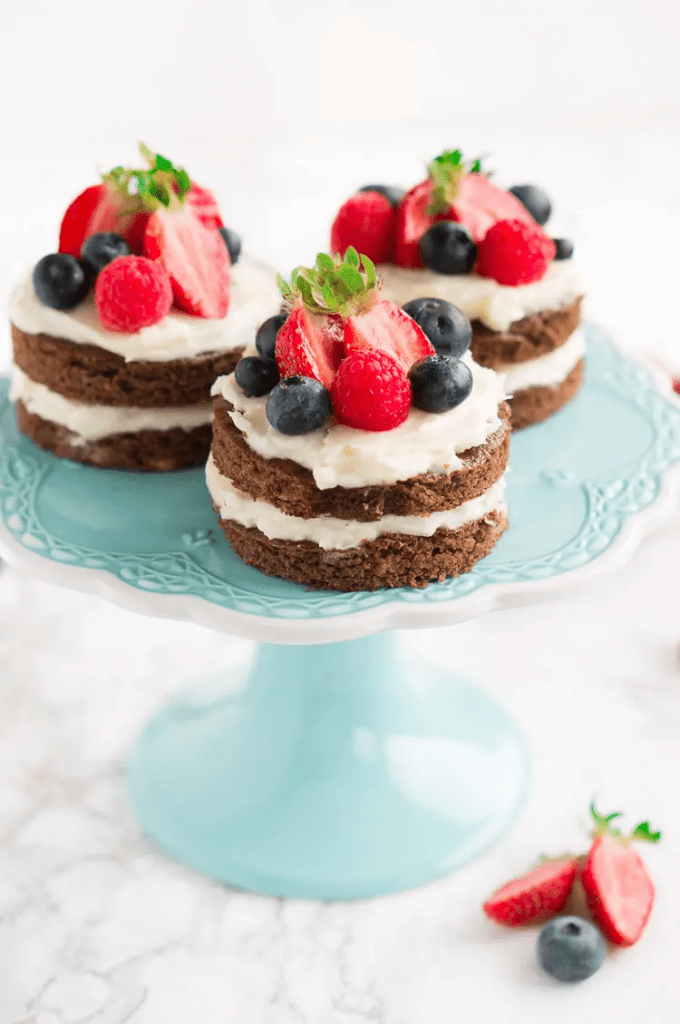 Easy Patriotic Bark
This simple patriotic bark candy is super easy to make using melted white chocolate, dark chocolate, and red, white, and blue M&Ms. Don't forget to add some star sprinkles for extra flair! (via What the Fork)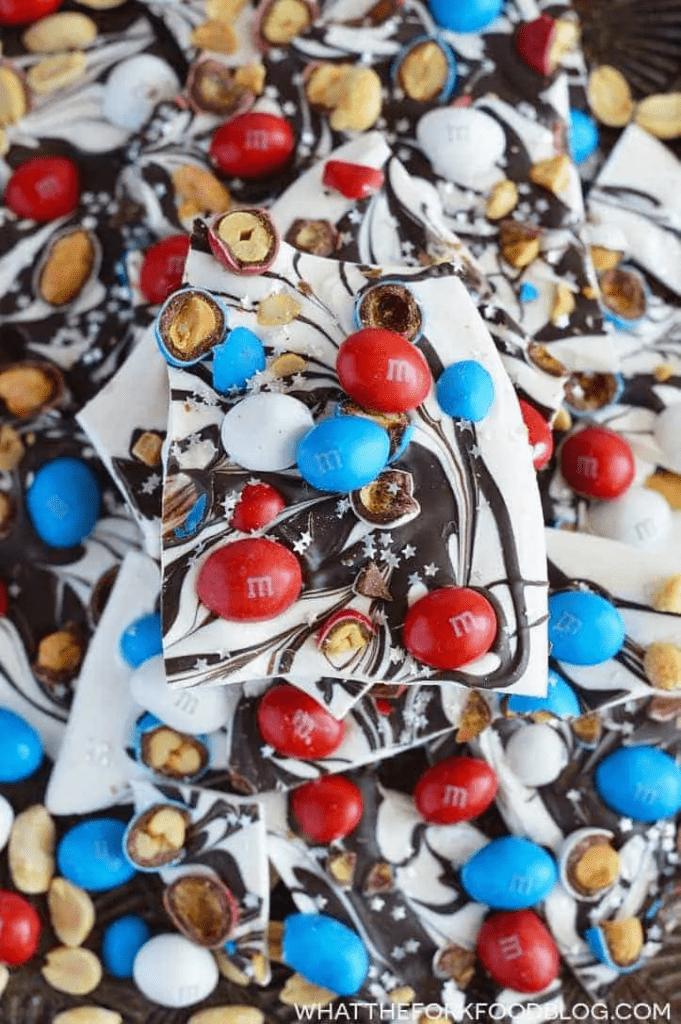 Patriotic Rice Krispie Treats
Add some sweetness to your Memorial Day celebration with Red, White, and Blue Rice Krispie Treats. Made with gluten-free rice cereal in red, white, and blue, these festive treats are as much fun to make as they are to eat.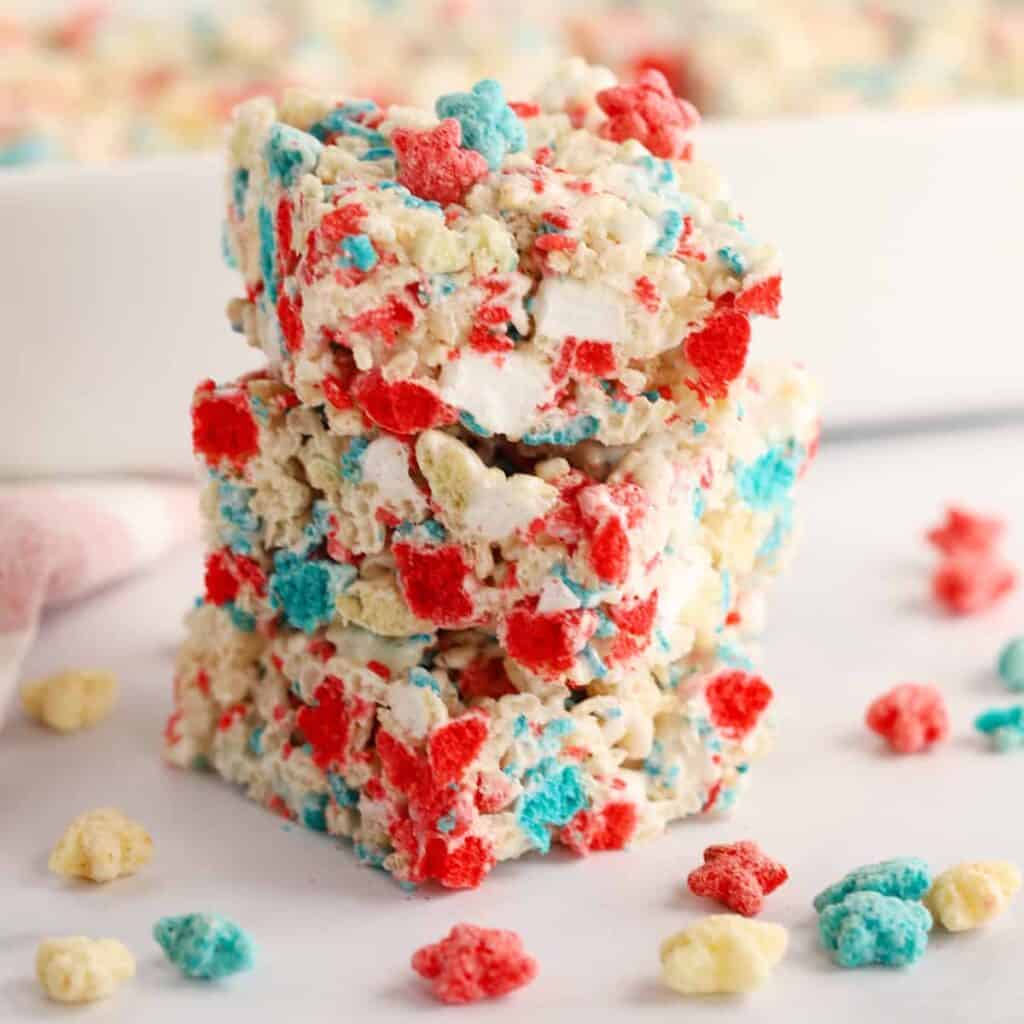 Red, White, and Blue Fruit Kabobs
Get creative with your fruit display this Memorial Day by whipping up these fun and festive Patriotic Fruit Skewers. Thread fresh strawberries, blueberries, and gluten-free marshmallows onto skewers in a colorful pattern, and serve them alongside a fruit dip if desired. This dessert is a great way to get kids involved in the kitchen. Plus, with its combination of fresh fruit and marshmallow goodness, it's a light and refreshing treat that's perfect for a hot summer day.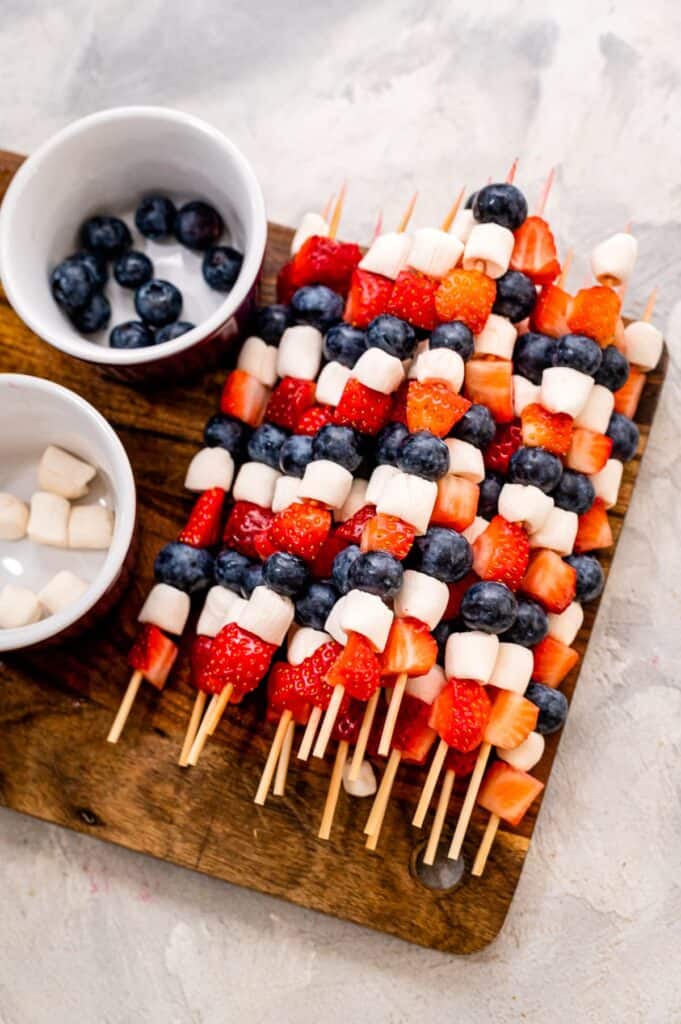 Gluten-Free Strawberry Shortcake
There's nothing quite like a classic Strawberry Shortcake to celebrate the warm weather, and this gluten-free version is sure to please everyone at your Memorial Day gathering. Start with soft, tender gluten-free biscuits, then pile on sweet, juicy strawberries and top it all off with a generous dollop of whipped cream. This dessert is the perfect balance of fruity and creamy.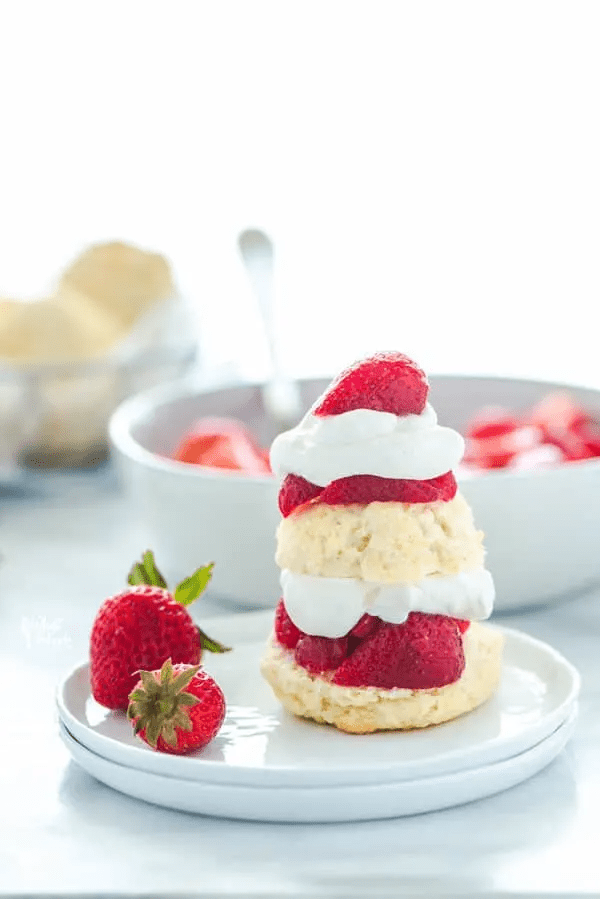 Patriotic Mini Cheesecakes
These adorable Patriotic Mini Cheesecakes are just perfect for your Memorial Day dessert spread. Made with a gluten-free graham cracker crust and a smooth, creamy filling, these mini cheesecakes are swirled with vibrant red, white, and blue colors that will make your table pop. Perfect for individual servings, your guests will love the combination of rich cheesecake flavor and playful presentation.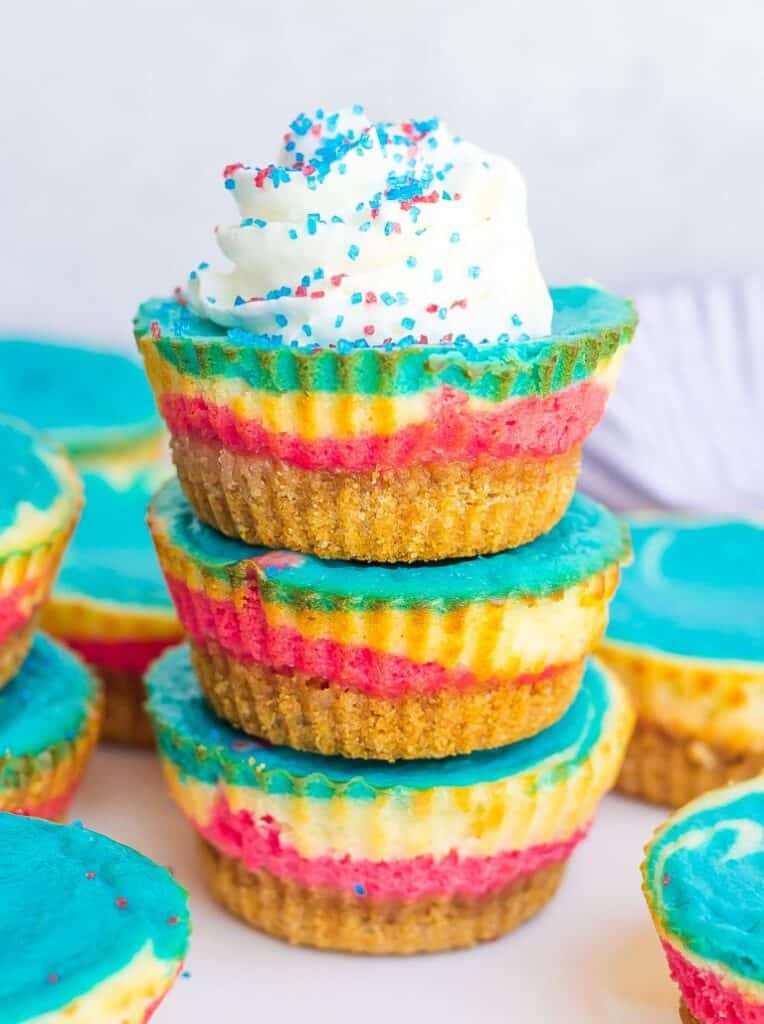 More Patriotic Desserts for Memorial Day
Lemon Blueberry Bars
Bring some zing to the table with these bright and tangy Lemon Blueberry Bars. Made with a gluten-free crust and a luscious lemon filling that's bursting with fresh blueberries, these bars are the perfect combination of sweet and tart. Topped with a dusting of confectioners' sugar for a touch of sweetness, these bars are not only a delightful taste sensation but also a beautiful addition to your dessert table.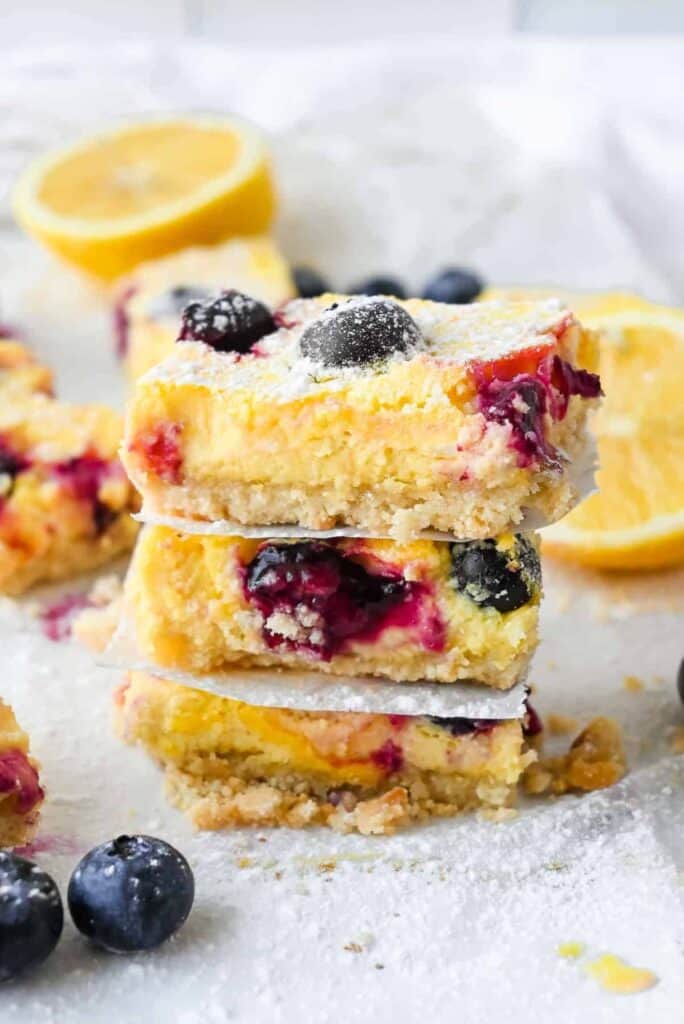 Patriotic Meringue Cookies
Light, airy, and irresistibly sweet, these Red, White, and Blue Meringue Cookies are perfect for summer. Plus, their melt-in-your-mouth texture makes them an excellent choice for those who prefer a lighter dessert.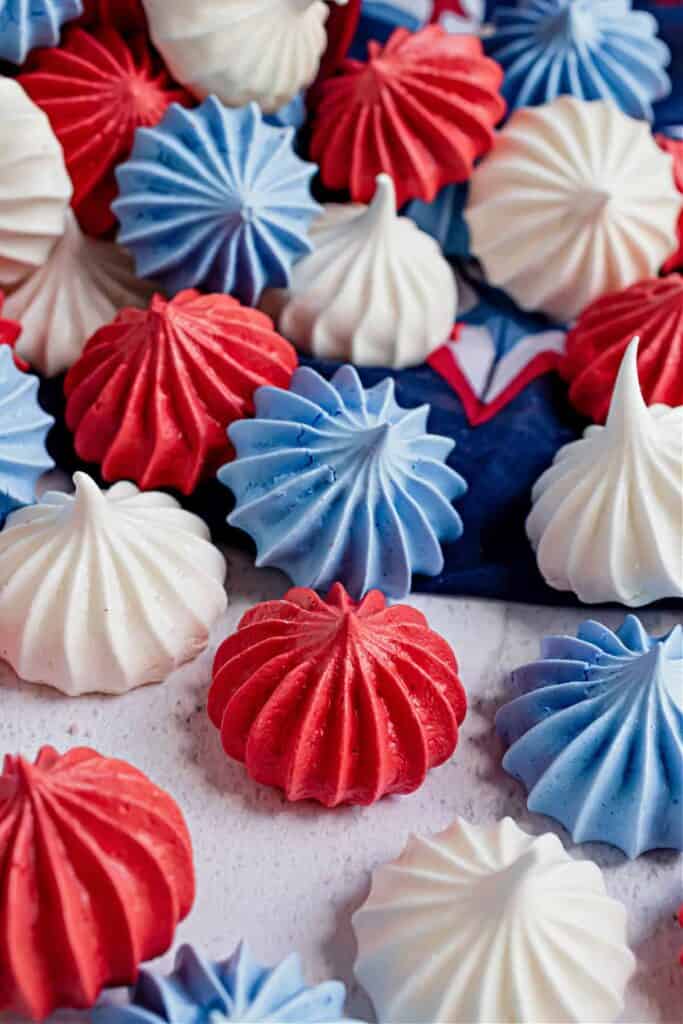 Star Spangled Layered Jello
Nothing says summer like a cool, refreshing dessert, and this Red, White, and Blue Layered Jello is just the thing for the sweltering days of summer. Made with alternating layers of red, white, and blue jello, this gluten-free dessert is a fun and festive addition to your spread. Plus, its wiggly, jiggly texture is sure to delight guests of all ages.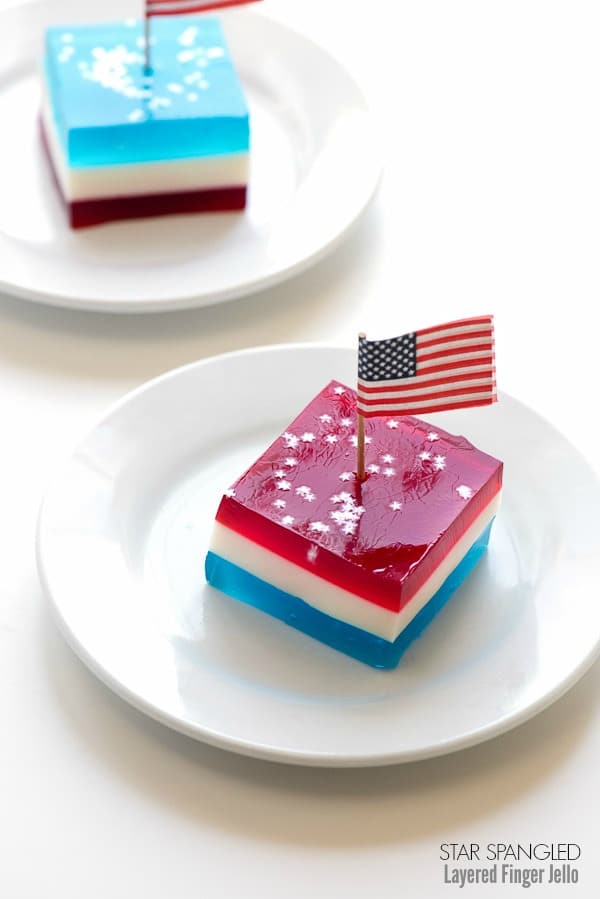 Gluten-Free Apple Pie
A classic American dessert with a gluten-free twist, this Apple Pie is the perfect way to honor the spirit of Memorial Day. Featuring a flaky, buttery gluten-free crust and a warm, spiced apple filling, this pie is the ultimate comfort food. Serve it warm with a scoop of vanilla ice cream, and watch as your guests savor every last crumb.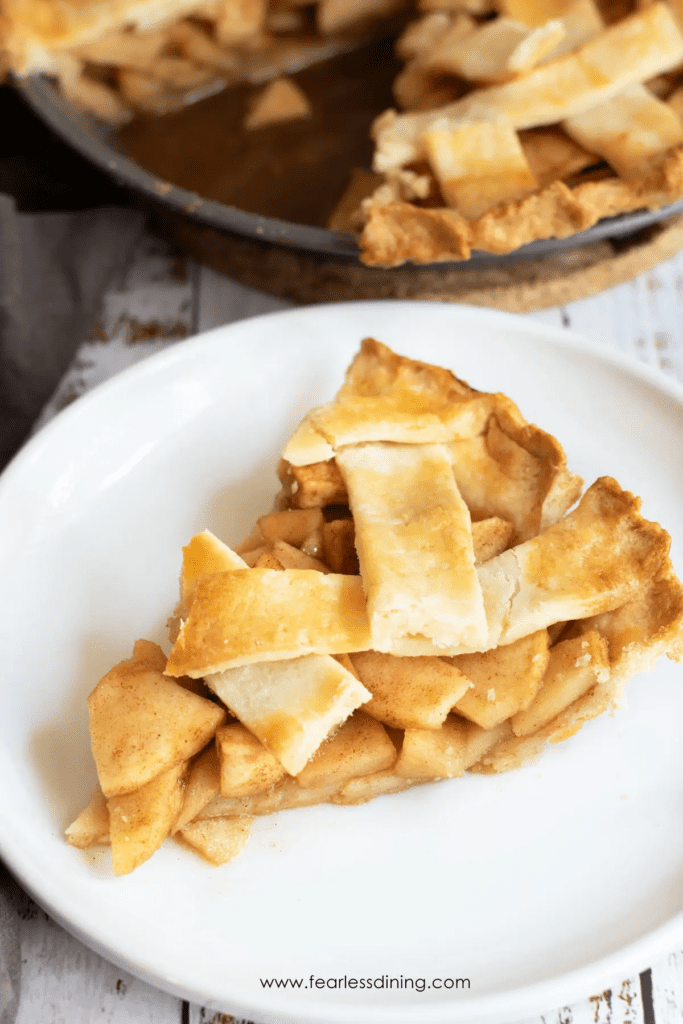 White Chocolate Dipped Strawberries with Patriotic Sprinkles
Indulge in a sweet and simple dessert with these Chocolate Dipped Strawberries, decorated with red, white, and blue sprinkles for a patriotic touch. Fresh, juicy strawberries are dipped in white chocolate, creating a delightful contrast of flavors and textures. These treats are not only gluten-free but also easy to make. Make sure your white chocolate and sprinkles are gluten-free!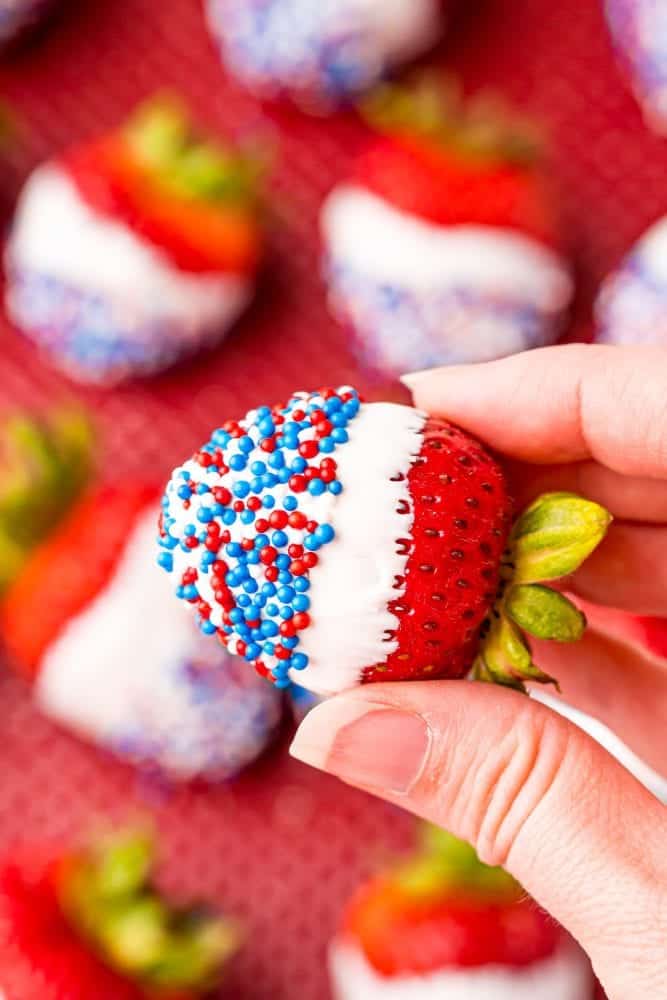 Gluten-Free Mini Patriotic Cupcakes
These bite-sized Gluten-Free Mini Patriotic Cupcakes are made with a light, fluffy gluten-free cake batter and topped with a creamy, dreamy frosting. Decorate them with red, white, and blue sprinkles or edible star-shaped confetti for an extra festive touch.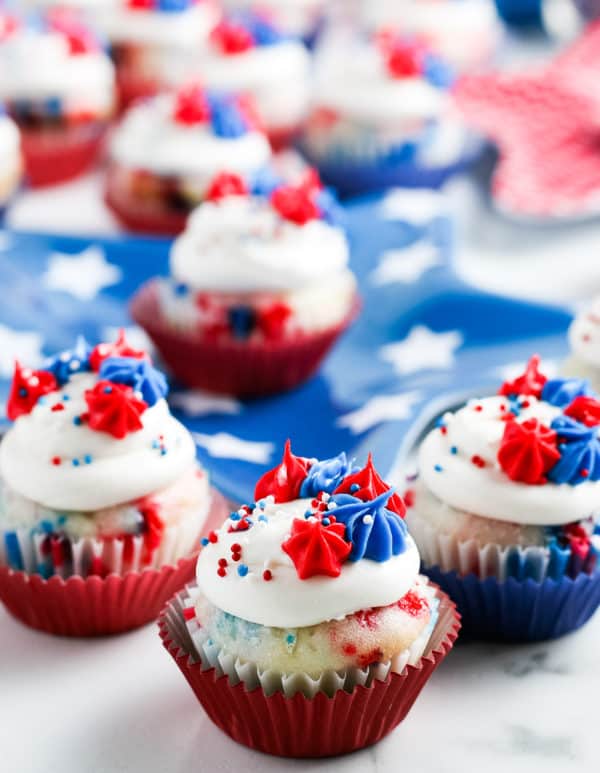 Patriotic Fruit Salad
Made with honeydew melon stars, blueberries, watermelon, raspberries, bananas and strawberries, this colorful Patriotic fruit salad is perfect for a hot summer day. Not only is this fruit salad gluten-free, but it's also a healthy dessert option that your guests will love.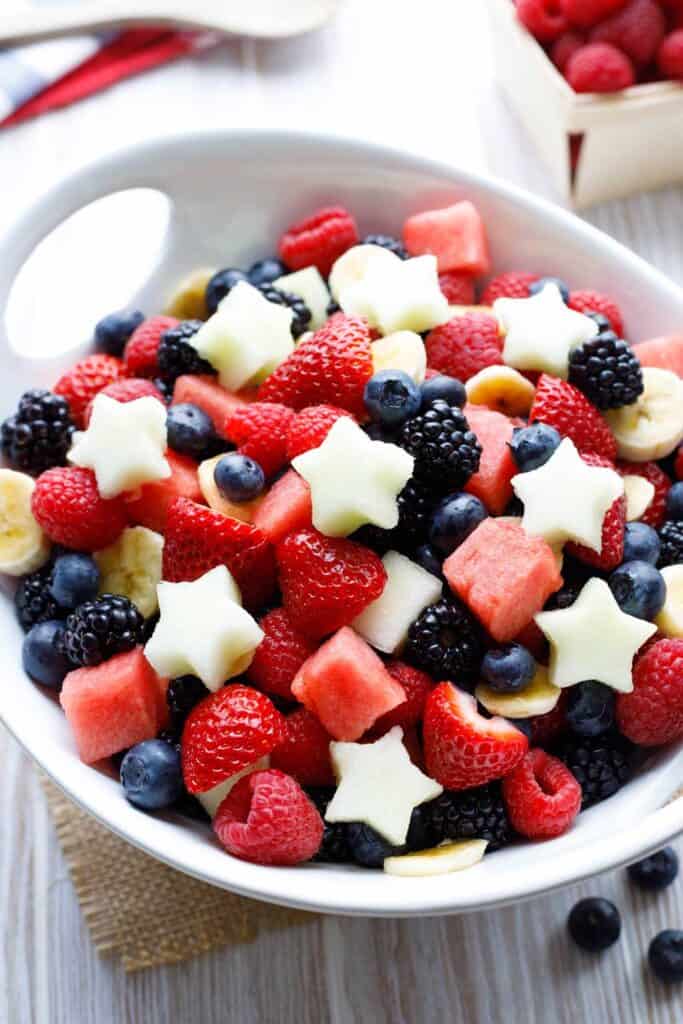 That rounds out our list of gluten free desserts for Memorial Day. Don't forget to "Pin" this post to come back to it when you're ready to make your menu for the holiday.