Looking for delicious gluten-free fall desserts? Then we got you covered! As the autumn season approaches, it's time to indulge in the cozy comforts of fall desserts. However, for those with gluten sensitivities or celiac disease, finding delectable treats can often be a challenge. Well, fear not, as we bring you a collection of mouthwatering gluten-free fall desserts that will satisfy your sweet tooth without compromising on taste or texture!
From warm apple crisps to decadent pumpkin treats, these recipes are sure to make your taste buds dance with joy and have you eagerly anticipating the arrival of sweater weather. Get ready to embrace the flavors of fall while ensuring every bite is gluten-free and utterly delightful.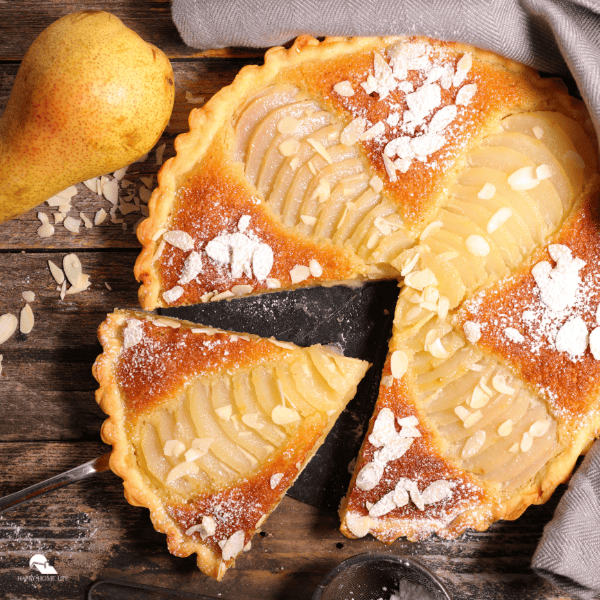 What is Gluten-free food?
Gluten-free food refers to any type of food that does not contain gluten, a protein found in wheat, barley, and rye. This dietary restriction is primarily followed by individuals with celiac disease or non-celiac gluten sensitivity. Celiac disease is an autoimmune disorder triggered by the ingestion of gluten, which causes damage to the small intestine and prevents proper absorption of nutrients. Non-celiac gluten sensitivity refers to a condition where people experience adverse symptoms after consuming gluten but do not have celiac disease.
Gluten-free foods are becoming increasingly popular as more people become aware of the potential health benefits they offer. These foods can be easily found in specialized sections at grocery stores or even in dedicated gluten-free shops. Common substitutes for wheat-based products include rice flour, cornstarch, almond flour, and potato starch.
Let's start your gluten-free fall dessert journey with these delightful recipes!
Pumpkin Spice Muffins
If you've ever wondered what the fuss is about regarding gluten-free pumpkin spice muffins, then this post is for you! Gluten-free pumpkin spice muffins are a delicious twist on the classic fall treat that can be enjoyed by everyone, including those with gluten sensitivities or allergies. These muffins are made without any wheat or other gluten-containing ingredients, making them safe and suitable for individuals following a gluten-free diet.
Apple Crisp
Apple crisp is a comforting dessert that combines the sweetness of apples with a crispy and buttery topping. It's perfect for fall, when apples are in season, but can be enjoyed any time of the year. This classic dessert is known for its warm and inviting aroma that fills the kitchen as it bakes.
Caramel Pecan Bars
Caramel pecan bars are irresistible dessert treats that combine the rich flavors of caramel and crunchy pecans. These delectable bars consist of a sweet and buttery shortbread crust, topped with a generous layer of gooey caramel filling, and sprinkled with an abundance of toasted pecans. The combination of these ingredients creates a delightful balance between the buttery sweetness of the caramel and the nutty crunchiness of the pecans.
Pear and Almond Tart
Are you a fan of sweet and nutty treats? Then you must try the Pear and Almond Tart! This mouthwatering dessert combines the delicate flavor of pears with the rich, nuttiness of almonds. It's a classic dessert that is sure to impress your family and friends.
Pumpkin Cheesecake Bars
Pumpkin cheesecake bars are made with the creamy goodness of cheesecake with the warm, comforting flavors of pumpkin. Perfect for the fall season, these bars are a crowd-pleaser at any gathering or simply as a sweet treat for yourself.
Gluten-Free Apple Cider Donuts
Apple cider donuts are a seasonal delight that combines the taste of spiced apples with the heavenly goodness of freshly baked donuts. These delectable treats are typically made with apple cider, a sweet and tangy beverage pressed from fresh apples.
Maple Pecan Blondies
Say hello to Maple Pecan Blondies – chewy blondies packed with maple flavor and studded with crunchy pecans. These are similar to brownies but without cocoa powder, creating a lighter and more caramel-like flavor.
Spiced Apple Cake
If you have a soft spot for all things apple-flavored, then gluten-free spiced apple cake is the best dessert for you! This is the perfect combination of moist cake infused with fragrant spices and chunks of tender apples. It's like biting into a slice of autumn!
Pumpkin Bread Pudding
Are you looking for a scrumptious dessert to indulge in this season? Look no further than pumpkin bread pudding! This delightful treat combines two beloved classics – pumpkin pie and bread pudding – into a mouthwatering dish that will leave you craving more. If you're new to this decadent dessert, let's dive into what exactly makes pumpkin bread pudding so special.
Cinnamon Roll Cookies
Cinnamon Roll Cookies are soft and chewy gluten-free cookies rolled in cinnamon sugar. These cookies combine all the delicious flavors and aromas of a warm, gooey cinnamon roll into bite-sized treats that are perfect for any occasion.
Gluten-Free Apple Pie
Nothing can go wrong with a classic fall dessert like the Gluten-Free Apple Pie! This American dessert consists of a sweet and buttery pastry crust filled with slices or chunks of fresh apples, which are often seasoned with cinnamon and sugar. The pie is then baked until the crust turns golden brown and the apples become soft and tender.
One of the key features of apple pie is its delicious aroma that fills the kitchen as it bakes. The warm scent of cinnamon and apples wafting through the air can bring back memories of cozy family gatherings or autumn afternoons spent at home. Apple pie is typically served warm, either on its own or with a scoop of vanilla ice cream on top for extra indulgence.
Pumpkin Spice Energy Balls
If you've been browsing through the snack aisle or scrolling through social media, you may have come across these delicious and nutritious treats. Pumpkin spice energy balls are a popular snack made from a combination of pumpkin puree, oats, and warm spices like cinnamon, nutmeg, and ginger. They are usually sweetened with natural ingredients such as honey or maple syrup.
These energy balls are not only tasty but also provide a quick boost of energy when you need it most. Packed with fiber-rich oats, they make for a satisfying treat that can keep hunger at bay. The addition of pumpkin puree adds moisture and a rich flavor profile while the warming spices give them that quintessential fall taste we all love.
Caramel Apple Crumble Bars
A perfect description for Caramel Apple Crumble Bars – layers of gluten-free crumbly crust and tender apples baked to perfection. These bars are excellent for fall gatherings or as a sweet treat any time of the year. With their irresistible combination of textures and flavors, they are sure to become a new favorite in your recipe repertoire.
Sweet Potato Brownies
Mashed sweet potatoes and gluten-free flour – these are what Sweet Potato Brownies are made of! These are a delicious and healthier alternative to regular brownies as they are packed with nutrients. Instead of using traditional ingredients like flour, butter, and refined sugar, these brownies are made with sweet potatoes as the main ingredient. Sweet potatoes not only provide a natural sweetness to the brownies but also add a moist and fudgy texture.
Cranberry Orange Bread
The delightful Cranberry Orange bread is a combination of tangy cranberries and zesty oranges, resulting in a mouthwatering flavor explosion. The bread has a moist and tender texture with a slightly sweet taste that perfectly balances the tartness of the cranberries and the citrusy punch of the oranges.
Pumpkin Spice Rice Pudding
Pumpkin spice rice pudding is a creamy and comforting dish made with cooked rice, milk, sugar, and a generous blend of warm spices. It's the perfect treat to enjoy during the fall season or any time you're craving something cozy and delicious.
Maple-Apple Hand Pies
Portable and handy, Maple-Apple Hand Pies are delectable treats that are the perfect combination of sweet, tart apples and rich, gooey maple syrup. Whether you're an experienced baker or just starting out in the kitchen, these hand pies are sure to impress your taste buds and leave you wanting more.
Pumpkin Spice Chia Pudding
Pumpkin spice chia pudding is a simple yet satisfying recipe that combines the goodness of chia seeds with the comforting taste of pumpkin spice. A healthy and gluten-free dessert, all you need are a few basic ingredients. Mix these ingredients in a jar or bowl and let them sit overnight in the fridge and voila! The magic happens as the chia seeds absorb the liquid and create a thick pudding-like consistency.
Apple Cinnamon Pancakes
Are you ready to take this breakfast staple to the next level by making it into a fall dessert? Look no further than Apple Cinnamon Pancakes! This delicious and comforting dish is a twist on traditional pancakes, infused with the flavors of sweet apples and warm cinnamon. Perfect for chilly mornings or lazy weekends, these pancakes are sure to satisfy your cravings and jumpstart your day.
Chocolate Chip Pumpkin Bars
Chocolate Chip Pumpkin Bars are a delightful blend of moist pumpkin batter and gooey chocolate chips, resulting in a heavenly dessert that will satisfy your sweet tooth. Perfect for autumn gatherings or cozy nights, these bars are sure to become a seasonal favorite.
Gingerbread Cookies
Gingerbread cookies are delicious cookies made with a combination of warm spices, including ginger, cinnamon, cloves, and nutmeg. The dough is typically sweetened with molasses or honey, giving it a rich and distinct flavor. One of the most iconic features of gingerbread cookies is their shape. They are often cut into various shapes, such as men, women, animals, or even houses. Traditionally decorated with icing or candies, these cookies can be personalized and become a fun activity for families during the holiday season.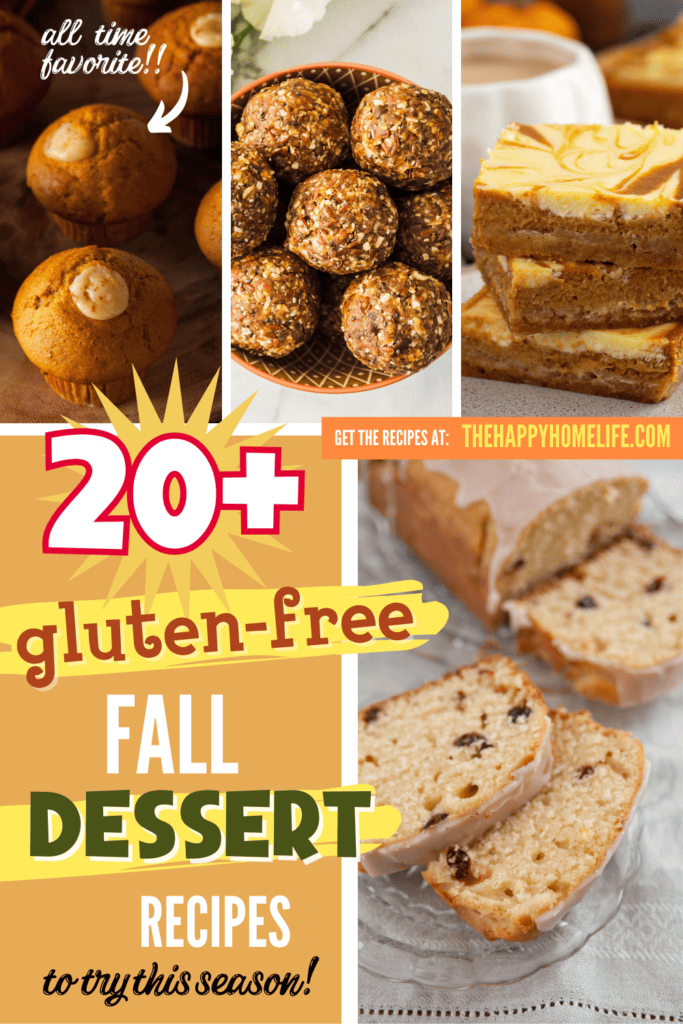 As a whole, gluten-free fall desserts offer a delicious and satisfying way to indulge in the flavors of the season without compromising dietary restrictions. With an array of options available, from apple crisps to pumpkin spice treats, there is no shortage of mouthwatering desserts to enjoy.
By exploring recipes and experimenting with alternative ingredients, individuals can discover new and exciting ways to embrace the joy of baking while staying gluten-free. So why wait? Grab a mixing bowl, gather your favorite fall ingredients, and let your creativity soar as you whip up your own scrumptious gluten-free fall dessert. Happy baking!