What a healthy, delicious dinner! This honey orange glazed salmon with asparagus dish is perfect for cooking a nutritious meal that will please everyone's palate.
The honey and orange flavors are so rich and sweet, while the salmon provides an excellent source of omega-3s. As well as being easy on your waistline, this recipe is also low in calories, high in protein and vitamin D, and packed with heart-healthy fats.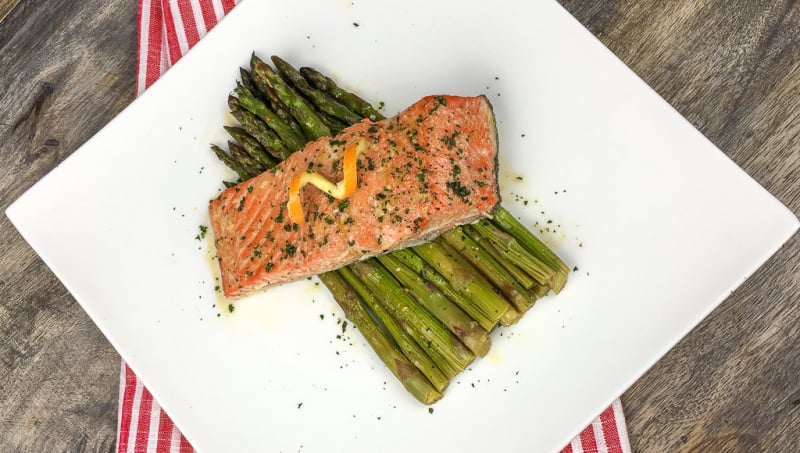 When it comes to cooking salmon, we got a lot of questions.
Should I use foil when baking in the oven?
The answer is yes. The foil helps keep your salmon moist and avoid sticking and makes for easy cleanup.
Should I cover my salmon when baking in the oven?
It is generally not recommended to cover salmon when baking in the oven. The heat from the oven will help to create a crisp and caramelized outside, creating a delicious texture that you won't get when covering the fish.
Additionally, this helps keep steam out of the cooking process, allowing for an even cook on both sides without overcooking or drying out the fish.
Should I use oil when baking salmon in the oven?
Using oil when baking salmon in the oven is a great idea. Oil helps prevent sticking and creates a crisp texture on the surface of the fish, which is especially nice if you are looking for that classic caramelized exterior.
You can use any type of oil you prefer, such as olive oil, avocado oil, coconut oil, or even vegetable oil. Just be sure to brush the oil onto both sides of the salmon before baking to ensure even coverage.
Is it better to cook salmon on the stove or in the oven?
It depends on your preference and the salmon dish you are making. If you are looking for a dish with crispy skin, cooking it on the stove is the way to go.
You can either pan-fry or sear the salmon in some oil until it is golden and crisp. This will also give you more control over the cooking temperature, ensuring the fish is cooked without being overcooked.
Should I use butter or oil for salmon?
Both butter and oil are great options when it comes to cooking salmon. Butter is a classic choice as it helps create an especially crispy exterior, while oil is better for achieving a golden and caramelized finish.
If you are using butter, be sure to clarify it first in order to remove any solids that can burn while cooking. Clarified butter has a higher smoke point, so it won't burn as quickly, giving you more time to cook your salmon without burning the butter.
On the other hand, if you are using oil, make sure to use one with a high smoke point, such as canola oil or avocado oil. This will ensure that your salmon doesn't burn before it is cooked.
We recommend our Honey Orange Glazed Salmon with Asparagus recipe for a delicious and easy way to cook salmon. Continue reading and print the recipe.
Honey Orange Glazed Salmon
This glazed salmon recipe is a healthy sheet pan dinner that's easy to prepare. Pair it with asparagus, and with less than 5 minutes of prep and about 15 minutes of cooking time, you'll have dinner ready in less than 25 minutes.
You can make this yummy salmon dish year-round, but it would also work well during the summer months when you tend to crave seafood! The honey gives this dish a sweet flavor which balances out nicely with the tanginess of the orange juice and balsamic vinegar.
Salmon also has omega-fatty acids that are good for heart health and fighting inflammation. It is high in protein, vitamin B12, vitamin D, and selenium.
If you're new to cooking salmon in the oven, honey orange glazed salmon is a great recipe for beginners!
Serve this orange glazed salmon over asparagus, as seen here, or it's great over rice as an alternative side dish. You can also try sautéing some spinach or green beans with garlic salt before baking them alongside the fish.
Here's another recipe that might interest you: Keto Salmon Patties.
Orange Glazed Salmon Ingredients
While there are many different ways to make honey orange glazed salmon, here are the ingredients we used:
salmon fillets
fresh orange juice
honey
olive oil
balsamic vinegar
garlic
We also served asparagus alongside this dish, and it was tossed in the same glaze. Yum!
How to Make the Salmon Glaze for this Glazed Salmon Recipe
In a medium bowl, combine the orange juice, honey, olive oil, balsamic vinegar, and garlic. Season generously with salt and pepper and brush over the salmon.
That's easy enough, right?
We also use the same yummy glaze to coat the asparagus. Every bite is full of flavor!
Recipe for Honey Orange Glazed Salmon
Yield: 4 servings
Honey Orange Glazed Salmon with Asparagus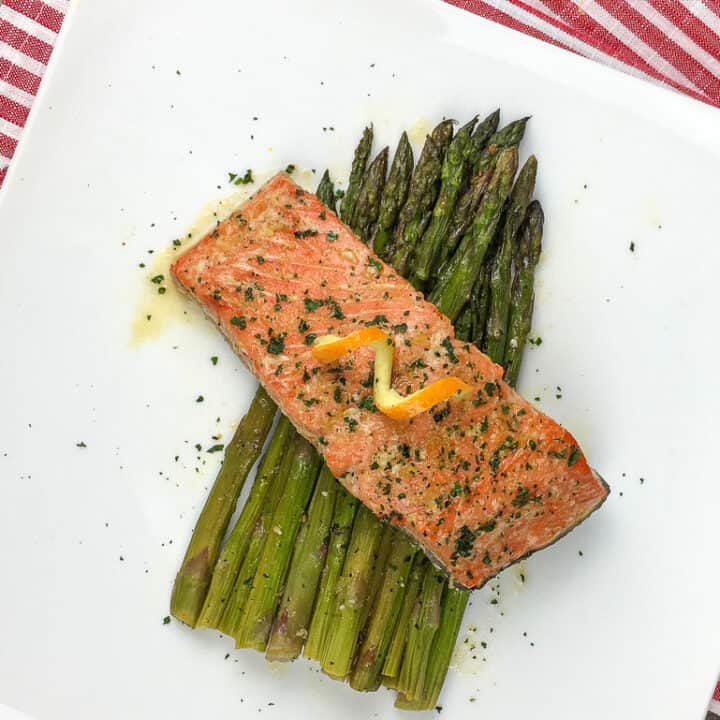 Who doesn't love a meal that is fast and tastes great? And with this quick, easy recipe for honey orange glazed salmon with asparagus, you can enjoy the best of both worlds. From start to finish in less than 25 minutes!
Ingredients
4 6-oz. each salmon filets
3 T. fresh orange juice
2 t. honey
3 T. extra virgin olive oil
2 T. balsamic vinegar
2 garlic cloves, finely minced
1½ lb. asparagus, tough ends removed
Sea salt and black pepper, to taste
Instructions
Preheat oven to 400°F and line a large, rimmed baking sheet with a piece of parchment paper or a Silpat® baking mat. Place the salmon filets skin side down in the center of the baking sheet and set aside.

In a medium bowl, whisk together the orange juice, honey, olive oil, balsamic vinegar, and garlic. Generously season with salt and black pepper, to taste, and brush over the salmon.

Add the asparagus to the bowl with the orange juice mixture and gently toss to combine. Season with additional salt and black pepper, to taste.

Arrange asparagus around the salmon filets in a single layer and place sheet pan in pre-heated oven. Bake for 15-18 minutes, or just until the salmon is flaky and the asparagus develops a bit of color, being careful to not overcook the salmon.
Remove from oven and serve immediately. Enjoy!
Nutrition Information:
Yield:
4
Serving Size:
1
Amount Per Serving:
Calories:

503
Total Fat:

32g
Saturated Fat:

6g
Trans Fat:

0g
Unsaturated Fat:

24g
Cholesterol:

107mg
Sodium:

204mg
Carbohydrates:

13g
Fiber:

3g
Sugar:

7g
Protein:

42g
These nutritional calculations might not be accurate. Please speak with a licensed nutritionist to assist you.
Side Dish Options
As you can see, we already paired this orange-glazed salmon with asparagus. It's a delicious combination! But if you're looking for other yummy side dish options, here are a few to try. We also have a detailed post on side dishes for salmon that you have to check out!
– Honey-roasted Carrots: toss honey with olive oil and then carrots on a baking sheet, drizzling with the honey and olive oil. Add salt and pepper to taste. Roast for about 30 minutes or until carrots are tender; serve warm alongside the honey orange glazed salmon!
– Mashed Potatoes: while you're cooking your glazed salmon in the oven, boil up some new red potatoes (or use leftover ones from last night) and mash them together with butter, milk, cream cheese, sour cream, or whatever other ingredients you like best. Season to taste – we recommend adding salt and/or chopped chives if available.
– Rice Pilaf: this is a rice dish that's quick and easy to make. Boil up a cup of white or brown rice, then stir in some frozen peas, corn kernels, diced onion (or chopped fresh onions if you have them), finely grated carrot (optional but yummy), and season with salt/pepper to taste. Add butter (and more veggies if you like!) for extra flavor at the end before serving alongside your glazed salmon!
– Broccoli: this steamed vegetable is so easy – just chop it into florets and add a drizzle of olive oil on top along with some salt and pepper seasoning while it cooks in the microwave oven; serve warm as desired alongside honey orange glazed salmon.
– Roasted Brussels Sprouts: you can't go wrong with these nutrient-rich vegetables. Slice them in halves or quarters, toss them with a drizzle of olive oil, and roast for about 15 minutes in the oven before tossing the orange glazed salmon on top for an easy meal!
If you enjoyed this Honey Orange Glazed Salmon recipe, try these other seafood recipes we think you'll like: