This quick and easy 30-minute Chicken and Black Bean Burrito Skillet recipe is ideal for those hectic weeknights when you would otherwise be tempted to get takeout. To complete the meal, try serving this dish with steamed brown rice, fresh green salad, or Easy Refried Beans.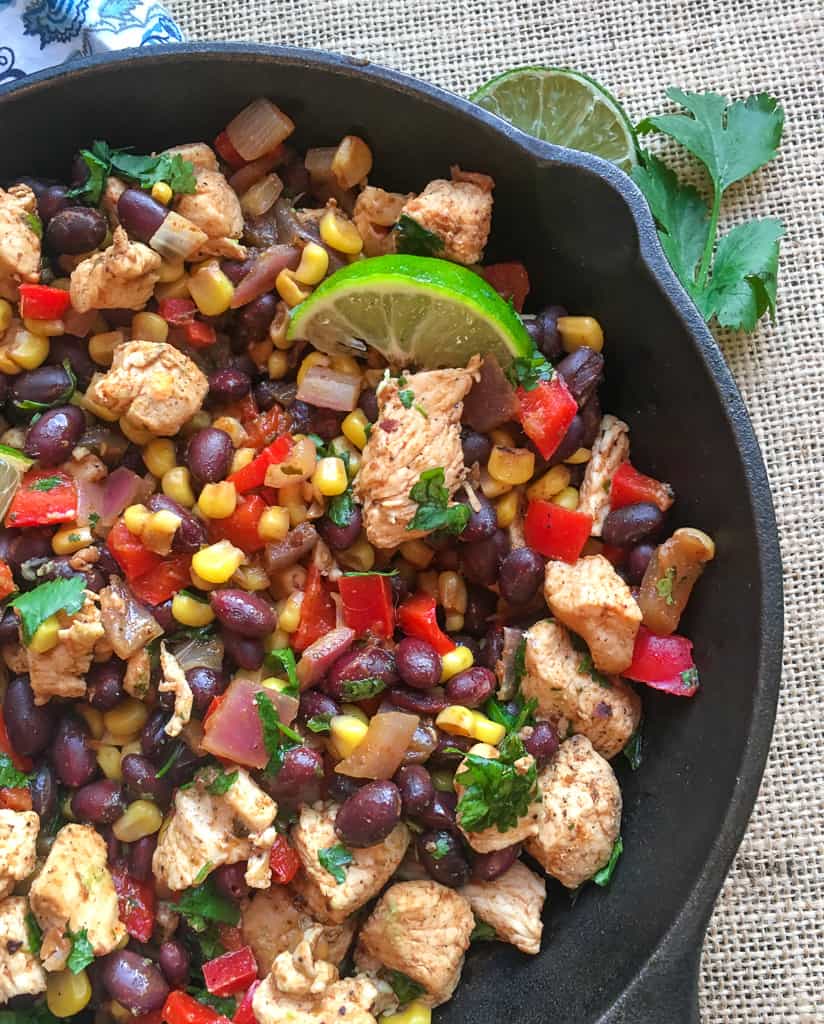 Can you freeze Chicken and Black Bean Burrito Skillet?
Certainly! If you have a smaller family, you might easily eat half and store the other half of this recipe since it serves a large number of people. The leftovers can be divided into single servings, placed in airtight containers, and frozen for later use. The night before, place the frozen dinner in the refrigerator to thaw. To reheat, either bake covered at 350 degrees for 15 minutes or until hot in the oven or microwave until hot.
Try this recipe:
What to serve with Chicken and Black Bean Burrito Skillet?
This skillet supper is quite excellent, just as is, but you can also pile on as many toppings as you like for even more flavor. There are countless choices, but here are some of the best:
Green onions
Tortilla Chips
Tortillas
Sour Cream
Salsa
Guacamole
Spanish Rice
Cheese Dip
Pico de Gallo
Cilantro
Black olives
Sliced jalapeños
Can you use other meats in this burrito skillet recipe?
This recipe will work great with one to one and a half pounds of lean ground beef, turkey, or chicken. Before cooking, split the ground meat up into pieces with a spatula. Afterward, add the beans, corn, and seasonings as instructed.
What are the ingredients to make Chicken and Black Bean Burrito Skillet?

With a prep time of 10 minutes and a cook time of 20 minutes, here are the ingredients you will need for 4 servings.
Extra virgin olive oil – is a flavor enhancer and quickly cooks your burrito.
Red onion – helps to keep the burritos moist and juicy.
Red or green bell peppers – add sweetness with slightly bitter taste.
Sea salt and black pepper – seasonings to taste that most recipes call for.
Chicken breasts – should be boneless and skinless.
Ground cumin – gives the burrito a warm, earthy flavor.
Smoked paprika – adds a depth of flavor.
Mexican oregano – this flavorful herb enhances the taste and gives them a unique flavor.
Chipotle powder – it smells strong, earthy, and is moderately spicy.
Black beans – in cans that have been rinsed and the sticky liquid drained can be used.
Frozen corn – no need to thaw or cook.
Fresh cilantro – it gives lemony, complex, and strong flavor.
Fresh lime juice – helps to tenderize the chicken.
Monterey Jack, Avocado, and Lime – these are optional.
How to make Chicken and Black Bean Burrito Skillet?
It's time to put this recipe together now that you've gathered all of your ingredients.
Over medium-high heat, warm up the olive oil in a big skillet. Add the peppers and onion, then season to taste with salt and black pepper. Cook for about 7-8 minutes, stirring periodically, or until the vegetables are tender and just beginning to caramelize.

After that, cook by tossing the chicken mixture with the ground cumin, smoked paprika, Mexican oregano, and chipotle powder for about 3 to 4 minutes or until the chicken is lightly browned on all sides. To taste, add more salt and black pepper.

Add frozen corn and black beans and stir. Cook for 6 to 8 minutes, occasionally stirring until everything is thoroughly warmed. Season to taste and make any necessary adjustments.

Remove from heat and whisk in lime juice and half of the fresh cilantro. If you're using cheese, sprinkle it over top and cover until it melts. Serve immediately and if preferred, serve with additional diced avocado, fresh lime wedges, and the remaining cilantro. Enjoy!
Now that you know all you need to know about chicken and black bean burrito skillet, it is time to print or save the recipe with the exact measurements.
Not ready to print? No problem! Save this pin in your Pinterest account by clicking the pin button located in the recipe card.
Yield: 4
Chicken and Black Bean Burrito Skillet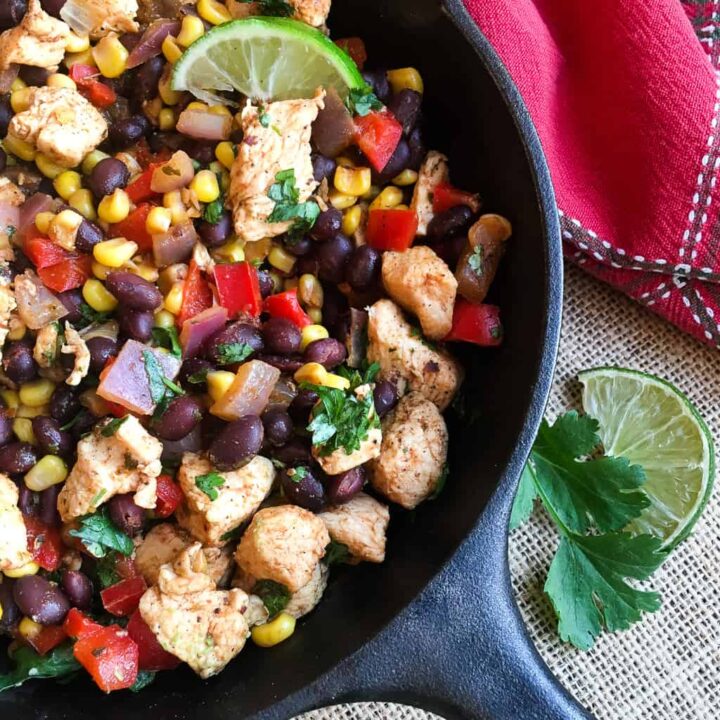 This healthy, one-skillet chicken dish can be on the table in just 30 minutes, so it is perfect for those busy weeknights when you're tempted to grab some takeout. To round out the meal, try pairing this dish with Easy Refried Beans, steamed brown rice, or with a fresh green salad.
Ingredients
1 t. smoked paprika
1 t. Mexican oregano
½ t. chipotle powder
1 14-oz. can black beans, rinsed and drained
1 c. frozen corn
½ c. fresh cilantro, roughly chopped, divided
2 T. fresh lime juice
Instructions
Heat olive oil in a large skillet over medium-high heat. Add onion and peppers and season with salt and black pepper to taste. Cook, occasionally stirring, until the veggies are soft and slightly caramelized, around 7-8 minutes.
Add chicken, ground cumin, smoked paprika, Mexican oregano, and chipotle powder and cook, occasionally stirring, until the chicken is lightly browned on all sides, around 3-4 minutes. Season with additional salt and black pepper to taste.
Stir in black beans and frozen corn. Cook, stirring once or twice, until everything is warmed, around 6-8 minutes. Taste and adjust seasonings as desired.
Remove from heat and stir in half of the fresh cilantro and lime juice. If using, sprinkle cheese on top and cover until cheese melts. If desired, serve immediately topped with remaining cilantro, chopped avocado, and fresh lime wedges.
Enjoy!

Notes
Optional, to serve:
½ c. Monterey Jack, shredded
1 large avocado, chopped
1 large lime, sliced into 8 wedges
Nutrition Information:
Yield:
4
Serving Size:
1
Amount Per Serving:
Calories:

470
Total Fat:

10g
Saturated Fat:

2g
Trans Fat:

0g
Unsaturated Fat:

7g
Cholesterol:

145mg
Sodium:

596mg
Carbohydrates:

33g
Fiber:

9g
Sugar:

4g
Protein:

61g
These nutritional calculations might not be accurate. Please speak with a licensed nutritionist to assist you.