Looking for the best fried tilapia dinner ideas? We got them for you! The mild taste and texture of tilapia make it versatile and easy to match with bold flavors. Some may see it as the least choice compared to other fishes, like salmon or tuna, but believe me, this one stands a chance.
True enough that it is not as tender, tangy, or firm as other fishes, but with the right infusion of sauces, herbs, and spices, you will be surprised at what it offers. So to elevate the way you see tilapia – make it your weeknight dinner with these 11 simple and delicious fried recipes!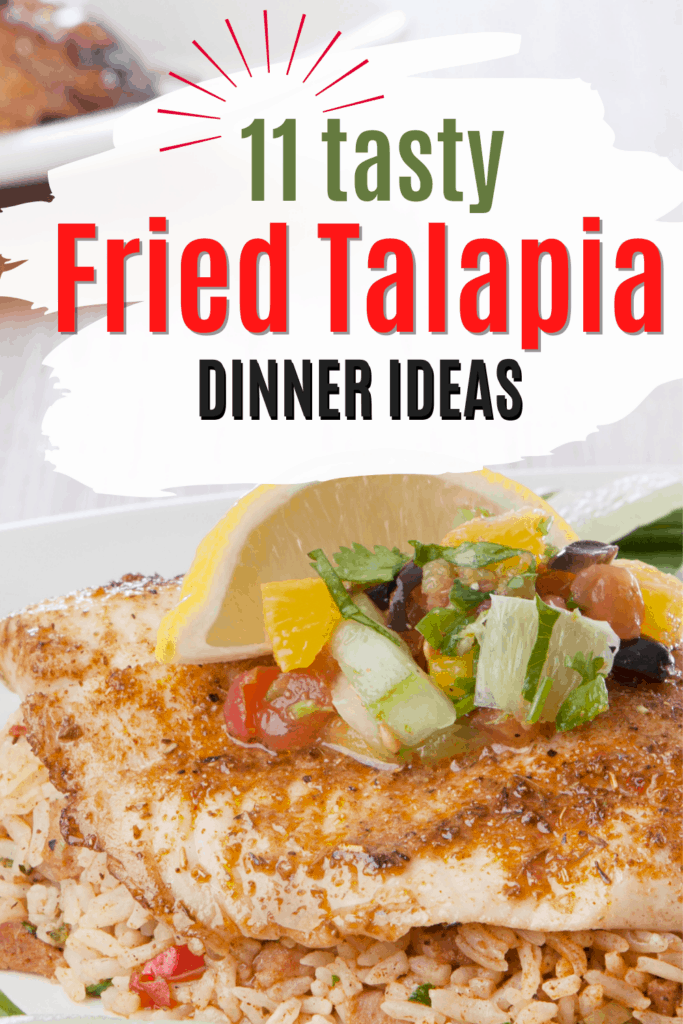 What is tilapia?
Tilapia is a flaky, mild-flavored, white-fleshed fish popular in fish farming. Wild tilapia is native to Africa, but it gained popularity in aquaculture in many countries and has been known worldwide.
It is a freshwater species that feeds on a cheap vegetarian diet and grows quickly even when joined in large quantities and within limited space. Thus, making it one of the top choices for aqua farming.
This farm-produced fish is one of the most consumed seafood in the United States, which ranks fourth in the world. This freshwater fish's leading suppliers are from China, the Philippines, Taiwan, Indonesia, and Thailand.
The large volume of supplies these countries produce makes Tilapia available year-round. So, aside from being easy to cook, you also get value for your money.
It is pretty impressive for its health benefits, as it is low in calories and fat and high in protein. And lastly, it is perfect for those with a tight budget, for it is sold at a very affordable price.
You might like these posts:
What should I serve with tilapia?
Whether making a grilled, fried, or baked recipe for tilapia, it is best to pair it with healthy sides. You are not only boosting its flavors but increasing the nutritional value of the whole meal as well. So, here are some great compliments for your tasty tilapia dish:
High Nutritional Carbohydrates
Tilapia is a lean protein source that could probably take up a quarter part for a complete meal. Adding up the other quarter with high-quality grains such as quinoa, rice, and pulses will be a good choice.
While it is nice to have healthy carbs paired with tilapia alone, it will also be great to include veggie-based sides or whole fruits to make it a complete meal. Roasted vegetables such as potatoes, orange, and yellow bell peppers could make it appear more appetizing. As a side dish, a creamy and velvety texture of a mashed squash also goes well with tilapia's flaky and firm texture. Lastly, do not miss to include the powerhouse mix like broccoli and spinach.
Fried Tilapia Dinner Ideas
Now that you are introduced to a brief background of tilapia as a farmed fish and have an idea of what side dishes go well with it let us do the cooking and look at these 11 sumptuous Tilapia fried recipes!
Our first recipe is beginner-friendly and perfect for a quick weeknight dinner. This perfectly crunchy coated meal is fully loaded with flavors. Including a handful of herbs definitely elevates its taste and feel. Freshly cut wedges of lemon or lime give a zesty kick and are certainly a great addition!
Another easy but richly flavored Tilapia fry recipe. Allot a good 20 minutes preparing and cooking this meal. Can you believe how quick this could only take? Dredge into a well-seasoned coating and let it do its magic. Just be attentive to frying at an appropriate temperature and time. Give it a try now!
Take your usual tilapia fry recipe to another level—definitely a bold twist of flavors to a mild-tasting fish and in an exciting way. A mix of vegetables, seasonings, and herbs spiced up the whole meal. Believe me. A stuffed fried tilapia is a must-try!
Serve this good and a solid recipe for the whole family. Have an excellent bite to a delicate crisp meal with cajun seasoning. A good squeeze of lemon enhances its rich flavor. I love that it is thinly coated and that its flavors are not overpowering. Best enjoyed if served right away to enjoy its crispiness.
This one is a great transformation for our classic fried fish recipe. A saucy and mouth-watering dish with an extra kick will make your taste buds go crazy. A crispy fried tilapia on a bed of spicy sauce deserves a spotlight on your dinner table.
The secret of this recipe lies in this delicious lemon and garlic mayo dip. These tilapia fillets alone are flavorful, but when combined with the sauce, every bite is irresistible. A perfectly pan-fried fish with a good dipping sauce is a match made in heaven. Certainly a finger-licking good!
There's nothing a good creamy sauce can't relive. So give your boring fried dish a new life with a delectable sauce. A little Dijon Mayo on top alongside some leafy greens completes the dish. Make one now to know!
Satisfy your tastebuds with another easy but delicious recipe. This vibrant-looking dish is definitely appetizing to look at and devour. A creamy tarragon sauce blends well with the fried fish. Serving it together with crushed new potatoes and crunchy green beans enhances its flavor and nutrition.
An aromatic and highly irresistible recipe will surely make your weeknight dinner complete. The bright look of the whole dish makes it appealing, but the satisfaction you get after every bite will make you crave more. It tastes just right that even your kids would enjoy. You would surely love the fusion of fried fish and tasty lemon thyme butter sauce in your mouth.
If you have tried chicken honey soy glaze and love it, you probably would love this recipe too. It is almost similar, except that we are using Tilapia fillets as our meat. A good drizzle of honey soy glaze will give your mouth this tangy, sweet, and savory experience. If you like sauces on food like me, then freely glaze and drizzle your fried meat on your preference. Just don't miss adding your cilantro to complete the meal generously. So have a taste of this goodness, and try this in your home!
Another fried tilapia dinner idea is a cornmeal-crusted tilapia fillet packs a punch of flavors. A good dredge into cornmeal-and-paprika before frying brings extra flavor and delicate crispiness. It is super simple and ready to serve in no time.
Yield: 2 Servings
Pan Fried Lemon & Herb Tilapia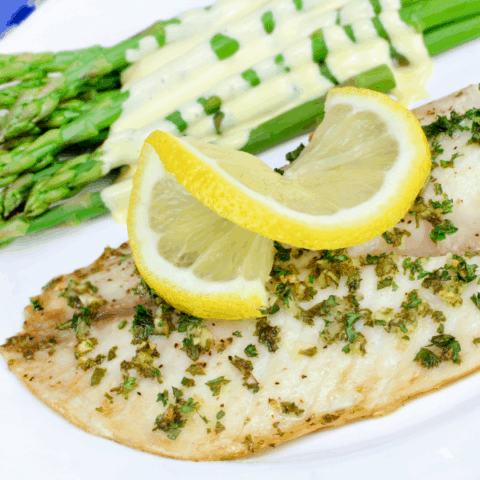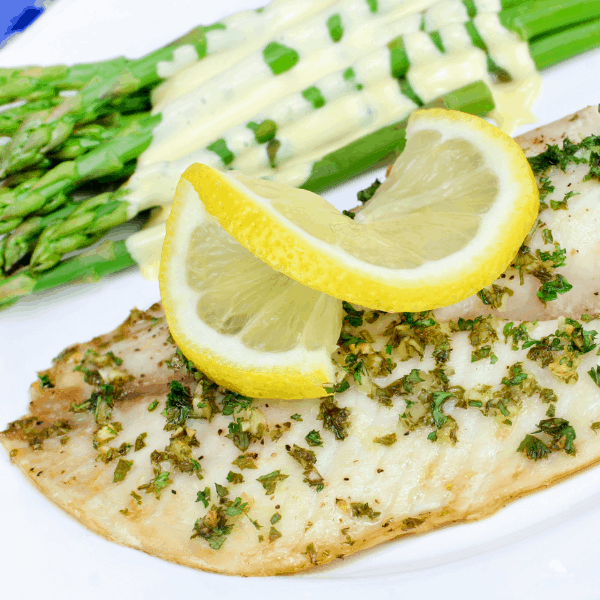 If you're looking for recipes that taste amazing but aren't loaded with calories, you've come to the right place. This pan-fried lemon & herb tilapia is not only low in calories but incredibly flavorful.
You'll love the combination of pan-fried tilapia with the tang of the lemon and the earthy flavor of the thyme.
Why do people serve lemon with fish?
Lemon actually helps to break down the protein in fish and seafood. This aids in digestion.
The lemon can also provide a nice flavor contrast. This is especially true if you're eating a fish that is fatty. The tangy lemon flavor helps cut through the rich flavor.
What goes with tilapia?
Tilapia is great served with rice, roasted potatoes, vegetables such as asparagus or broccoli, and even on top of a salad. You can't go wrong with side dishes that feature fresh flavors.
How much protein is in tilapia?
One fillet has 23 grams of protein!
Ingredients
8 ounces of tilapia
Salt, to taste
Fresh cracked black pepper, to taste
2 tablespoons olive oil, divided
2 cloves garlic, minced
1/2 cup white wine or chicken stock
Zest of 1 medium lemon
2 tablespoons fresh lemon juice
1/2 teaspoon salt
1 teaspoon fresh thyme leaves
1/4 cup fresh Italian parsley, chopped
Instructions
Rinse the tilapia fillets under cool water and pat dry with a paper towel. Add salt and pepper, to taste.
In a large skillet over medium-high heat, add one tablespoon of olive oil and then add the fish. Sauté the fillets on each side for 1 to 2 minutes until cooked through and golden brown. Transfer the fillets to a plate and set aside.
Add the remaining olive oil to the skillet along with the garlic. Cook the garlic until soft.
Add the remaining ingredients and cook over high heat until the liquid has reduced by half. Add additional salt and lemon juice if desired.
Pour the sauce over the fillets and serve.

Nutrition Information:
Yield:
2
Serving Size:
1
Amount Per Serving:
Calories:

382
Total Fat:

18g
Saturated Fat:

3g
Trans Fat:

0g
Unsaturated Fat:

14g
Cholesterol:

68mg
Sodium:

1064mg
Carbohydrates:

13g
Fiber:

2g
Sugar:

4g
Protein:

34g
These nutritional calculations might not be accurate. Please speak with a licensed nutritionist to assist you.