Slow cooker Mexican shredded beef is one of those wonderfully simple and flexible dishes that can be prepared in various ways. It works well with rice or roasted vegetables, for instance, in traditional tacos or lettuce wraps. For a quick lunch the following day, leftovers can also be included in vegetable soups or mixed green salads.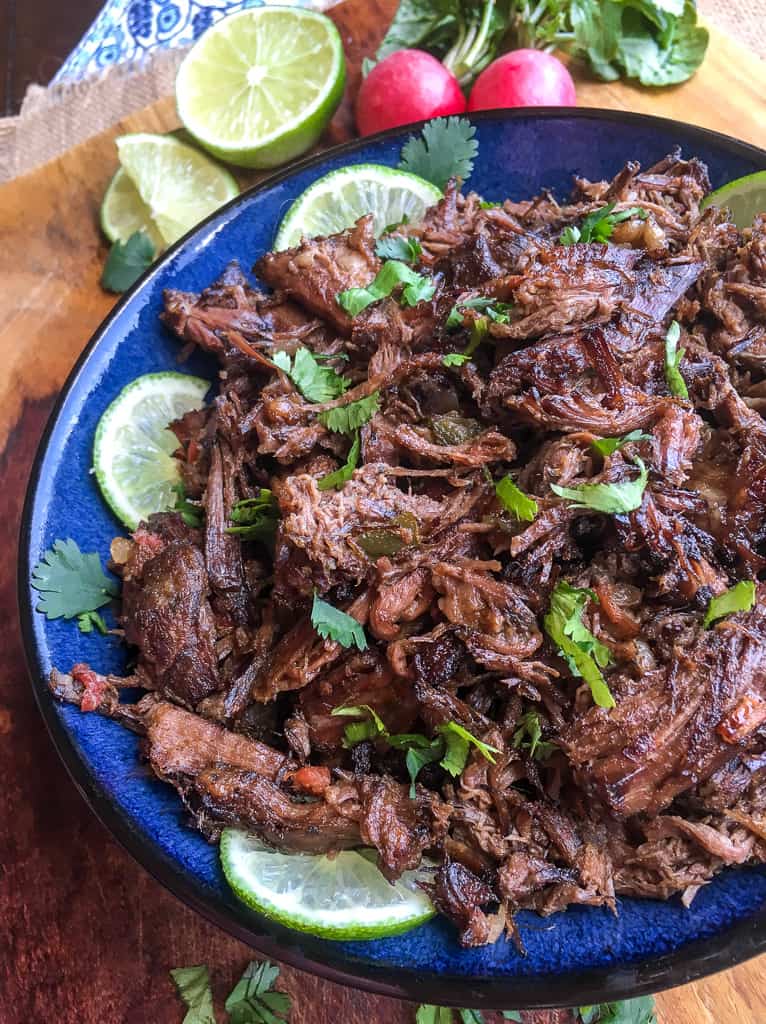 Why is Mexican beef different?
Mexican beef is different from other types of beef because of the way it is raised. Mexican cattle are allowed to graze on open-range land, which gives the beef a unique flavor. The cattle are also fed a diet of corn and other grains, which contributes to the flavor of the meat. Mexican beef is also generally leaner than other types of beef due to the way the cattle are raised.
How do you tell if shredded beef is cooked?
The best way to know for sure is to use a meat thermometer. Insert the thermometer into the thickest part of the beef and cook until it reaches an internal temperature of 145 degrees Fahrenheit.
Another way to tell if your beef is cooked is by its color. Once the beef has reached a nice brown color, it's likely done cooking. However, keep in mind that some beef can retain its pink color even when it's fully cooked, so don't rely on color alone as an indicator.
The texture of the meat can also be used to determine how well it has been cooked. If the beef is tender and easy to shred, it's probably cooked. Finally, you can tell if your shredded beef is cooked by its smell. Cooked beef should have a mild, pleasant smell. If the beef smells bad or off, it's probably not cooked.
Why is my shredded beef tough?
One common reason for tough shredded beef is that it wasn't cooked long enough. Beef needs to be cooked until it's nice and tender, otherwise, it will be tough no matter how you shred it. Another possibility is that the beef was overcooked, which will also make it tough.
What are the ingredients to make slow cooker Mexican shredded beef?
With 10 minutes of prep time and at least 8 hours of cooking the meat for best results, here are the ingredients that you're going to need for 4 servings:
Non-stick cooking spray – it helps to evenly distribute the heat, resulting in perfectly cooked beef every time.
Beef chuck roast – it's a tough cut of meat that benefits from slow cooking, and it's full of flavor.
Sea salt and black pepper – seasonings to taste that most recipes call for.
Yellow onion – has a mild flavor that is perfect for this dish.
Jalapeno – will give the dish a slight spice that will complement the flavors of the beef and other ingredients.
Garlic powder – you can create a delicious and authentic-tasting Mexican shredded beef dish with this.
Smoked paprika – adds a depth of flavor.
Chipotle powder – it smells strong, earthy, and moderately spicy.
Dried Mexican oregano – this flavorful herb enhances the taste of the beef and gives them a unique flavor.
Tomatoes with green chilies – add a delicious flavor and a touch of heat that makes the dish even more enjoyable.
Beef stock – it adds flavor and body to the dish and makes it more filling and satisfying.
Fresh lime juice – helps to tenderize the meat.
Fresh cilantro and limes – serve your beef with these.
How to make slow cooker Mexican shredded beef?
It's time to put this recipe together now that you've gathered all of your ingredients.
Begin by spraying the bottom and sides of a 6-quart slow-cooker crock with non-stick cooking spray.
Then place the beef in the slow cooker crock and liberally season it with salt and pepper on all sides. Cook on low for 8 hours after adding the last batch of ingredients.
Remove the lid after the meat has finished cooking, then shred it with two forks while it's still in the slow cooker. To enhance the flavor of the shredded beef, give it five minutes to marinade in warm cooking fluids.
Transfer the slow cooker's beef shreds using tongs to a serving tray, letting the extra liquid drip off. Add chopped cilantro on top and serve right away with fresh lime wedges and extra cooking fluids on the side, if preferred. Enjoy!
Now that you know all you need to know about slow cooker Mexican shredded beef, it is time to print or save the recipe with the exact measurements.
Not ready to print? No problem! Save this pin in your Pinterest account by clicking the pin button located in the recipe card.
Yield: 4
Slow Cooker Mexican Shredded Beef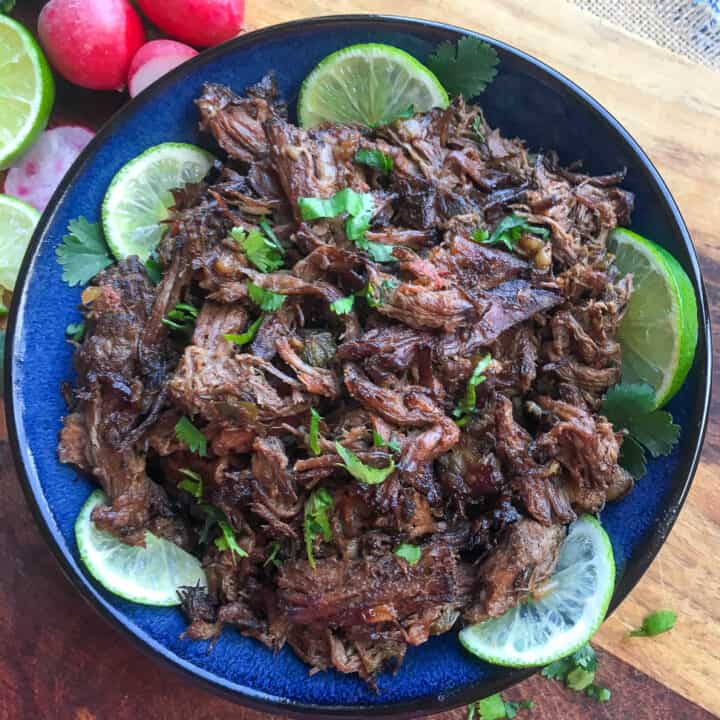 This is one of those super easy and incredibly versatile recipes that can be served in so many ways. For example, it's perfect in classic tacos or lettuce wraps or paired with rice or roasted vegetables. Leftovers can also be added to vegetable soups or mixed green salads for a quick lunch the next day.  
Total Time
8 hours
10 minutes
Ingredients
Non-stick cooking spray
2½ lbs. beef chuck roast
Sea salt and black pepper, to taste
½ medium yellow onion, diced
1 medium jalapeno, thinly sliced
1½ t. ground cumin
1 t. garlic powder
½ t. smoked paprika
½ t. chipotle powder
1 t. dried Mexican oregano
1 10-oz. can tomatoes with green chilies
1 c. beef stock
1 T. fresh lime juice
Instructions
Spray the bottom and sides of 6-quart slow-cooker crock with non-stick cooking spray.
Generously season the beef with salt and pepper on all sides and place in slow cooker crock. Add all remaining ingredients, cover, and cook on low for 8 hours.
When done cooking, remove lid and shred beef with two forks while still inside the slow cooker. Allow shredded beef to marinate in warm cooking juices for 5 minutes to absorb more flavor.
Transfer shredded beef from slow cooker to a serving platter with tongs, allowing excess liquid to drain. Top with chopped cilantro and serve immediately with fresh lime wedges and additional cooking juices on the side, if desired. Enjoy!
Notes
Tip: For best results, allow the meat to cook on low for at least 8 hours.
Nutrition Information:
Yield:
4
Serving Size:
1
Amount Per Serving:
Calories:

704
Total Fat:

44g
Saturated Fat:

18g
Trans Fat:

3g
Unsaturated Fat:

23g
Cholesterol:

235mg
Sodium:

705mg
Carbohydrates:

7g
Fiber:

1g
Sugar:

1g
Protein:

72g
These nutritional calculations might not be accurate. Please speak with a licensed nutritionist to assist you.