Want a hot, hearty soup that will warm you to the core on a cold blustery day? You can't get more comforting than a big bowl of beef vegetable soup. This recipe is incredibly filling and satisfying.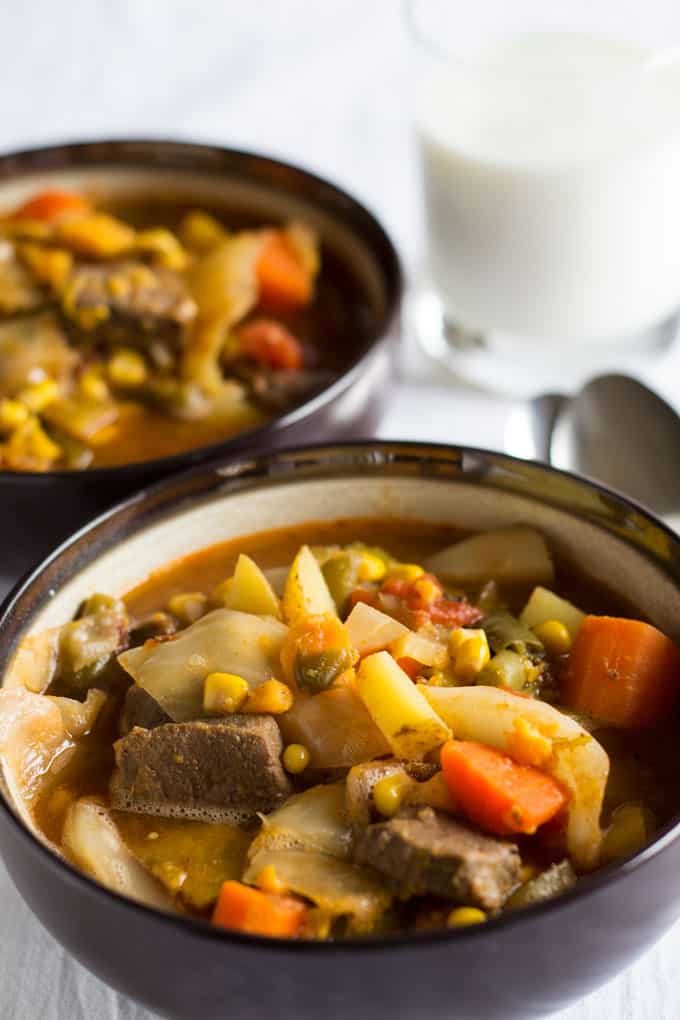 Hearty Beef Vegetable Soup Recipe
When I was a little girl, one of my very favorite foods was beef vegetable soup. I know you probably think I'm joking, but I'm not. This girl loved her veggies, and well, combine them all together in a soup… what could be better?
My parents used to make their soup with corned beef and veggies that they canned from their garden. I still love that version, but we don't often use corned beef here for anything really, so I don't keep it on hand. Whatever type of beef you have on hand will work, though. Even ground beef is tasty, but make sure you drain it well or use extra lean ground so the soup's not insanely oily.
Related posts:
And you may be asking… do you really use two kinds of potatoes in your soup? Yes, I do! The golden potatoes give it that starchy taste we all know and love in soups, and the sweet potatoes give it just a hint of sweetness that's not too overpowering for a savory dish.
Other than that, I use whatever veggies I have on hand, either frozen, canned or fresh. Peas (not included here) are wonderful, as is cauliflower, broccoli, and even okra. Just throw it all in the pot and I'm sure it'll come out delicious.
But let's get to the recipe…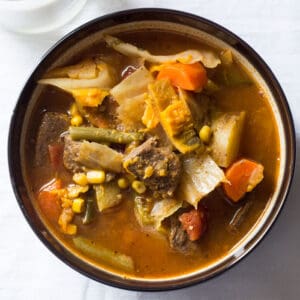 Print
Beef Vegetable Soup
Yield 8 servings
This hearty beef vegetable soup is sure to satisfy on a chilly fall or winter day!
Ingredients
1.5 - 2 lbs. beef, cubed
3 medium golden potatoes, cubed
1 large sweet potato, cubed
3 carrots, peeled and cut into 1 inch pieces
1 stalk celery, diced
6 green onions, diced
1 (16 oz) can whole kernel corn, drained
1/3 head of cabbage, sliced
1 (16 oz) can diced tomatoes with juice
1 (16 oz) can tomato sauce
2 cloves garlic, diced
3 T. fresh parsley, chopped
1 T. olive oil
1 (16 oz) can green beans, drained
Instructions
Brown meat in oil in a large soup pot.
Add garlic, onions and celery and cook until tender. Add salt and pepper to season.
Add enough water to cover the meat. Simmer for 1 hour on med-low.
Add all remaining ingredients and enough water to cover the vegetables. Simmer on low until vegetables are tender, about 30-40 minutes.
Season to taste.
Doesn't it look filling? I'd love to know what you put in your beef vegetable soup. Let me know in the comments!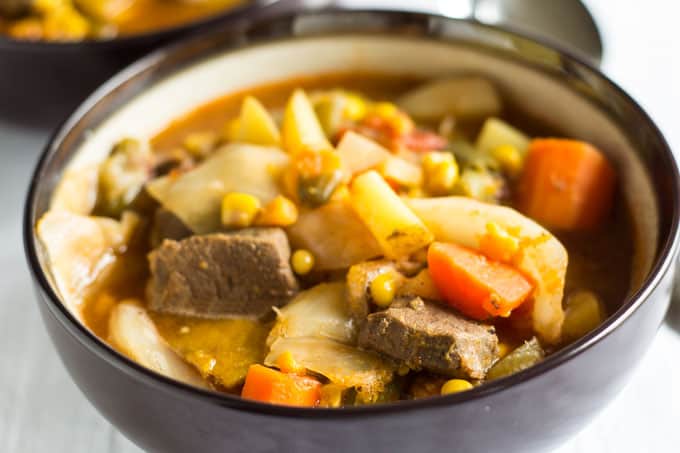 (Visited 505 times, 1 visits today)
The following two tabs change content below.
Donella is a work at home mom to one amazing little boy and the proud wife of a deputy. She blogs at Glue Sticks and Gumdrops sharing crafts, recipes and parenting tips. When she's not at the computer, she's reading, taking pictures or spending time outside with her family.
Latest posts by Donella Crigger (see all)