Want a hot, hearty soup that will warm you to the core on a cold blustery day? You can't get more comforting than a big bowl of beef vegetable soup. This recipe is incredibly filling and satisfying.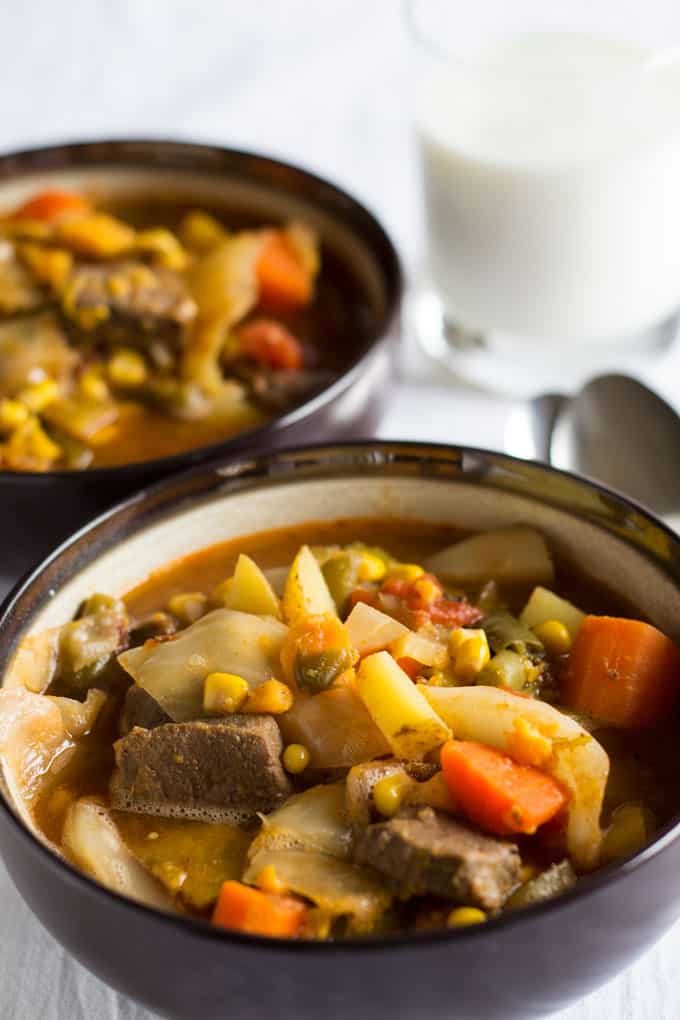 What can I add to vegetable soup to make it taste better?
Your vegetable soup can definitely use extra herbs and spices. Listed below are some ideas for additions:
Simmer with a parmesan rind added.
You can use fresh or dried herbs like marjoram, thyme, oregano, and basil.
Either curry powder or paprika.
Dried herb blends, such as Italian seasoning or Provence herbs.
Red pepper flakes can be used to boost the heat.
How do I spice up bland beef vegetable soup?
Spice up your bland beef vegetable soup! Onion powder, garlic powder, parsley, basil, and other herbs can all enhance the flavor of homemade beef soup.
What kind of beef makes good soup?
The finest stew meat is lean with a high concentration of connective tissues that are rich in collagen, like chuck or shoulder cuts, and some fat marbling for flavor. Legs and other muscle-rich areas of the animal are where lean meat is found. These cuts will provide meltingly tender beef and are easily sliced with a spoon, making it ideal for this meal!
What is the difference between beef stew and vegetable beef soup?
A vegetable beef soup may be entirely liquid or contain additional ingredients (such as vegetables) that are covered in broth, water, or stock. However, beef stew is much more substantial and thick than the soup.
Why is the order of adding ingredients important when making soup?
Since many ingredients have varying cook times, adding ingredients to the soup in the sequence of cook times is crucial, starting with the ingredients that take the longest to cook.
For example, before boiling the beans and water, begin by sautéing the celery, onions, and garlic. Add the carrots when the beans are about to get tender or in the last half hour. In this manner, the carrots will be cooked without becoming mushy.
Can you use water instead of broth for soup?
Don't be afraid to substitute chicken broth for water outright. Yes, water can be used as a 1:1 substitute for chicken broth; this is our preferred choice since it doesn't require making a second trip to the shop.
Try substituting 1 cup of water + 1 tablespoon of butter for each cup of chicken broth in your recipe if you want a little bit more flavor than just plain water. More taste will be produced by the butter than by the water alone.
Also, you can use canned vegetable stock if
you don't have broth on hand and need to save time, but be aware that canned vegetable stock tends to have a stronger flavor.
Do you need broth to make soup?
Starting with a broth isn't necessary because many soups, stews, and braises create their own broth as they simmer. It is absolutely possible to make delicious soups without broth, and here's how:
Add some spice
A little chili can go a long way to enhancing soup's warming properties. A little cumin, coriander, or even curry powder can breathe new life into an old favorite soup.
Use savory veggies
Being generous with aromatic vegetables, such as onion, carrots, and celery is one of the keys to making outstanding stock.
Use some acid
A plain soup can become a lively star by adding some lemon juice or vinegar.
Use soy sauce
Lovely umami-type savory flavors abound in soy sauce. A plain soup can be transformed into something extremely delicious with just a tablespoon.
Limit your water
It's crucial that you don't add too much water or other liquid while creating soup without stock. A soup that is too watery may require hours of simmering.
What goes good with beef soup?
Beef soup enjoys the addition of crunchy foods to its textural combinations. However, it also goes nicely with something airy, creamy, and cool. Here are a few ideas to pair with your soup:
Green salad. The stew is soft and flavorful, while the salad is fresh and crisp. Together, they create lovely harmonies.
Tomato salad. Because beef stew has such strong and intense flavors, it requires a simple and sweet side dish to balance it out.
French baguette. It not only adds sharpness, flavor, and lightness to the soup but also acts as a sponge, soaking up all the wonderful herb flavors.
Seasoned rice. To complete your substantial beef soup, all you need is a nice bowl of chewy, nutty rice.
Grilled vegetables. It's so simple. Your chosen vegetables only need to be seasoned and grilled for 10 minutes to be finished!
You might like these recipes:
What can you do with leftover soup?
Here are five practical leftover soup solutions that you can save in your figurative apron pocket and use as needed.
Use leftover creamy soup as a dipping sauce.
This can be done by simmering the leftover soup in a skillet with cheese added to thicken the texture. After that, bake it in a 400°F oven until it is bubbling and brown.
Use it as quinoa or rice cooking liquid.
Using leftover soup gives rice or quinoa more taste as well as a whole meal's worth of vegetables and protein if the soup has these ingredients.
It can be added to a casserole to thicken or cream it.
Just be cautious if any casseroles specifically ask for thin liquid, as substituting thick, creamy soup in those situations might not work.
Make pasta in one pot with it.
The result might be achieved by substituting leftover soup for stock, which would give your one-pot pasta dish new vegetables, proteins, and flavors.
Make pasta sauce with it.
In a skillet, simmer three to four cups of the leftover soup until the liquid has decreased by about 25%.
How long is beef vegetable soup good for?
Soup can often be kept in the fridge for three days, but you should always test your food before determining whether to reheat it. A transparent soup made of vegetables and some acid, such as tomatoes, may improve.
How do you store vegetable beef soup?
Refrigerate the vegetable beef soup right away in sealed, airtight containers to extend its shelf life for quality and safety.
Hearty Beef Vegetable Soup Recipe
When I was a little girl, one of my very favorite foods was beef vegetable soup. I know you probably think I'm joking, but I'm not. This girl loved her veggies, and well, combine them all together in a soup… what could be better?
My parents used to make their soup with corned beef and veggies that they canned from their garden. I still love that version, but we don't often use corned beef here for anything really, so I don't keep it on hand. Whatever type of beef you have on hand will work, though. Even ground beef is tasty, but make sure you drain it well or use extra lean ground so the soup's not insanely oily.
Related posts:
And you may be asking… do you really use two kinds of potatoes in your soup? Yes, I do! The golden potatoes give it that starchy taste we all know and love in soups, and the sweet potatoes give it just a hint of sweetness that's not too overpowering for a savory dish.
Other than that, I use whatever veggies I have on hand, either frozen, canned or fresh. Peas (not included here) are wonderful, as is cauliflower, broccoli, and even okra. Just throw it all in the pot and I'm sure it'll come out delicious.
But let's get to the recipe…
Yield: 10 servings
Beef Vegetable Soup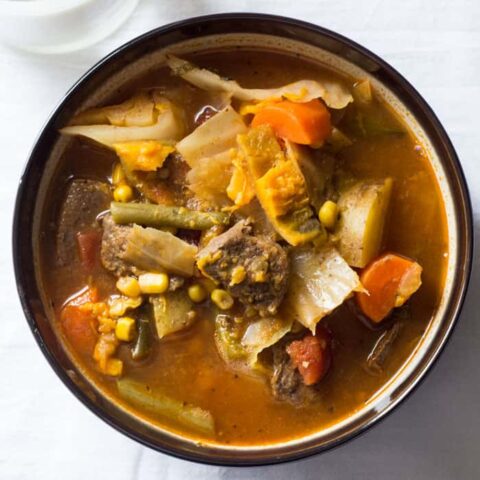 This hearty beef vegetable soup is sure to satisfy on a chilly fall or winter day!
Cook Time
1 hour
30 minutes
Total Time
1 hour
45 minutes
Ingredients
1.5 - 2 lbs. beef, cubed
3 medium golden potatoes, cubed
1 large sweet potato, cubed
3 carrots, peeled and cut into 1 inch pieces
1 stalk celery, diced
6 green onions, diced
1 (16 oz) can whole kernel corn, drained
1/3 head of cabbage, sliced
1 (16 oz) can diced tomatoes with juice
1 (16 oz) can tomato sauce
2 cloves garlic, diced
3 T. fresh parsley, chopped
1 T. olive oil
1 (16 oz) can green beans, drained
Instructions
Brown meat in oil in a large soup pot.
Add garlic, onions and celery and cook until tender. Add salt and pepper to season.
Add enough water to cover the meat. Simmer for 1 hour on med-low.
Add all remaining ingredients and enough water to cover the vegetables. Simmer on low until vegetables are tender, about 30-40 minutes.
Season to taste.
Nutrition Information:
Yield:
10
Serving Size:
1
Amount Per Serving:
Calories:

525
Total Fat:

29g
Saturated Fat:

11g
Trans Fat:

0g
Unsaturated Fat:

14g
Cholesterol:

118mg
Sodium:

209mg
Carbohydrates:

27g
Fiber:

4g
Sugar:

8g
Protein:

39g
Doesn't it look filling? I'd love to know what you put in your beef vegetable soup. Let me know in the comments!