Who doesn't love a good steak?
Well, I thought it might be great to share with you my family's most favourite steak marinade!
This simple and delicious steak marinade is so easy to make and tastes absolutely spectacular on any variety of steak or beef.
The marinade works best when you coat the steaks the night before and leave them in the fridge to develop their flavour. Even though this is a simple recipe, there are a few key ingredients that make this a showstopper!
The delicious combination of ground sage with a hint of chipotle pepper, along with garlic and Worcestershire sauce and a few other ingredients gives the steaks a nice savoury flavour that you'll love!
I'm so excited to be a part of The Happy Home Life and can't wait to share with you my favourite home cooking recipes, DIY projects, homemaking tips and loads of other awesome things!
Please check out the steak marinade recipe below! 🙂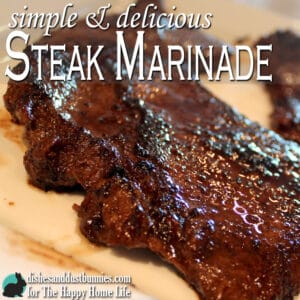 Print
Simple and Delicious Steak Marinade
Yield 4 servings
Ingredients
2 garlic cloves, minced
1/4 tsp black pepper
1 tsp onion powder
1/4 tsp ground sage
Pinch of ground chipotle pepper
1/2 tsp Worcestershire sauce
2 tbsps reduced sodium soy sauce
Instructions
Combine all the ingredients in a zip top bag large enough to hold the steaks.
Put the steaks in the zip tog bag and push the steaks around so that the seasonings touch each steak. It's best to push most of the air out of the bag and seal it. Then you can rub the steaks from the outside of the bag to coat everything.
Put the steaks in the fridge overnight to soak in the flavors.
Cook the steaks the next day as you typically would.
If you enjoyed this, please stop by my personal blog Dishes and Dust Bunnies for more tasty recipes! ­
(Visited 15,581 times, 3 visits today)
The following two tabs change content below.
Michelle is a stay at home mom and blogger with a passion for home cooking, crafting and living frugally. She grew up in the rural countryside of East Coast Canada and now lives in the big city of Toronto with her husband and son. When Michelle isn't blogging and taking care of her mommy duties, you can find her trying to satisfy her unending quest for new films and music.
Latest posts by Michele Varga (see all)