Are you looking for ways to make quick and tasty meals without sacrificing flavor? Check out these quick meals with ham. Ham is a versatile and delicious ingredient in many dishes to add protein and flavor. Whether you have leftover ham from a holiday dinner or have purchased ham specifically for meal prep, there are many easy and tasty ways to incorporate it into your daily meals.
One of the best things about cooking with ham is that it is fully cooked, saving much preparation time. This makes it a perfect ingredient for delicious and quick meals that can be assembled easily, even on a busy weeknight.
From classic dishes like ham and cheese sandwiches to creative options such as mac and cheese with ham and broccoli, there are endless possibilities when cooking with ham.
Keep reading to discover a compilation of some of the best quick and easy meal ideas with ham to help inspire your next meal prep.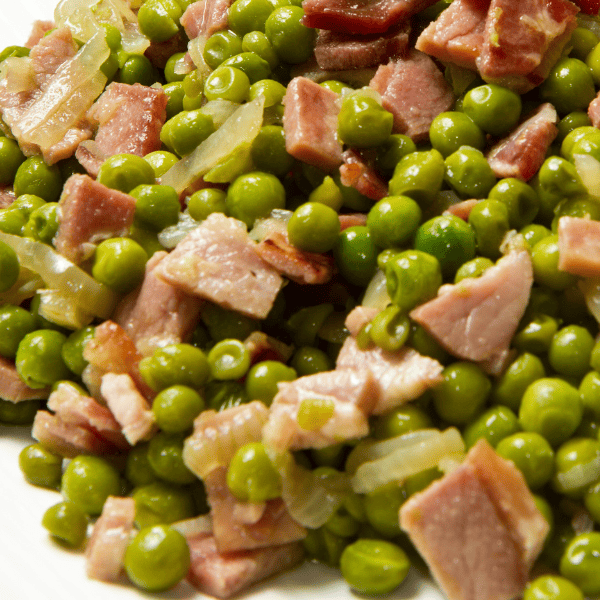 These recipes are perfect for whining up a flavorful and satisfying dish without spending hours in the kitchen. So, grab some ham and get ready to enjoy these delicious meal ideas!
You might enjoy these ham recipes:
What are quick meals with ham?
Here are quick and easy meal ideas using ham that are sure to satisfy your hunger:
Ham and Cheese Omelette
A great quick meal with ham, Ham, and Cheese Omelet. This dish is perfect for breakfast or brunch! Whisk some eggs and milk together, then pour the mixture into a hot skillet with diced ham and shredded cheddar cheese. Cook until the eggs are set, flip the omelet over, and cook for 30 seconds. Serve with toast, and you have a satisfying and protein-packed breakfast.
Ham Pasta Skillet
This Ham Pasta Skillet is not only quick and easy to make, but it's also customizable.
You can swap out the vegetables or use a different type of pasta to suit your taste. Plus, it's a great way to use up any leftover ham that you may have in your fridge. Just cook the pasta according to package instructions and combine it with other ingredients like diced ham, bell peppers, onion, garlic, and canned tomatoes. Simmer the mixture until everything is heated through, and serve.
Ham Fried Rice
This Ham Fried Rice recipe is perfect for a quick dinner or lunch. Start by cooking some white rice and then sautéing diced ham, carrots, onion, and garlic in a pan. Add some frozen peas and scrambled eggs before stirring everything with soy sauce. Serve with hot sauce if desired.
Ham and Pasta Salad
Mix some pasta with diced ham, cherry tomatoes, chopped cucumber, and your favorite salad dressing for a quick and easy lunch. This salad is great for meal prep, as it can be stored in the fridge for a few days.
Ham and Cheese Quesadilla
This meal is perfect for busy nights when you need something quick and easy. Take a tortilla and fill it with diced ham and shredded cheese. Fold the tortilla in half and cook in a pan until the cheese is melted and the tortilla is crispy. Serve with salsa and guacamole for a delicious dinner.
Ham and Pineapple Skewers
For a fun and festive meal, skewer alternating pieces of ham and pineapple and grill until the ham is browned and the pineapple is tender. This dish is perfect for summer barbecues or weeknight dinners.
Ham and Broccoli Casserole
Mix some diced ham with cooked broccoli and a creamy cheese sauce for a more substantial dinner. Top with breadcrumbs and bake in the oven until golden brown. This casserole is a family favorite and is sure to become a regular in your meal rotation.
Ham and Spinach Frittata
Are you looking for a quick and easy meal idea packed with protein and veggies? Try this Ham and Spinach Frittata! This dish takes only 30 minutes and is perfect for a healthy and filling meal any day.
To make this frittata, whisk together some eggs, milk, salt, and pepper in a bowl. In a hot oven-safe skillet, cook some diced ham until slightly browned. Throw in some fresh spinach and cook until wilted. Pour the egg mixture into the skillet and cook until the edges are set.
Instant Pot Ham Bean & Potato Soup
One of my favorite soup recipes is Instant Pot Ham Bean and Potato soup or Sopas de Jamon y habichuelas. Now, this is a simple soup to make, and you can't mess this up as you can add and make it your flavorful way.
Easy Mini Ham & Cheese Quiches
These mini quiches are perfect for breakfast, brunch, or easy snacks. The combination of ham and cheese is a classic, and the addition of a light and fluffy egg filling makes for a satisfying and flavorful bite. Plus, they're easy to make and can be customized by adding other ingredients such as spinach, mushrooms, or onions. Serve warm, and enjoy!
Ham and Swiss Cheese Savory Crêpes
Savory crêpes stuffed with thinly sliced ham and melted Swiss cheese. This French classic is a perfect breakfast or brunch dish that is satisfying and flavorful. These crêpes are surprisingly easy to make and can be filled with any combination of ingredients you like.
Grilled Ham and Cheese with Honey Mustard Sauce
Grilled ham and cheese sandwiches are elevated with a delicious honey mustard sauce. This recipe delivers an irresistible balance of sweet and tangy flavors, making this sandwich one of your absolute favorites.
Ham and Cheese Sliders
These bite-sized ham and cheese sliders are perfect for a party or quick lunch. Made with Hawaiian sweet rolls stuffed with ham and Swiss cheese and topped with a buttery onion glaze. A crowd-pleaser that is easy to make and delicious.
Easy Ham Tetrazzini Recipe
This Ham Tetrazzini recipe is a quick and easy way to enjoy a delicious and comforting meal. Made with juicy chunks of ham, tender noodles, and a creamy Parmesan sauce, this dish will satisfy any craving. Ready in less than an hour, this recipe is perfect for a busy weeknight dinner or last-minute meal.
Carbonara with Ham
Carbonara is a classic Italian dish with a twist featuring ham. A creamy, cheesy sauce mixed with crispy bits of ham and perfectly cooked spaghetti will have your taste buds singing. Treat yourself to a twist on the classic carbonara dish!
Every bite is a delightful blend of flavors that will leave you craving more. Whip up this delicious carbonara with a touch of ham in no time for a comforting and satisfying meal.
Ham and Cheese Breakfast Burritos
These burritos are packed with eggs, ham, and cheese, making them the perfect breakfast on the go. Make them ahead of time, refrigerate, and enjoy a delicious, protein-packed breakfast any day of the week.
Ham and Cheese Croissant
Get ready to awaken your taste buds with this French classic! A flaky, buttery croissant stuffed with ham and melted Swiss cheese makes for a heavenly breakfast or snack. Warm it up for a few seconds to enjoy the perfect gooeyness of the cheese and the delicious savory ham flavor. Perfect for busy mornings or brunch with friends, everyone will want a bite of this mouthwatering croissant.
Mac And Cheese With Ham & Broccoli
This hearty mac and cheese with ham and broccoli recipe is a perfect hearty meal that will delight your taste buds. Bursting with flavors from the delicious ham, creamy cheese sauce, and tender broccoli. Serve with a side of garlic bread, and you have the ultimate comfort food meal!
Denver Omelet Salad
Who says salads have to be boring? Inspired by the classic Denver omelet, this salad combines ham, cheese, and fresh veggies for a delicious and satisfying meal. Topped with a flavorful honey mustard dressing. This Denver Omelet Salad will be your new favorite meal! This salad is the perfect mix of sweet and savory flavors and will satisfy any craving.
Ham and Potato Hash
A comforting breakfast that is easy to make and customizable! Fried potatoes, onions, ham, and topped with melted cheese. Perfect on its own or as a side dish for any meal. Add your favorite veggies to the mix and make it your own. Enjoy this hearty breakfast all year round!