What's a good picnic menu? Let's find out! A picnic is a great way to get together with family and friends for an outdoor gathering. It's also the perfect opportunity to enjoy the warm weather and savor delicious food. When it comes to planning the menu for your picnic, it's important to consider a variety of factors, such as dietary restrictions, seasonality, and meal preparation time. 
To start, it's helpful to plan a balanced meal that includes something from each of the food groups. Begin by choosing protein-rich foods like grilled chicken or fish, deli meats such as turkey or ham, and vegetarian options like bean salads or veggie burgers.
Include complex carbohydrates like rolls, pasta salad, potato salad, and quinoa. Incorporate fresh fruits and vegetables into your meal with dishes like fruit salad, roasted vegetables drizzled in olive oil, hummus with crudité on the side, or empanadas filled with cheese and veggies.
You can create something unique with seasonal ingredients, such as mini peach cobblers topped with ice cream or a mixed berry tart for dessert. You can also opt for store-bought items such as cookies or cupcakes. Don't forget to add some beverages like lemonade or iced tea for a refreshing drink!
You might enjoy these recipes:
When creating your own picnic menu, be sure to mix it up so there are options for everyone in attendance. Below are some tips:
Add various flavors, like sweet treats, alongside savory selections
Mix cold items alongside grilled options; make sure there are enough servings for everyone
Offer different types of dishes (such as sandwiches versus wraps)
Be mindful of allergies; create vegan/vegetarian alternatives
Consider how much time it will take to prepare each dish ahead of time — this is especially important if you're grilling!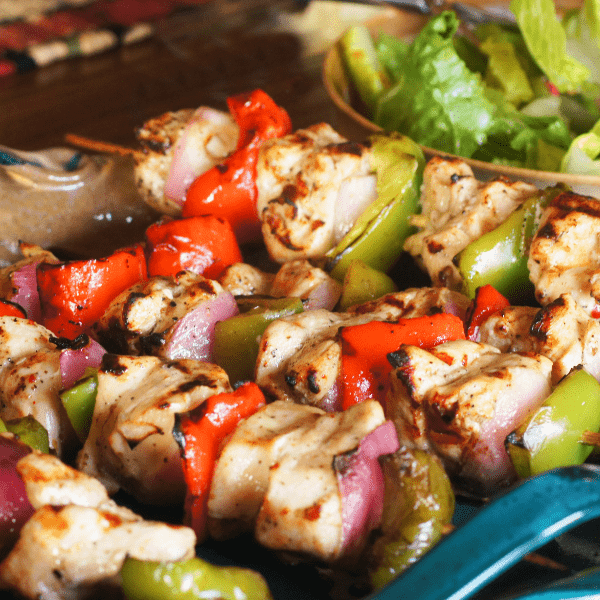 What is the most common picnic food?
One of the most important aspects of any picnic is the food, and while there are countless options, some foods have become synonymous with outdoor gatherings. Here are some of the most common picnic foods.
Sandwiches: A classic picnic staple, sandwiches are an easy way to make a quick meal without cooking or utensils. Popular options include turkey and cheese, PB&J, and ham and cheese.
Fruits & Vegetables: Any fruit or vegetable can be enjoyed at a picnic. Cut-up watermelon, apple slices with peanut butter dip, broccoli salad — endless possibilities!
Chips & Dip: Chips and dip make great finger foods for picnics; they're easy to transport without making a mess in your bag! For dipping, consider bringing tortilla chips or potato chips paired with salsa, guacamole, or queso.
Desserts: Cookies and brownies always hit the spot after a long day outdoors. If you have room for it in your cooler, consider prepping some Rice Krispie treats, too – no baking required!
What do you serve at a backyard picnic?
Here are some recipes to help you ensure your outdoor feast is as tasty as possible.
Served with a flaky pie crust, quiche is a savory egg custard. Milk, cream, and eggs are the foundation of quiche filling. Various ingredients can be added, such as cheese, cheese curds, vegetables, spices, and meats.
The finest egg and cress sandwich recipe is this one, which differs from the conventional, fatty egg and mayonnaise sandwich recipe. You can easily spice it up by adding extra ingredients and different spices and changing how the egg is cooked.
Hummus and avocado give these vibrant veggie wraps a creamy texture and flavor, filling protein and healthy fats. You'll enjoy the increase in energy you get from this serving of fresh vegetables.
This pasta salad recipe is ideal for summer barbecues, potlucks, and picnics. The pasta is covered in a creamy pesto sauce and is stuffed with crispy bacon, juicy tomatoes, tiny mozzarella, and an arugula.
This dish, often referred to as Gala Pie, is made with fresh free-range eggs and gammon. It is expertly seasoned and covered in a crisp, golden hot water pastry crust.
The crusty French baguette used in this quick and simple sandwich is topped with melt-in-your-mouth roast beef, spicy arugula, mild Provolone cheese, and mouthwatering horseradish sauce.
With this Curried Chicken Salad, you can spice up that boring chicken salad sandwich. It combines spicy and sweet flavors. With pre-purchased shredded rotisserie chicken, this dish is both delicious and simple to prepare.
Enjoy the ultimate comfort dish with this timeless recipe for buttermilk chicken! Imagine a platter covered in a thick layer of golden-brown, crispy chicken that is also moist and luscious on the inside.
One of the best things about summer is fresh raspberries. Keep a few aside, though, for these simple, nutty bars. They travel nicely and are a satisfying dessert after a meal.
Here's a quick and convenient method for enjoying grilled corn at your picnic without bringing the grill.
This Caprese sandwich is here to demonstrate that tasty picnic fare doesn't have to be difficult. Fresh basil, creamy mozzarella, and juicy tomatoes give it a mouthwatering flavor.
Even while the rolls with peaches, herbs, and avocado inside are delicious on their own, do yourself a favor and carry the coconut-basil dipping sauce as well. They are truly excellent because of their vibrant, unexpected flavor.
This refreshing watermelon feta salad with mint is the ideal summer salad for outdoor barbecues or gatherings. It's sweet, salty, and refreshing. This meal can be prepared in 15 minutes using only five ingredients.
Feel free to explore and find your favorite adaptation of this potato salad recipe since so many options are available.
Good bread on the side is a need if your picnic food menu consists primarily of a cheese board or a salad. This focaccia is a terrific option because it's thick and chewy but surprisingly simple to make.
This easy egg salad recipe may make this sandwich filling, side dish, or low-carb lettuce wrap. It's a must for lunch and at any picnic because it's made with pickles, mayo, and mustard.
These slider sandwiches are stuffed with layers of cheese, cold cuts, and pickled veggies. Prepare this tiny muffuletta sandwich the day before your picnic to save time.
Put some pimiento cheese and a variety of crackers in a Tupperware container and you're ready to go. This favorite spread might also be used to make simple sandwiches that you could carry.
At our picnics, fresh fruit is always welcome. Bring toothpicks or skewers for a serving without utensils. Add your preferred fruits to a honey and orange juice concoction.
Cheese straws from the South The general public loves this simple recipe for cheese straws. The ideal party food is tender, buttery, and cheesy nibbles with just enough heat!