The holiday season is upon us, and that means it's time to don our festive attire and gather with loved ones for merry celebrations. If you're hosting a gathering this year, one question may be lingering on your mind: What do you serve at a Christmas Cocktail party to delight your guests?
Fear not, for we are here to guide you through the culinary wonderland of Christmas party fare. From classic hors d'oeuvres to creative bites with a seasonal twist, get ready to embark on a flavorful journey that will leave everyone craving for more!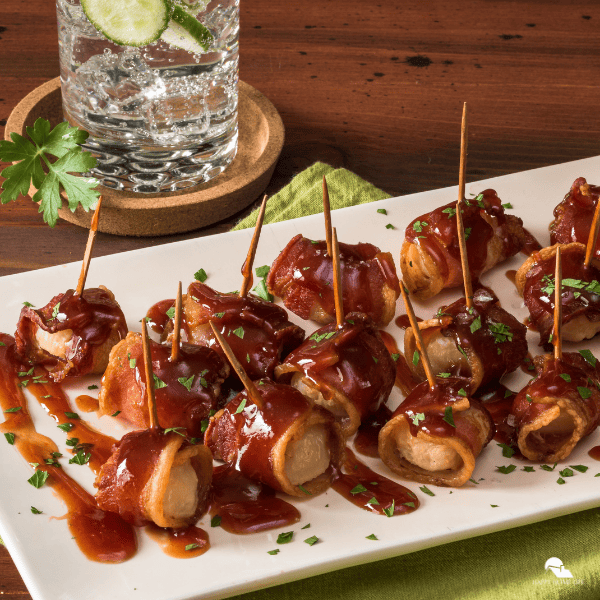 What are the new Christmas drinks?
There are a lot of new choices for Christmas drinks, but the one true winner is the Spiced Cranberry Margarita – a delightful blend of spiced cranberry syrup, tequila, and lime juice. The marriage of these contrasting flavors creates a whirlwind of sensations on your palate, making this drink perfect for those who love bold and adventurous flavor combinations.
For those looking for something unique yet classic, try the Hot Apple Pie Cocktail. This warm and comforting beverage combination creates a truly delightful experience. Not only does this drink taste amazing, but it also fills your house with irresistible aromas as it simmers on the stove. Imagine curling up on the couch with a mug of hot apple pie cocktail in hand, surrounded by the scents of spiced apples and cinnamon wafting through your home – pure bliss!
What is a drink that might be served at a holiday party?
One standout choice is the Peppermint Martini, a refreshing yet indulgent cocktail that embodies the season's essence. Combining vodka, peppermint, white creme de cacao, and crushed candy canes for garnish, this minty concoction will make your guests merry and bright.
Another delightful alternative is the Cranberry Mule, a twist on the classic Moscow Mule. This vibrant drink combines cranberry juice, ginger beer, lime juice, and vodka to create a tart and fizzy sensation. The cranberries add a pop of color while also providing an element of sweetness that perfectly complements the zesty ginger undertones. Serve it in copper mugs with plenty of ice for an extra festive touch.
Exploring these unique holiday drink options beyond eggnog and mulled wine'll impress your guests and bring something fresh and exciting to your celebration. So why settle for traditional when you can surprise everyone with these enticing alternatives? Cheers to embracing new flavors during this joyous time of year!
What to Serve at a Cocktail Party
Let's go and discover the ultimate guide to hosting a fabulous Christmas cocktail party with a mouthwatering menu that will leave your guests begging for more!
Baked Brie with Cranberries, Pecans, Fig Jam and Thyme
Baked Brie with Cranberries, Pecans, Fig Jam, and Thyme is a delectable appetizer that combines a symphony of flavors in one perfect bite. This dish begins with a wheel of creamy Brie cheese, which becomes even more indulgent when it is baked to ooey-gooey perfection. The addition of cranberries brings a tart sweetness that complements the rich and nutty pecans.
The star ingredient in this recipe is undoubtedly the fig jam. Its natural sweetness adds depth to the overall flavor profile while providing a subtle fruitiness that perfectly balances the richness of the Brie. To finish this enticing medley, thyme sprigs are sprinkled over the top before baking. The earthy aroma and herbaceous notes from the thyme add an unexpected twist to each mouthful.
Sun Dried Tomato Pesto Goat Cheese Bites
These bite-sized wonders can be served alongside crackers or crostini, but don't be afraid to get creative! Sun Dried Tomato Pesto Goat Cheese Bites can also be enjoyed as part of a salad or used as toppings for pizzas and flatbreads. With its burst of flavors, this recipe is sure to elevate any dish and leave you craving more. So go ahead, indulge in this delicious treat, and let your taste buds take flight!
Gougères with Smoked Salmon, Caviar, and Prosciutto
Gougeres with Smoked Salmon, Caviar, and Prosciutto not only delight the palate but also offer an elegant presentation for any special occasion. The vibrant colors and contrasting textures make it visually appealing as well. These bite-sized delights will surely be a hit at any gathering or dinner party, impressing your guests with their taste and aesthetic appeal.
The combination of velvety salmon, salty caviar, smoky prosciutto, and light gougères will take your taste buds on an unforgettable journey – one filled with layers of flavors coming together in perfect harmony.
Thai-Style Shrimp Cocktail
This unique twist on the classic shrimp cocktail incorporates traditional Thai ingredients and spices, creating a dish that is both refreshing and spicy. The key ingredient in this tantalizing dish is the sauce, which features an exquisite mixture of fish sauce, lime juice, garlic, and chili peppers.
While Thai-Style Shrimp Cocktail can be enjoyed as an elegant appetizer at a dinner party or formal event, it also makes for a satisfying and light lunch option. You can serve it with traditional accompaniments like lettuce leaves or toast points for some added crunchiness and texture. Alternatively, you can pair it with steamed rice or noodles to turn it into a hearty main course that effortlessly delivers authentic Thai flavors to your palate.
Shakshuka Deviled Eggs
The result of eating Shakshuka Deviled Eggs is an explosion of flavors in every bite—creamy yolks blended with fragrant spices offset by the sweet-tangy tomato base and perfectly complemented by the savory topping. These shakshuka deviled eggs are not just jam-packed with taste but also visually stunning – ideal for impressing guests at brunch gatherings or adding an element of surprise to your appetizer lineup.
Garlic-Butter Steak Bites
Imagine succulent pieces of tender steak, perfectly seared to lock in all the flavors and juices. Then, each bite is generously coated in a luscious garlic-butter sauce that adds a rich and savory quality to every morsel. Garlic-butter steak bites are a mouthwatering dish that will leave you craving for more.
The combination of garlic and butter creates a magical flavor profile that enhances the taste of the steak, making it truly irresistible. The aromatic scent of minced garlic sautéed in melted butter fills the air as you cook these delectable bites, already intensifying your anticipation.
Once you take a bite, the velvety butter easily melts on your tongue, releasing its luxurious essence. The natural umami flavors from the steak blend harmoniously with the garlicky goodness, creating an explosion of tastes that will tantalize your taste buds.
Caramelized Onion Dip
With its creamy texture and irresistible taste, it's no wonder that caramelized onion dip has become a staple at parties, barbecues, and casual get-togethers. Made by slowly cooking onions until they become sweet and golden brown, this dip adds a rich and savory flavor to any dish it accompanies.
One of the things that sets caramelized onion dip apart from other dips is its depth of flavor. The process of caramelizing the onions not only brings out their natural sweetness but also intensifies their aroma, resulting in a complex and satisfying taste experience. The combination of the soft and slightly tangy onion with the creaminess of sour cream or mayonnaise creates an addictive combination that will have you reaching for another chip or cracker without even realizing it.
Queso Fundido
Translated as melted cheese, Queso Fundido is a flavorful Mexican dish that will satisfy any cheese lover's cravings. This delicious appetizer typically consists of melted cheese mixed with various ingredients such as chorizo, peppers, and spices. The blend of gooey melted cheese with savory meats and zesty flavors creates a harmonious explosion of taste in every bite.
Overall, Queso Fundido presents itself as an appetizer and an experience that brings people together through shared pleasure in food. Its creamy texture and rich flavors create a palatable treat perfect for social gatherings or cozy nights at home. So, next time you spot this cheesy delight, don't hesitate to indulge yourself in this culinary masterpiece that combines simplicity and decadence into one delightful dish.
Chili Lime Baked Shrimp Cups
The beauty of Chili Lime Baked Shrimp Cups lie not only in their delicious flavor but also in their simplicity. With just a few ingredients and minimal prep time, you can whip up a batch of these crowd-pleasing appetizers in no time. The shrimp is marinated in a vibrant mixture of chili powder, lime juice, garlic, and cumin, ensuring each piece is bursting with savory goodness. Once cooked to perfection, they are placed into golden-brown wonton cups, providing an irresistible crunch with every bite.
From the pinkish hue of the shrimp to the green flecks of cilantro on top – these ingredients make them an eye-catching addition to any party spread or gathering. So why settle for ordinary appetizers when you can elevate your culinary game with these delectable little cups? They will surely be a hit at your next get-together and will have your guests returning for seconds (and maybe even thirds!).
Mushroom Bruschetta with Gruyere
Mushroom Bruschetta with Gruyere combines the earthy flavors of mushrooms with the creamy richness of Gruyere cheese. It features thinly sliced French bread, toasted to perfection, and topped with a medley of sautéed mushrooms. The mushrooms are cooked until they become tender and release their natural umami taste, creating a savory sensation.
Olive Cheese Bread
Next time you're craving something extraordinary to satisfy your taste buds, give olive cheese bread a chance. Its unique blend of ingredients and incredible flavors will make you wonder why it took so long for you to discover this culinary gem. Olive cheese bread is not your ordinary, run-of-the-mill bread; it combines the rich flavors of olives and gooey melted cheese to create a mouthwatering treat that will bring you back for more. The secret lies in this irresistible recipe's combination of salty and savory elements.
Bacon Wrapped Figs with Herb Goat Cheese
Whether you're hosting a fancy dinner party or simply indulging in an evening snack, Bacon Wrapped Figs with Herb Goat Cheese are guaranteed to impress your guests or satisfy your cravings. This appetizer offers an explosion of flavor and an interesting combination that makes it memorable and unique.
Combining sweet, juicy figs wrapped in crispy bacon brings an explosion of flavors to your palate. As you take the first bite, the sweetness and softness of the fig meld perfectly with the salty and crunchy bacon, creating a mouthwatering contrast.
Mini Caprese Skewers
Perfect for any occasion, these mini caprese skewers not only make a charming addition to your dinner parties or potlucks but also serve as an easy snack option. Their small size lends itself well to pick-up-and-go gatherings or even as an elegant finger food at weddings.
These adorable skewers feature cherry tomatoes, mozzarella cheese balls, fresh basil leaves, and a drizzle of balsamic glaze. They are visually appealing and bursting with flavors that will leave you wanting more.
Cranberry Meatballs
Cranberry meatballs are a perfect combination of sweet and savory flavors that will tantalize your taste buds. These bite-sized meatballs are made with a mixture of ground beef or turkey, breadcrumbs, eggs, and seasonings. But what sets them apart is the tangy and slightly tart cranberry sauce that coats them.
Smoked Salmon and Dill Cream Cheese Toast
Smoked salmon and dill cream cheese toast is a simple dish that is perfect for breakfast or brunch. The combination of the rich, smoky flavor of the salmon with the creamy and herby dill cream cheese creates a heavenly taste experience that will leave you craving more.
The beauty of these toasts lies not only in their taste but also in their visual appeal. The vibrant pink color of the smoked salmon against the creamy white spread makes for an elegant presentation that will impress your guests.
Spinach and Artichoke Stuffed Mushrooms
Combining the earthy flavor of mushrooms with two of our favorite vegetables, Spinach and artichoke stuffed mushrooms are a tantalizing dish that not only pleases the palate but also provides a nutritious punch. Spinach is rich in vitamins A, C, and K, while artichokes are packed with antioxidants and fiber.
One of the best things about spinach and artichoke stuffed mushrooms is their versatility. They can be enjoyed as a vegetarian main course or served as an elegant side dish at any dinner party. The tender mushrooms act as great vessels, absorbing all the flavors from the stuffing mixture. Each bite bursts with textures – from the juicy mushroom caps to the luscious filling inside.
Roasted Red Pepper and Burrata Phyllo Cups
Roasted red pepper and burrata phyllo cups are a delightful appetizer that will have your taste buds craving for more. The crispy phyllo shells are filled with a mouthwatering combination of sweet roasted red peppers and smooth burrata cheese, creating a flavor explosion in every bite.
The contrast between the crispiness of the phyllo cups and the smoothness of the filling adds an interesting texture to this appetizer. It's like biting into a savory little package full of surprises.
Bacon-Wrapped Water Chestnuts
These little bundles of joy create an incredible taste experience and also offer an interesting contrast in temperature. Bacon-wrapped water chestnuts are a delightful appetizer that combines the smoky goodness of bacon with the crispness of water chestnuts.
The sizzling hot bacon from the oven against the chilled, refreshing crunchiness of the water chestnuts adds another layer of excitement to this already tantalizing treat. It's a marriage made in culinary heaven that will leave you wanting more!
Spicy Maple-Glazed Nuts
Enjoyed on their own as a quick snack or used as toppings for salads, desserts, or even savory dishes like roasted vegetables, Spicy Maple-Glazed Nuts are an explosion of flavors that will undoubtedly tantalize your taste buds.
This crunchy treat combines the irresistible combination of sweet and spicy, making it a perfect snack for any occasion. Whether you're looking to spice up your movie night or impress guests at a gathering, these nuts are guaranteed to be a crowd-pleaser.
The secret behind Spicy Maple Glazed Nuts lies in the perfect balance between the natural sweetness of maple syrup and the fiery kick of spices like cayenne pepper and paprika.
This unique combination adds a depth of flavor and creates a wonderful contrast in each bite. The maple glaze caramelizes beautifully, coating each nut with a sticky yet crunchy texture that enhances the overall eating experience.
Fig and Goat Cheese Crostini
Fig and goat cheese crostini is a delightful appetizer made of juicy figs and creamy goat cheese. It can be customized to suit various tastes by adding additional toppings such as honey drizzle, balsamic reduction, or chopped nuts for an added crunch.
It's versatile enough to be enjoyed both as an appetizer and as part of a main course salad. With its simplicity yet complexity in flavor profile, fig and goat cheese crostini is sure to be a crowd-pleaser at any gathering while providing a visually stunning addition to your table spread.
Cranberry Brie Bites
Cranberry Brie Bites combine the creamy and decadent flavors of brie cheese with the tart and tangy taste of cranberries. These delectable bites are typically made by topping a small piece of Brie cheese with a spoonful of cranberry sauce or fresh cranberries and then baking them in the oven until the cheese is soft and gooey. The result is a delightful combination of textures, with the crispness of the pastry or cracker base contrasting perfectly with the smoothness of the melted brie.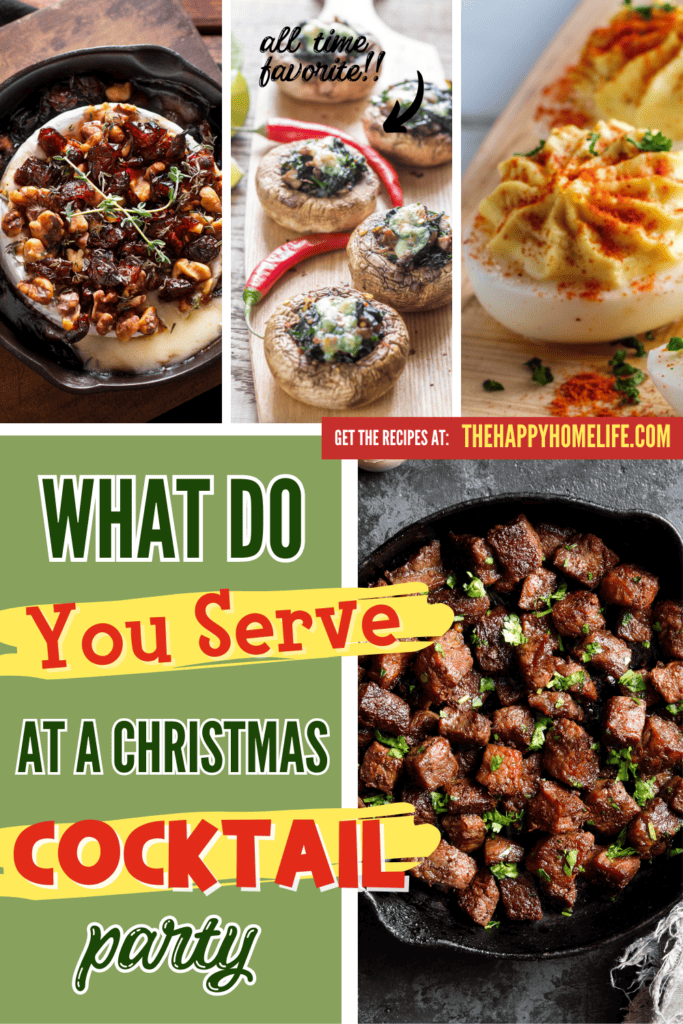 As a whole, planning the menu for your Christmas cocktail party can be a daunting task. But fret no more! By considering a variety of appetizers, small bites, and festive drinks, you can create a delightful spread that will impress your guests.
Remember to offer a balance of flavors and textures, incorporating both savory and sweet options. Don't forget to take into account any dietary restrictions or preferences your guests may have.
With a little creativity and careful planning, you can ensure that your Christmas cocktail party is filled with delicious food and creates lasting memories for everyone involved. So start brainstorming ideas, and get ready to host the most fabulous holiday gathering yet!