What's better than a Moscow Mule on Christmas Eve? A Cranberry Moscow Mule! This festive drink is perfect for the holiday season and will have you feeling merry from head to toe. Here are some key ingredients: ginger beer, cranberry juice, lime juice, and vodka. For those who don't like vodka, you can substitute this with spiced rum (to bring out the flavor of the cranberries) or club soda to make a non-alcoholic version. The recipe couldn't be any easier-just mix all the ingredients together, serve in a copper mug, and enjoy!
A splash of seasonal color transforms this cocktail into a new holiday favorite. If you enjoy the warm ginger flavor of a Moscow Mule, you will definitely want to give this Cranberry Moscow Mule a try!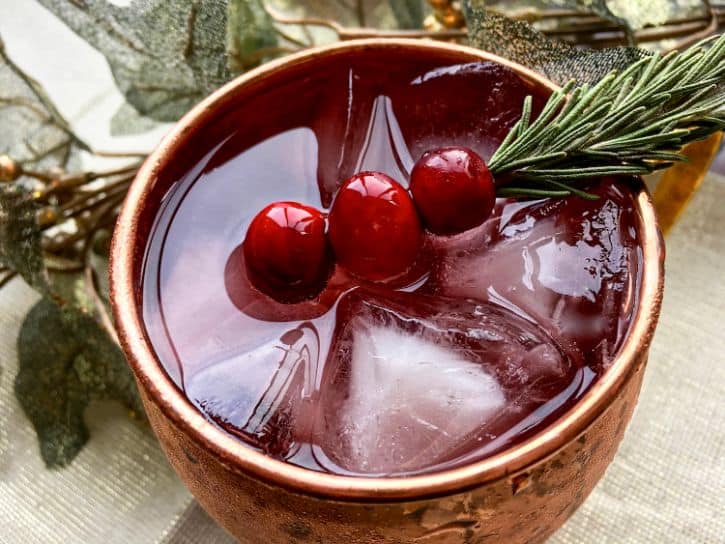 This post contains affiliate links.
What is a Cranberry Moscow Mule?
A cranberry Moscow mule is a fun, festive take on the traditional Moscow Mule cocktail. The holiday Moscow mule uses vodka, cranberry juice, fresh lime juice, and ginger beer to create a classic drink that you'll enjoy all winter long!
You can substitute spiced rum for vodka if you prefer. The rum helps bring out the cranberry flavor. But for this recipe, we'll stick to the traditional vodka.
How to Serve a Cranberry Moscow Mule
The Moscow Mule is served in copper mugs with ice. Typically, it is garnished with berries, sprigs of rosemary or mint, or lime wedges. The copper mug is essential for the mule cocktail.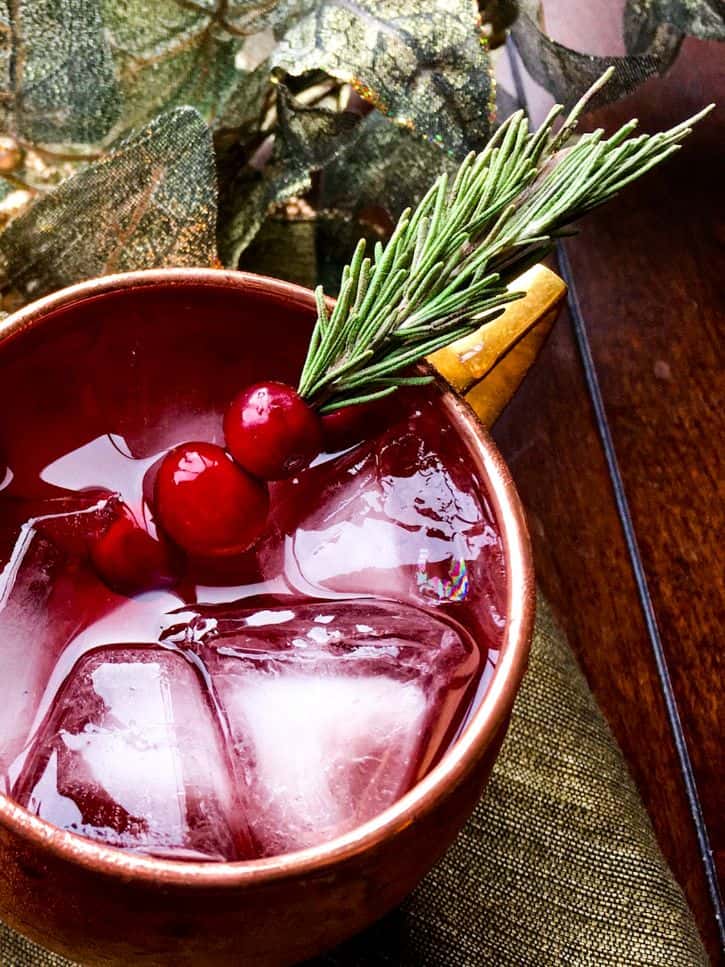 How to Garnish a Moscow Mule
As we mentioned above, there are loads of ways to garnish a Moscow Mule. Ours is garnished with fresh cranberries and fresh rosemary sprigs. However, frozen cranberries look lovely and can be a colorful substitute for the ice. Fresh mint leaves, lime wedges, or colorful paper straws could also work.
If cranberry isn't your thing, try the mule with raspberries, blackberries, or citrus fruits. However, cranberry is pretty perfect for the holiday season, from Thanksgiving all the way through New Year's. The Cranberry Moscow Mule is an ideal cocktail for Thanksgiving or Christmas parties because it can easily be modified to fit your needs in terms of size and ingredients.
Moscow Mule Tips
In addition to the garnishing tips above, you may be wondering how to make this drink non-alcoholic for your friends and family who prefer to abstain from alcohol. It's actually really easy!
Ginger beer, despite its name, is non-alcoholic already. It's a spicy, aromatic, bubbly drink made with ginger, water, sugar, and yeast.
To make this drink non-alcoholic, substitute club soda for the alcohol. In this case, substitute the vodka with the same amount of club soda. It'll be extra bubbly!
The cranberry juice flavor in this Moscow Mule pairs well with ginger beer and lime to create an amazing holiday cocktail recipe!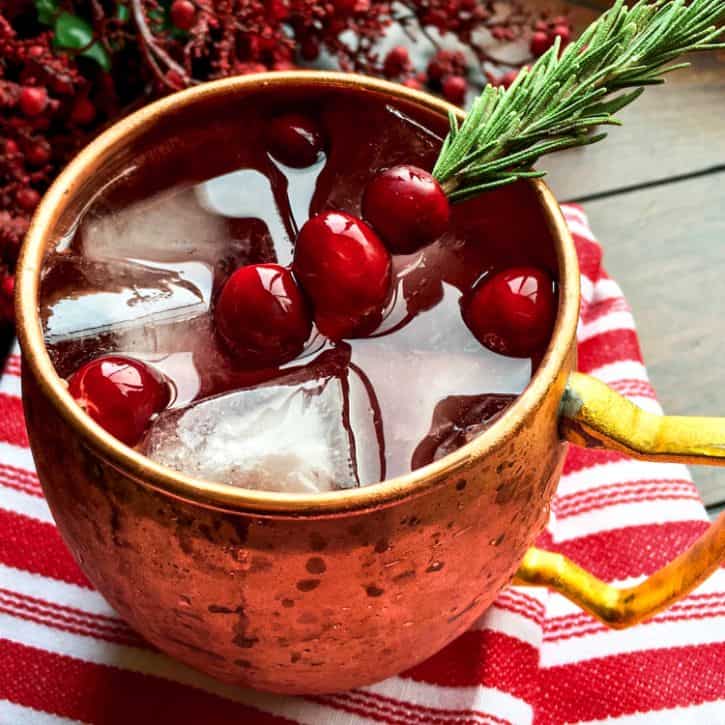 Kitchen Tools Needed to Make this Holiday Cocktail
You don't need many tools to make Moscow mules. We recommend a cocktail shaker and copper mugs.
Important note: Do NOT put the ginger beer in the cocktail shaker. Only the vodka, lime juice, and cranberry juice should go in there. Once those are shaken well, pour them into your copper mugs and top them off with ginger beer. Then, you can give it a little stir if you'd like.
Why Are Moscow Mules Served in Copper Mugs?
Copper mugs are essential for mules for a couple of reasons. First, copper is a great temperature conductor. So, when you pour your icy holiday cocktail into the mug, it stays nice and cold for a longer period of time than it would in a standard glass. Second, the copper is thought to interact with and enhance the flavors of the ginger beer and lime. Plus, it's just tradition at this point, and holidays are all about tradition.
The Best Ginger Beer For Moscow Mules
To be honest, I am not a ginger beer expert. I live in a rural area, so what you can find is what you get. However, I've seen plenty of recommendations for Reed's Extra Ginger Beer, which has a spicy flavor and sweet taste. You can also read up on the top ginger beers here and here to make your choice. I say use whatever you can find in your local stores without fussing too much about it!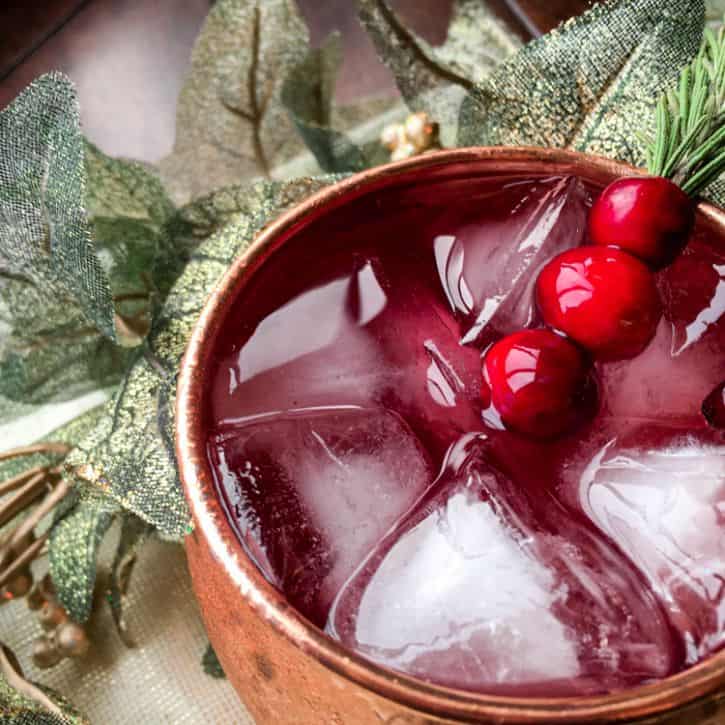 How to Make Large Batch Cranberry Mules
You may have noticed that our recipe only makes two cranberry mules. That's perfect for an intimate evening together by the fire, but not so much for a party. However, scaling it up is super easy.
If you want to make the recipe for 10 people, for example, just multiply the ingredients by 5. Instead of using a cocktail shaker to mix things up, pour the ingredients into a large pitcher and stir. Don't shake it—you don't want the ginger beer to lose its carbonation. Add ice or frozen cranberries, and let your guests help themselves.
Appetizers To Serve With Moscow Mules
Honestly, these holiday Moscow mules go with any of your favorite holiday appetizers. Our cranberry orange scones are a great choice if you're doing a holiday brunch. Cranberry cream cheese bites, cranberry jalapeno cheese dip, cranberry cracker bites, and cranberry crostini are great options as well. I know what you may be thinking… isn't that too much cranberry? To that, I say, "You can never have too many cranberries."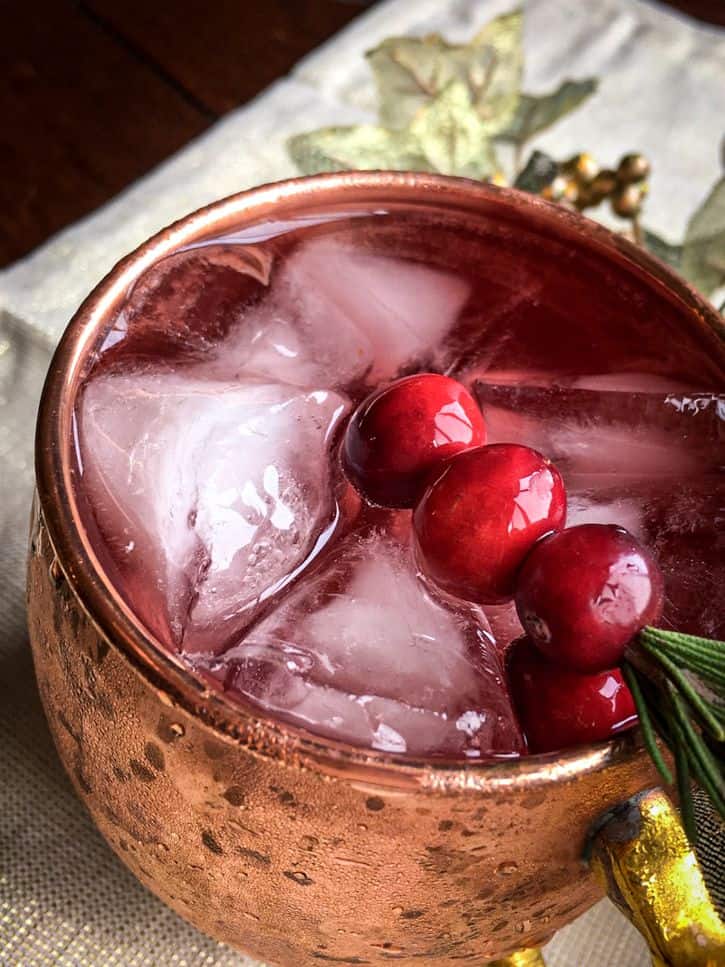 More Seasonal Drinks
For more wintery or holiday drinks, check out these recipes:
More Delicious Cranberry Recipes for the Holidays
Here are more yummy cranberry recipes to make this Thanksgiving and Christmas:
Yield: 2 servings
Cranberry Moscow Mule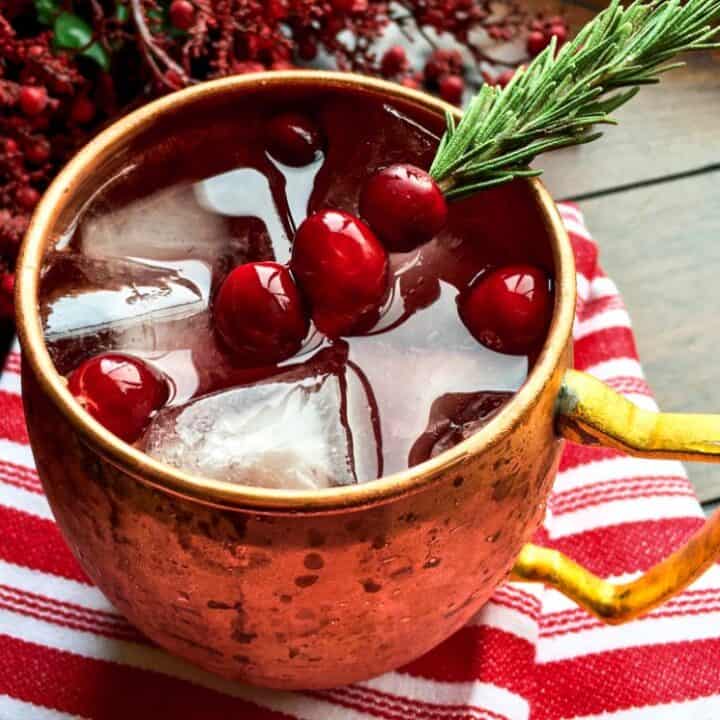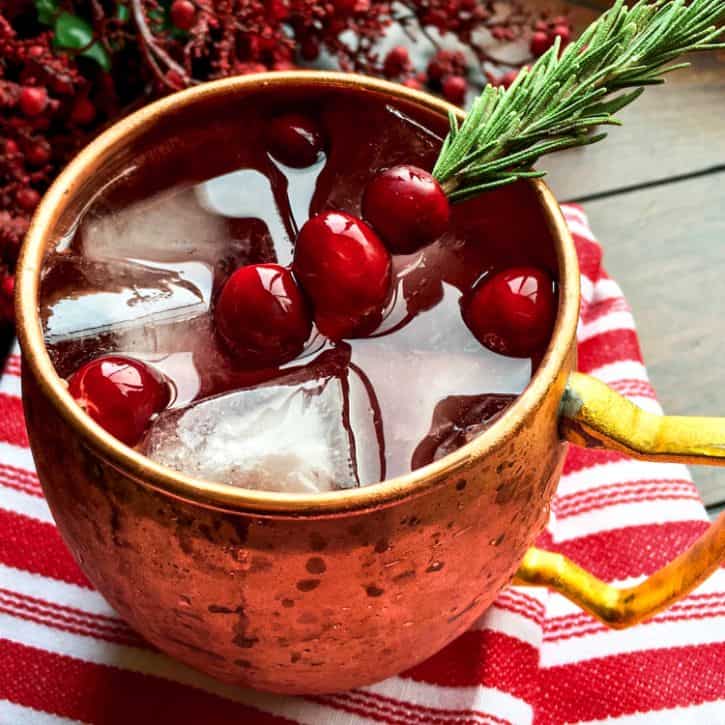 A splash of seasonal color transforms this cocktail into a new holiday favorite. If you enjoy the warm ginger flavor of a Moscow Mule, you will definitely want to give this Cranberry Moscow Mule a try!
Ingredients
5 oz. premium vodka
2 oz. 100% cranberry juice
2 T. fresh lime juice
12 oz. ginger beer
cranberries and rosemary sprigs for garnish (optional)
Instructions
To make cranberry sprig garnish, thread three (3) fresh cranberries onto the bottom of each rosemary stem.
Fill the cocktail shaker with ice and add vodka, cranberry juice, and lime juice. Do NOT add the ginger beer to the shaker. Shake well and pour into ice-filled copper mugs.
Top off the mugs with ginger beer and stir to combine.
Garnish with rosemary sprigs and cranberries, if desired before serving. Enjoy!
Recommended Products
As an Amazon Associate and member of other affiliate programs, I earn from qualifying purchases.
Nutrition Information:
Yield:
2
Serving Size:
1
Amount Per Serving:
Calories:

299
Total Fat:

0g
Saturated Fat:

0g
Trans Fat:

0g
Unsaturated Fat:

0g
Cholesterol:

0mg
Sodium:

17mg
Carbohydrates:

36g
Fiber:

2g
Sugar:

29g
Protein:

0g
These nutritional calculations might not be accurate. Please speak with a licensed nutritionist to assist you.