Are you following a keto diet and struggling to find new and exciting recipes that meet your dietary requirements? Look no further than tuna! Tuna is an excellent source of protein, low in carbohydrates, and high in healthy fats. Plus, it's versatile enough to be used in a variety of dishes.
We'll share some delicious tuna keto recipes that are easy to make and perfect for anyone looking to maintain or kick-start their ketosis. From salads to casseroles, these recipes will have you enjoying the benefits of a ketogenic diet without sacrificing flavor or satisfaction.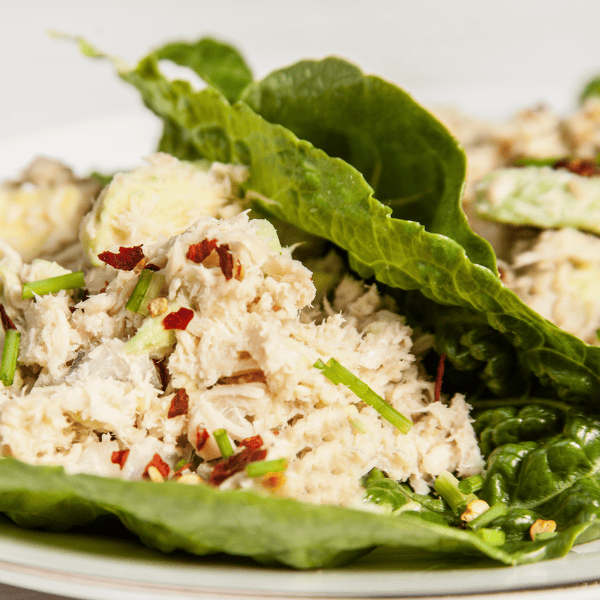 So grab your can opener and let's get cooking!
If you enjoy tuna salad, you'll adore this keto version wrapped in lettuce wraps for a satisfying and delectable low-carb dinner. They are ideal to serve as an appetizer or light lunch at a gathering.
You might enjoy these recipes:
A fantastic low-carb, keto, Whole30, and paleo-friendly recipe for filled avocados with tuna is available online. They are an uncomplicated combination of tuna salad and avocados that are quick to prepare, packed with good protein and fats, and will keep you full for hours after lunch.
These crunchy, inexpensive, and delicious fritters may be made from a tuna can. A fried egg will add weight to the meal. Heat up some oil in a skillet and drop spoonfuls of the tuna mixture into it to create fritters on each side until golden brown. Serve hot with your favorite dip!
The tuna salad is placed inside the tomato. Additionally, you can cut up the tomato while you're eating the salad and choose how much and when to eat it.
G
These canned tuna keto tuna patties are incredibly simple to make. a recipe with very little carbohydrate that is gluten free. The flavorful pork panko greatly softened the harsh fishy flavor, making the tuna much milder. It also helps keep the patties together.
A simple keto lunch recipe that uses fresh tomatoes, tuna salad, and melted cheese. It's the ideal complement to your ketogenic diet. Without the bread, it has all of the traditional characteristics of a tuna melt, and it's so delicious you'll definitely love!
Because of the Dijon mustard, spicy sauce, garlic, and cilantro, keto tuna salad is bursting with flavor. It's fantastic by itself, but it's even better when topped with 90-second keto bread. This salad is kept for several days in the refrigerator, so you can prepare a large quantity and store it there. And it takes only 15 minutes to complete!
With these Keto Fish Tacos with Bang Bang Sauce, your taste senses will celebrate! They are flavorful, peppery, and fresh all around. These tacos are grain-free, gluten-free, low-carb, and keto.
Greek yogurt, vegetables, and buffalo sauce are combined with flavorful low-carb tuna filled peppers, which are then layered with melted cheese. These quick, nutritious tuna-stuffed bell peppers are the ideal post-workout snack or lunch when served with your favorite sides.
These Asian Tuna Cakes are packed with richness from ginger, garlic, red pepper flakes, and coconut aminos. They are completely Whole30 and paleo compliant and simple to put together.
With only five minutes to rustle up dinner, season and cook a tuna steak before serving it with slices of avocado, mozzarella, and tomato. What more could you want than ginger, garlic, cilantro, lime juice, soy sauce, and avocado?
The perfect cheesy tuna casserole is created with mushrooms, spinach, and two types of cheese in this keto-friendly recipe. In addition to being tasty and creamy, it is also healthy. This is undoubtedly among the finest keto casserole recipes you can try.
This low-carb dish for Keto Tuna Spaghetti is incredibly easy to make and comes with a simple sauce. This tasty ketogenic cuisine can be prepared in under 15 minutes with the help of shirataki spaghetti and canned tuna!
An effortless, delicious, low-carb, gluten-free, and grain-free snack is Easy Cheesy Baked Tuna Balls. Tuna, cheeses, and seasonings are combined, then the dish is rolled up in low-carb breading and cooked until crisp.
A favorite from the past is Tuna Mornay. You'll be thinking back to simpler times after eating this keto tuna breakfast. Low carb families will benefit greatly from this recipe for keto tuna casserole because it is a wonderful kid-friendly choice.
With the addition of greens and spice, they are quick, simple, and even superior to rolls from the grocery store. Instead of using ordinary rice, this recipe asks for cauliflower rice, which ups the nutritional content and makes it more keto-friendly.
Tuna egg salad is the perfect thing to load into a lettuce wrap and enjoy as a pick-me-up mini-meal. High in protein, rich in good fats, and excellent for bringing to a potluck.
These small nibbles are ideal for sated hunger without messing up your diet. They're also a fantastic source of protein and omega-3 fatty acids, which will fuel your body while maintaining your energy levels high.
This low-carb version of spicy tuna salad, which has no rolls, rice, or other hassle, is known as "keto sushi." By using this technique, you can enjoy sushi without having to roll it yourself.
These quick-marinated, stunning black sesame-seed coated, and seared tuna steaks are cooked in a hot skillet after being seared on the sesame crust. Undoubtedly among the quickest and simplest recipes you can prepare!