Looking for tasty and healthy lunch ideas? Look no further than lunch ideas with avocado – the creamy, delicious, and nutritious fruit that can transform any boring lunch into a culinary masterpiece.
Avocado is tasty, versatile, and loaded with healthy fats, fiber, and nutrients that will keep you satisfied and energized throughout the day. From breakfast to dinner, avocado can be used in various ways to add flavor, nutrition, and a touch of elegance to your meals. But today, we will focus on lunch, the mid-day meal that often gets overlooked in favor of quick and convenient options.
One of the great things about avocado is that it pairs well with so many different foods. From eggs to veggies to chicken and fish, avocados can complement almost anything you can think of.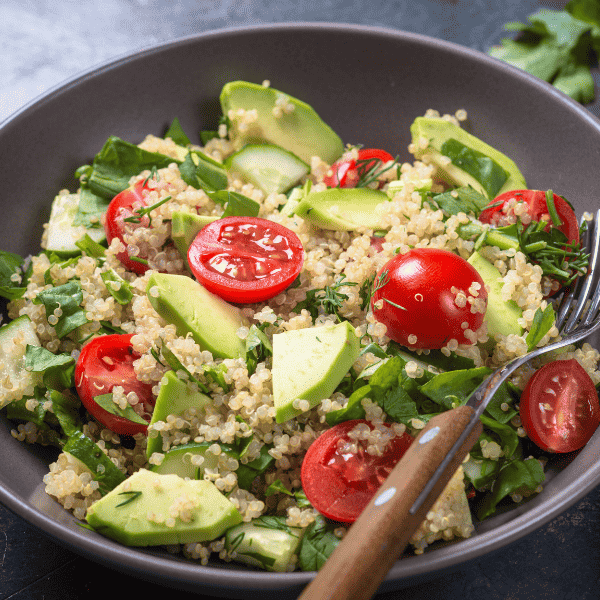 The possibilities are endless, and you're limited only by your imagination. So, whether you're packing your lunch for work or school or just looking for some inspiration to spice up your at-home routine, we've got you covered with some mouthwatering lunch ideas that feature everyone's favorite green fruit.
Without further ado, let's dive into some of the most delicious and creative lunch ideas with avocado that will tantalize your taste buds and satisfy your hunger. Get ready to say goodbye to bland and hello to delicious!
You might enjoy these recipes:
What Are Some Lunch Ideas with Avocado?
Avocado Toast with Smoked Salmon
Avocado toast with smoked salmon will elevate your breakfast game. Creamy avocado spread on top of a slice of hearty bread, topped with succulent smoked salmon and a sprinkle of fresh herbs. This dish will wake your taste buds and give you the energy to conquer the day.
Avocado BLT
Lunchtime just got an upgrade with this mouthwatering Avocado BLT. Imagine crispy bacon nestled between slices of pillowy bread, slathered with smooth, buttery avocado, and topped with juicy tomatoes and crisp lettuce. It's a burst of flavors and textures that will tantalize your taste buds and satisfy your hunger.
This sandwich is a twist on a classic, marrying the creamy goodness of avocado with the beloved taste of a BLT. Enjoy it as a quick bite or paired with your favorite soup, and savor every bite until the very last.
Grilled Chicken Salad with Avocado
Grilled Chicken Salad with Avocado is a refreshing and wholesome lunch option! Imagine tender, juicy chicken breast grilled to perfection and served atop a crisp, fresh greens bed. Add a creamy slice of fresh avocado to that, and you have a satisfying and healthy meal.
The flavors and textures come together most deliciously; the juicy chicken, the creamy avocado, and the crunch of the greens all complement each other beautifully. Topped with your favorite dressing, this salad is the perfect combination of nutritious and delicious.
Avocado Egg Salad
Add some pizzazz to your lunch with this delicious Avocado Egg Salad. Imagine hard-boiled eggs mixed with creamy, buttery avocado for a delightful twist on traditional egg salad. This easy-to-make meal provides a satisfying protein-packed lunch option that is both healthy and delicious.
The smooth and creamy texture of the avocado perfectly complements the eggs, creating a burst of flavor in every bite. Plus, it can be eaten alone, on a bed of greens, or as a sandwich. Get ready to fall in love with this take on a classic lunch staple that is sure to please your taste buds!
Avocado Hummus Wrap
This Avocado Hummus Wrap packs a flavorful punch with creamy avocado hummus, crunchy veggies, and tender grilled chicken rolled up in a soft tortilla.
Combining the smooth hummus and the rich, creamy avocado is heavenly. Plus, it's quick and easy to create and can be served hot or cold, making it perfect for lunch on the go. This wrap is simply divine and sure to become a lunchtime favorite!
Southwestern Quinoa Bowl
Get ready to spice up your lunch with this delectable Southwestern Quinoa Bowl! This tempting dish features cooked quinoa tossed with black beans, corn, diced tomatoes, fresh avocado, and spicy jalapeños, all topped with a zesty cilantro-lime dressing.
The combination of flavors and textures is simply irresistible, and it's packed with protein, fiber, and other essential nutrients. Perfect for a satisfying and nutritious lunch, this bowl is sure to become a favorite among lovers of Southwestern cuisine!
Avocado Tuna Salad
Elevate your lunch with this fresh and delicious Avocado Tuna Salad. Imagine tender, flaky tuna mixed with creamy avocado, and topped with freshly diced vegetables, creating a wholesome and protein-packed meal.
The creamy avocado blends perfectly with the zesty flavor of the tuna to offer an irresistible taste. It's also light on calories, making it an excellent option for a summer day.
This salad can be enjoyed independently or stuffed in a sandwich to make a filling meal. Treat yourself to an avocado tuna salad for tasty but healthy dining.
Chicken Avocado Caesar Wrap
The Chicken Avocado Caesar Wrap is a perfect blend of tangy and savory flavors, providing a satisfying meal that fits in the palm of your hand. There's nothing better than a delicious wrap, especially when it's loaded with tender, juicy chicken, fresh avocado, crunchy romaine, and a generous drizzle of creamy Caesar dressing.
The smooth avocado tones down the sharpness of the Caesar dressing, while the juicy chicken and fresh lettuce provide a perfect crunch. Whether you want to switch up your lunch routine or try something new, this wrap is the ideal answer!
Avocado Grilled Cheese
What's not to love about the Avocado Grilled Cheese? This satisfying sandwich brings all the goodness of a classic grilled cheese and creamy avocado, making it a flavorful and wholesome lunch option.
The gooey cheese pairs perfectly with the avocado's buttery and slightly sweet flavor. This combination is sure to have you coming back for seconds! Make sure to savor every melted, savory bite and indulge in one of the most fabulous lunchtime creations.
Avocado and Tomato Bruschetta
Get ready to impress your guests with this delicious Avocado and Tomato Bruschetta. This flavorful appetizer features crunchy sourdough bread topped with ripe tomatoes, smooth avocado, and fresh herbs.
The creamy avocado and juicy tomatoes are a match made in heaven, creating a burst of flavor with every bite. This dish is a perfect addition to any summer party or gathering, and it's guaranteed to be a crowd-pleaser. Whether eaten as an appetizer or side dish, everyone will love the refreshing flavor of this classic bruschetta with an avocado twist!
Avocado Chicken Salad Wraps
Dress up your lunch spread with these irresistible Avocado Chicken Salad Wraps! Succulent and tender chicken mixed with diced avocado and crunchy veggies creates a perfect blend of textures and flavors to satisfy your taste buds.
These wraps are a complete meal, packing a protein punch with avocado, chicken, and leafy greens. The bite of the sweet and tangy dressing over the salad, finished with the flexibility to wrap it in a tortilla, makes this recipe nothing short of heavenly. Whether you want a quick lunch over the weekday or an on-the-go treat, these wraps are the perfect solution.
Avocado Gazpacho
Cool down on a hot day with a refreshing bowl of Avocado Gazpacho. This chilled soup blends ripe avocados, fresh cucumber, juicy tomatoes, and zesty lime juice with the perfect balance of spices and herbs. It contains nutrients and flavor, making it the perfect summertime meal.
Avocado, Bacon, and Tomato Sandwich
Get ready for a mouthwatering treat with this Avocado, Bacon, and Tomato Sandwich! This loaded sandwich features crispy bacon, juicy tomato, lettuce, and creamy avocado; all layered together between two slices of bread.
The combination of smoky bacon, buttery avocado, and tangy tomato is hard to resist. This delicious sandwich is perfect for a quick, satisfying, flavorful, and filling lunch.
Avocado Chickpea Salad
Avocado Chickpea Salad is a refreshing salad that features creamy avocado and protein-packed chickpeas tossed with juicy tomatoes, crunchy cucumbers, and tangy lemon juice.
It's perfect for a satisfying yet light lunch that energizes you for the rest of the day. Whether eaten alone or stuffed in a pita pocket, this salad will become a summer favorite!
Avocado Caprese Salad
Indulge in the flavors of Italy with this fresh and vibrant Avocado Caprese Salad. This classic salad is updated with creamy avocado, juicy tomatoes, mozzarella cheese, and a tangy balsamic glaze, creating the perfect balance of flavors.
This salad is light, refreshing, and perfect for any summer gathering or a quick lunch. Savor every bite of this refreshing Caprese salad for an authentic Italian experience!
Baked Avocado Egg Boats
Try these Baked Avocado Egg Boats for a simple and satisfying breakfast. This dish features fresh avocado halves filled with baked eggs, crispy bacon, and a sprinkle of cheese for added flavor.
The combination of creamy avocado, savory bacon, and oozy egg is irresistible! Healthy, filling, and easy to make, these egg boats are perfect for a quick breakfast on the go or a brunch with friends.
Avocado Quinoa Salad
Get your daily dose of fiber and protein with this delightful Avocado Quinoa Salad. MaThis salad is filling and satisfying and made with nutty quinoa, creamy avocado, and a medley of veggies.
The lemon and olive oil dressing gives it a zesty kick, and the mixture of textures offers a burst of flavor with every bite. This salad is perfect for a healthy and delicious lunch or side dish.
Avocado Tuna Melt
Take your traditional tuna melt to the next level with the Avocado Tuna Melt. This tasty sandwich combines creamy avocado with savory tuna salad, melty cheese, and crispy bread.
It's a perfect quick lunch or dinner option that is easy to make and delicious. The blend of flavors and textures creates a delectable and satisfying sandwich perfect for any occasion. Satisfy your cravings and indulge in every bite of this mouthwatering Avocado Tuna Melt.
Avocado Caesar Salad
Transform the classic Caesar Salad into a nourishing and delicious dish with Avocado Caesar Salad. Made with crisp romaine lettuce, creamy avocado, crunchy croutons, and tossed with a creamy Caesar dressing, this salad creates a heavenly blend of flavors and textures.
It's loaded with nutrients and healthy fats, making it a perfect lunch or dinner option. Savor every bite and treat your taste buds with this healthy and fulfilling salad.
Smashed Avocado and Egg Toast
Upgrade your lunch game with this Smashed Avocado and Egg Toast. This delectable dish combines creamy avocado on toasted bread with a fried or poached egg, creating a protein-packed meal that satisfies and energizes.
The blend of healthy fats and essential nutrients makes it an ideal option for lunch. Whether you are looking for a quick work-from-home lunch or a leisurely weekend treat, this smashed avocado and egg toast is perfect!
Avocado Tuna Salad
This Avocado Tuna Salad will bring you light yet filling and packed with protein lunch. This refreshing combination of creamy avocado and protein-packed tuna mixed with veggies like cucumber, cherry tomatoes, and red onion perfectly balances textures and flavors.
The addition of zesty lemon juice and a pinch of salt and pepper makes it a healthy, delicious, and easy-to-make dish for lunch.
Green Goddess Avocado Salad
Try this Green Goddess Avocado Salad if you're looking for a healthy and refreshing lunch option that is both tasty and satisfying.
This salad is packed with nutritious greens, such as kale, cucumber, and mixed lettuce, and topped with creamy avocado and a drizzle of tangy Green Goddess dressing made from fresh herbs.
It's a refreshing yet hearty salad that will energize you for the rest of the day. Make it for lunch today, and enjoy a delicious and nutritious meal!
Avocado and Shrimp Salad
This Avocado and Shrimp salad is a delicious and healthy option for a refreshing lunch. This salad contains protein-rich shrimp, fresh lettuce, juicy cherry tomatoes, buttery avocado, and a tangy lemon dressing.
This salad perfectly balances textures and flavors. It's easy to make, gluten-free, and Paleo-friendly, making it a go-to for any lunch.
Grilled Corn Avocado Salad with Feta, Cilantro, & Lime
Grilled Corn Avocado Salad with Feta, Cilantro, & Lime makes for a perfect summer lunch. This salad is loaded with flavor and texture from the charred grilled corn, creamy avocado, tangy feta cheese, and fresh cilantro, drizzled with lime's zesty taste.
It's a great way to combine crunch and creaminess in one dish. It's easy to make, gluten-free, and vegetarian, making it a perfect dish for lunch or as a side dish.
Avocado and Chickpea Sandwich
Enjoy a healthy and flavorful Avocado and Chickpea Sandwich for lunch. This sandwich is filled with a protein-packed chickpea salad mixture, creamy slices of avocado, topped with fresh lettuce, juicy tomatoes, and a drizzle of tangy lemon-tahini dressing.
It's an easy-to-make vegan-friendly sandwich that is perfect for lunch on the go or a leisurely afternoon picnic.
Indulge in this sandwich's rich and satisfying flavors that will leave you feeling both happy and nourished.