Mother's Day offers a great opportunity to show your mom just how much she means to you – and there's no better way of doing that than with a home-cooked meal. Whether she loves traditional dishes or something more adventurous, the perfect Mother's Day menu can be created for any budget and culinary level.
Cooking for the person who has devoted so much time in the kitchen preparing meals for us is one of the most special ways to show love, appreciation, and admiration!
Here we will share some recipes ideas that are sure to make it a memorable day this Mother's Day.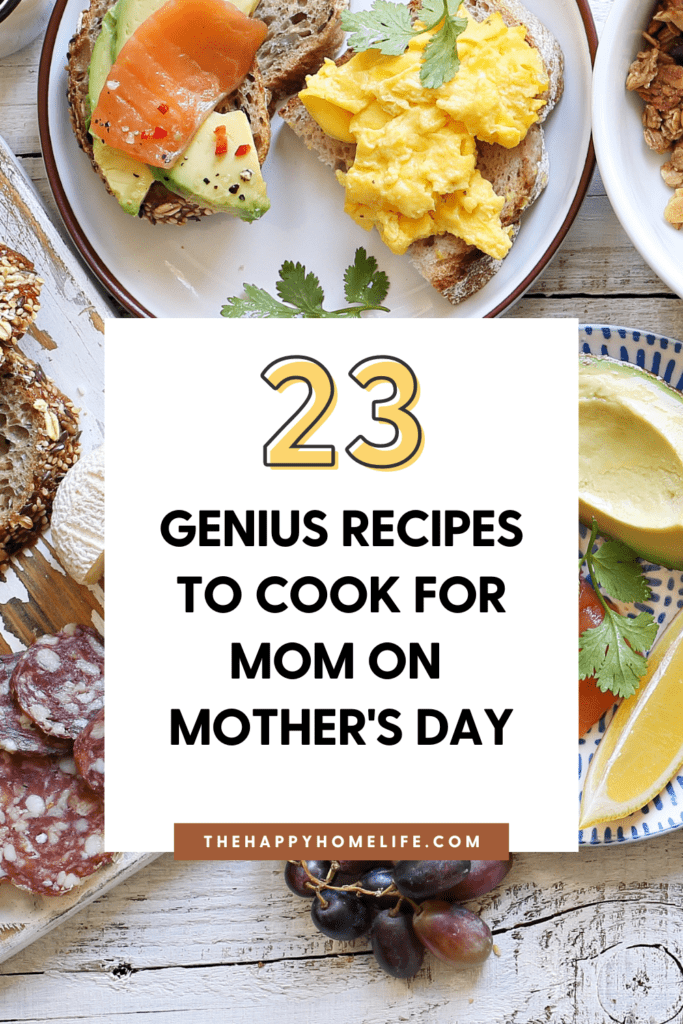 What is The Best Breakfast for Mother's Day?
Start the day with something light and refreshing, like pancakes with fresh fruits and whipped cream. Create an omelet bar where everyone can make their own egg creations. Make some French toast topped with syrup and powdered sugar for a sweet treat.
Don't forget savory favorites like bacon, sausage, and hash browns for those who prefer savory morning meals. Top it off with some freshly brewed coffee or tea to send your beloved mom off in style!
What's a good Mother's Day menu?
A great Mother's Day menu could include some of Mom's favorite dishes. Depending on the time of day, brunch options such as a fluffy quiche with fresh herbs, a pint of mimosas or Bloody Marys, and a stack of strawberry-banana pancakes would be sure to please.
For lunch or dinner, grilled steak with roasted potatoes and charred broccoli is an easy yet elegant meal that will show Mom you care. A classic dessert option like an apple pie with vanilla ice cream is always a crowd-pleaser. And to top off the meal, why not whip up her favorite cocktail?
Whatever you decide, make it special for Mom! With some love and thought, you can make Mother's Day one to remember.
What do you serve at Mother's Day brunch?
At Mother's Day brunch, you could serve various delicious dishes that will make your mother feel special.
Start with a selection of fresh fruits, such as strawberries and raspberries, or a fresh salad with vegetables like tomatoes and cucumbers.
Main course options could include French toast topped with syrup and butter, fluffy omelets filled with cheese and vegetables, or scrambled eggs with thick-cut bacon or sausage.
You could also offer lighter items such as smoked salmon atop an English muffin, avocado toast, bagels with cream cheese, or freshly baked pastries.
For the sweet tooth in the family, offer an assortment of cakes and pies to complete the meal – from classic strawberry shortcake to decadent chocolate mousse cake. To add a unique touch to your Mother's Day brunch celebration, consider serving homemade pancakes or waffles with fresh fruit toppings or homemade cinnamon rolls drizzled with the glaze.
What can I cook for my mother on Mother's Day?
Whether you're preparing a simple meal or whipping up something special, here are recipes that will help you make her day.
Pancake cake is a classic breakfast option and a great way to show your mother how much you appreciate her. This recipe features berries that are delicious and colorful. It's easy to make, so don't hesitate to give it a try.
One of the simplest breakfast strata recipes you'll ever prepare is this one, which is also referred to as a breakfast casserole with bread. The fact that strata can be made any way you choose is what makes this recipe amazing.
This frittata requires some preparation, but it's mostly hands-off work that you can do the night before or the morning off while you're doing other things.
Mother's Day is coming up, and what better way to show your gratitude than with a strawberry trifle? This classic dessert is easy to make, and can be decorated to reflect your mom's personality.
These pita pockets are crispy and filling, and they make a perfect breakfast or brunch dish. They can be filled with all sorts of toppings, and they're great for packing in a portable meal.
This ham and cheese pie is prepared with brie and ham, which makes it the ideal savory hand pie for a dinner or simply a fun snack for your mom.
Create your own scones by adding different fillings, such as chocolate chips, berries, cheese, and herbs. These bakery-quality pastries are flaky, flavorful, moist, and have crisp and crumbly edges.
Combining melted mozzarella with warm bread and spicy arugula is extremely refreshing and enticing. Although this salad is excellent on its own, you may increase the protein by adding grilled chicken or pan-seared tuna steak.
Not only is this a delicious and fresh treat, but it also gives Mom a chance to enjoy a special meal made just for her. If you're looking for an easy yet tasty way to celebrate Mother's Day, crepes with jam are a perfect choice.
This recipe makes an impressive yet simple appetizer that will be sure to bring a smile to her face. This recipe is packed with flavor and only requires a few ingredients that can be easily found in any grocery store.
Steamed crab legs are a delicious, celebratory dish that can make any Mother's Day extra special. Not only do they taste great, but steamed crab legs are surprisingly easy to prepare and cook.
Rack of Lamb is one of the most stunning slices of excellent meat, yet it's astonishingly easy to create. This elegant cut of lamb is deserving of a special dinner for your mom!
This is the perfect recipe to honor the amazing mothers in your life. This hearty dish is made with a variety of vegetables, mushrooms, and beef that come together to make a flavorful dish.
Cooked in butter, dry vermouth, lemon juice, and vegetables, the shrimp are succulent and fragrant. Finish it with parmesan cheese and bread crumbs topping, and serve with grilled Italian bread.
This Beef Stroganoff/Beef Strofanov is a typical Russian dish that is quick and simple. It takes no time at all to prepare juicy strips of delicate sirloin beef and oyster mushrooms wrapped in a luscious creamy sauce.
Salmon with fruit salsa is perfect for the celebration, and it's sure to impress even the discerning palate of your mom. This recipe is easy to prepare and requires only a few simple ingredients that can be found at any grocery store.
Cucumbers, sun dried tomatoes, red onions, and feta are mixed in a fresh tangy vinaigrette with perfectly cooked orzo pasta. This is the ideal dinner or side dish to serve with grilled meats or seafood.
A delicious and unique way to honor her would be with a homemade tortellini pasta salad. With an array of flavors, colors, and textures, this pasta salad will make Mother's Day extra special.
Spinach Lasagna is a classic Italian dish that is as enjoyable to prepare as it is to eat. With layers of pasta, creamy cheese sauce, and fresh spinach, this dish combines all the flavors of Italy into one hearty main course.
For this chicken supper, make your own lemon pepper spice. Mom will be pleased that you went above and above.