As fall approaches, now is the perfect time to get creative in the kitchen with some delicious apple recipes. One fun way to enjoy apples this season is by turning them into a tasty stuffed treat! Hollowing out an apple may seem intimidating at first.
Still, it's quite simple and adds a special touch to any recipe you make – especially our Apple Crumble Stuffed Baked Apples! This delectable dessert comes together quickly and easily, so let's jump right in and learn how to hollow out an apple!
How do you hollow out apples?
If you want to make a tasty apple-based recipe, you may need to know how to hollow out an apple. To do so, first, wash the apple well. Then, using an apple corer, cut off the top of the apple and remove the core from the center of the fruit. You can also make an incision around the inside of the apple, using a spoon or other utensil to scoop out the remaining flesh.
Depending on the recipe, you can leave some apple flesh intact for added texture. Once the apple is hollowed out, you can fill it with a variety of delicious mixtures, including caramel, nuts, or cheese.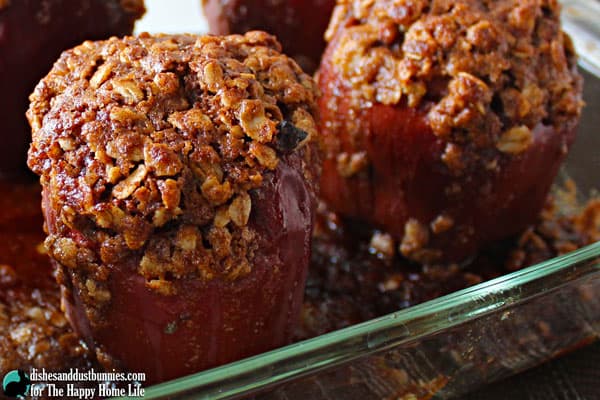 What apples are not good for baking?
When it comes to baking with apples, not all varieties are created equal. Some apples have a higher water content, which can make the final product too watery or mushy. Apples such as Red Delicious, Golden Delicious, and McIntosh are not the best apples for baking due to their high water content and tendency to turn into mush when cooked.
These apples are better suited for raw snacking or salads. Instead, opt for firmer apples such as Granny Smith, Honeycrisp, or Jonathan apples, which have a lower water content and hold their shape well when baked. Always choose the right apple for your recipe to ensure the best outcome.
You might enjoy these recipes:
What can I do with a lot of apples?
Many options are available if you find yourself with an abundance of apples and aren't sure what to do with them. One option is to make applesauce, a delicious and nutritious snack or ingredient used in recipes such as muffins or cakes.
Another option is to make apple juice or cider, which can be enjoyed alone or used as a base for cocktails. Apple pies, apple crumbles, and apple crisps are also popular desserts that can be made with many apples.
Additionally, apples can be chopped and frozen to be used later in recipes that require cooked apples. The possibilities are endless when it comes to using a surplus of apples.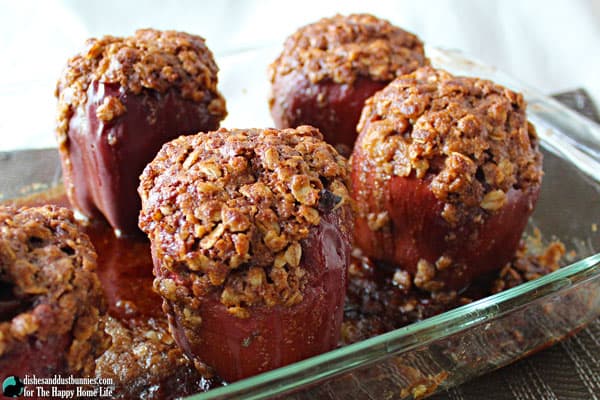 What apples are best for apple crumble?
The best apples for apple crumble are those with a firm texture that holds up well during baking, such as Granny Smith, Braeburn, or Honeycrisp. These varieties are tart and slightly sweet, which balances the sugary crumble topping.
It's also best to avoid overly juicy apples like Red Delicious, as they can add too much liquid to the dish. With the right type of apple, you can achieve a perfectly balanced, crisp, and delicious apple crumble.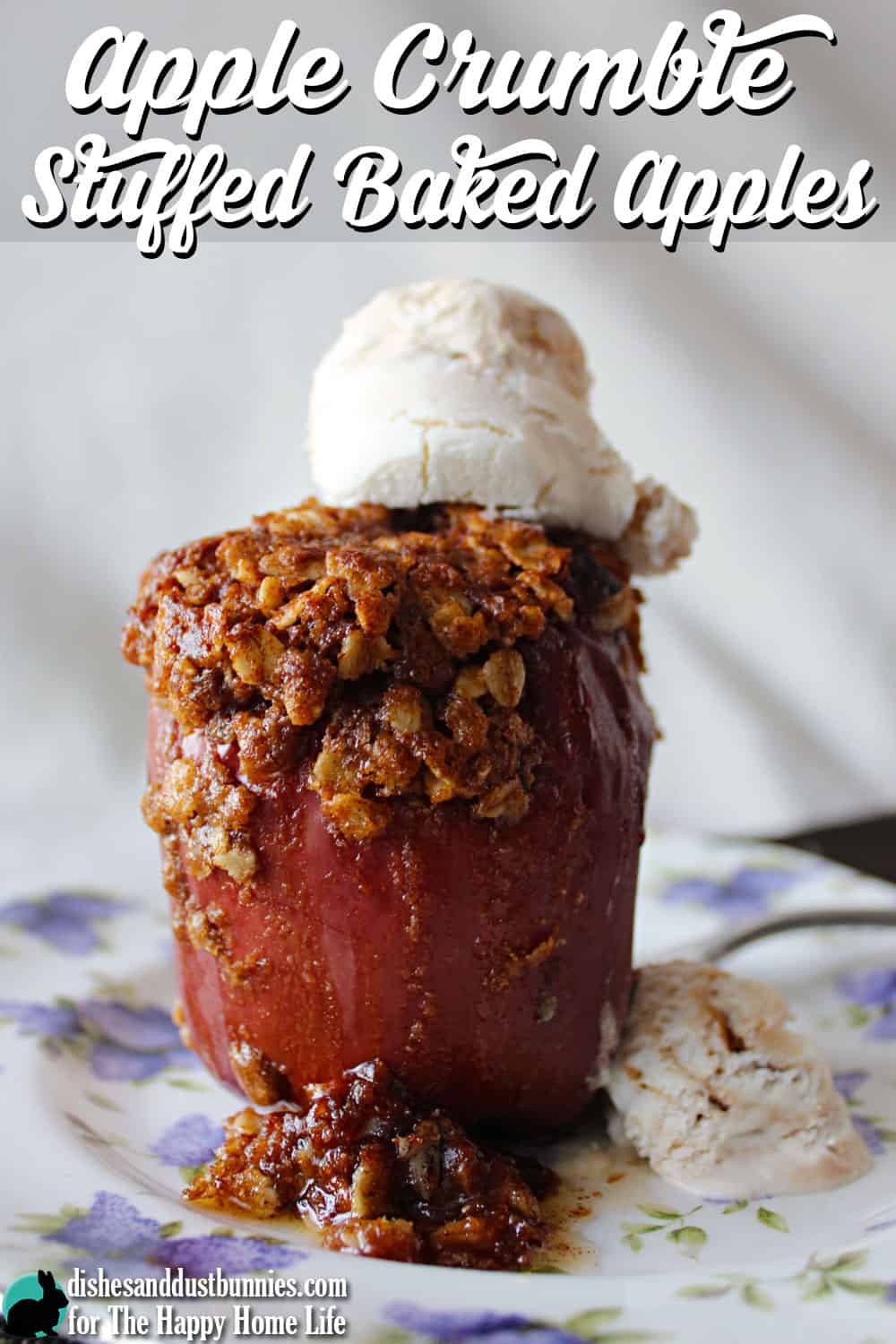 Apple Crumble Stuffed Baked Apples
These baked apples are stuffed to the top with apple chunks seasoned with cinnamon and brown sugar and topped with a delicious crunchy apple crumble.
Scooping out the insides of the apples can be done either by using an apple corer or by using a knife and a spoon. Just ensure you leave the bottom of the Apple intact so the insides don't fall out.
When these apples come out of the oven, they're so tender, sweet, and fragrant and are absolutely perfect topped with a dollop of butterscotch ripple ice cream.
This is an awesome dessert that I know your family will love!
If you'd like to try more delicious treats, you can stop by my website to find more recipes!
Yield: 8 servings
Apple Crumble Stuffed Baked Apples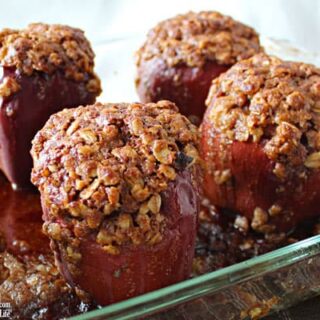 Fall is in the air, and with it comes apple season. The smell of fresh apples baking in the oven can bring back memories from previous years when you would help your mom bake a pie or make an apple crumble.
It's hard to resist these delicious treats, but what if you could take them one step further? Stuffed baked apples are a perfect way to enjoy this fall favorite without any of the mess.
Here's how to make Apple Crumble Stuffed Baked Apples.
Ingredients
8 large apples (I used Red Delicious apples but you could substitute for any variety you prefer)
1/4 cup butter
1/4 cup brown sugar
1 tbsp cinnamon
1/2 tbsp lemon juice
Pinch of ground ginger
Topping:
1/4 cup all-purpose flour
3/4 cup rolled large flake oats
1/2 cup brown sugar
1/2 tsp salt
2 tsp cinnamon
1/4 cup butter, melted
Instructions
Preheat the oven to 400°F.
Peel and chop 2 of the apples. Toss with lemon juice.
In a medium frying pan, melt 1/4 cup butter and add 1 tbsp cinnamon and pinch of ginger.
Whisk in the brown sugar.
Add the chopped apples to the pan and cook on medium heat until softened. Stir occasionally.
Combine the topping ingredients in a mixing bowl.
Using the remaining 6 apples, slice off the tops.
Use an apple corer or a knife and spoon to remove some of the insides out of the apples. Make a little pit or hole in each of the apples large enough to fit some of the chopped apples into. Make sure that you leave the bottom of the apples intact.
Place the 6 apples into a baking dish (I used a glass 8″ x 10″ baking dish)
Spoon the chopped apple mixture into the holes of the whole apples. It's ok if they overflow out of the hole.
Take the apple crumble topping and press it onto the tops of the apples, making sort of a cap for each.
Carefully place the baking dish into the oven and bake for 45 – 60 minutes.
Serve warm topped with some ice cream. I really enjoy butterscotch ripple ice cream with this!
Nutrition Information:
Yield:
8
Serving Size:
1
Amount Per Serving:
Calories:

320
Total Fat:

12g
Saturated Fat:

7g
Trans Fat:

0g
Unsaturated Fat:

4g
Cholesterol:

31mg
Sodium:

244mg
Carbohydrates:

55g
Fiber:

7g
Sugar:

40g
Protein:

2g