Tortellini is a versatile Italian pasta that has gained popularity around the world due to its unique shape and delicious taste. While it's traditionally served hot, many people wonder if it can be eaten cold, especially during the warm summer months.
Today, I will answer that question and share a delicious, simple tortellini salad recipe perfect for any occasion. So whether you're a die-hard fan of hot tortellini or looking to switch things up, keep reading to find out more!
What is Tortellini?
Tortellini is a popular Italian pasta that is known for its unique shape. It is typically filled with a combination of cheese, meat, or vegetables and is a versatile dish that can be served in a variety of ways. Whether it's boiled, sautéed, or baked, tortellini always makes for a delicious meal.
It is made from a mixture of flour, eggs, and water and can be found in various sizes and flavors. Tortellini may have originated from the region of Emilia-Romagna in Italy, but it is now enjoyed all over the world.
With its delicious taste and endless pairing options, it's no wonder why tortellini is a favorite among pasta lovers.
You might enjoy these recipes:
Can Tortellini be Eaten Cold?
Cooked tortellini can be served cold as a pasta salad or snack and can be reheated if desired. However, it's important to note that tortellini should always be cooked first according to the package directions to ensure it's safe to consume.
Whether served hot or cold, tortellini is a delicious meal that can be filled with cheese, meats, or vegetables, making it an ideal option for vegetarians and meat lovers alike.
So go ahead and experiment with different ways of serving tortellini, and enjoy this flavorful pasta in whichever way suits your taste buds.
What do you serve with filled tortellini?
When it comes to serving filled tortellini, there are a variety of options to consider. One option is to pair it with a flavorful sauce, such as a creamy Alfredo or tangy tomato sauce.
Alternatively, it can be served as a side dish alongside a meat or vegetable main course. To add some extra dimension to the dish, consider incorporating fresh herbs or vegetables, such as spinach or tomatoes.
Consider adding protein, such as grilled chicken or shrimp, for a heartier meal. In terms of presentation, filling a large serving bowl with tortellini and sauce and garnishing with fresh herbs is a simple yet elegant way to present this dish.
Ultimately, the best way to serve filled tortellini will depend on personal preferences and the occasion.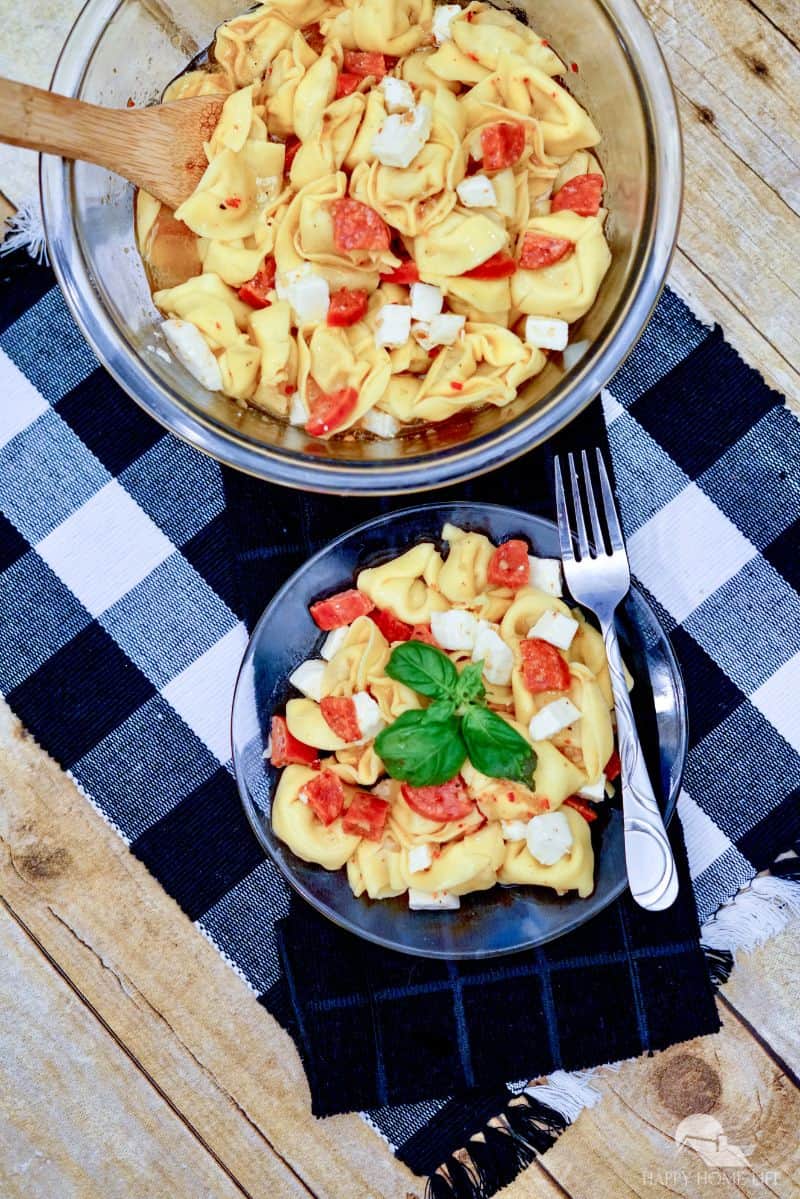 What are the Different Types of Tortellini?
As mentioned earlier, tortellini is a pasta typically filled with cheese, meats, or vegetables. But did you know that there are actually different types of tortellini based on their fillings and shapes? Some popular varieties include meat tortellini, cheese tortellini, spinach tortellini, mushroom tortellini, and even seafood tortellini.
Each type offers a unique flavor and texture that can enhance any dish. Whether it's boiled and served hot with a rich tomato sauce or chilled and tossed in a refreshing pasta salad, tortellini is a versatile ingredient that can take on various flavors and pairings.
How Long Does Cooked Tortellini Last?
When it comes to cooked tortellini, it can last anywhere from three to five days in the refrigerator if stored properly. However, it is important to note that any food left at room temperature for too long can promote bacterial growth, which can lead to food poisoning.
Most food safety sites, including the USDA, recommend storing cooked food in the fridge for no more than four days. Alternatively, frozen tortellini leftovers kept at 0°F can remain safe to eat indefinitely, although the quality may decline after three or four months.
It's always best to check the expiration date of the tortellini, but it can still be safe to eat even two to three days after the expiration date, as long as it was properly stored.
Cheese tortellini, in particular, should not be kept in the fridge for more than two to three days.
Overall, leftover or fresh tortellini can be securely kept in the refrigerator for up to three days. Still, consuming it sooner rather than later is always better to ensure its quality and safety.
Can you freeze tortellini pasta salad?
You can freeze tortellini pasta salad, but there are a few considerations to keep in mind. Freezing pasta salad can affect its texture, so it's important to freeze it properly to ensure it remains fresh and flavorful. Some ingredients, like lettuce or cucumbers, may not fare well in the freezer, so avoiding freezing those is best.
Additionally, the salad dressing may separate during the freezing and thawing process, so it's a good idea to separate the pasta from the other ingredients and dressings to prevent this from happening. However, when done correctly, freezing tortellini pasta salad can be a convenient way to enjoy a delicious meal on the go.
Easiest Tortellini Pasta Salad Ever
I love a good pasta salad, don't you? I'm going to show you my absolute favorite tortellini pasta salad—one that's easy to make and tastes great! This dish is perfect for potlucks or BBQs because it can be made ahead of time. You can even prepare the tortellini in advance, then assemble them when ready to serve.
One of the most anticipated parts of summer is grilling season! And what goes better with a great grilled dinner than a pasta salad?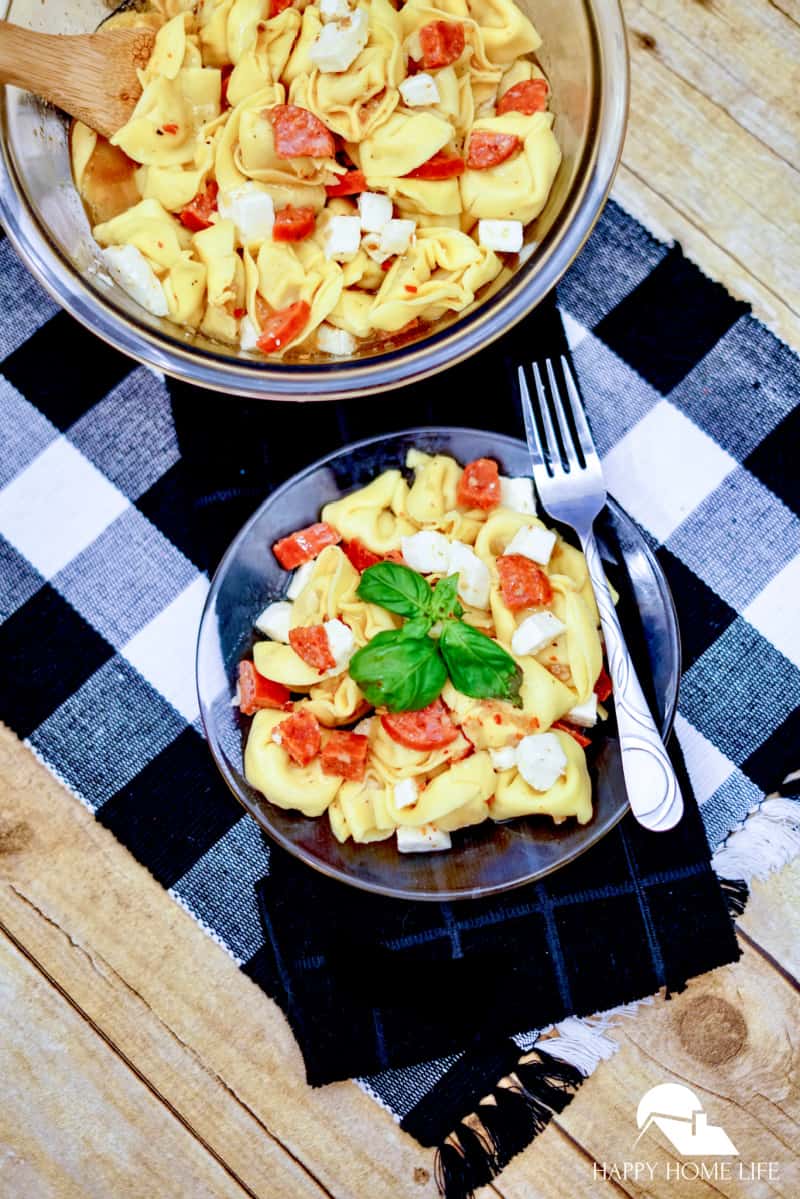 Here are all the ingredients you'll need: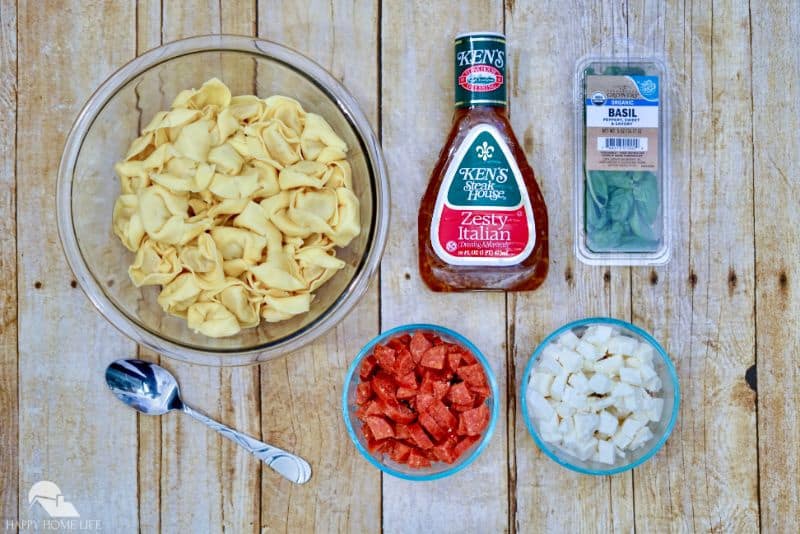 Ingredients for Tortellini Pasta Salad
• 2 20oz Packages of Tortellini
• 8oz Fresh Mozzarella Sliced
• 7oz Pepperoni Stick Sliced
• 16oz Italian Dressing
• Basil
How to Make Tortellini Pasta Salad with Italian Dressing
1. Cook the tortellini as instructed on the package.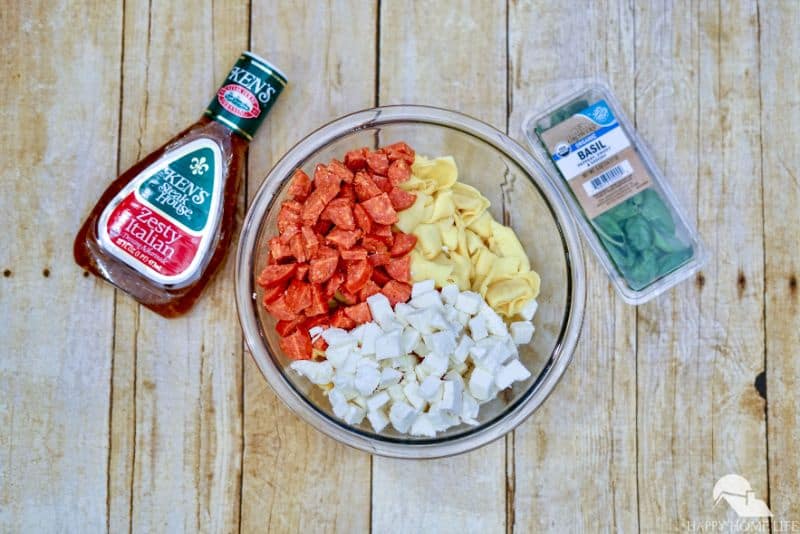 2. Place in a large mixing bowl and add sliced fresh mozzarella & pepperoni.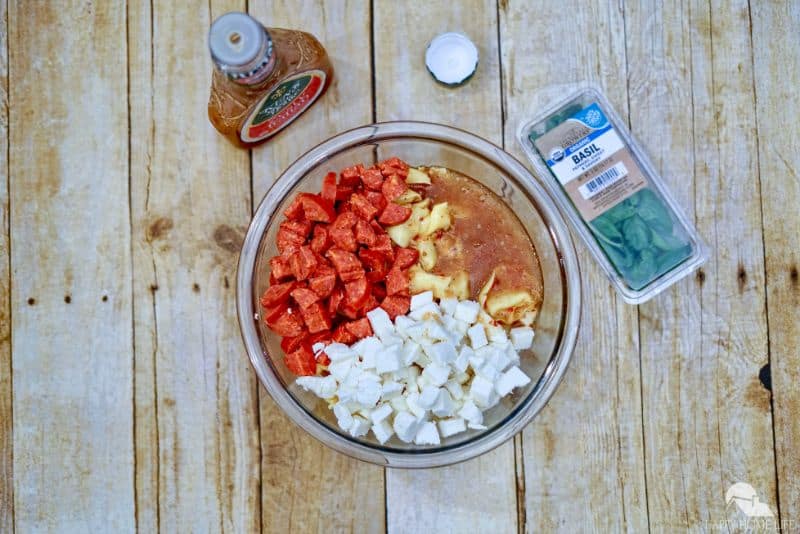 3. Pour in Italian dressing.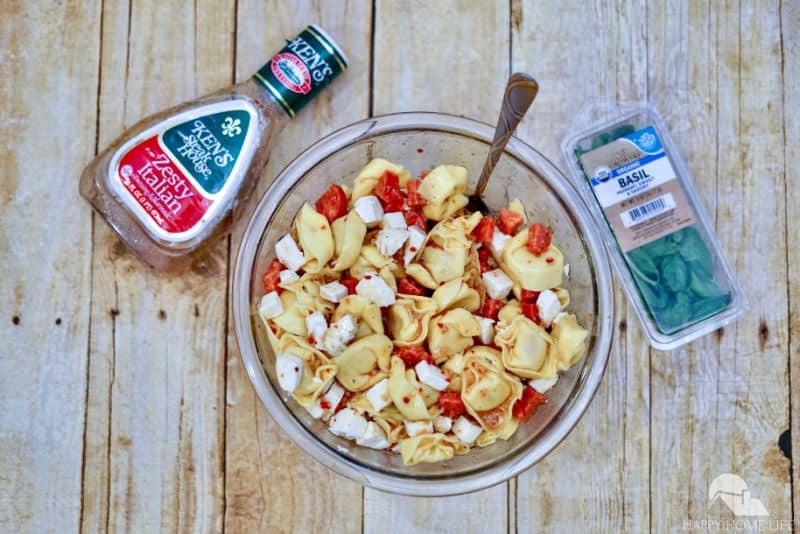 4. Mix well.
5. Serve with basil, and enjoy!
The key to getting the perfect pasta salad that everyone will love is in making sure it's well-dressed. The dressing should provide a nice balance of flavors and creaminess with a touch of tang. I almost always go with Italian dressing since that's my favorite, but I've had some yummy pasta salads with other vinaigrettes or even ranch dressing.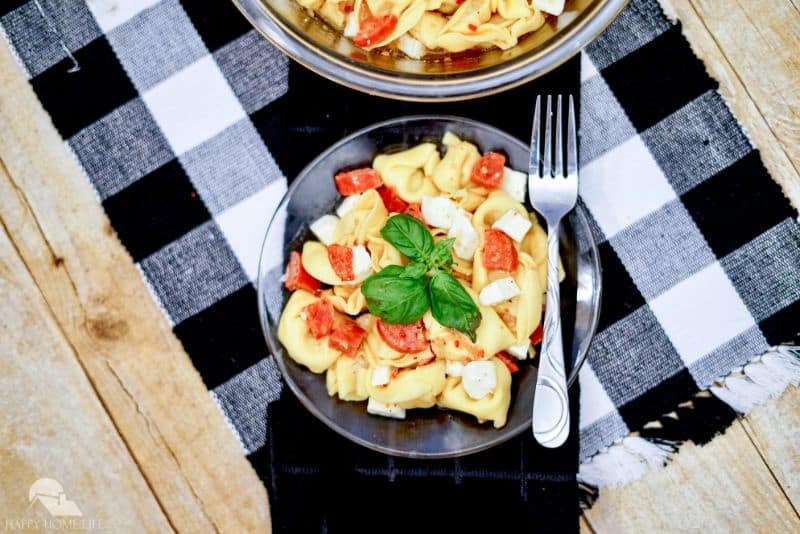 Veggies to Add to Pasta Salad
Pasta salads are generally great vehicles for vegetables if you want to get some color and nutrients into your diet. A good guideline is to include one or two protein sources and then fill up any remaining space with the vegetable of your choice. Here are some recommendations:
Broccoli
Bell peppers
Spinach
Corn
Tomatoes
Cucumbers
Onions (green or red)
Carrots
Olives
Meats to Add to Pasta Salad
Want some variety with the meats you add to your pasta salad? Here are a few favorites:
Pepperoni – This has a little spicy kick to it, so it can be an excellent flavor combination with acidic or cream-based dressings.
Grilled chicken – It has a mild flavor that goes well in just about any pasta salad.
Ham – This salty protein is a nice contrast to carbs and veggies.
Bacon – A great salty, smoky ingredient that gives the pasta salad a nice little crunch when added right before serving.
Yield: 12 servings
Easiest Tortellini Pasta Salad Ever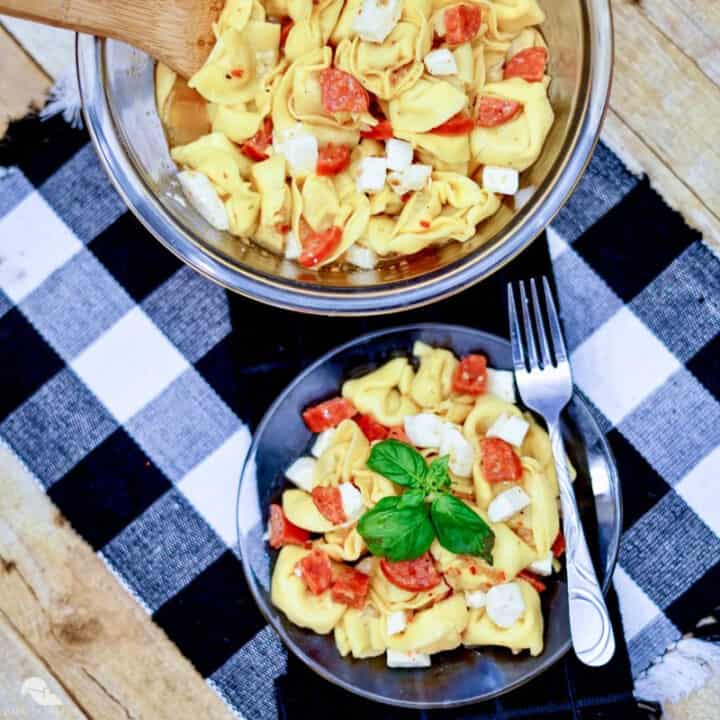 This is the easiest tortellini pasta salad ever! It's the perfect easy dish to take to potlucks, family reunions, and backyard barbecues. It goes great alongside almost any meat dish!
Additional Time
10 minutes
Ingredients
2 20oz Packages Tortellini
8oz Fresh Mozzarella Sliced
7oz Pepperoni Stick Sliced
16oz Italian Dressing
Basil
Instructions
Cook Tortellini as instructed on package.
Place in large mixing bowl and add sliced fresh mozzarella & pepperoni.
Pour in Italian dressing.
Mix well.
Serve with basil and enjoy!
Nutrition Information:
Yield:
12
Serving Size:
1
Amount Per Serving:
Calories:

510
Total Fat:

26g
Saturated Fat:

9g
Trans Fat:

0g
Unsaturated Fat:

14g
Cholesterol:

68mg
Sodium:

1117mg
Carbohydrates:

50g
Fiber:

2g
Sugar:

5g
Protein:

19g
Nutritional information varies on the brand of products you use as well as how carefully you follow the recipe. This nutritional data should only serve as a guideline; calculate using your own tools and products for greater accuracy.
What Can I Serve with Tortellini Pasta Salad?
Pasta salad is a staple at any cookout. It's easy to make and can be paired with many different dishes, but what are the best foods to enjoy it with? Here are a few of my faves:
Burgers
Grilled Chicken
Sandwiches
Steaks
Pulled Pork Sliders
Turkey wraps
Sausages
Steak skewers
Barbecue Meatballs
Pizza
Cocktail weiners
This tortellini pasta salad is a super simple dish that everyone will love. It's the perfect dish to take along to a picnic or cookout with the family, and it can be customized easily by adding your favorite meats, vegetables, cheeses, and herbs. We hope you'll try this Tortellini Pasta Salad recipe soon! If you want more recipes like this one, don't forget to subscribe so we can send them to your inbox. Happy cooking!