Are you looking for a delicious pizza fix without all the carbs? If so, then keto pepperoni recipes are just the thing for you! Keto pepperoni pizza is becoming increasingly popular as more people turn to a low-carb lifestyle.
These recipes are easy, delicious, and take only minutes to prepare. Whether you're a beginner or an experienced chef, these keto pepperoni recipes will help you get all your favorite flavors without sacrificing nutrition.
You might enjoy this post: How Long Does Pepperoni Last?
Pepperoni Keto Recipes for Pizza Lovers
This recipe will sate big pizza cravings in one bite with just 5 basic ingredients. These gluten-free, incredibly low-carb Pepperoni Pizza Cups are also low in sugar. Also, after baking, drain the cups on paper towels to eliminate excess fat!
You'll appreciate that you always have the ingredients for this pizza and even people who don't follow the ketogenic diet like it. It's a win-win situation. This particular recipe just has to be mixed together and cooked for 5 minutes because it uses "fathead" dough.
This recipe's wonderful feature is its adaptability to any of your preferred pizza toppings. Take advantage of your favorite cheese and meat toppings, and be inventive. Add as many vegetables as you like!
This is incredibly tasty. You won't be dissatisfied despite the fact that this pizza's flavor differs from typical pizzas because it isn't built with flour. It has a rich flavor with mozzarella cheese, pepperoni, and mushrooms.
Weeknight dinner preparation for Low Carb Pepperoni Pizza Chicken is simple. Cheese, mini-sliced pepperonis, and marinara sauce are spread over the chicken. This is a hit among kids! The carb count for this pizza chicken is fewer than two carbohydrates per dish if you're keeping track of your macros.
Making a low-carb frittata is one of the most common methods to use up leftovers, extra meat, or veggies toward the end of their shelf life. Simply combine a number of seemingly unrelated items from my refrigerator that needed to be used up with some eggs and heavy cream, toss everything in a skillet, and bake it until it is perfectly eggy yummy.
You've probably eaten those tiny crunchy "crackers" made entirely of cheese, whether you're on the Keto diet and seeking low- or no-carb snacks to munch on or simply a true cheese fan. Only 4 ingredients make up this recipe: shredded mozzarella cheese, grated Parmesan cheese, pepperoni slices, and an Italian herb seasoning mix.
One of the most popular recipes on the internet has proven to be a smash! This pizza casserole alone without crust is a low-carb comfort food recipe that will seem like a treat if you sometimes struggle with feeling starved when you give up carbs.
This twist on a classic dish will bring some excitement and flavor to the table. The eggs are flavored with crushed pepperoni, Italian seasoning, garlic and Parmesan cheese for an irresistible tangy and savory taste. Serve these deviled eggs as an appetizer or snack – you won't be able to resist them!
This delicious and easy dish is made with lean ground beef, pizza sauce and cheese – you won't believe how much flavor these meatballs have. Serve them as an entree over pasta or in a sandwich for lunch – either way, you'll be sure to love this unique fusion meal.
Making these Pepperoni Pizza Chaffles is simple. They simply take one bowl for cleanup, relatively simple materials you presumably already have, and little work. For a low-carb, popular dish, simply quarter the chaffles and serve with warm marinara!
A head of cauliflower is transformed into a nutritious low-carb variation of a beloved snack or dinner in this recipe for Low Carb Pepperoni Pizza. It works well on "game day" or any other day. This pie's delicious flavor came from the addition of Colby Jack and grated mozzarella. The less common pizza sauce was substituted with thin tomato slices, and the pepperoni was, of course, the star of the show.
There are just 2 ingredients needed to make these delicious pizza chips! They have the bite-sized flavor of pizza. They are suitable as an entrée, a side dish, or a snack. You don't have to be on a ketogenic diet to enjoy them, but they are low carb and keto-friendly as well.
This highly-rated recipe is simple to prepare, full of pizza flavor, and shaped like a rose. This recipe is for 9 keto pizza roses.
The greatest quick and simple healthy dish includes almond flour, cream cheese, and mozzarella for the pizza base and crust. It is called Keto Low-Carb Fathead Three Cheese Pepperoni Pizza. Add all of your favorite toppings, including pepperoni and marinara pizza sauce, to this nearly carb-free pizza.
The finest recipe for pepperoni pizza dip! It's very simple to make and is usually a success at gatherings to serve this hot and delicious dip. That disappears swiftly! Pizza dip is a keto-friendly, low-carb, and gluten-free appetizer.
Can you eat pepperoni pizza on keto?
You can eat pepperoni pizza on a ketogenic diet. However, traditional deep-dish pizzas are usually high in carbohydrates and should be avoided. Instead, use a low-carb crust to make your own keto-friendly pizza. You can even use ingredients like cream cheese and mozzarella as the base instead of regular pizza sauce. Top the pizza with your favorite meats and vegetables to create a delicious and nutritious meal that fits into your ketogenic lifestyle.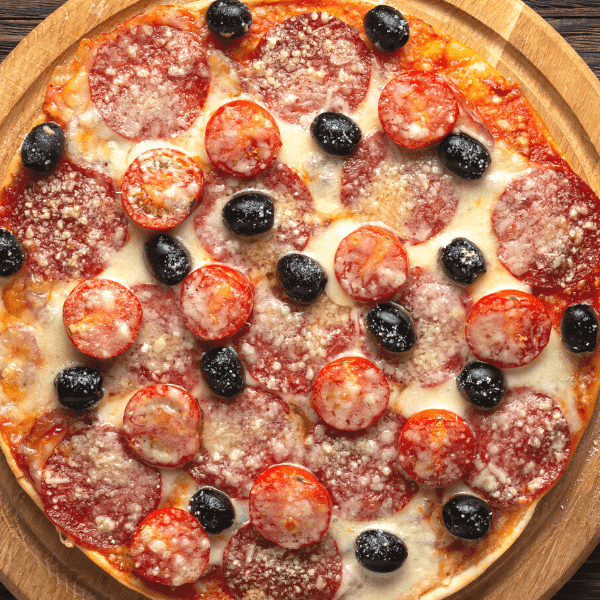 How many carbs are in a keto pepperoni pizza?
A keto pepperoni pizza typically contains between 7-10g of carbs per slice, depending on the size and recipe used. This is much lower than a regular pizza, which can contain anywhere from 20-50g of carbs per slice. By cutting out the traditional high-carb ingredients like flour and sugar, keto pizzas are a much healthier alternative to regular pizzas.
Toppings like pepperoni, cheese, and vegetables are all excellent options for creating a delicious keto-friendly pizza. Additionally, some recipes opt for using a cauliflower crust instead of traditional dough, reducing the overall carb content even further.
What kind of pizza is keto-friendly?
Keto-friendly pizza can be made by swapping out traditional crust for a low-carb alternative, such as cauliflower or cheese-based crust. Toppings should also be kept keto-friendly, such as lean proteins (chicken, turkey, shrimp), vegetables (broccoli, bell peppers, mushrooms), and olive oil-based sauces (marinara, pesto). By making these changes, pizza can still be enjoyed on the ketogenic diet without sacrificing flavor or nutrition.
Also, homemade pizzas can suit individual tastes and dietary needs. This allows for a wide variety of delicious combinations that won't break the rules of the diet.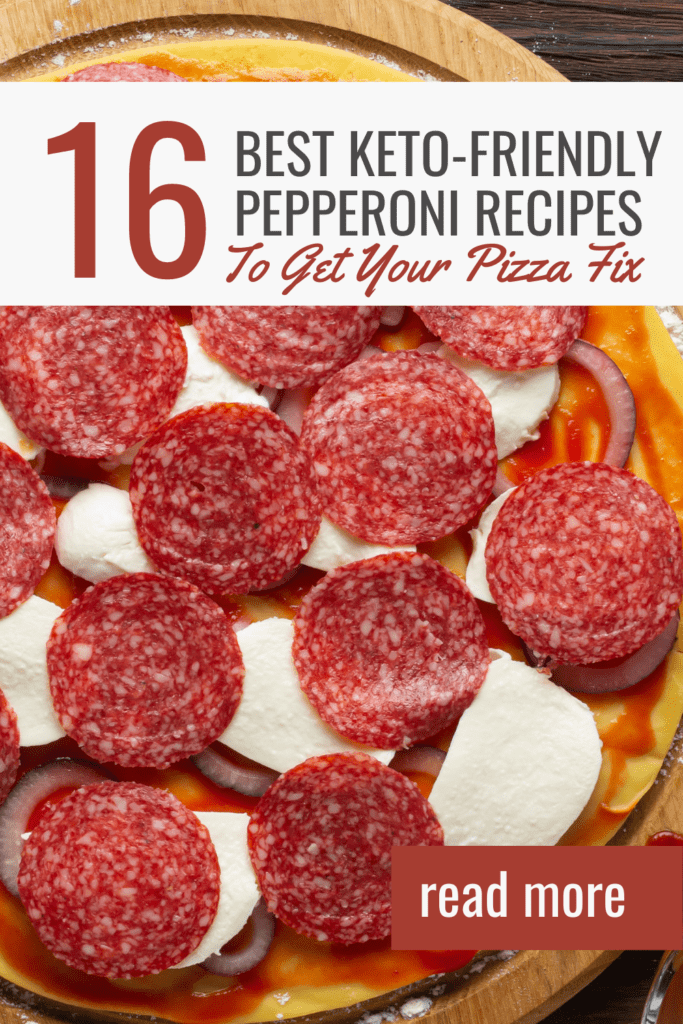 Is pepperoni healthy keto?
Pepperoni is not generally considered to be a healthy food, especially when it comes to the ketogenic diet. It is high in saturated fat and sodium, which can increase blood pressure and cholesterol. Additionally, pepperoni usually contains added sugar, which can throw someone off their keto diet goals.
However, if you are looking to add a little flavor and excitement to your keto diet, pepperoni can be a great option in moderation.
Look for low-sodium or reduced-fat varieties of pepperoni that contain no added sugar. These types of pepperonis will still provide the same delicious taste but with fewer associated health risks.
You can also combine pepperoni with other keto-friendly meals, such as topping salads or adding it to egg dishes. This way, you still get the delicious flavor of pepperoni without having to consume too much of it.
List and describe as many keto pepperoni pizza recipes.