When it comes to burgers, the debate over side dishes is often a heated one. Some swear by fries, while others prefer something different. But if you're looking for a unique twist on the classic burger and fries combo, you've come to the right place!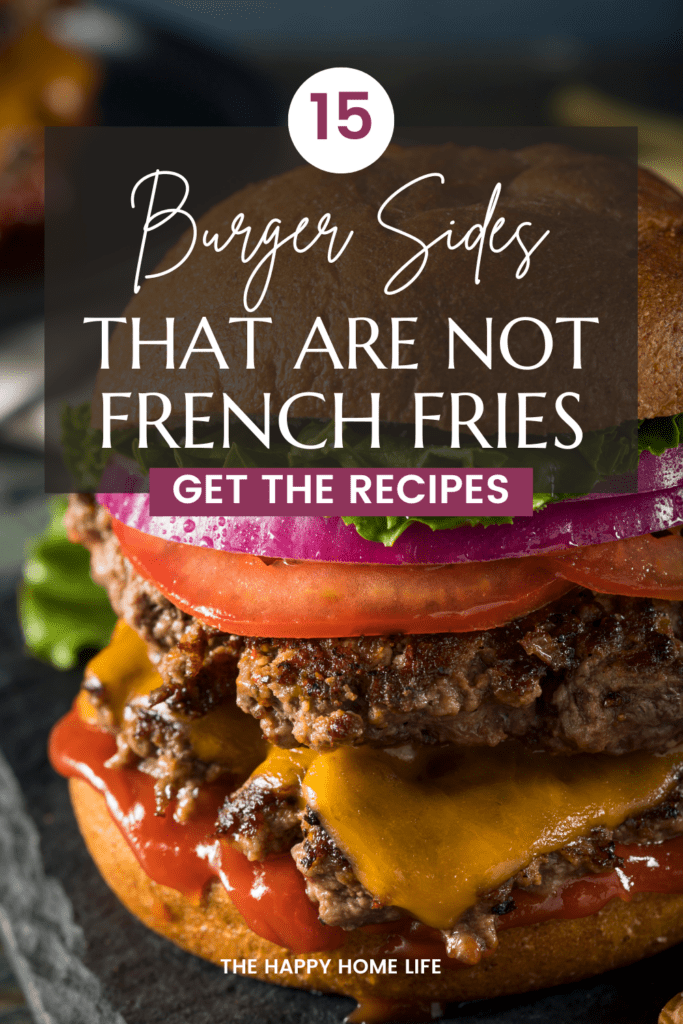 Americans eat an incredible amount of burgers every year. According to a poll of 2,000 self-identified hamburger lovers, one in five Americans choose burgers as their go-to menu choice. The United States Department of Agriculture (USDA) reports that Americans consume an average of 2.4 burgers per day, which is about 50 burgers per year. This adds up to around 50 billion burgers consumed annually in the US alone – enough to circle the Earth 32 times!
Let's explore more creative alternatives to fries that pair perfectly with burgers.
What can I serve with burgers instead of fries?
Here are some creative alternatives that will take your burgers to the next level.
Onion rings
When it comes to creating the perfect summer meal, nothing beats a classic burger and onion rings.
Whether you choose grilled burgers or your favorite store-bought variety, adding a side of delicious onion rings can take your meal up a notch.
Not only do they taste amazing with burgers, but they are surprisingly easy to make at home.
Tomato and avocado salad
Tomato and avocado salad is a perfect side dish to serve with burgers or other grilled meats. Its fresh, light flavors complement the richness of the beef in the burger while adding texture and crunch.
Not only that, but it's so easy to make! All you need are tomatoes, avocados, lettuce leaves, olive oil, lemon juice, and salt.
Corn fritters
These are delicious and unique side dishes that can be served with burgers. The recipe is easy to make and only requires a handful of ingredients.
The corn fritters are light and fluffy on the inside, while the outside is golden brown and crunchy. Perfect for the summer, these fritters will add a layer of flavor to any burger night!
Mac and cheese
From creamy cheddar to spicy pepper jack, macaroni and cheese can be jazzed up with flavorful cheeses. If you want something different, add bacon or chives for some crunch.
You can even mix vegetables into your macaroni noodles for added nutrition – broccoli and spinach pair nicely with burgers.
For those who are gluten-free, plenty of gluten-free pasta options are available to make this dish just as good as its wheat counterpart.
Coleslaw
Coleslaw is a beloved summer side dish that pairs perfectly with burgers. Whether you're grilling up some juicy patties or cooking them on the stovetop, coleslaw adds a light and crunchy contrast to your meal.
Preparing your own homemade coleslaw couldn't be easier – all you need is cabbage, mayo, and seasoning!
Caesar pasta salad
Nothing says summer like a backyard cookout, and the perfect pairing for a juicy burger is an equally delicious side. Caesar pasta salad is a great accompaniment to burgers as it's both light and flavorful.
This simple side dish combines all the classic ingredients of a traditional Caesar salad with cooked penne pasta for an upgraded twist on the classic.
Pinto beans
Pinto beans have a mild flavor that pairs well with many different spices and seasonings, making them an ideal side dish for almost any meal.
They are packed with fiber and protein, making them a great choice for vegetarians as well as meat-eaters alike.
There's something for everyone, from cucumbers and carrots to beets and okra. Simply mix together your choice of vinegar, sugar, salt, herbs, or spices – depending on what kind of flavors you want – pour over the vegetables in a jar or container, and let sit overnight before serving with your burgers.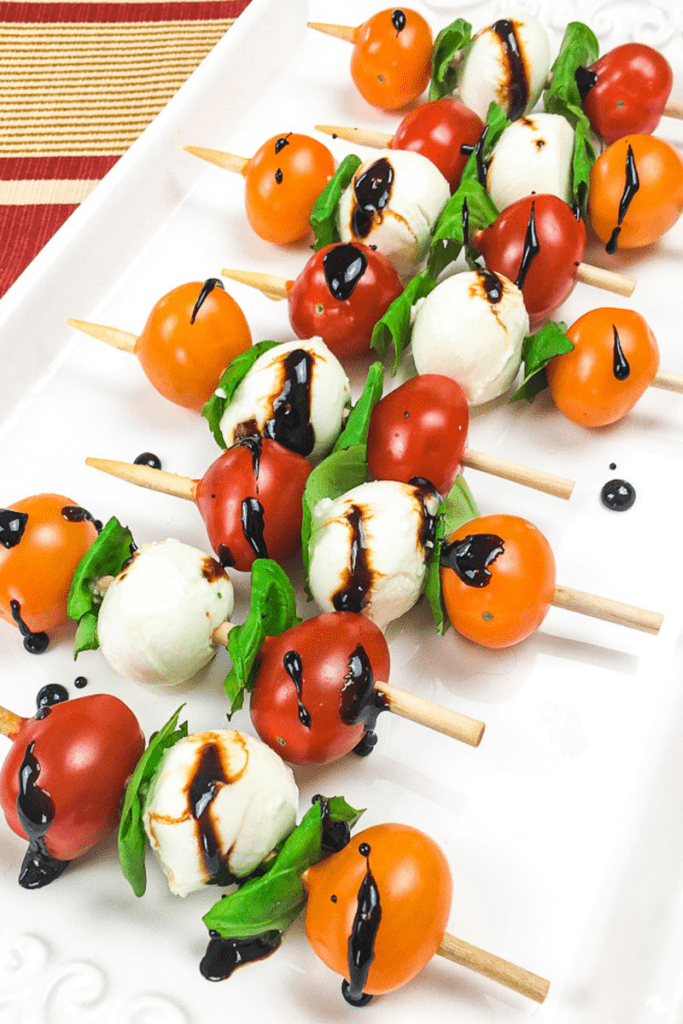 Caprese skewers
Caprese skewers are an easy and delicious way to enhance any summertime burger meal. These healthy, colorful kabobs offer a unique and flavorful twist to the classic hamburger.
Not only do they look beautiful on the plate, but they also add a burst of Italian-style flavors for a truly memorable outdoor dining experience.
Glazed carrots
These easy-to-make glazed carrots combine fragrant spices like cinnamon and nutmeg with sweetness from the honey to create a flavor combination that will tantalize taste buds.
With minimal prep time needed, this recipe is perfect for busy weeknight dinners or being served as part of a larger gathering.
The end result is crunchy yet tender carrots with just the right amount of sweetness – perfect for complementing those juicy burgers!
Crispy mushrooms
Crispy mushrooms are the perfect accompaniment to any burger. Whether you're having a barbeque in the backyard or grilling up burgers for dinner, these delicious mushrooms make a great addition to your meal.
The recipe is easy to prepare and customizable with your favorite spices and seasonings.
Creamed spinach
This simple dish is made by blending cooked spinach with heavy cream and serving it over your burger.
This recipe is perfect for summertime when fresh produce isn't available or if you're short on time.
Steamed asparagus
Steamed asparagus is a delicious and healthy side dish for burgers. It has a sweetness from the sugar and a refreshing bitterness from the vinegar. The asparagus can be served with any type of burger, but it is especially good with a veggie burger.
Quinoa salad
Introducing Quinoa salad, a healthy, protein-rich option for your next hamburger meal. With just a few ingredients and minimal prep time, this dish is perfect for any busy person looking for a quick and easy meal.
This easy dish is also sure to be a hit at any barbecue or potluck party!
Zucchini chips
Zucchini chips make the perfect accompaniment to your next hamburger. Not only are they crunchy and delicious, but they also provide a healthy dose of Vitamin C.
Plus, they're easy to make and can be stored in an airtight container for up to two days.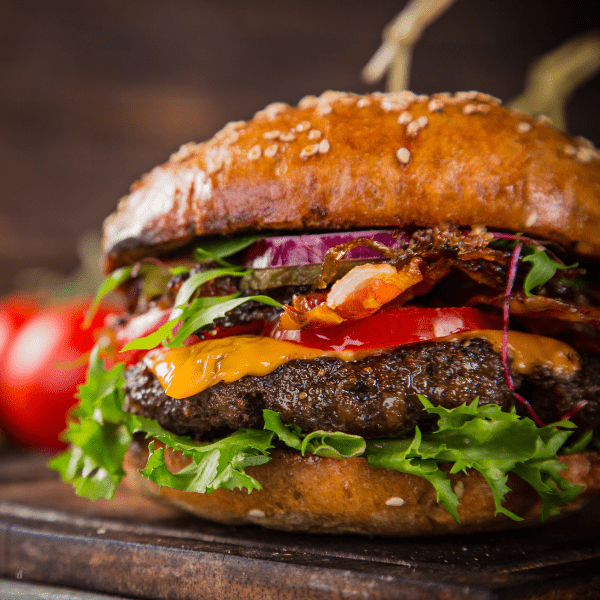 What goes with a plain burger?
A plain burger is a classic favorite, and many sides can be included to create the perfect meal. A basic, yet delicious combination to complement a plain burger is a side of fries and a dill pickle spear. This simple offering is both tasty and affordable, giving you an easy way to satisfy your cravings without breaking the bank.
You can also add a variety of condiments to your burger, such as ketchup and mustard, to give it an extra kick.
For those looking for something more indulgent, add cheese or bacon to your plain burger for a decadent twist.
This will create a flavorful bite that will make you the envy of all your friends. No matter what you decide to do, a classic plain burger is a perfect way to enjoy an affordable bite of deliciousness.