A summer cookout is a perfect way to gather with family and friends and enjoy fresh air, good food, and great company. From a pasta salad to a veggie tray, there are many delicious side dishes to consider when planning your next cookout.
Whether you're looking for something easy or want to get creative with flavors, there's no shortage of sides to satisfy everyone at your next gathering.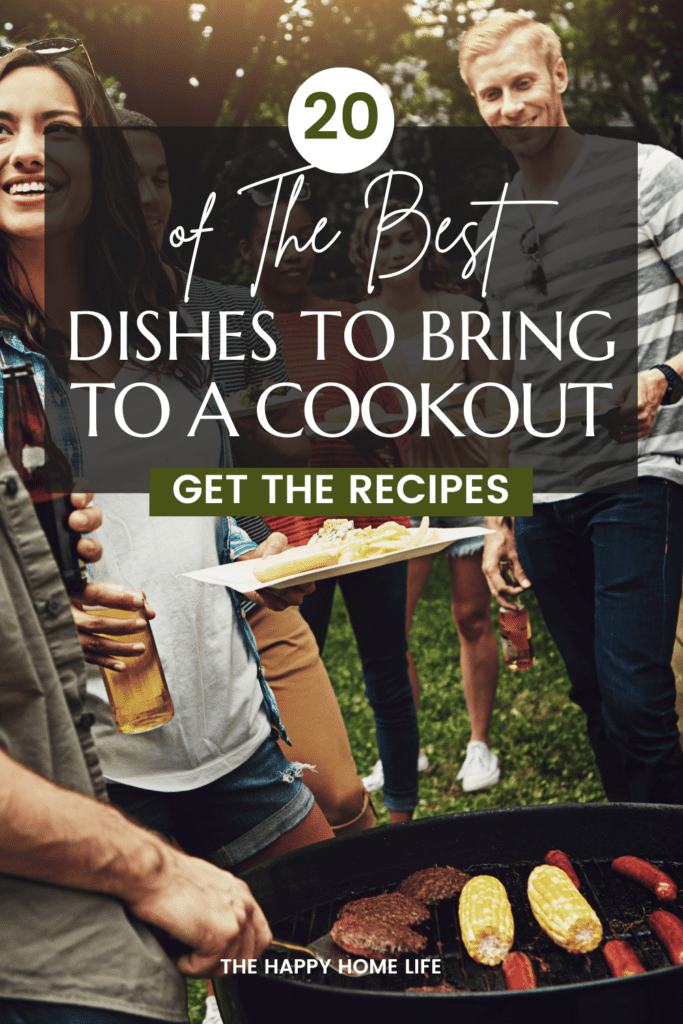 What should a guest bring to a cookout last minute?
Cookouts are a popular summer event, but sometimes it can be difficult to know what to bring. Guests often find themselves scrambling last minute to come up with something to bring that will make the cookout even more enjoyable.
You might enjoy these posts:
Fortunately, there are many creative and thoughtful items that guests can easily pick up on the way to the cookout that will make their host feel appreciated.
Garlic Bread
One of the first sides to bring to a cookout is Garlic bread. Is the perfect solution if you're pressed for time and need a quick and tasty side dish for your cookout. This simple yet flavorful recipe requires just three ingredients: Italian or French bread, butter, and garlic.
Pasta salad
Nothing says summertime cookout quite like a delicious pasta salad. With just a few ingredients, you can whip up a hearty pasta dish that's sure to please all your guests.
This recipe is simple, but you can customize it with whatever ingredients you have.
Baked Beans
Baked beans are another perfect side to bring to a cookout due to its time efficiency – there's no need to fuss over individual servings.
Plus, it's a great way to use pantry staples you may already have on hand, like canned beans and bacon!
Cheesy Corn Dip
If you've been invited to a last-minute cookout, don't worry – cheesy corn dip can be prepped in just minutes and will surely be a hit with all your friends!
Serve the cheesy corn dip with chips or vegetables for a delicious appetizer that will quickly disappear from the table!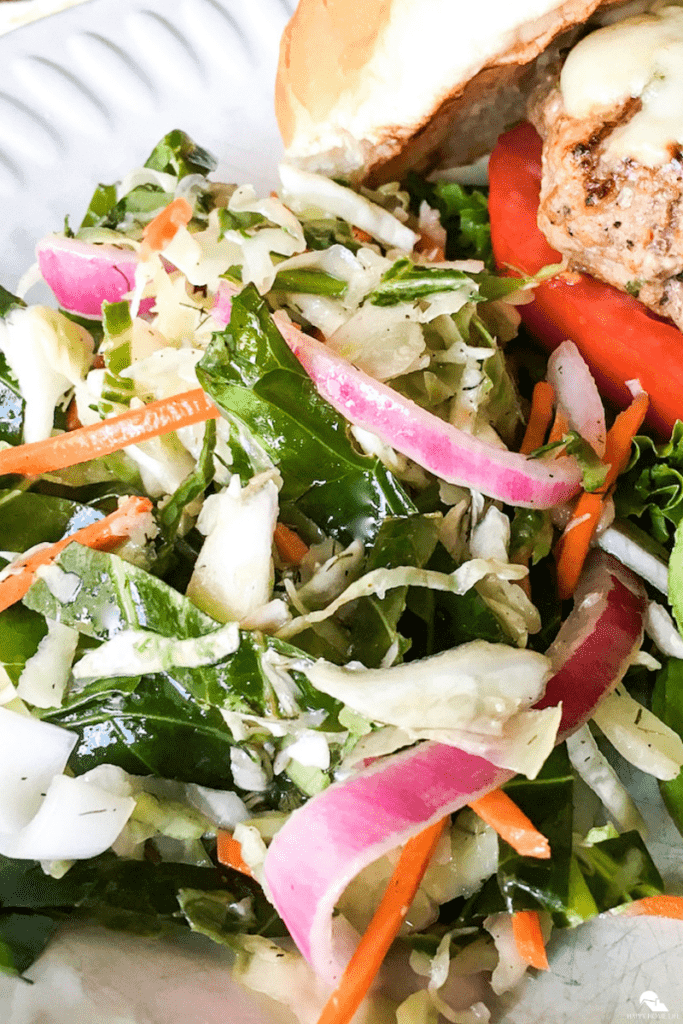 Coleslaw
When it comes to what sides to bring to a cookout, there's nothing better than coleslaw. Start by gathering all of the ingredients you need: shredded cabbage or pre-packaged coleslaw mix, mayonnaise, vinegar, sugar, and celery seed.
Buffalo Chicken Pasta Salad
With this easy and delicious buffalo chicken pasta salad, you can whip up a flavorful dish in no time.
Loaded with rotini noodles, diced chicken, celery, and carrots, plus the perfect balance of creamy ranch and spicy buffalo sauce, this dish will surely be a crowd-pleaser.
Grilled Corn on the Cob
This is a classic summertime favorite that can be enjoyed at any cookout. Corn on the cob is incredibly versatile and can be boiled, roasted, or grilled. Grilling corn on the cob adds a smoky flavor to this beloved side dish.
Tomato Salad
Tomato salad is perfect for summer cookouts because it's light and refreshing.
The flavors are also complementary – the onions' salty flavor balances the tomatoes' sweetness.
Fruit Sparklers
The kids are always eager to assist in making these "fruit sparklers" when watermelon is in season.
They are called fruit sparklers because they resemble holding firecracker sparklers over summer vacations, and the watermelon stars on top make them patriotic.
They're so simple, yet they make a great cookout treat.
Balsamic Grilled Vegetables
There are so many different ways to grill vegetables, so you can find one you love. Try adding grilled vegetables to your next barbecue lineup and enjoy the delicious flavors that they provide!
Pico de Gallo
This simple Pico de Gallo packs a powerful punch. If you can withstand the heat, prepare this with chile seeds, or leave them out for a gentle burn.
It perfectly accompanies grilled meats, hot dogs, burgers, and more. You can create a delicious and crowd-pleasing potato salad with just the right combination of potatoes, vegetables, herbs, and dressings.
Southern Macaroni Salad
A traditional Southern Macaroni Salad side dish made with macaroni, chopped veggies, eggs, and a creamy, tangy sauce.
Mojito Fruit Salad
Toss up this Mojito fruit salad for a quick and easy vegan side dish. It may appear to be a normal dish, but don't be fooled: this one stands out because of a rum-based mint dressing that tastes like a genuine mojito.
Chickpea salad
With its unique combination of crunchy vegetables, creamy chickpeas, and zesty dressing, this salad bowl will have everyone asking for seconds!
Baked Seasoned Fries
Baked fries are much healthier than fried, but they don't sacrifice any flavor. With a few simple ingredients and seasonings, these homemade baked fries will surely be the hit of your next cookout.
Fried Mac and Cheese Balls
You could make do with mac and cheese or indulge in poppable friendly servings of the popular favorite mac and cheese balls.
Charred Sweet Potatoes
Not only is it delicious, but it's also a healthy alternative everyone can enjoy. With its smoky flavor and crunchy texture, charred sweet potatoes will surely be a hit at your next cookout!
Tonnato eggs
Inspired by Italian tonnato, these deviled eggs are very unique. They're bright, briny, and even delicious with crispy fried capers on top.
Broccoli Caesar
This rich Caesar, made with broccoli, is delightfully crisp and vibrant, with a bright, fresh dressing bursting with dressing for creaminess.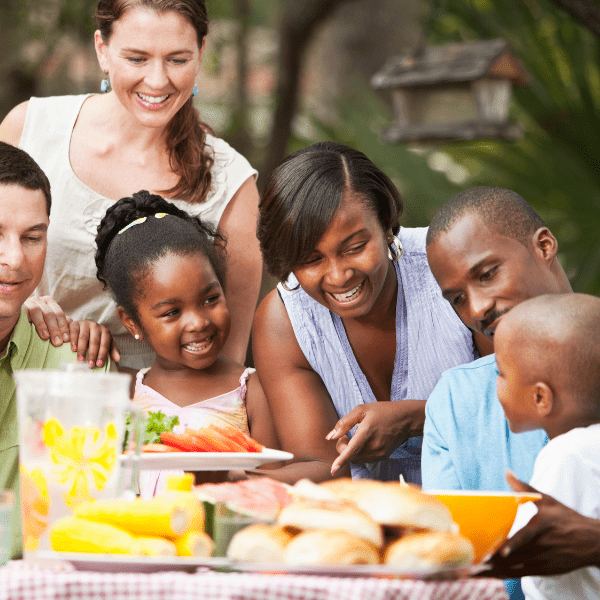 What do you bring to a hot day cookout?
To make a hot day cookout extra special, it's important to bring items that keep everyone cool and comfortable. Bring plenty of cold drinks like iced tea, lemonade, and water. Pack salads and other dishes that don't require cooking, such as fresh fruits, veggies, and dips. Consider other snacks like frozen treats like popsicles or a refreshing fruit salad.
Be sure to apply sunscreen (preferably one with SPF 50 or higher) throughout the day so that no one gets burned in the sun. Also, remember bug spray if necessary; nothing spoils a cookout faster than pesky mosquitoes!
Just remember that while cookouts can be a great way to spend time with friends and family outdoors, it's important to remember that it's not always safe to be outside when it's too hot.
If the temperature is higher than 90°F or the humidity is above 70%, it may be best to postpone your cookout or find an indoor location where you can still enjoy good food and company.