Searching for dinner ideas on a Wednesday night can be tricky. After all, it's hump day – the middle of the week – and already you may be feeling the exhaustion of the work week. But don't worry! Whether you're looking to make something quick and easy or want to whip up something special, plenty of delicious and simple dinner ideas will make your Wednesday night dinner a success.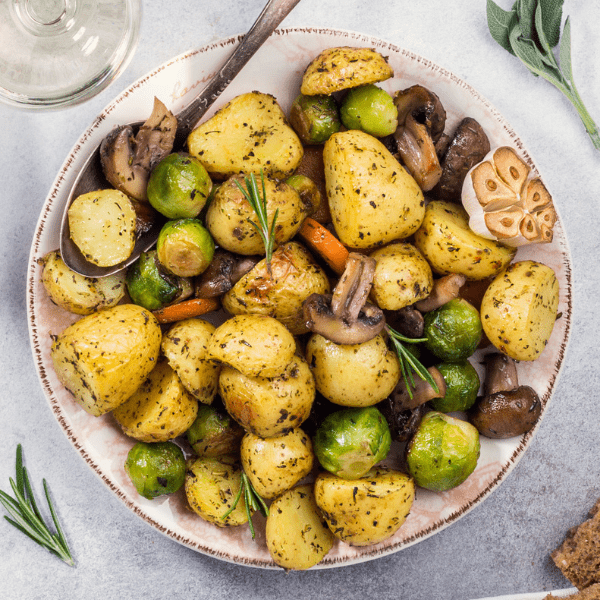 What should I have for dinner on a Wednesday night?
Try one of these easy yet delicious recipes that will please the entire family on a Wednesday night.
It is the ultimate comfort food and makes a great Wednesday night dinner. Serve this tasty soup with crusty bread or crackers so everyone can enjoy it on its own or use it as a topping for their soup.
Add some freshly grated Parmesan cheese, parsley flakes, and cracked black pepper to top off the presentation. Serve with a side salad or garlic bread to complete the meal. Enjoy Fettuccine Alfredo on Wednesday night without all the fuss!
The greatest chicken parmesan, covered in a luscious handmade tomato sauce and melting mozzarella cheese!
Kofta is normally cooked as meat on sticks or kebobs, but we decided to simplify things by making kofta meatballs. These pork and beef kofta meatballs from the Middle East are tasty and simple to make!
With good reason, this simple Chinese beef and broccoli stir fry meal is a favorite in many Asian families. The lustrous oyster stir fry sauce and meat marinade provide a lot of flavors.
Pineapple Fried Rice is a sweet and savory dish that uses leftover rice and frozen veggies well. Top with bacon for a crispy finish!
A word about this dish: it's simple. Most items are probably already in your cupboard (you'll want to buy fresh fish), and the prep time barely exceeds an hour.
Flour tortillas are filled with chicken, beans, and cheese and then cooked till golden and crispy in this Chicken Chimichanga Recipe. This is a simple and enjoyable Mexican meal you can cook on Wednesday!
We need to include simple grilled chicken on our dinner menus. Nothing beats the savory flavor of perfectly grilled chicken. This is the tastiest dish of them all!
Serve with sourdough bread, rye bread with butter, bread rolls, or your favorite bread. Or you can add cookies, warm pretzels, and even savory scones are excellent accompaniments to this soup.
Hamburger steaks are soft ground beef patties cooked in a flavorful onion and mushroom sauce for a simple comfort dinner. This traditional southern dish is suitable for children and makes a quick Wednesday dinner.
This recipe uses American Lamb Board to bring you a tasty, summery spin on meatballs! Ground lamb is an excellent method to integrate more American lamb into your family's diet.
These mouthwatering Oven Baked Pork Chops are seasoned with a fast spice rub and roasted to perfection. This simple baked pork chop recipe yields soft, juicy, and tasty pork chops every time!
The ravioli cook for about 3 minutes. About halfway through, flip them over to ensure equal cooking. Take them out after they've turned a lovely golden hue! The ravioli will swell up a little, just like boiling ravioli.
This Chicken Pot Pie is a traditional comfort meal. It is simple to prepare and may be done ahead of time. You may create your own Quick Chicken Pot Pie crust from scratch or use store-bought puff pastry.
We refer to stir-fried dishes as "clean the fridge" dinners since we can use any protein or veggies on hand. For extra crunch, you can also use canned veggies in the cupboard, such as water chestnuts and baby corn.
This chicken chop suey is filled with fresh vegetables, delicate chicken pieces, and a zesty sauce! Serve this restaurant-quality meal over rice for a quick and nutritious dinner that takes less than 30 minutes to prepare.
They are packed with fresh ingredients and plump, expertly seasoned fish. Don't forget about the finest fish taco sauce – a garlic lime crema you'll want on your tacos!
Chorizo takes center stage, accompanied by cilantro-lime rice. A fresh and creamy avocado Pico de Gallo is a terrific accent to this soon-to-be award-winning recipe!
When you grill a pork tenderloin rather than baking it, you get the same flavor and moistness but with the added advantage of char-crispiness on the outside of the tenderloin.
What do you eat for a Wednesday theme?
Creating an exciting weekly theme can add some much-needed variety and flavor to your weeknight meals. Try spicing up your average Wednesday with one of these scrumptious ideas:
Wednesday is the perfect time to explore and try out new recipes. Here are a few ideas that are sure to tantalize your taste buds for a "what's new" Wednesday theme:
Wrap Wednesday is a great time to try some tasty and inventive recipes that are sure to please. Here are a few ideas:
World Cuisine Wednesday is the perfect chance to explore new flavors from around the globe! Here are some recipes that will take you on an international culinary journey:
What to eat on Wacky Wednesday?
Wacky Wednesday is the perfect excuse to break away from routine and try out something new in the kitchen! Whether it's a twist on your favorite comfort food or a one-of-a-kind creation – prepare yourself for some culinary adventure this Wacky Wednesday.
This unique dish combines two classic favorites – hot dogs and buns – with a whimsical twist. It's a kid-friendly recipe and a low carb essential for adults that is sure to put smiles on faces all around the dinner table.
A popular Chinese takeaway meal is Sweet and Sour Chicken Stir Fry. Typically, tender chicken is battered, deep-fried, and topped with a sweet, tangy sauce.
These Mexican nachos elevate popular street cuisine to a whole new level, making them the ideal appetizer or game night dish. This meal is the finest thing that ever happened to tortilla chips, with three different kinds of cheese, corn, sour cream, fresh lime juice, and jalapeño for a kick.
With this wacky take on the classic dish, you can turn it into an unforgettable meal. Not only does this recipe look amazing, but it also tastes great with its combination of creamy cheese. Adding extra color to your dinner table has never been easier or more delicious!
Candy corn is probably one of the nicest things to eat, but die-hard fans don't restrict themselves to merely munching on the irresistible delicacies. Instead, enjoy this festive candy corn milkshake, which will surely be a favorite this wacky Wednesday!