When the temperature starts to drop, there's nothing like a big pot of ham and bean soup on the stove. It's warming, comforting, and perfect for a chilly day. But what spices go in ham and bean soup? And how do you make it? Keep reading for the answers!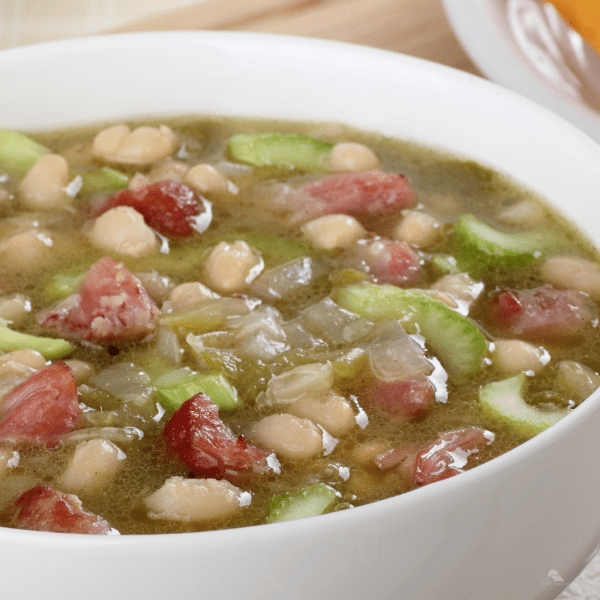 Why is Ham and Bean Soup so popular?
Ham and bean soup is a popular dish for many reasons. First, it is relatively inexpensive to make. Second, it is hearty and filling, making it a great choice for a winter meal. Third, ham and bean soup can be easily customized to suit individual preferences.
For example, some people like to add vegetables to their soup, while others prefer a more traditional ham and bean broth. Finally, ham and bean soup is easy to make in large batches, which makes it ideal for feeding a crowd.
You might like these posts:
What's the origin of ham and bean soup?
The origins of ham and bean soup are unclear, but the dish was likely developed out of necessity. Ham and beans are both shelf-stable foods that would have been available in times of food shortages or during long winters when fresh produce was scarce.
Over time, the soup became a popular comfort food enjoyed by people all over the world. Whether you enjoy it for its simplicity or its deliciousness, ham and bean soup is sure to become a staple in your kitchen.
So what spices can I add to my ham and bean soup?
The ham and bean soup dish is a fantastic weeknight meal that is quick and filling. The following spices can be added to your soup:
Onion – Gives the soup a delicate sweetness and a deep umami flavor.
Garlic – This gives the soup a rich, nutty flavor that contributes to its popularity.
Thyme Leaves – It gives your soup an extra layer of reviving flavor without dominating it.
Red Pepper – For sweeter and fruiter flavors.
Parsley – The flavor of parsley, which is bright, herbaceous, and slightly bitter, acts as a contrast to draw attention to the other components in a dish.
Bay leaves – It gives the soup an additional layer of flavor, and the tea-like scents help make it lighter, so it won't make you feel heavy after a big meal.
What kind of beans do you put in ham and bean soup?
While many different types of beans can be used in ham and bean soup, the most common are Great Northern beans. These white beans have a mild flavor, allowing the other ingredients to shine. They also have a firm texture that holds up well to extended cooking times.
Other popular options include cannellini beans and navy beans. No matter what type of bean you choose, ham and bean soup is sure to be a hit with the whole family.
What vegetables can you put in ham and bean soup?
In a Ham and bean soup, the ham provides a rich, smoky flavor, while the beans add texture and substance. For a truly delicious soup, try adding a variety of vegetables. Carrots, celery, and onions form the classic base of many soups, and they also happen to be three of the most commonly used ingredients in ham and bean soup.
However, feel free to experiment with other vegetables as well. Potatoes, green beans, and corn all work well in this soup, or you could try adding some leafy greens for an extra dose of vitamins. No matter what vegetables you choose to include, ham and bean soup is sure to be a satisfying meal.
Below is a quick list of veggies you can add to your ham and bean soup:
Carrots – When the beans are about to get tender, or in the last half hour, add the carrots. In this manner, the carrots will be cooked without becoming mushy.
Celery – It brings crunch to the soup.
Spinach – It adds not only color and flavor but also some solid health benefits.
Kale – The flavor is robust and earthy. The leaves have a pungent flavor and are crisp, tough, and dry.
Zucchini – The zucchini should be soft, but you don't want to overcook it to the point where it's mushy.
Shredded cabbage – The cabbage will soften and the soup will thicken once it has finished cooking.
Sweet potatoes and pumpkin – You will need to boil the soup for an additional 5 to 10 minutes to get it to fork tender if you want to include these.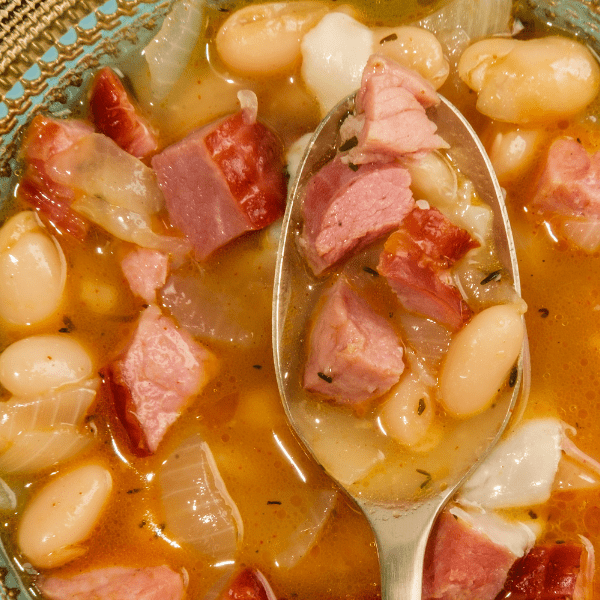 How do you make ham and bean soup thicker?
Ham and bean soup is a hearty, filling dish that can be made even more satisfying by adding a few simple ingredients to thicken it up.
One way to do this is to add some diced potatoes to the soup. The potatoes will absorb some of the liquid, resulting in a thicker, creamier soup. Another option is to add some cooked rice or small pasta noodles. This will also help to absorb liquids and make the soup more filling.
Finally, you can stir in some puréed beans or mashed potatoes. This will add body and depth of flavor to the soup. By following these simple tips, you can easily create a ham and bean soup that is thick, creamy, and absolutely delicious.
As a thickening agent, you can add up to 4 tablespoons of flour, cornstarch, arrowroot, or potato starch to a cup of boiling broth before adding it to the saucepan. You can use a slurry in addition to a roux, but in that case, pick another starch other than flour for the slurry.