Shrimp stuffed avocados are an easy and delicious appetizer or lunch. The recipe is simple, requiring only a little bit of chopping and sautéing before it's time to stuff the avocado halves with the shrimp mixture! These make for a great party dish because they can be prepared ahead of time and hold up well in both warm and cold temperatures.
Shrimp is a great source of protein, so combining it with an avocado makes for a delicious, healthy meal. This recipe is easy to follow and only takes about 20 minutes.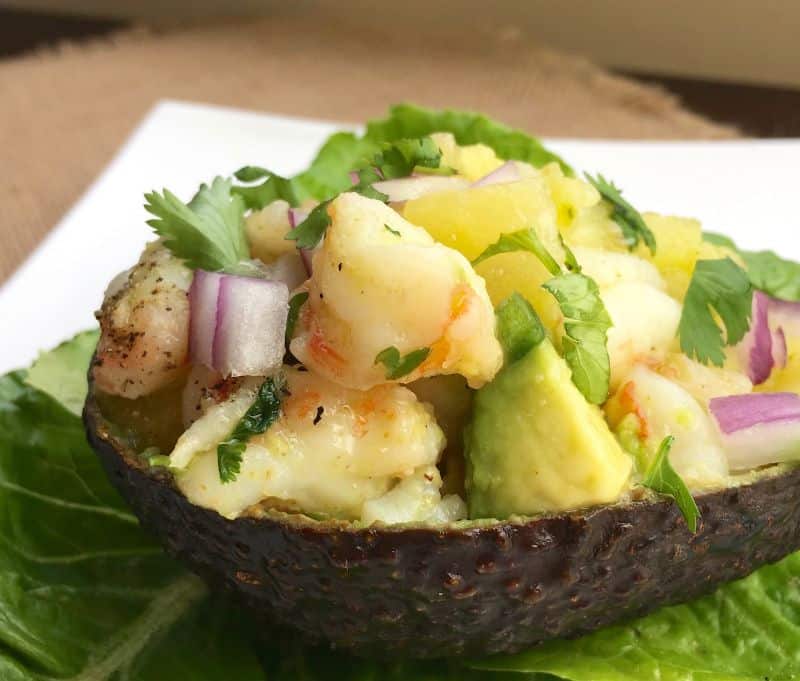 Why You'll Love These Stuffed Avocados
Equipment Needed to Make Stuffed Avocado Recipes
You don't need any special equipment to make these, but here's what you'll need to grab from the kitchen. The following links in this post may include affiliate links, and we earn a small commission on qualifying purchases.
Ingredients for Shrimp Stuffed Avocados
You'll want to gather your ingredients first before you start prepping and cooking the food. It makes the process so much easier! If you'd like a printable list, jump to the recipe card at the bottom.
How to Make Pineapple Shrimp Stuffed Avocados
Step 1 – Cook the Shrimp
Heat olive oil in a skillet over medium heat. Pat the peeled and deveined shrimp with paper towels, and add them to the skillet along with ground cumin and salt and pepper to taste.
Cook the shrimp for 2-3 minutes, stirring frequently. Remove the pan from the heat, and then add two tablespoons of fresh lemon juice, stir, and transfer to a bowl. Cover and place the bowl of shrimp in the fridge to chill.
Step 2 – Prepare the Avocados
Cut the avocados in half lengthwise and crosswise to create chunks. Scoop out the flesh, setting the shells aside. Toss the chunks of avocado with the remaining two tablespoons of lemon juice. This will prevent browning.
Step 3 – Mix the Avocado Filling
Add avocado, pineapple, pineapple juice, onion, and cilantro to a glass bowl and stir gently to combine.
Remove the shrimp from the fridge, chop into equal-sized pieces, and fold into the avocado-pineapple mixture. Season with salt and pepper to taste.
Step 4 – Stuff the Avocado Shells
Spoon the shrimp-avocado mixture into the avocado shells, and serve immediately.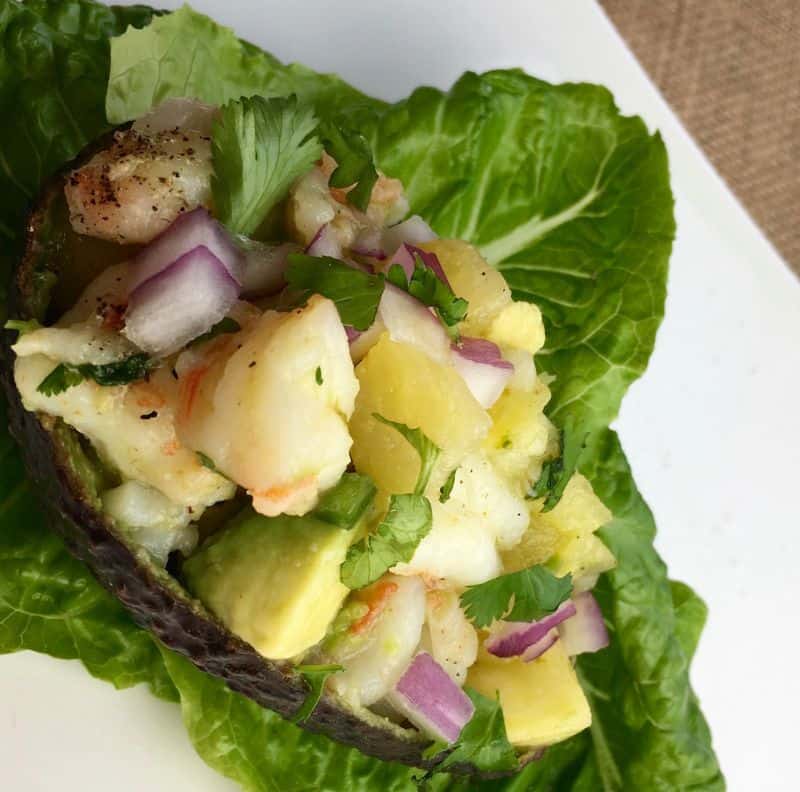 What to Serve with Shrimp Stuffed Avocado Recipes
These stuffed avocados can be a meal all by themselves, but if you want to stretch the avocados and serve it alongside some other dishes, here are some ideas for you!
Popular Substitutions and Additions
Want to swap out the fixings for your stuffed avocados? It's easy to do! Here are a few ideas:
How to Store Shrimp Stuffed Avocados
Best Way to Store Stuffed Avocados
Stuffed avocados are best stored in the refrigerator. If you make them ahead, they will need to be cooled before storing or they can go bad quickly. Immediately after cooking, allow them to cool to room temperature, and then place them in the refrigerator in an airtight container.
How Long Will Shrimp Stuffed Avocados Last in the Fridge?
Although chopped avocado can last for 3-4 days in the fridge, we really wouldn't recommend keeping these stuffed avocados for more than 2-3 days in an airtight container at most. They're best if eaten right away.
Seafood Stuffed Avocados FAQ
Can you eat avocados raw?
Absolutely! You probably already do. Guacamole is made with raw avocado. You can eat raw avocado on tacos, burrito bowls, and in many other dishes. Eat up!
Can you reheat food with avocado in it?
Yes, though overheating avocado can affect the appearance and taste. Microwave dishes with avocado in 30-second increments to avoid overheating.
What kind of shrimp to use?
We recommend using jumbo shrimp for this recipe that are peeled and deveined.
Other Shrimp Recipes You'll Love
Cajun Shrimp and Veggie Skillet
Yield: 4 servings
Shrimp Stuffed Avocados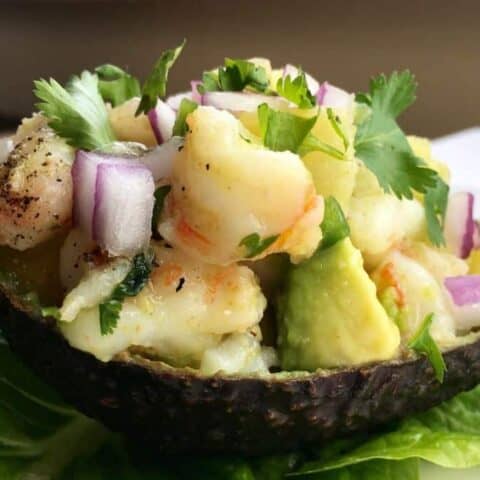 These shrimp-stuffed avocados are the perfect appetizer for your party or a light meal for lunch or dinner. They're flavorful and super simple with minimal cooking time!
Ingredients
2 T. extra virgin olive oil
8 oz. Jumbo shrimp, peeled and deveined
2 t. ground cumin
Salt and pepper, to taste
¼ c. fresh lemon juice, divided
2 large avocados
1 c. fresh pineapple, diced
1 T. fresh pineapple juice
1 small red onion, diced
3 T. fresh cilantro, stems removed and chopped
Instructions
Heat olive oil in a medium-sized skillet over medium heat. Pat the shrimp dry with paper towels and add to the hot skillet. Add ground cumin and season with salt and pepper, to taste.
Cook shrimp for approximately 2-3 minutes, stirring frequently. Remove pan from heat and add 2 tablespoons of fresh lemon juice. Stir to combine and transfer to a small bowl. Cover and place in the refrigerator to chill.
Cut avocados in half lengthwise. Remove the seed and score the flesh lengthwise and crosswise to create equal-sized chunks. Scoop the avocado flesh out of the shell and toss with the remaining 2 tablespoons of lemon juice to prevent browning. Reserve avocado shells and set aside.
Add avocado, pineapple, pineapple juice, onion, and cilantro to a large glass bowl (or other non-reactive bowl) and stir gently to combine.
Remove chilled shrimp from the refrigerator and chop into equal-sized chunks. Fold shrimp into the avocado-pineapple mixture. Season with salt and pepper to taste.
Spoon shrimp mixture into reserved avocado shells and serve immediately. Enjoy!