Thanksgiving—a time for family, gratitude, and of course, food! While turkey, stuffing, and pumpkin pie might be the first dishes that come to mind, why not shake things up this year? If you're looking to add a splash of creativity to your holiday spread, these Thanksgiving seafood dishes offer mouthwatering alternatives to your usual Turkey Day fare.
From luxurious lobster bisque to tantalizing tuna steaks, these seafood dishes are delectable and add a touch of elegance to any Thanksgiving table. So, if you're ready to make this year's feast unforgettable, try one of these scrumptious seafood ideas!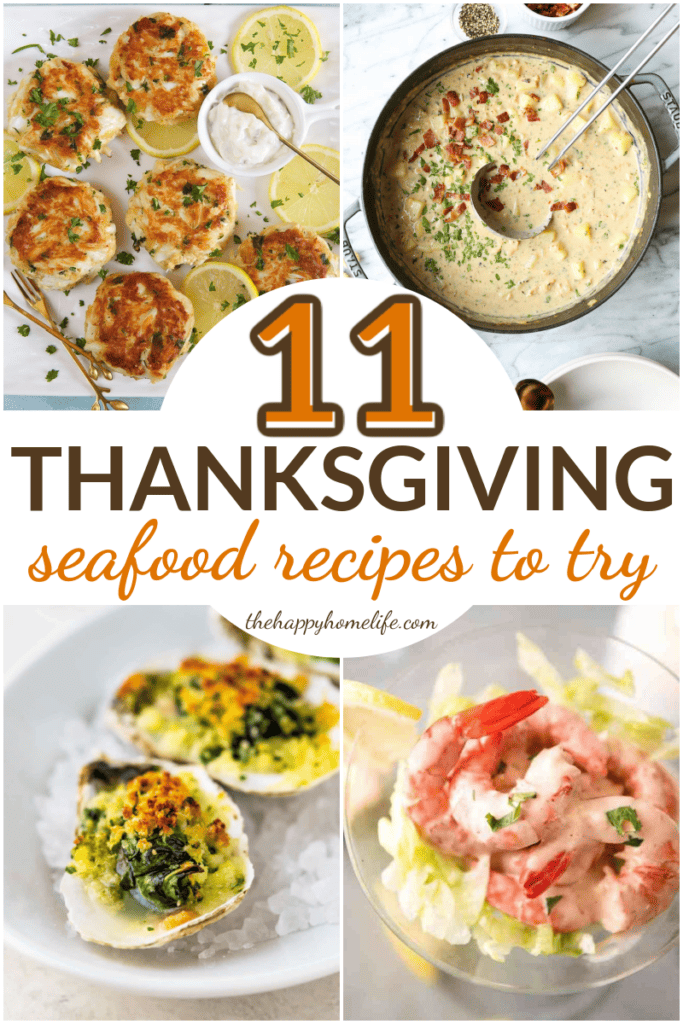 Dive into the flavors of the coast with this Savannah Seafood Stuffing, a side dish that's sure to steal the spotlight at your Thanksgiving table. This stuffing is a delightful medley of shrimp and crab, complemented by onion, celery, and red bell pepper. A dash of Cajun seasoning and a blend of herb-seasoned and cornbread stuffing mixes make this dish irresistibly flavorful.
Source: Spicy Southern Kitchen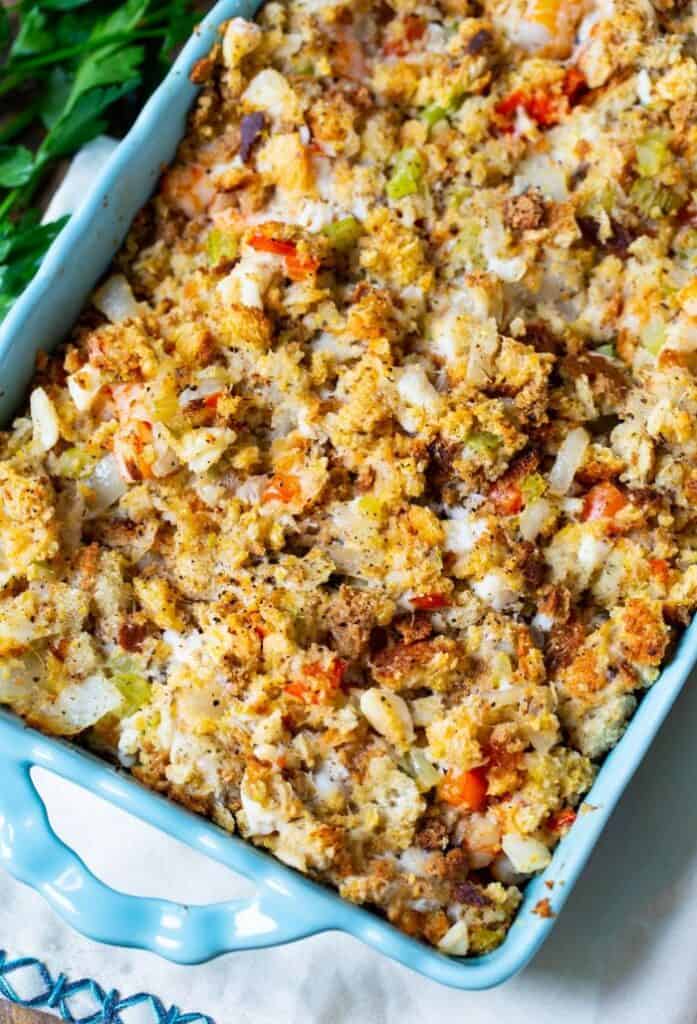 Make a luxurious meal by starting with this Easy Lobster Bisque. This velvety, creamy soup is surprisingly simple to make and can be ready in under an hour. With a hint of cayenne pepper for a touch of heat and chunks of lobster meat for added heartiness, this bisque is the perfect way to elevate your Thanksgiving feast.
Source: The Suburban Soapbox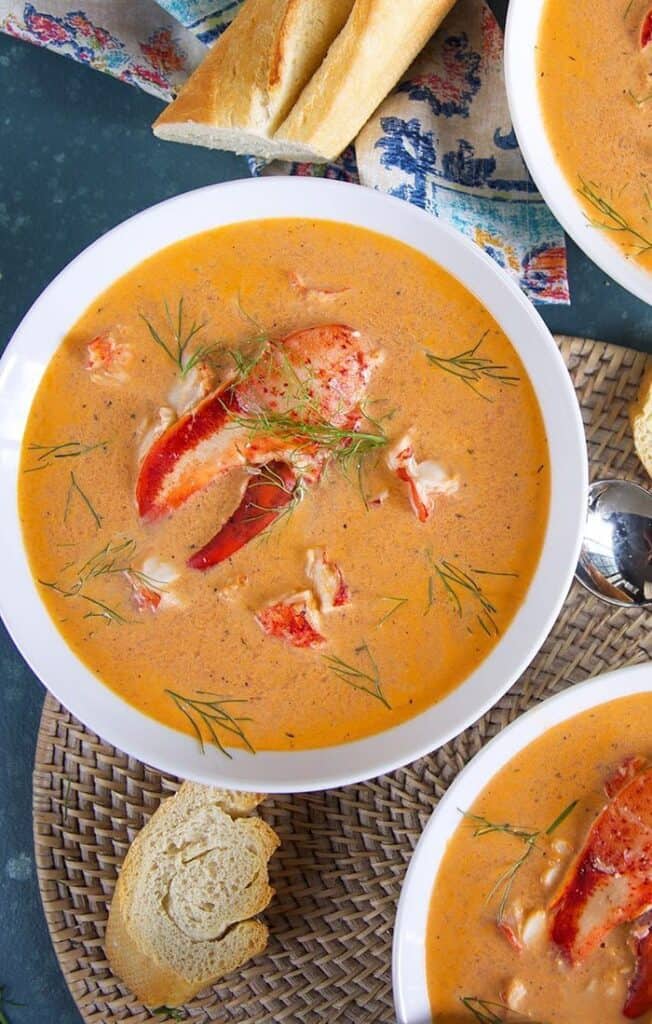 Take a trip down memory lane with this classic Prawn Cocktail, a dish that's as timeless as it is tasty. Tossed in a homemade Marie Rose sauce made of mayonnaise, ketchup, and Worcestershire sauce, these prawns are a hit at any gathering. Serve them in martini glasses or lettuce cups for an elegant appetizer that's sure to impress.
Source: RecipeTin Eats
Warm up your Thanksgiving with this Easy Clam Chowder that's both creamy and chock-full of clams. This comforting dish is a breeze to make, using simple pantry ingredients like canned clams and vegetable stock. The best part? You can adjust the creaminess to your liking, making it a versatile addition to your holiday menu.
Source: Damn Delicious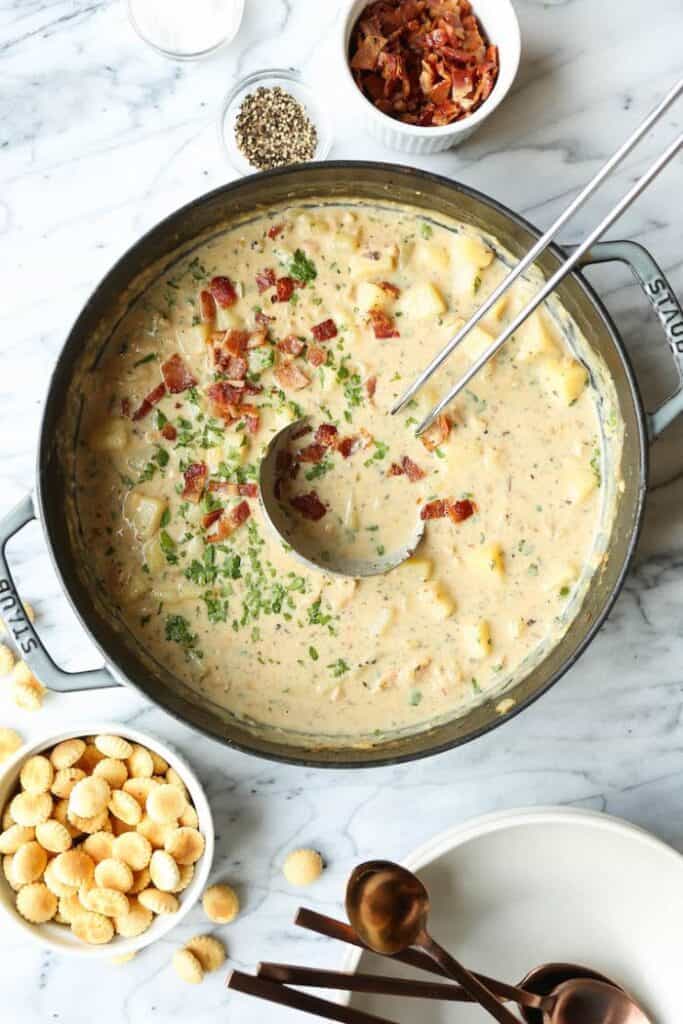 Add a touch of sweetness to your Thanksgiving table with this Honey Orange Glazed Salmon. This dish is not only high in protein and omega-3s but also incredibly easy to prepare. The glaze, a delightful blend of fresh orange juice, honey, and balsamic vinegar, perfectly complements the salmon's rich flavor. It's a heart-healthy option that doesn't skimp on taste.
Source: The Happy Home Life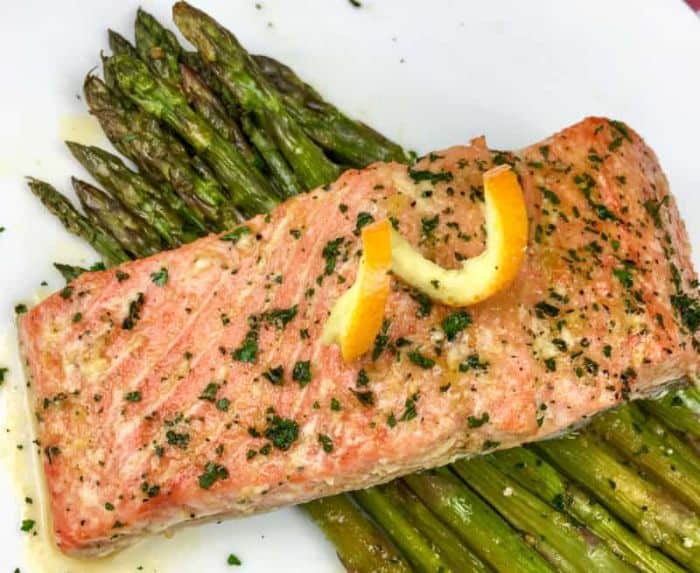 Transport your Thanksgiving table to the coasts of Spain with this vibrant Seafood Paella. This one-pot wonder combines saffron rice, Spanish chorizo, shrimp, clams, and mussels for a feast of flavors. It's quick enough for a busy weeknight but elegant enough to be the star of your holiday spread. Don't forget the socarrat—the crispy bottom of the rice that makes this dish authentically delicious.
Source: Dinner at the Zoo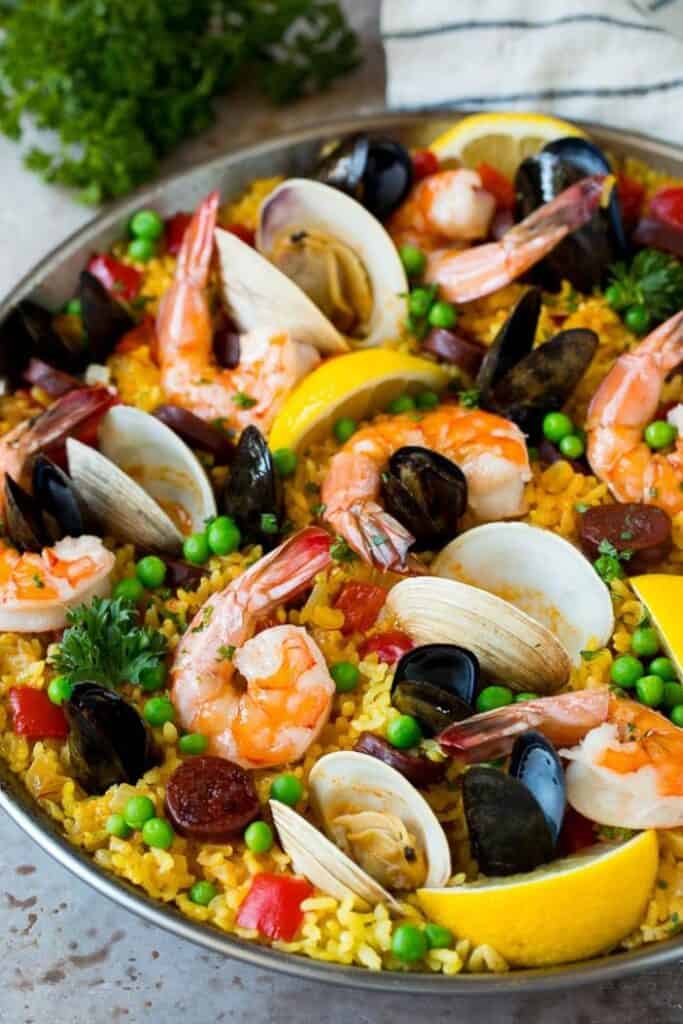 Indulge in the ultimate crab experience with these Crab Cakes that are light on fillers and heavy on flavor. Made with jumbo lump crab meat and minimal breadcrumbs, these cakes are all about the succulent taste of crab. Pan-fried to perfection, they offer a crispy exterior and a tender interior, making them a must-try for any seafood lover.
Source: The Suburban Soapbox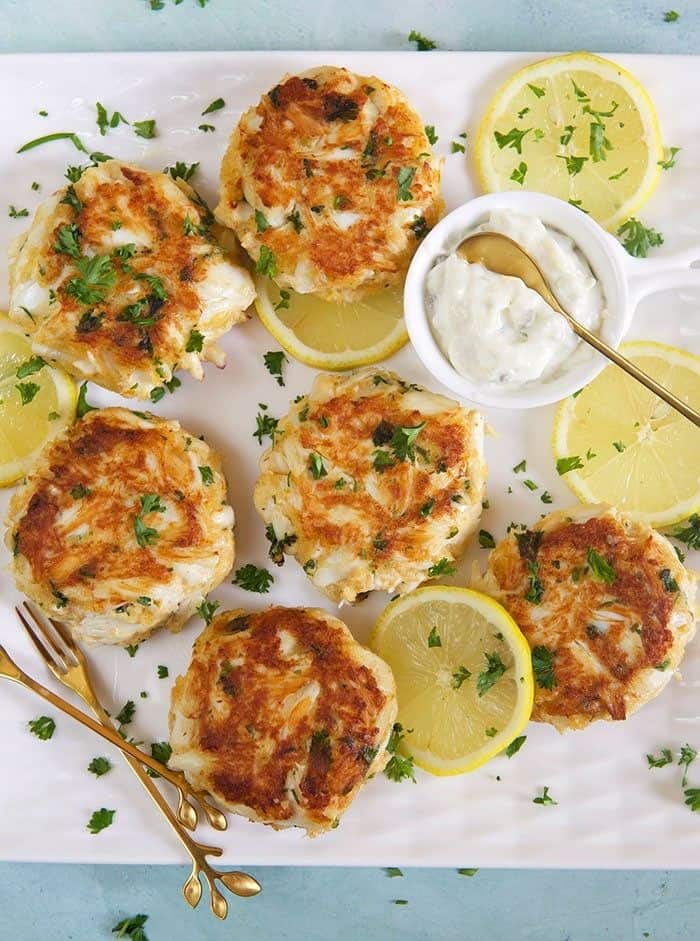 Looking for a quick and satisfying dish? This Shrimp Scampi has you covered. Made without wine, it's perfect for kids and those on alcohol-free diets. With a garlicky, buttery sauce and a cooking time of just 35 minutes, this dish is a crowd-pleaser that can easily be scaled to feed your Thanksgiving guests.
Source: The Happy Home Life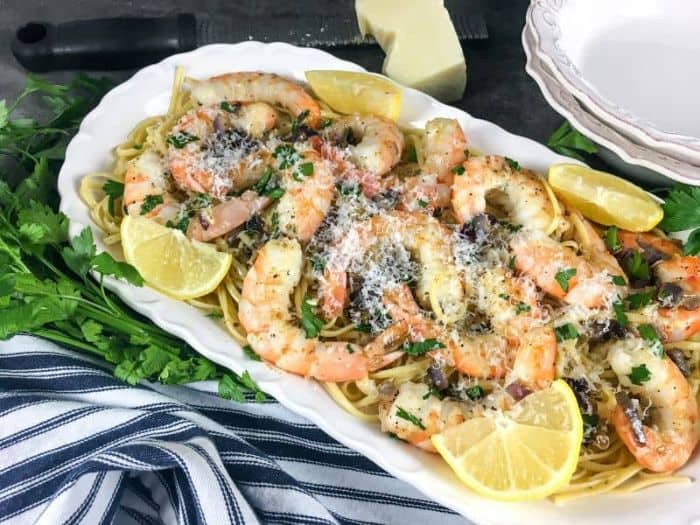 Elevate your Thanksgiving appetizer game with these Oysters Rockefeller. Originating from New Orleans, this dish features oysters on the half shell, topped with a buttery spinach mixture and crispy breadcrumbs. It's a decadent treat that's rich in flavor and history, making it a luxurious start to your holiday feast.
Source: Garlic and Zest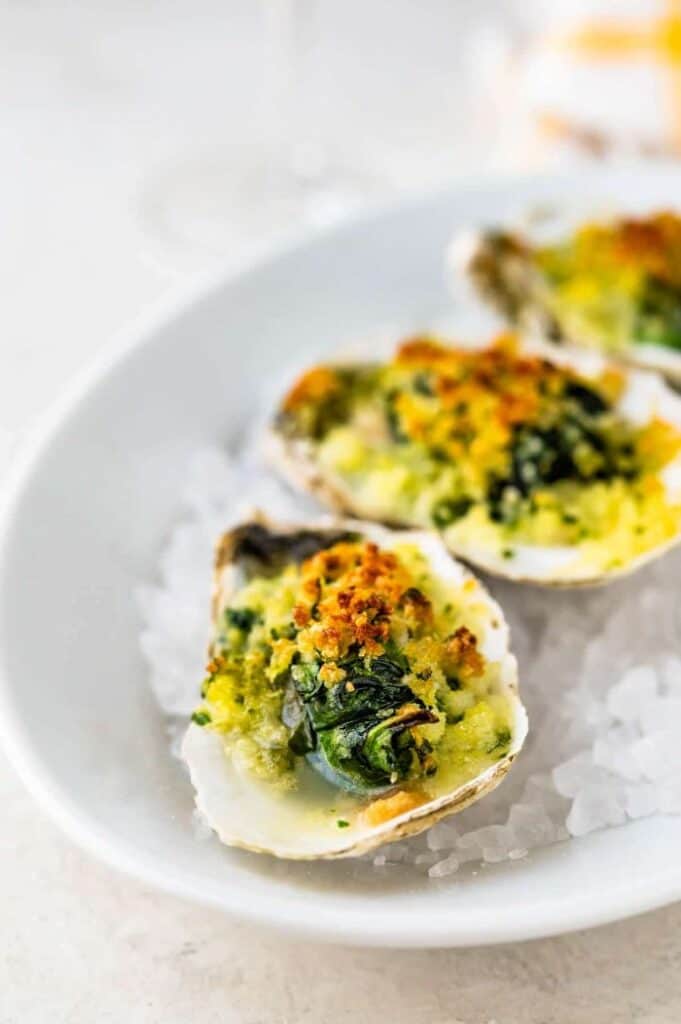 If you're looking for a light yet satisfying main course, these Pan-Seared Tuna Steaks are a perfect choice. Cooked in less than 30 minutes, these steaks are seasoned to perfection and come with a "melted" lemon-caper sauce for an extra burst of flavor. It's a quick and healthy option that still feels indulgent, making it a great fit for your Thanksgiving menu.
Source: The Happy Home Life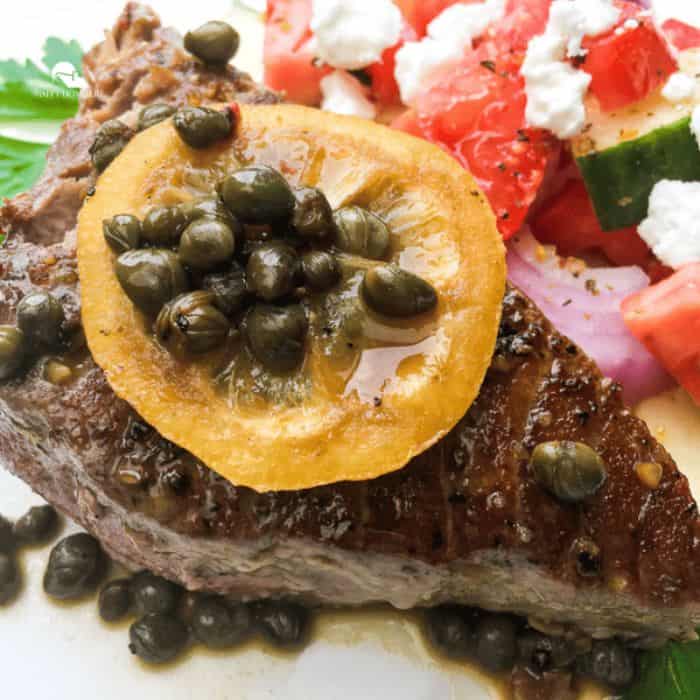 Looking for a side dish that can also stand as a main course? This Seafood Pasta Salad is your answer. Packed with crab meat, shrimp, and a medley of veggies, it's dressed in a creamy blend of mayonnaise, Ranch, and Italian dressing. It's a big-batch recipe perfect for feeding a crowd, making it a versatile choice for your Thanksgiving gathering.
Source: 4 Sons R Us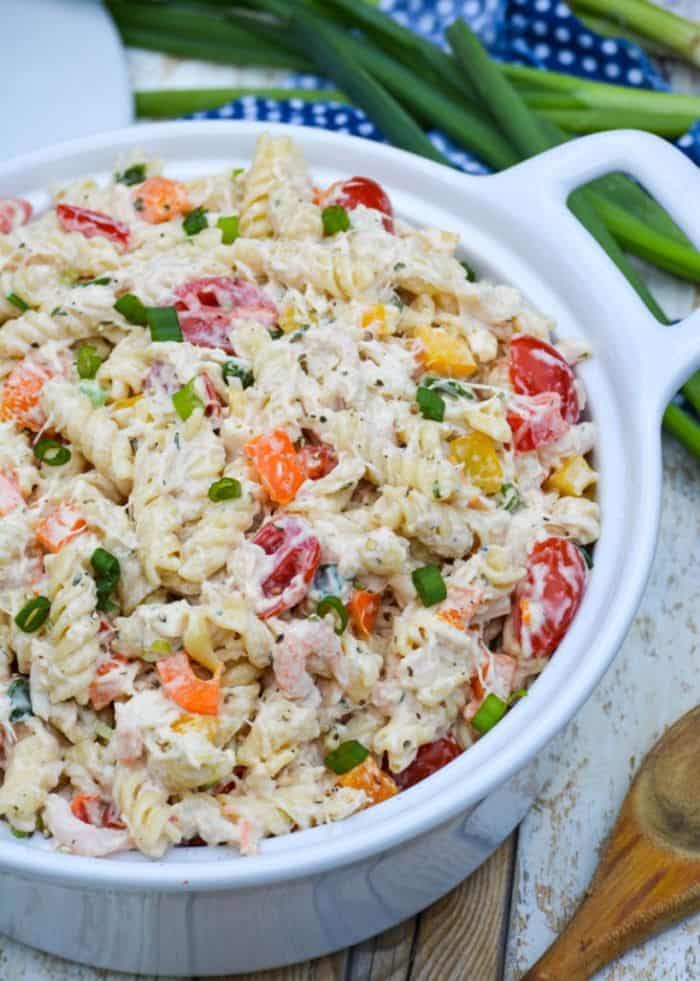 There you have it—11 scrumptious seafood dishes that are sure to make waves at your Thanksgiving feast! Whether you're a seafood aficionado or just looking to switch up your holiday menu, these recipes offer something for everyone. So why settle for the same old turkey when you can dive into a sea of flavors? Happy cooking and even happier feasting!