Unleash your inner mixologist with the vibrant world of alcoholic punch recipes. These concoctions are not just beverages, but an assembly of flavors that tantalize the taste buds and create a festive atmosphere.
Creating an alcoholic punch recipe is more than just mixing drinks; it's about creating an experience. These recipes cater to a wide variety of palates. They're perfect for parties, gatherings, or even a relaxing night in. Each recipe is a delightful blend of spirits, juices, sodas, and sometimes a hint of spice or sweetness to balance out the flavors.
You are going to love these posts:
One of the greatest aspects of these recipes is their versatility. You can easily customize them to suit your preferences or the theme of your event. Whether you prefer your punch strong and potent or light and fruity, there's a recipe out there for you. So, gather your ingredients, grab your punch bowl, and get ready to explore the exciting realm of alcoholic punch recipes.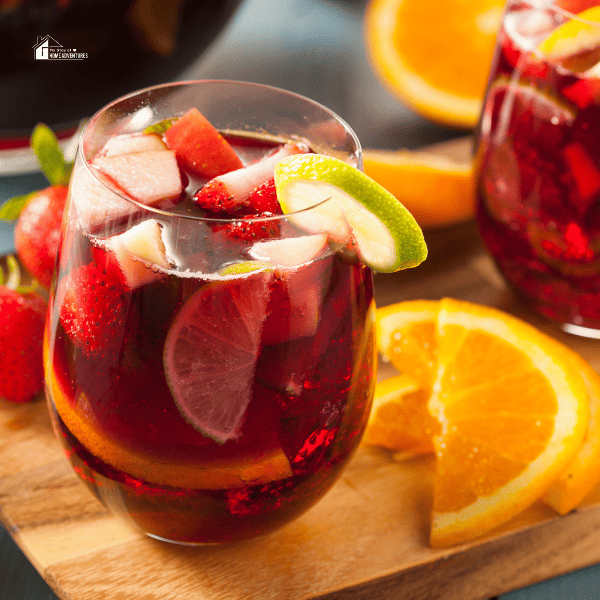 Here are some ideas:
Pomegranate Champagne Punch
Pomegranate champagne punch is a sparkling and festive beverage, perfect for celebrations. This punch combines the sweet tartness of pomegranate juice with the effervescence of champagne, creating a delightful balance of flavors.
A splash of orange liqueur adds depth, while fresh pomegranate arils serve as a vibrant garnish. It's not just a drink, but a showstopper centerpiece that brings a touch of elegance to any gathering. Enjoy this punch for a refreshing, fruity, and bubbly experience.
Red Sangria
Red sangria is a vibrant, Spanish-born cocktail that dances on the palate. Its base of robust red wine is punctuated with brandy and fresh citrus juices, then adorned with slices of mixed fruits. This concoction marries tart, sweet, and tangy notes, creating a symphony of flavors. It's a refreshing, sun-drenched delight perfect for social gatherings or quiet afternoons.
Moscato Punch
Moscato punch is a sweet, effervescent delight that's perfect for any festive occasion. This concoction creates a beautifully balanced beverage that's both refreshing and indulgent. Whether you're hosting a party or just enjoying a leisurely afternoon, Moscato Punch is sure to be a hit.
Watermelon Cocktail Vodka Punch
Sip into summer with watermelon cocktail vodka punch! This vibrant, refreshing blend pairs the natural sweetness of ripe watermelon with the smooth kick of vodka, accented by a splash of zesty lime juice. It's a perfect balance of sweet and tart, making it an irresistible thirst-quencher for sunny days or balmy nights.
Garnish with fresh mint for an added touch of coolness, and you have a cocktail that's as delightful to look at as it is to drink. Enjoy responsibly!
Mango Peach White Sangria
Mango peach white sangria is a fruity, refreshing cocktail that's perfect for warm summer days and festive gatherings. This delightful blend combines the crispness of dry white wine with the tropical sweetness of mango and peach nectars, enhanced by a smooth hint of brandy.
The result is an invigorating and soothing drink, with an enticing balance of sweet and tart flavors.
Pimm's and Lemonade
Pimm's and lemonade is a classic British cocktail that's perfect for summer sipping. The rich, herbal flavor of Pimm's No.1 combined with the refreshing tanginess of lemonade creates a harmonious, soothing and invigorating blend. Garnished with fresh mint, cucumber, strawberries, and orange slices, this drink is as visually appealing as it is delicious.
Easy Jungle Juice Recipe
Transport yourself to a tropical paradise with this easy jungle juice recipe. It's a tantalizing blend of fresh fruits, juices, and spirits that create an explosion of flavors. The sweetness of the fruit punch and the citrusy zest of orange and pineapple juices are perfectly balanced by the robustness of rum and vodka.
Garnished with vibrant chunks of fresh fruit, this eye-catching cocktail is perfect for parties or relaxed summer afternoons.
Vodka Party Punch
Elevate your celebrations with vodka party punch! This lively concoction combines the smooth kick of vodka with a medley of refreshing fruit juices, creating a vibrant fusion of flavors. The effervescence of ginger ale adds a bubbly zing, while slices of fresh fruit offer a delightful garnish.
Perfect for gatherings or casual sipping, this punch is a crowd-pleaser that's as visually appealing as it is delicious. Enjoy responsibly and let the good times flow!
Lemonade Prosecco Punch
Experience effervescence in a glass with lemonade prosecco punch! This delightful cocktail combines lemonade's zesty freshness with Prosecco's bubbly sophistication. A splash of vodka adds a smooth kick, while fresh mint and lemon slices provide a refreshing garnish.
Perfect for brunches, garden parties, or simply savoring on a sunny afternoon, this punch is a celebration of flavors that's sure to delight your taste buds.
Grinch Punch
Add a dash of whimsy to your holiday celebrations with a grinch punch! This playful cocktail captures the spirit of the beloved Christmas character with its vibrant green color and sweet-tart flavor.
It combines lemon-lime soda with pineapple juice and green food coloring, topped off with a scoop of vanilla ice cream for a frothy finish. Garnished with a single red cherry, this punch is a fun, festive, and delicious tribute to the holiday season.
Hawaiian Punch Recipe
Experience a taste of the tropics with Hawaiian party punch! This refreshing cocktail blends tangy pineapple juice, invigorating orange juice, and smooth rum to create a vibrant fusion of flavors.
The effervescence of ginger ale adds a bubbly lift, while slices of fresh fruit offer a colorful garnish. This punch brings a slice of paradise to your glass, perfect for luaus, pool parties, or just lounging on a sunny afternoon.
Pomegranate Champagne Punch
Indulge in the festive sparkle of pomegranate champagne punch! This elegant cocktail combines the bubbly sophistication of champagne with the tantalizing tartness of pomegranate juice. A splash of vodka adds a smooth kick, while pomegranate seeds float like tiny rubies, adding visual appeal.
Perfect for New Year's Eve, romantic dinners, or any celebration, this punch is a feast for both the eyes and palate. Enjoy responsibly and toast to good times!
Ocean Water
Dive into refreshment with ocean water! This captivating cocktail echoes the allure of the sea, combining the smoothness of coconut rum with the crisp tang of blue curaçao. A splash of Sprite adds a bubbly fizz, while a scoop of vanilla ice cream creates a frothy wave on top. Garnished with a cherry and an umbrella, this punch is your ticket to a beachfront paradise.
Fish Bowl Punch
Immerse in the tropical delight of fish bowl punch! This exotic cocktail blends the sweetness of pineapple juice, the smoothness of coconut rum, and the vibrant flavor of blue curaçao. A dash of Sprite adds a fizzy twist, while gummy fish and fruit slices make for an appealing garnish. Dive into the ocean of flavors with this exotic punch!
Purple Rain Drink
Unleash your inner mixologist with the purple rain cocktail! This vibrant drink is a symphony of flavors, blending vodka, blue curaçao, and grenadine with the sweet tang of pineapple and lemonade. Its enchanting purple hue mirrors a twilight rainstorm, making it as pleasing to the eye as it is to the palate. Perfect for parties or a quiet evening in, this cocktail promises a sensory delight.
Drunk Witch
Venture into the enchanting world of the drunk witch cocktail. This bewitching blend combines vodka, Blue Curacao, and grenadine, creating a vibrant purple potion that's both festive and flavorful. A splash of Sprite adds a fizzy kick, enhancing its mystical charm. Perfect for Halloween bashes or any spirited gathering, the Drunk Witch promises a magical journey for your taste buds.