It's that time of year where you get to dress up in your favorite Halloween costumes and invite friends and family over for a fun filled festive evening. But like every party that you host, let's not forget everyone comes for the food and drinks. Everyone knows you can't have a Halloween party without the Halloween punch!
One of the greatest charms of Halloween punch is its versatility. Whether you're a fan of sour citrus notes or have a sweet tooth for berry infusions. Add a splash of your chosen spirits for an adult version, or maintain it child-friendly with only the fruity components. The decision is entirely yours!
With so many different versions of Halloween punch, below are 15 of the best Halloween punch recipes we found to make your Halloween party a night to remember. Cheers to an unforgettable Halloween!
You might enjoy these posts: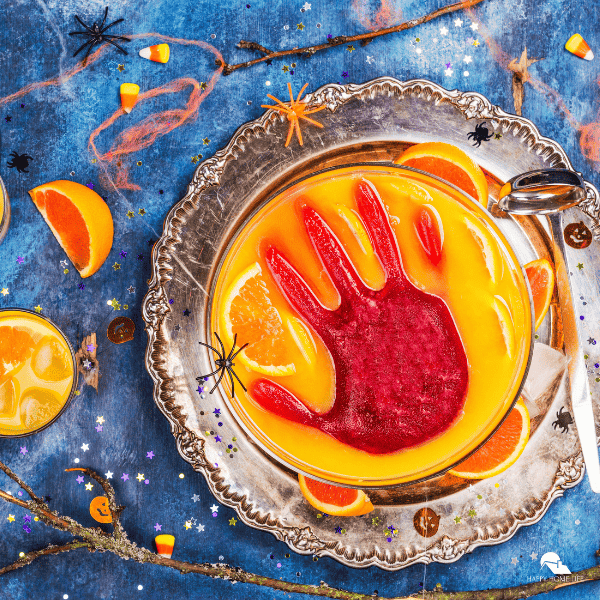 Halloween Punch Recipe Ideas
Witches Brew
Witches Brew is a spellbinding Halloween punch that combines a mystical mix of flavors. This enchanting concoction often features a base of green fruit juice or soda, giving it an eerie glow. It's amplified by the sweet tang of pineapple juice and a splash of ginger ale for fizz.
Optional scoops of lime sherbet add a frothy, misty effect, making your Witch's Brew look as if it's bubbling straight from a cauldron.
Spooky Sangria
Spooky sangria is a Halloween-inspired punch that adds a haunting twist to the traditional Spanish drink. It's a bewitching blend of red wine, brandy, and fresh fruit like oranges and apples. The addition of blackberries and pomegranate seeds creates a dark and mysterious hue, fitting for any Halloween gathering.
Served chilled, this Spooky Sangria offers a refreshing, fruity, and slightly boozy punch that will surely cast a spell on your guests.
Pumpkin Pie Punch
Pumpkin pie punch is a delightful blend of autumn flavors poured into a glass. This unique punch features the rich taste of pumpkin puree, subtly sweetened with a hint of maple syrup and spiced up with classic fall spices. A splash of apple cider and ginger ale adds a refreshing twist.
Served chilled, this punch tastes like a liquid pumpkin pie, making it a perfect, festive addition to your Halloween celebrations.
Zombie Punch
Unleash the undead with zombie punch! This thrillingly chilling drink is a blend of tart citrus flavors, tropical pineapple, and a splash of grenadine for that ghoulishly red hue. Rum adds a boozy kick, but can be omitted for a family-friendly version. Garnished with floating "eyeballs" (lychees stuffed with cherries), this punch will have your Halloween party guests screaming for more. Beware, it's frightfully delicious!
Halloween Eyeball Punch
Halloween eyeball punch is a spine-chilling delight! This blood-red beverage, made from cranberry juice and soda, gets its eerie edge from floating "eyeballs" – lychees stuffed with blueberries. It's a ghoulishly refreshing punch that will have your guests doing a double-take. Dare to drink this spooky spectacle at your Halloween bash!
Goosebumps Punch
Feeling brave enough to sip on some goosebumps punch? This Halloween-inspired beverage is a thrilling blend of chilling flavors and ghoulish aesthetics. It's an easy mix of lemon-lime soda, green food coloring for that eerie hue, and scoops of rainbow sherbet for a frothy, spooky effect. But the real surprise comes with the addition of gummy worms, lurking at the bottom of the bowl. It's a punch that guarantees chills and thrills at your Halloween party!
Sparkling Cranberry Orange Eyeball Punch
Dare to sip on sparkling cranberry orange eyeball punch? This bewitching brew combines the tartness of cranberries, zest of oranges, and effervescence of soda. But beware! Floating amidst this fruity fusion are chilling 'eyeballs' – lychees stuffed with blueberries. It's a spine-tingling, delicious spectacle that will steal the show at your Halloween party.
Witch's Brew Halloween Punch
Brew up some fun with the witch's brew halloween punch! This enchanting potion combines lime sherbet's tang, lemon-lime soda's fizz, and pineapple juice's tropical twist. But wait, there's a creepy surprise – gummy worms or spiders lurking in the depths. It's a spellbindingly delicious concoction that'll bewitch your Halloween guests!
Halloween Orange Sherbet Punch
Get ready for a spooktacular treat with Halloween orange sherbet punch! This tantalizingly tangy concoction, with its vibrant orange hue, perfectly captures the spirit of Halloween. Imagine the citrusy burst of orange sherbet, mingling with the fizzy delight of lemon-lime soda. Add a scoop of vanilla ice cream for a creamy twist, and you've got a hauntingly delicious punch that will bewitch your guests!
Polyjuice Potion
This polyjuice potion is a magical concoction from the Harry Potter series. This complex and challenging potion allows the drinker to assume the physical appearance of another person. It's a time-consuming brew, often used for disguise or espionage, requiring a piece of the individual one wants to transform into. The potion's effects are temporary, and using it requires considerable skill in potion-making.
Candy Corn Punch
Candy corn punch is a delightful Halloween treat that's as festive as it is flavorful. With its layered colors mimicking the classic candy corn, this punch combines sweet pineapple juice, tangy orange soda, and creamy vanilla ice cream. It's not just a drink, but a centerpiece that adds a vibrant touch to your Halloween party!
Halloween Pumpkin Punch
Halloween pumpkin punch is a deliciously spooky beverage that perfectly captures the essence of fall. With ingredients like apple cider, pumpkin puree, and a hint of vodka, this punch is both warming and refreshing. The addition of ginger ale gives it a delightful fizz, while pumpkin pie spice provides that classic autumnal flavor. A must-have for any Halloween gathering!
Poison Apple Halloween Punch
The poison apple Halloween punch is a spine-chilling yet delicious treat. Combining the flavors of sour apple, vodka, and a hint of cinnamon schnapps, this cocktail is a wicked twist on an apple daiquiri. Its eerie green hue and mesmerizing taste make it the perfect potion for your Halloween celebration. Beware, it's devilishly addictive!
Spooky Apple Cider Halloween Punch
The spooky apple cider Halloween punch is a chillingly delightful concoction. Infused with the rich flavors of apple cider, tangy orange juice, and a splash of ginger ale for that fizzy sensation, it's the perfect blend of sweet and tart. Garnished with floating apple slices resembling creepy eyes, it's sure to be a haunting hit at your Halloween bash!
Spiced Pumpkin Punch
The spiced pumpkin punch is a heartwarming blend of autumn flavors. Made with pumpkin puree, apple cider, and a dash of your favorite spices, it's like drinking a slice of pumpkin pie! It's creamy, refreshing, and perfectly spiced. Ideal for chilly fall evenings, this punch is a cozy celebration of the season in a glass. Get ready to fall in love with every sip!