Thanksgiving is just around the corner, and if you're anything like me, you're already dreaming about that scrumptious turkey, the mouthwatering sides, and of course, the heavenly desserts. But let's pause for a moment and give a standing ovation to an unsung hero of the Thanksgiving table—the humble apple.
Yes, you heard me right! Apples aren't just for pies and apple crisps (though we love them there too!). This versatile fruit can add a burst of flavor, a touch of sweetness, or even a surprising twist to your traditional Thanksgiving sides. So why not make apples the star of the show this year?
Here, we're diving into 10 apple side dishes for Thanksgiving that are guaranteed to take your feast from great to unforgettable. From savory stuffing to refreshing salads and everything in between, these recipes are delicious and real crowd pleasers. So grab your apron, and let's get cooking!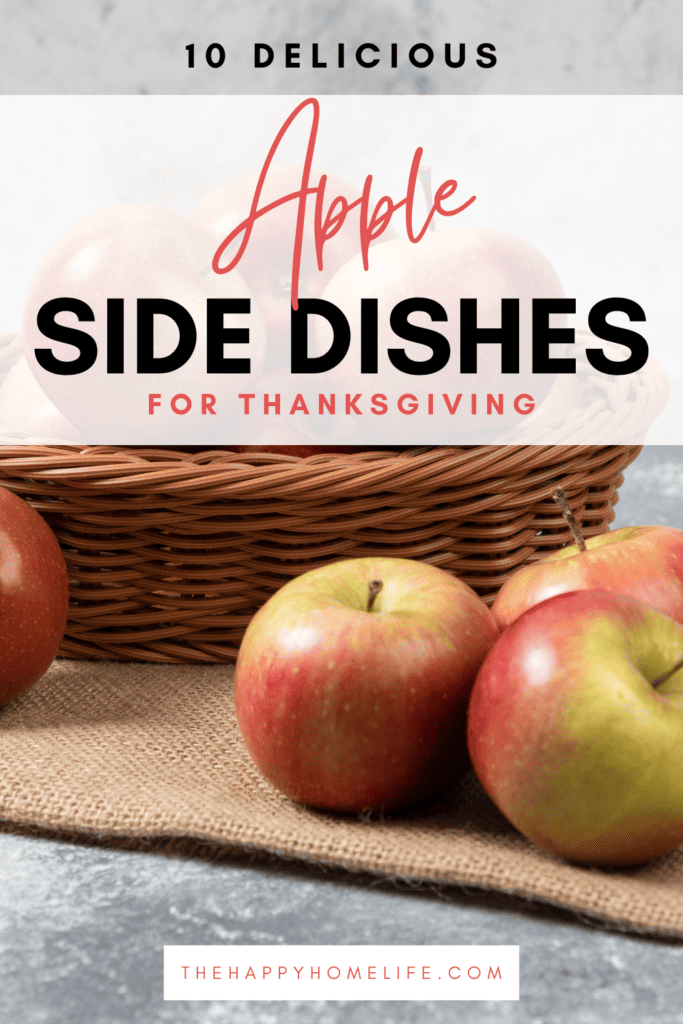 By the way, if apples are your jam, you'll love our baked stuffed apples! Now let's get to those apple side dishes:
1. Apple and Sausage Stuffing
This stuffing is a delightful blend of sweet and savory, featuring Italian sausage and tender baked apples. The base is a convenient boxed stuffing mix, to which you add herbs, veggies, and those all-important apples. It's so good, it might just steal the spotlight from the turkey!
Source: All Things Mamma
2. Apple Cranberry Walnut Salad
This refreshing salad is a perfect palate cleanser for your Thanksgiving feast. It combines the crunch of apples and walnuts with tart cranberries and sweet grapes, all tied together with a hint of cinnamon. It's quick to make and can even be adapted with different flavors of yogurt for a personalized touch.
Source: It Is A Keeper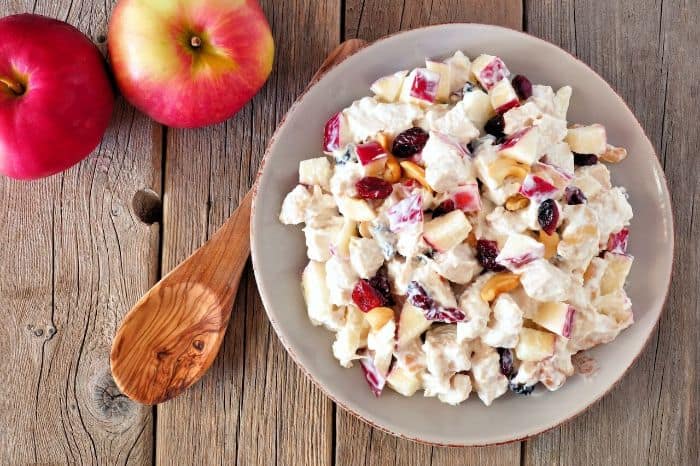 3. Caramelized Onion and Apple Mashed Potatoes
Take your mashed potatoes to the next level with this luxurious recipe that incorporates caramelized onions and tart Granny Smith apples. The dish is seasoned with sea salt, whole milk, cream, and freshly chopped thyme, making it a rich and flavorful addition to your Thanksgiving table. It's a delightful twist on a classic that's sure to impress your guests.
Source: Style at Home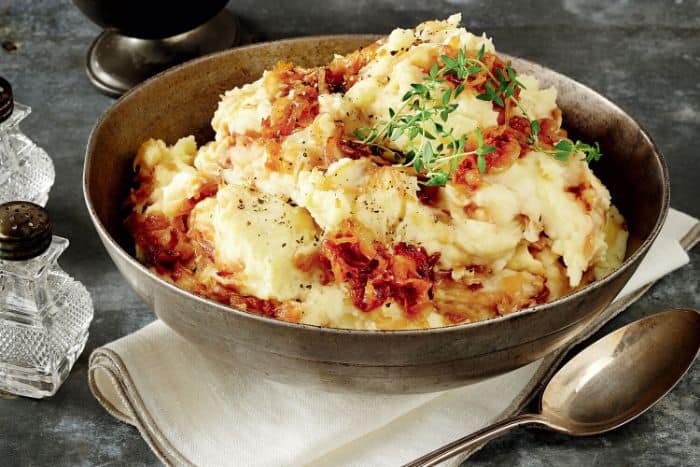 4. Apple and Cinnamon Roasted Sweet Potatoes
This side dish is like a warm hug from autumn itself! Combining tart apples and sweet potatoes, this dish is seasoned with cinnamon, nutmeg, and a drizzle of pure maple syrup. It's not just delicious but also incredibly easy to make, making it a perfect addition to your Thanksgiving spread.
Source: Delicious Little Bites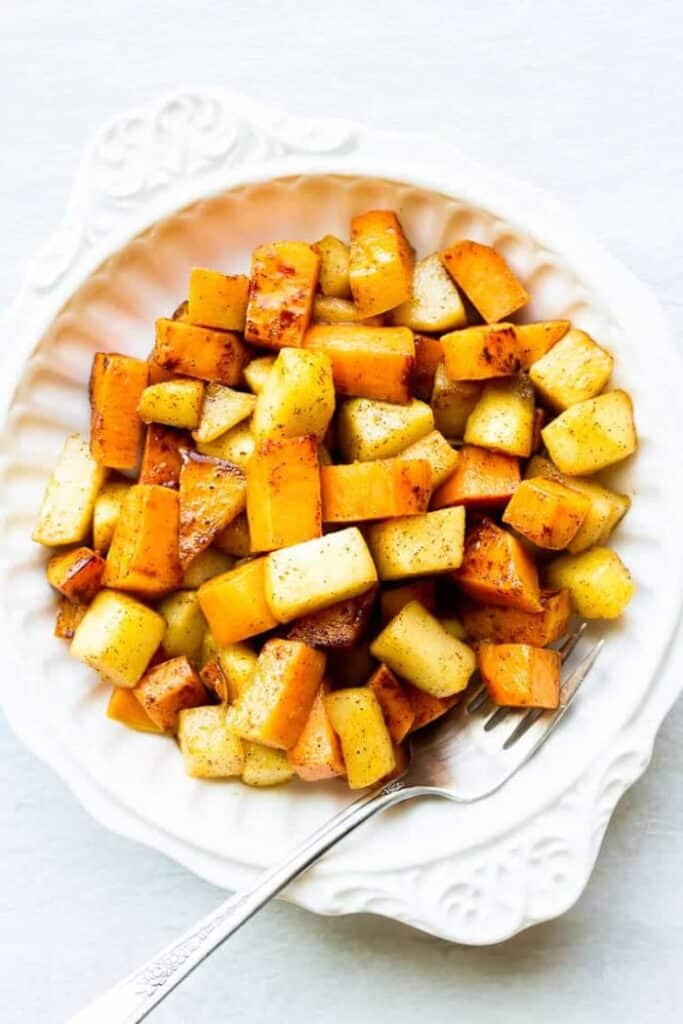 5. Apple and Brussels Sprouts Slaw
Craving some crunch in your Thanksgiving spread? This Brussels sprouts slaw is just the ticket! It combines shredded Brussels sprouts, red cabbage, and Granny Smith apples, all tossed in a zesty lemon-dijon vinaigrette and topped with chopped walnuts. It's a refreshing and healthy side that pairs well with any protein.
Source: Isabel Eats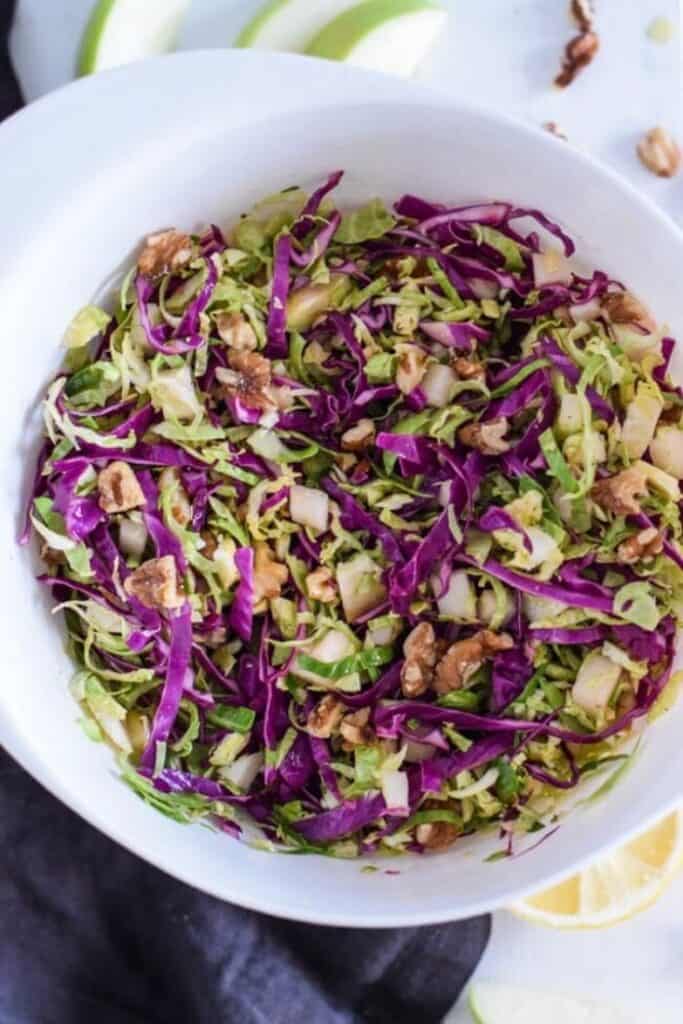 6. Apple Cheddar Biscuits
Imagine biting into a fluffy biscuit that's bursting with sharp white cheddar and fresh apple flavors—sounds like a dream, right? These Apple Cheddar Biscuits are just that, offering a perfect blend of savory and sweet that's ideal for a fall-themed Thanksgiving meal. They're layered, cheesy, and oh-so-delicious!
Source: Domestically Blissful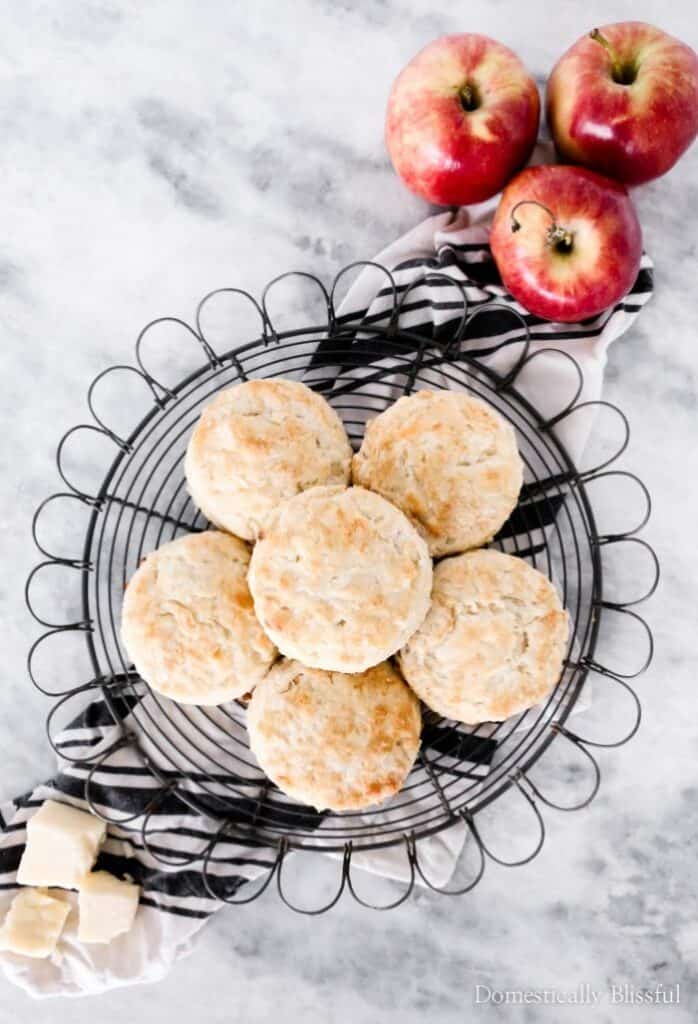 7. Apple and Squash Casserole
This casserole is a delightful fusion of butternut squash and apples, layered and baked to perfection. It features a crunchy topping made from Corn Flakes, pecans, and brown sugar that adds a textural contrast to the soft, mashed butternut squash and sautéed apples. It's a family favorite that's been gracing Thanksgiving tables for over 40 years!
Source: The Seasoned Mom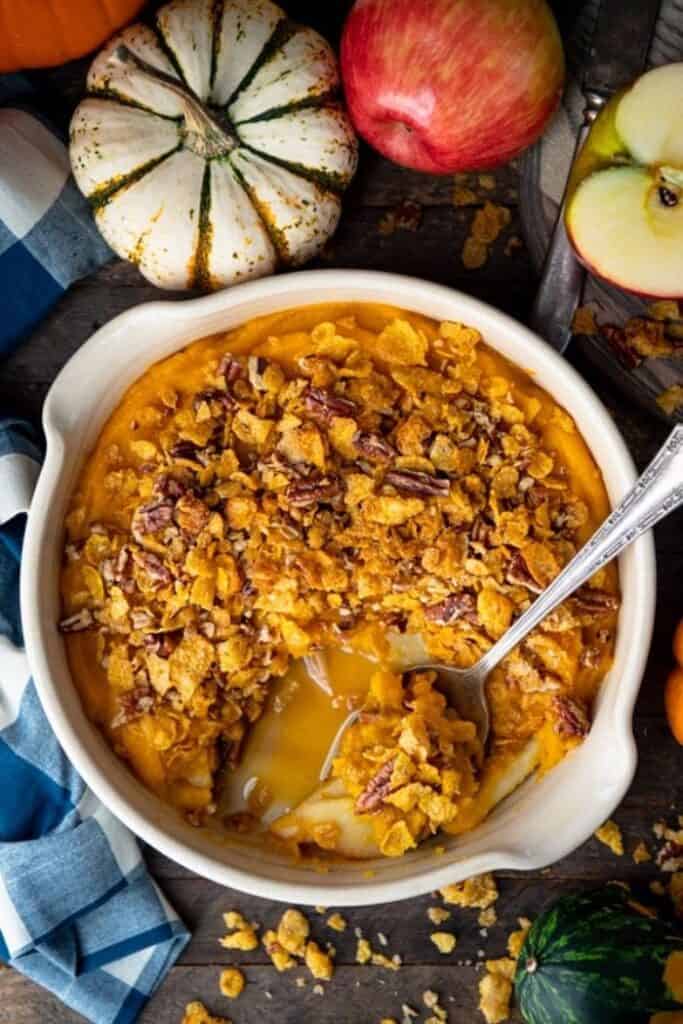 8. Apple and Fennel Gratin
This unique side dish pairs the anise-like flavor of fennel with the sweetness of red apples. The dish is seasoned simply with salt, pepper, and a hint of nutmeg, allowing the natural flavors to shine. A breadcrumb topping mixed with Parmesan and parsley adds a delightful crunch, making this gratin a must-try for your Thanksgiving table.
Source: Culinary Ginger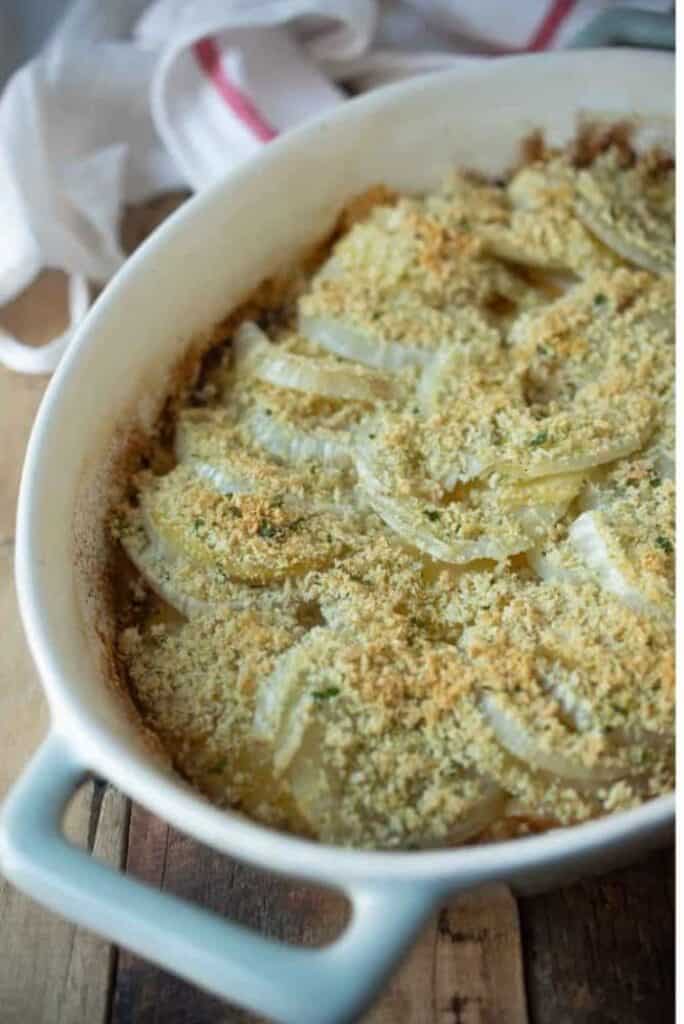 9. Apple Cornbread
This isn't your average cornbread; it's a delightful twist that incorporates finely grated sweet apples into the mix. The result is a moist and lightly sweetened cornbread that pairs perfectly with fall comfort foods. It takes less than 30 minutes from start to finish, making it a quick and delicious addition to your feast.
Source: Tastes of Lizzy T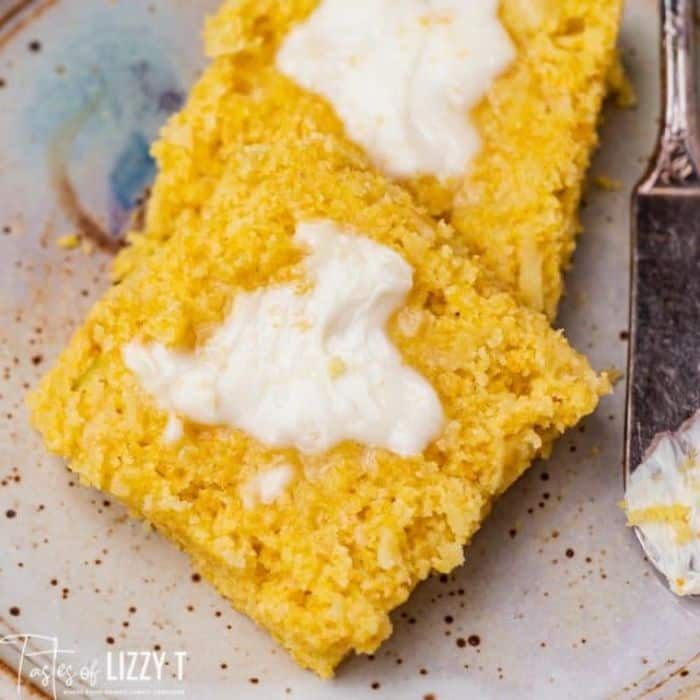 10. Sweet and Spicy Apple Chutney
This chutney is a flavor-packed delight that's perfect for jazzing up your Thanksgiving meal. It combines the sweetness of dessert apples with the heat of ginger and chili, balanced by floral notes of pink peppercorns. The best part? You can make it in a slow cooker, leaving you free to focus on other dishes.
Source: Tales from the Kitchen Shed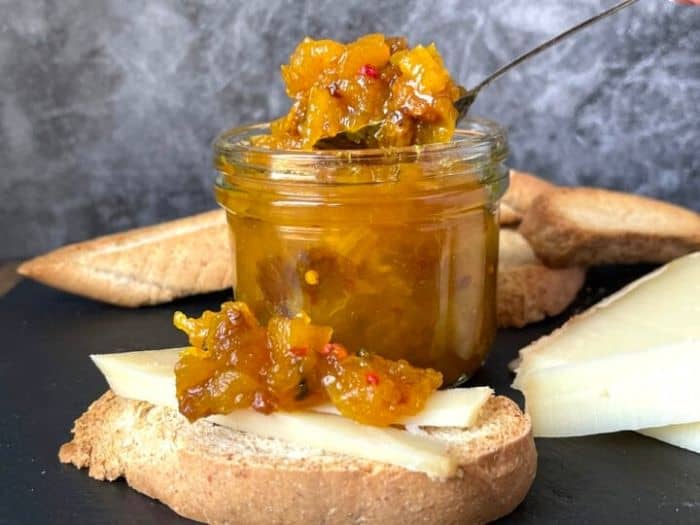 And there you have it, folks—10 apple-inspired side dishes that are sure to make your Thanksgiving feast a hit! From the comforting warmth of Apple and Sausage Stuffing to the zesty kick of Sweet and Spicy Apple Chutney, these recipes offer something for everyone. So why not shake things up this year and let apples take center stage at your Thanksgiving table?