When it comes to side dishes, more is not always better. In fact, when it comes to Thanksgiving, you should aim for three to five side dishes. This may seem like a small number, but remember that the turkey is the star of the show. You don't want your sides to overshadow it.
That said, your side dishes should complement the turkey. A good mix of flavors and textures is key. You might want a creamy mashed potato dish, a crispy roasted vegetable, and sweet or savory stuffing. These three dishes alone will give your guests plenty to choose from.
Of course, you can always add more side dishes if you want to. But remember that less is often more when it comes to creating a memorable Thanksgiving feast.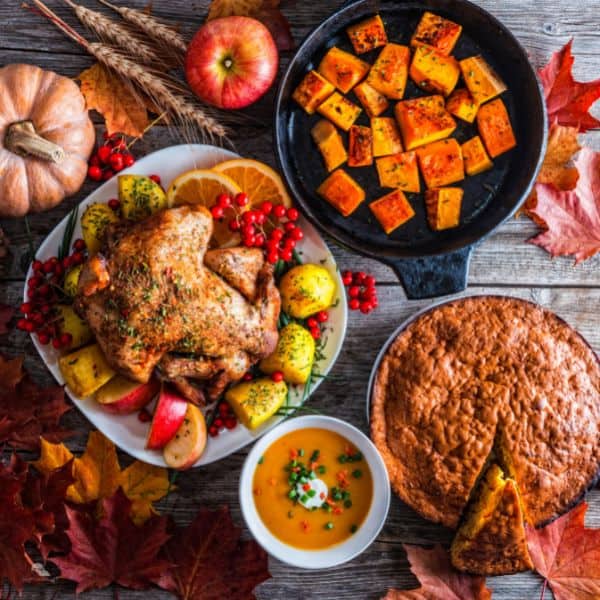 What is the most important side dish at Thanksgiving?
For many Americans, the most important side dish at Thanksgiving is stuffing. Stuffing is a dish made from bread, herbs, and other ingredients stuffed into a turkey or other poultry cavity before baking.
While the exact origin of stuffing is unknown, it is thought to have originated in Europe. The dish was brought to America by early settlers and has been a staple of the Thanksgiving feast since.
There are many different recipes for stuffing, but most include bread, butter, onions, celery, and herbs such as sage and thyme. Some recipes also include nuts, dried fruit, or sausage.
Stuffing is usually served alongside the turkey or other main dish at Thanksgiving dinner. It can also be baked separately in a casserole dish.
Try these recipes:
What are the typical sides for Thanksgiving?
Sides are an important part of the meal and can vary depending on family tradition or personal preference. No matter what sides you choose, they will surely be enjoyed by all! Some popular side dishes for Thanksgiving include:
It goes without saying that stuffing is a Thanksgiving staple. It is flavorful, crisp and just the right amount of puffy and moist. Fall flavors like thyme, sage, and others are in full force.
For many families, mashed potatoes are a year-round staple side dish, but Thanksgiving is when these creamy, fluffy, soft mounds of perfection truly shine. The mashed potatoes provide a lovely binder for picking up the ideal forkful of turkey, stuffing, cranberry sauce, and corn.
Whatever version of cranberry sauce you have on your plate, it perfectly captures the spirit of the end of autumn. Cranberry sauce is required to complete each Thanksgiving feast because of its gorgeous deep red color and the ideal amount of tartness.
Although macaroni and cheese might not be what you would assume to be a traditional Thanksgiving side dish, it is a need for children and folks who don't like seasonal dishes. A handmade mac and cheese that is gooey, creamy, and delightfully cheesy is one of the most soothing foods.
If you're into that sort of thing, creamed spinach is adaptable and a simple way to include a lot of iron in your Thanksgiving meal. However, this side doesn't seem very festive or exceptional. Perhaps save it for another weeknight dinner.
The enticing crunchy tiny onions are a key component of the rich, salty, and creamy green bean casserole. This classic dish has no way to go wrong, and its fame reflects that. You can either stick with the classic canned green bean casserole or choose to dress it up with an all-fresh version.
What other dish can absorb all that delicious, hearty gravy that has overflowed from your turkey and mashed potatoes? What other food would be the ideal palate-cleanser between the turkey, macaroni, and cheese? Only the roll, please.
Thanksgiving dinner is not complete without candied yams since they are regarded as the ideal side dish to a platter full of savory foods. Contrary to the name suggests, candied yams are cooked with sweet potatoes rather than a starchy root vegetable.
In addition to Thanksgiving turkey, this enticing, creamy, cheesy mixture pairs wonderfully with just about anything. Whole pieces of sweetcorn are combined with a milky liquid from pulped corn kernels picked from the cob to create a distinct Southern meal.
This underappreciated side dish is a simple way to add vitamins, minerals, and antioxidants to today's main course. These little green vegetables can be grilled, baked, sautéed, and more, making them incredibly adaptable.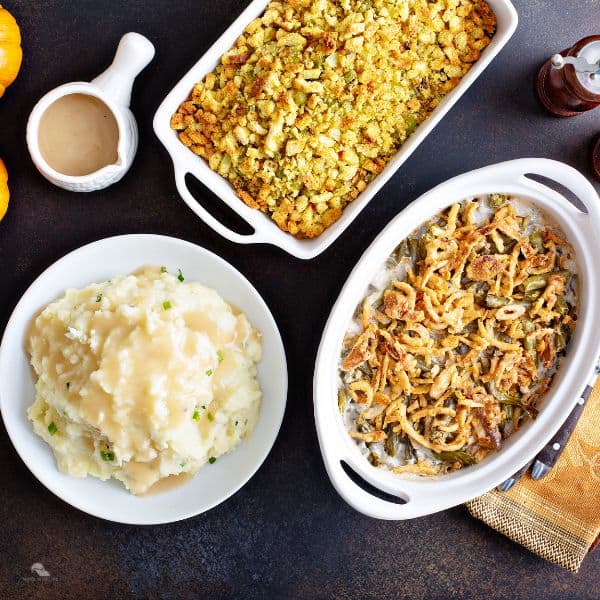 What are the 3 most popular sides on Thanksgiving?
Turkey may be the show's star, but let's not forget all the delicious sides that come along with it. These are the top three Thanksgiving sides:
Mashed potatoes are at the top of the list for many people. They are creamy, comforting, and pair perfectly with that savory turkey gravy. Green beans are another popular side dish. They are healthy and can easily be dressed up with crispy onions or mushrooms. Lastly, cranberry sauce is a Thanksgiving staple that many people enjoy. It's tart and sweet flavor pairs well with the other dishes on the table.