As the leaves change color and the temperatures begin to drop, it's the perfect time to cozy up with a delicious whiskey cocktail. Whether you're hosting a fall gathering or just looking to unwind after a long day at work, there are plenty of seasonal flavors and ingredients that can be incorporated into your favorite whiskey drinks.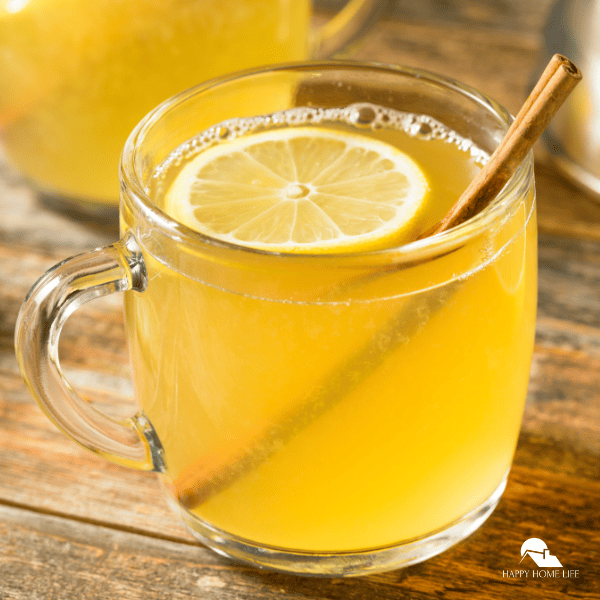 From warming spices like cinnamon and nutmeg to rich flavors like maple syrup and caramel, fall is all about indulging in comfort food and drinks. And what better way to do so than with a perfectly crafted whiskey cocktail?
Whether you prefer a classic Old Fashioned or something a little more creative, there's no shortage of inspiration when it comes to fall whiskey cocktails. From pumpkin-infused drinks to cider-spiked concoctions, there's a whiskey-inspired drink for every occasion.
So sit back, grab a cozy blanket, and get ready to sip on some of the best fall-inspired cocktails out there. With their rich flavors and soothing warmth, these drinks are sure to make any chilly autumn evening more enjoyable.
You might enjoy these posts:
Apple Cider Old Fashioned
A classic fall cocktail is an apple cider old fashioned. This fall take on the traditional cocktail is a terrific cold-weather drink with a cider house touch, with apple cider syrup taking center stage! It goes without saying that a decent Old Fashioned will win our hearts, but after a few too many, you may need to spice things up a bit.
Maple Whiskey Sour
The traditional sour cocktail gets a seasonal update with the Maple Whiskey Sour. This autumn drink recipe is a must-try because it has comforting, toasty aromas of maple syrup and cinnamon. This bourbon sour's rich flavor welcomes autumnal tastes without giving in to the seduction of pumpkin spice everything.
Hot Toddy
Warm up with some hot toddies, which are really simple to create with only hot water, whiskey, honey, and lemon. Unlike your standard mulled wine, wassail, or warm cider, hot toddies are light and hydrating rather than overly sugary.
Pumpkin Spice Irish Coffee
Pumpkin spice Irish coffee is something you must have! What's not to love about this delicious coffee made with Baileys Irish Cream, Baileys, pumpkin pie spice, and maple whipped cream? Pumpkin pie spice is one of the classic scents of fall.
Spiked Mulled Cider
Nothing warms you up like a cup of spiked mulled cider on a chilly fall day. The bourbon in this cider is spiked with warming spices and a bit of extra heat, but you can substitute your preferred liquor or make this mulled cider alcohol-free if you'd like!
Cranberry Whiskey Sour
Any home mixologist can make this Cranberry Whiskey Sour, which will impress your visitors. You got it, whiskey is the main ingredient in a typical Whiskey Sour, along with sugar, lemon, and frequently egg white. The egg white is there to control it and provide a smoother texture; the lemon is what gives it its "sour" flavor.
Cinnamon Apple Bourbon Smash
Try this Cinnamon Apple Bourbon Smash. It's an easy-drinking fall cocktail since the apple juice and lime cover up all but the tiniest traces of bourbon flavor. The warming qualities of bourbon make it a welcome component to a fall or winter cocktail. Even without the addition of apple and cinnamon, it has a rich, complex flavor on its own.
Chocolate Orange Old Fashioned
A delectable twist, chocolate and orange, on an old-fashioned favorite is created by blending sugar, chocolate bitters, and orange peel until they are completely dissolved. Presidente, a 15-year-old Spanish brandy, and big ice cubes are then swirled into the mixture to create the ideal smooth yet chocolaty after-dinner beverage.
Hot Buttered Rye
The legal requirement for creating rye whiskey is that the fermented mashed grain include at least 51 percent rye. The flavor is spicy. Since rye whiskey's flavors are less sweet than those of other whiskeys, some people refer to it as the "grown up" whiskey.
Bourbon Moscow Mule
The iconic Moscow Mule cocktail has been transformed into some delectable Bourbon Moscow Mules. Simply substitute bourbon for the customary vodka, and you're good to go! Making the cocktail is not that difficult. But in reality, it goes beyond the sum of its parts in some way.
Peanut Butter Whiskey Sour
This peanut butter whiskey recipe calls for peanut butter whiskey, egg white, and a straightforward homemade cherry sauce on top. The cherry sauce, when splattered, creates a fantastic Halloween cocktail with a delectable peanut butter flavor.
Maple Ginger Hot Toddy
If you're sitting outside and it's cool, this maple ginger hot toddy is the ideal Fall beverage. It's just the right amount of warmth, and the whiskey goes well with the floral aromas of maple and ginger. Since you'll need to cut ginger, this drink's recipe is more difficult, but if you have the time, you must try it.
Bourbon Peach Tea Cocktail
It's really wonderful to drink this bourbon peach tea cocktail! Additionally, making fresh peach tea is really simple, making this the ideal cocktail recipe for any backyard activity.
Fall Spiced Whiskey Sour
This Fall spiced whiskey sour is yet another fantastic whiskey sour recipe you must try. The recipe makes enough for one person, but you may change the quantities if you're serving more. It's quite simple to prepare. It's comparable to other Fall whiskey sours, but the pumpkin spice distinguishes it.
Blackberry Whiskey Lemonade
This Blackberry Whiskey Lemonade Cocktail is stunning and perfect for the fall. The drink has a smooth, delightful flavor from the blackberry whiskey, and the lemonade adds an acidity to counterbalance the blackberry whiskey's sweetness.
Caramel Apple Infused Whisky Cocktail
Fall is in the air thanks to this vibrant caramel apple drink! Although apple juice usually has a golden or brownish hue, unexpectedly, it didn't give the beverage a hideous brown tint. What more could you possibly want from a drink that is sweet, potent, and gorgeous in a glass?
Grapefruit Hot Toddy
Fall is here, and what better way to warm up than with a delicious Grapefruit Hot Toddy? This drink is the perfect blend of sweet and sour flavors that will have you feeling cozy in no time. The grapefruit provides a refreshing burst of citrus while the hot toddy warms your insides.
Fig Manhattan Cocktail
You all, it's almost fall! And to start off the season, here is a new, simple, and warm fig Manhattan recipe. This beverage is ideal for the season's first few frigid nights. This cocktail is a true classic. Whiskey, sweet vermouth, and bitters are the three things that make it up.
Juicy Apple Bourbon Fall Cocktail
Fresh apples are the epitome of fall, and this luscious apple bourbon drink is both delectable and pleasant. Although Honeycrisp apple juice works great with this, you may use any type of apple juice. A few apple slices can be added as a garnish, and you're done!
Boozy, Frozen Pumpkin Spice Latte
This boozy frozen pumpkin spice latte requires some time and patience, but it's ultimately worthwhile. Almond milk should be frozen into ice cubes so the ice doesn't dilute the beverage.
Pumpkin spice, pumpkin purée, whiskey, and espresso are additional ingredients. Everything will be blended to create a delightful, alcoholic coffee beverage.