Raise a Glass in Honor of the Brave with These Crowd-Pleasing Boozy Memorial Day Punches
Memorial Day is a time to honor and remember the brave men and women who have served the USA. As we gather with friends and family over barbecues, outdoor festivities, and backyard celebrations, it's essential to serve refreshing and tasty drinks that keep everyone entertained and refreshed.
In this spirit, we've compiled a list of 11 Memorial Day alcoholic punch recipes, perfect for sharing with loved ones while commemorating the heroes of our great nation.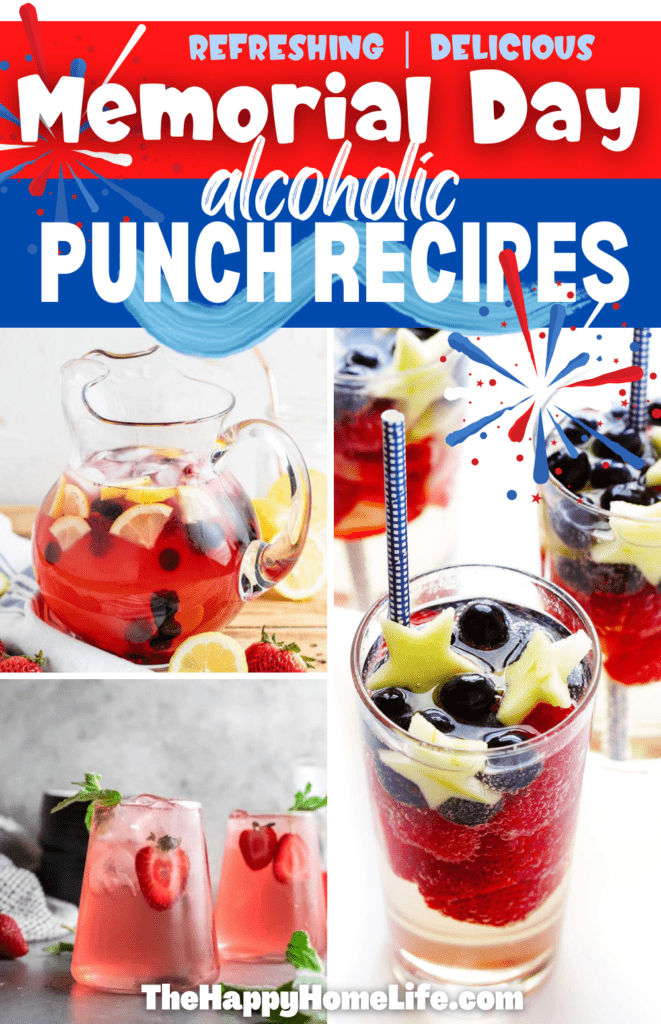 Boozy Memorial Day Punch Recipes
As you prepare to host your Memorial Day get-together, consider these 11 mouthwatering alcoholic punch recipes that are sure to be a hit. Each recipe offers a unique and refreshing blend of flavors that will delight your guests and perfectly complement the spirit of the day.
Grab your punch bowls, and let's dive into these fantastic drinks that will make your Memorial Day celebration truly memorable.
You might also want to check out our list of Gluten-Free Memorial Day Desserts.
Red, White, and Blue Sangria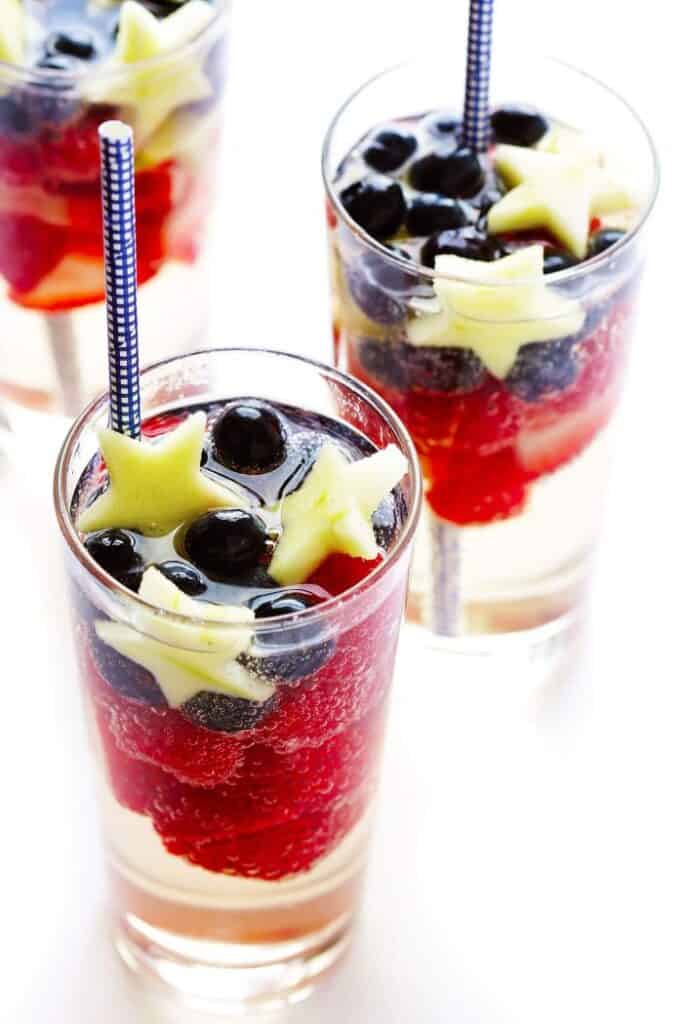 Celebrate in patriotic style with this visually stunning and flavorful sparkling red, white, and blue sangria. Combining red and blue berries, star-shaped apple pieces, white wine, and a hint of brandy, this vibrant punch is a delicious and eye-catching way to honor Memorial Day.
For the best results, let the mixture sit for a few hours, allowing the flavors to meld together. Serve chilled over ice and garnish with fresh mint leaves for added appeal.
Sparkling Summer Lemonade Punch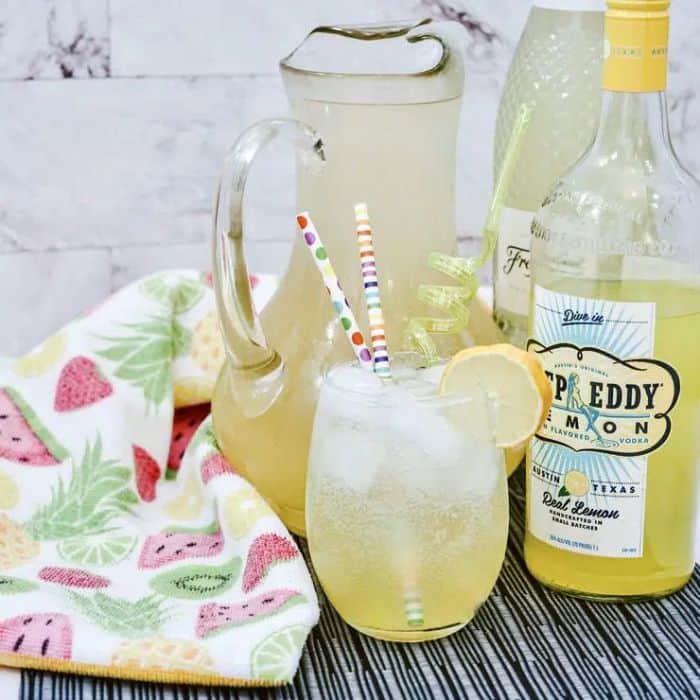 This refreshing and effervescent sparkling lemonade punch is perfect for a hot Memorial Day weekend. Made with fresh lemonade, vodka, and sparkling wine or champagne, it's a delightful and zesty combination that will have your guests coming back for more.
To prepare, mix the lemonade and vodka in a large punch bowl, then top with sparkling wine just before serving. Garnish with lemon wheels and fresh raspberries for a pop of color.
This punch will go perfect with your burgers on Memorial Day!
Watermelon Margarita Punch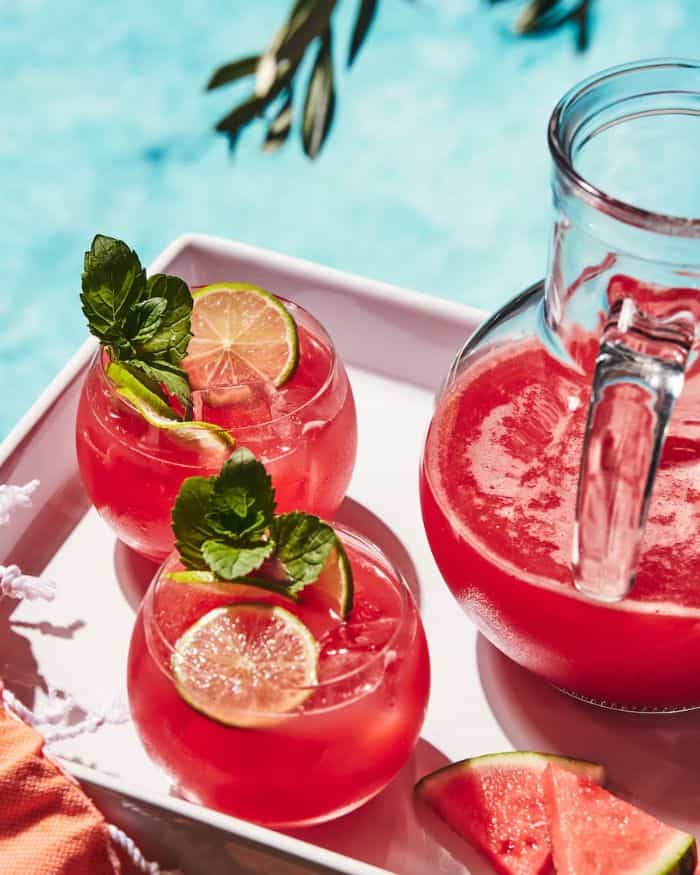 Nothing says summer quite like the juicy sweetness of watermelon. This Watermelon Margarita Punch combines fresh watermelon puree, tequila, lime juice, and honey for a delectable and thirst-quenching concoction.
To create a beautiful presentation, serve in a hollowed-out watermelon, complete with a salted rim and a lime wheel garnish.
Pimm's Punch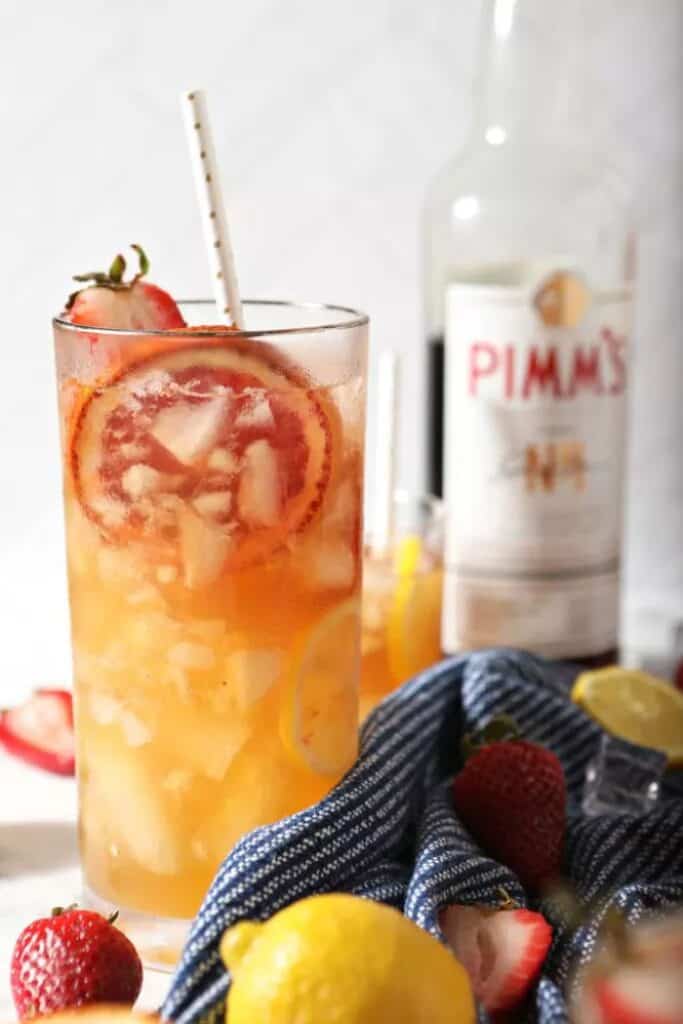 This fruity and invigorating Pimm's Punch features Pimm's No. 1, ginger ale, lemon juice, and a medley of fresh fruit, including strawberries and cucumber. Make it look patriotic by using strawberries, blueberries, and star-shaped cucumber slices.
Assemble the punch by mixing Pimm's, simple syrup, lemon juice, and ginger ale, then add sliced fruit and let it chill for a few hours to infuse the flavors. Top with ice and serve.
Raspberry Prosecco Punch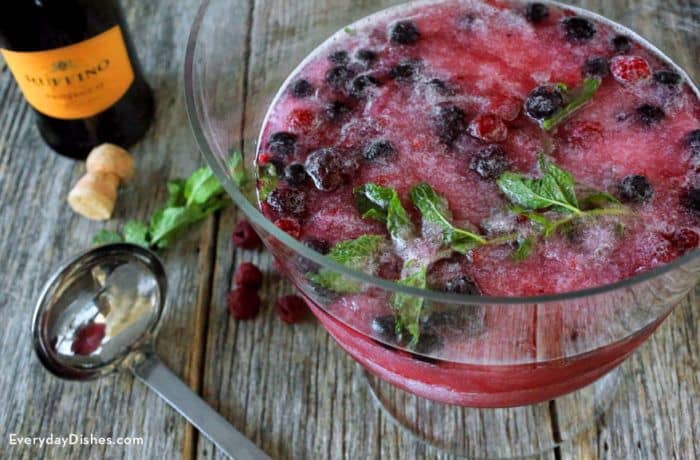 Add a touch of sophistication to your Memorial Day festivities with this elegant Raspberry Prosecco Punch. The combination of Prosecco, lemonade, cranberry juice, frozen raspberries, and fresh raspberries creates a delightful and effervescent drink that is perfect for toasting the heroes we honor.
Once your punch is assembled in the bowl, top with fresh raspberries and a sprig of mint for a refined finish.
Bourbon Peach Sweet Tea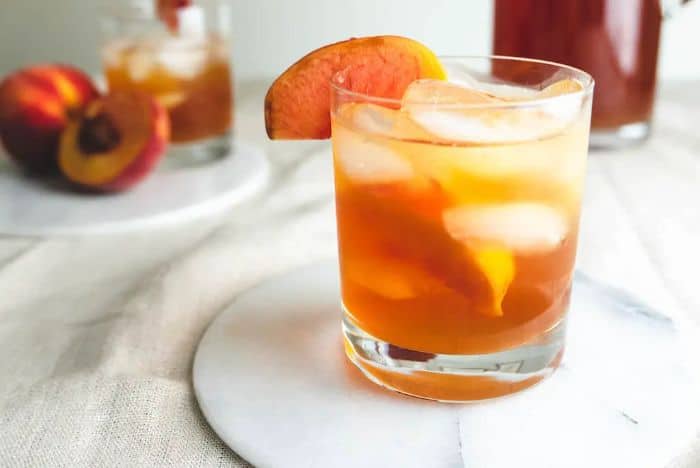 Embrace the charm of the South with this Bourbon Peach Sweet Tea. A delightful blend of sweet tea, bourbon, and peach simple syrup, this punch is both comforting and refreshing.
To prepare, make the peach simple syrup and brew the tea. After the tea is cooled, mix the tea, bourbon, cocktail bitters, and simple syrup in a large pitcher. Serve over ice and garnish with fresh peach slices and a sprig of mint, if desired.
Tropical Rum Punch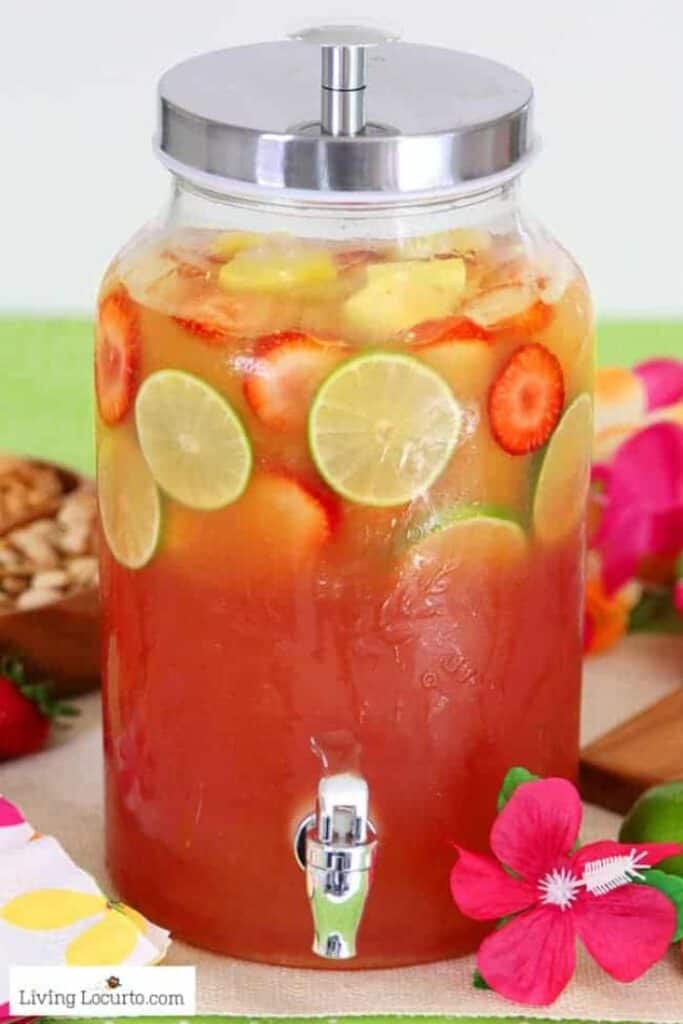 Transport your guests to a sun-soaked paradise with this delicious Tropical Rum Punch. Made with a combination of coconut rum, mango cranberry juice, peach schnapps, orange juice, white strawberry cranberry juice, and fresh fruit, this punch delivers an irresistible burst of island-inspired flavors.
Add chilled ingredients to a large punch bowl or drink dispenser and garnish with chopped pineapple, fresh lime, and sliced strawberries for a truly tropical experience.
Spiked Berry Lemonade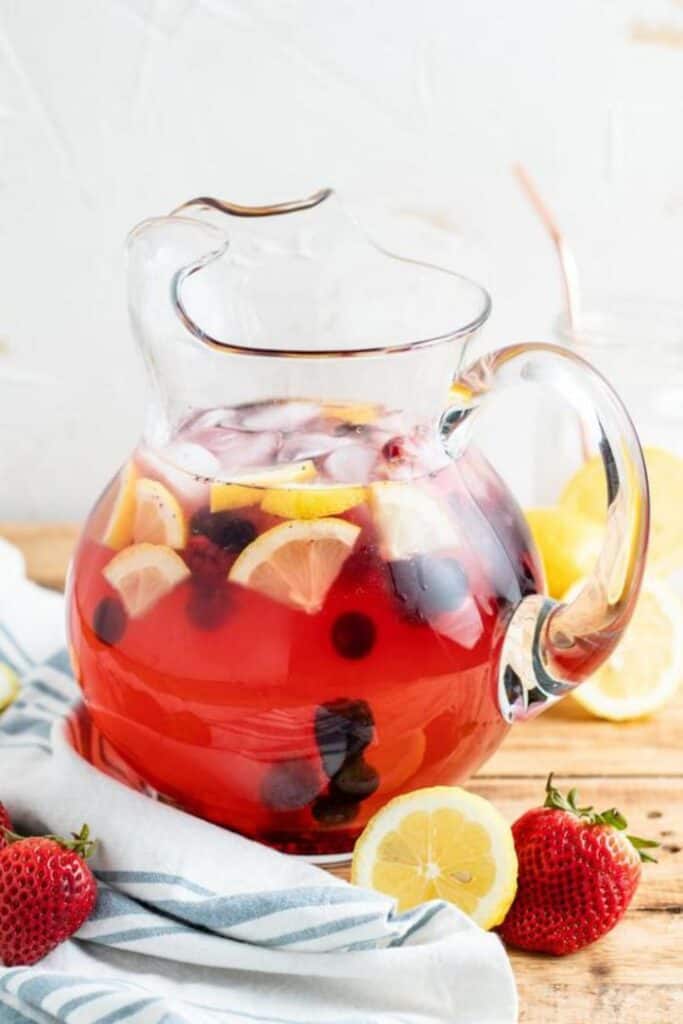 For a bright and fruity addition to your Memorial Day celebration, try this Spiked Berry Lemonade. Combining strawberry lemonade, strawberry Fruitscato, pink lemonade Smirnoff, and a medley of frozen berries and and fresh lemon slices, it's a delightful and colorful drink that will appeal to everyone.
To make this punch, add liquid ingredients in a large pitcher or punch bowl, then add a generous helping of frozen berries and lemon slices. Serve over ice with a lemon wheel garnish.
Pineapple Mint Mojito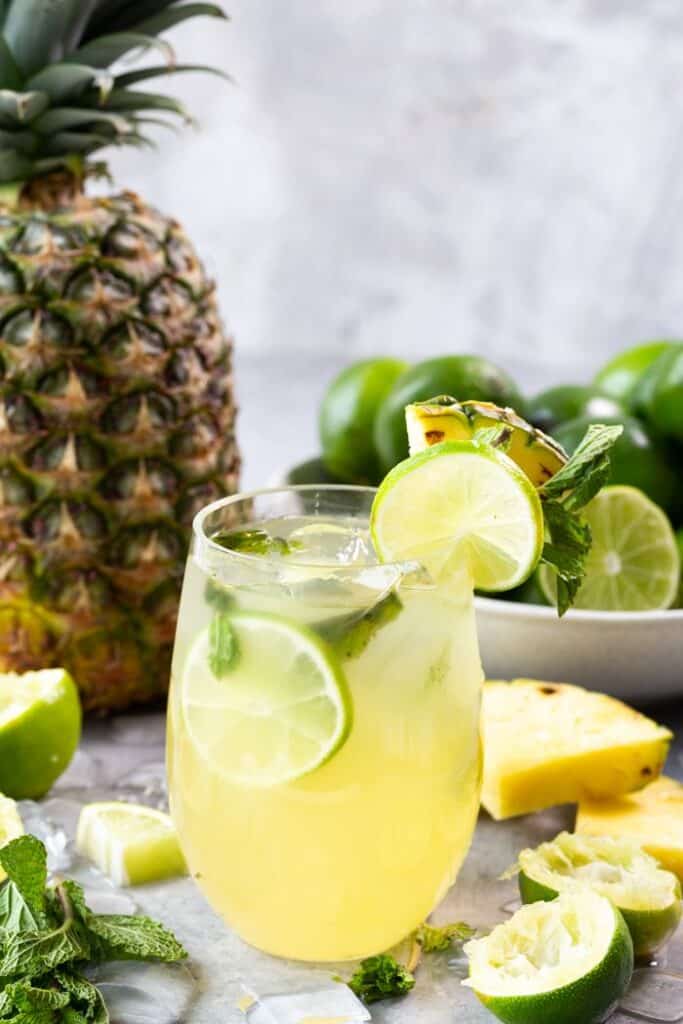 This refreshing and invigorating Pineapple Mint Mojito is the perfect blend of sweet and tangy flavors. Combining rum, pineapple juice, simple syrup, mint simple syrup, club soda and lime juice, it's a delightful twist on the classic mojito.
To create this mojito punch, muddle fresh mint leaves with lime juice and simple syrup in a punch bowl, then add the rum, mint simple syrup, and pineapple juice. Pour in the club soda, and give it a stir. Top with ice and garnish with pineapple wedges, lime slices, and additional mint leaves.
Strawberry Basil Gin Rickey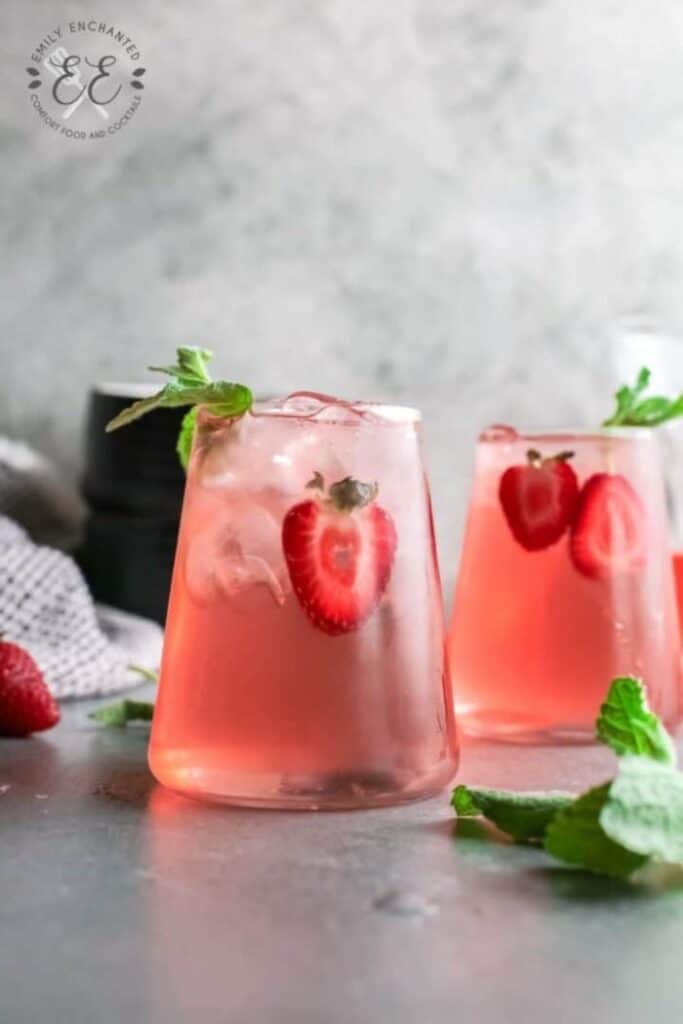 Offer your guests a unique and herbaceous flavor combination with this Strawberry Basil Gin Rickey. The mix of gin, strawberry basil simple syrup, club soda, and lemon juice creates a unique drink to refresh your taste buds on any hot summer day.
You'll need to at least triple this recipe to make a punch since the recipe only makes two cocktails. To prepare, add strawberry basil simple syrup, gin, and lemon juice to a large pitcher. Add ice and club soda, stir, and garnish with fresh basil, mint, strawberries, and lemon slices.
Cucumber Vodka Punch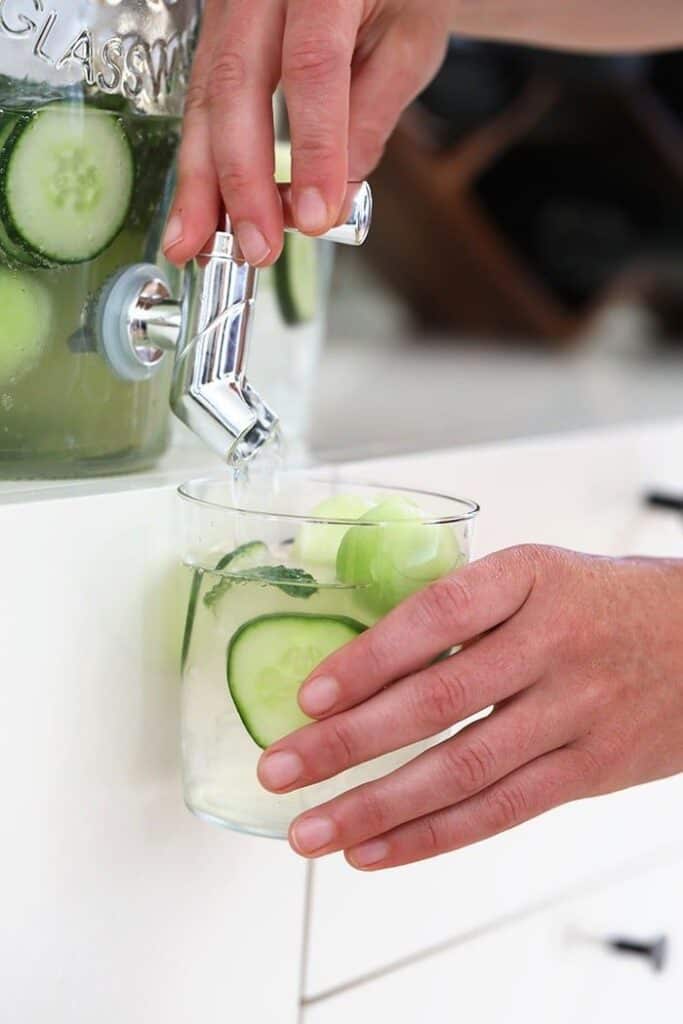 For a revitalizing and crisp drink, try this Cucumber Vodka Punch. The combination of vodka, ginger beer, club soda, honeydew melon, cucumber slices, and fresh mint makes for a rejuvenating drink to sip on.
To make this punch, first infuse the vodka with the honeydew, cucumber, and mint. Let the mixture chill for at least two hours, allowing the flavors to infuse. Top with ice, club soda, and ginger beer, then serve with a cucumber or melon garnish.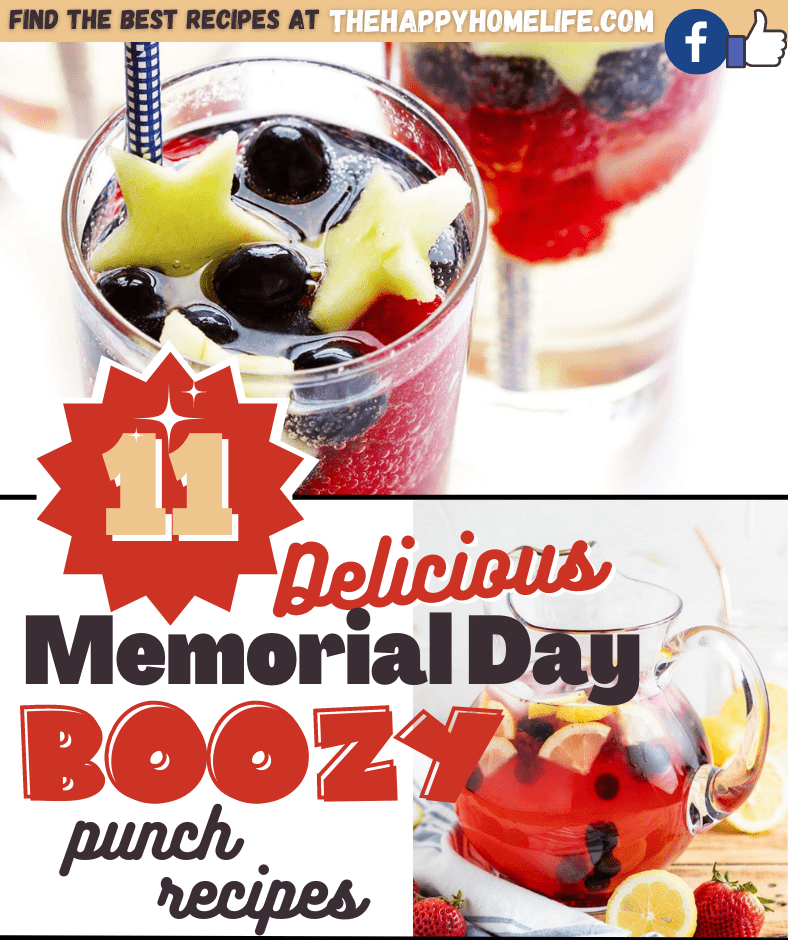 These delicious and refreshing alcoholic punch recipes are sure to take your Memorial Day celebrations to the next level, keeping guests refreshed all day long. As you honor the heroes who have served our nation, remember to raise a glass in their memory and enjoy the time spent with friends and family.
We encourage you to try these recipes or create your own unique concoctions to share with loved ones. And, as always, please celebrate responsibly.
Share your favorite Memorial Day punch recipes and photos from your gatherings with us—we'd love to see your creative and delicious creations!