Let's talk fall coffee recipes for a minute, shall we? As the crisp autumn air descends upon us, there's nothing quite like snuggling up with a warm cup of coffee. While pumpkin spice lattes may be the go-to this time of year, there are plenty of other delicious fall-inspired coffee recipes to try.
Whether you prefer something sweet and spicy or smooth and creamy, these recipes are sure to satisfy your seasonal cravings.
With just a few ingredients and a little bit of creativity, you can whip up cozy drinks that rival anything from your local coffee shop. From apple cider cinnamon latte to salted caramel mocha, we've got you covered with these irresistible fall coffee recipes.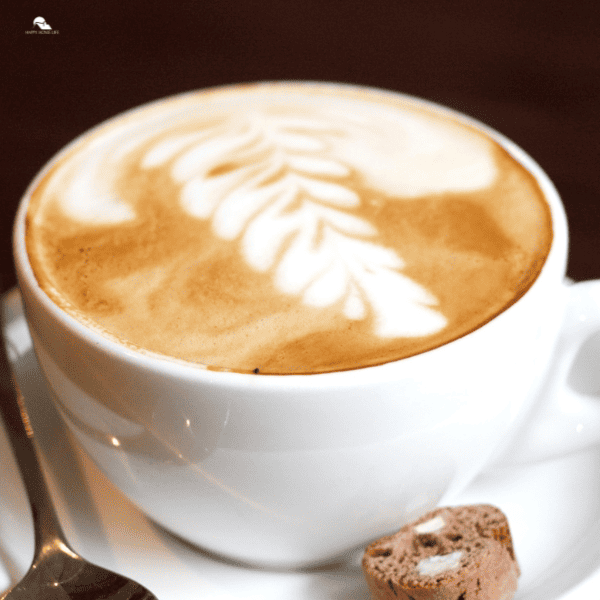 Here are a few of our favorites that you can easily make at home:
Pumpkin Spice Latte is the ultimate fall drink that has overtaken the world. This seasonal beverage combines espresso, steamed milk, and pumpkin pie spice syrup served with whipped cream on top. It's a perfect treat to indulge in when the weather gets colder.
You might enjoy these recipes:
The Maple Cinnamon Latte is a sweet and spicy latte made with espresso, milk, cinnamon, and maple syrup. It's a perfect drink for those who love their coffee with a twist! This latte has become increasingly popular over time, and it's easy to see why – it's rich in flavor and can be enjoyed hot or cold.
Are you a fan of s'mores and coffee? If so, you'll love the Campfire S'mores Latte! This delicious drink combines the flavors of toasted marshmallows, graham crackers, chocolate, and espresso for the ultimate cozy treat.
It is essentially a cold brew coffee infused with pumpkin and salted caramel flavors. The coffee beans are steeped in cold water for several hours, creating a smooth and less acidic taste than traditional hot brewed coffee. Then, the pumpkin and salted caramel flavors are added to give it a delicious twist.
Jack-O'-Lantern Latte is a type of flavored latte that is usually served during Halloween. It gets its name from the carved pumpkin designs known as jack-o'-lanterns, which are commonly associated with the holiday. The drink usually contains espresso, steamed milk, and pumpkin spice syrup. Some may also add whipped cream and cinnamon on top to make it even more festive.
Autumn Spice Cafe Latte is a popular coffee beverage that is enjoyed by many coffee lovers worldwide. It is a seasonal drink that is typically available during the autumn months, hence its name. This delicious latte is made with espresso shots, steamed milk, and a blend of autumn-inspired spices like cinnamon, nutmeg, and clove.
Pumpkin Pie Cold Brew is a refreshing and delicious coffee beverage that has become popular in recent years. This drink is perfect for those who love the taste of pumpkin spice but want something cooler than a hot latte. It's made by combining cold brew coffee with pumpkin pie flavors like cinnamon, nutmeg, and cloves.
Peppermint mocha is a delicious coffee drink that has become increasingly popular in recent years. It combines the flavors of rich, dark chocolate with refreshing peppermint for a delightful treat. This beverage is perfect for the holiday season and is enjoyed by coffee lovers all over the world.
A latte is a beloved coffee drink that combines espresso shots with steamed milk and froth on top. And if you add some gingerbread syrup to it, voila! You've got yourself a Gingerbread Latte. The syrup used in this drink contains all the warm and comforting flavors of gingerbread cookies – think molasses, cinnamon, nutmeg, and of course, ginger.
This tasty beverage is made by combining espresso shots with steamed milk and a blend of maple syrup and spices. The exact spice mix can vary depending on the recipe, but it usually includes warming flavors like cinnamon, nutmeg, cloves, and ginger. Some versions also add a touch of vanilla extract for extra sweetness.
Caramel Apple Cider Latte is a delicious fall-inspired drink that is perfect for anyone who loves the sweet and savory flavors of autumn. This beverage combines the rich taste of caramel with the tartness of fresh apple cider, all blended together with creamy latte goodness.
This delicious beverage combines the zing of ginger with the warmth of cinnamon in a creamy, cold drink that will wake up your taste buds.
Cold brew refers to the process of brewing coffee using cold water over an extended period of time, resulting in a smooth and less bitter taste. The pumpkin cream is made with real pumpkin puree and spices like cinnamon and nutmeg and mixed with sweet cream to create a creamy and flavorful topping.
Caramel apple coffee is a delicious autumnal beverage that combines the flavors of caramel, apple, and coffee. It's perfect for those chilly mornings when you need something warm and comforting to start your day. This flavorful drink can be made with just a few simple ingredients and is easy to customize to your taste preferences.
A Maple Vanilla Latte is an espresso-based drink that incorporates both maple syrup and vanilla flavoring. It is typically made with steamed milk, which gives it a creamy texture and makes it perfect for those who prefer sweeter drinks. The combination of maple syrup and vanilla creates a unique flavor profile that is both sweet and savory, making it an excellent option for anyone who loves complex flavors in their coffee.
Pumpkin Pie Brewed Coffee is a seasonal coffee drink that combines the flavors of pumpkin pie with creamy coffee. It's a popular fall beverage that many people look forward to enjoying during the cooler autumn months. This coffee drink is typically made by adding pumpkin spice flavoring to brewed coffee, along with milk or cream and sweetener.
The flavor profile of the Toasted Marshmallow Latte is unique and distinct from other coffee drinks. The deep, rich flavors of roasted coffee are balanced out by the sweetness of melted marshmallows. This creates a perfect balance between bitter and sweet notes that make for an incredibly satisfying cup of joe.
One of the reasons why this latte is so popular is because it combines three classic flavors that many people love: caramel, chocolate, and hazelnut. The sweetness from the caramel and chocolate blends perfectly with the nutty flavor of hazelnut to create a complex taste profile that will leave your taste buds dancing with delight.
Vanilla Latte is made by adding vanilla syrup to espresso and steamed milk. The smooth and creamy taste of this drink is perfect for those who love sweet coffee. It's a classic drink that can be enjoyed any time of the day.
Earl Grey Latte is an aromatic tea-based latte that's made with brewed Earl Grey tea leaves and steamed milk. This unique flavor combination gives it a slightly citrusy and floral taste that's perfect for tea lovers who want something different from regular black or green teas.
Lavender Latte is another aromatic latte that's made with lavender syrup, espresso, and steamed milk.
Maple Mocha is a hot beverage made by combining espresso or strong coffee with maple syrup and chocolate. The result is a warm, rich, and creamy coffee that has the perfect balance of sweetness and bitterness. This beverage has been gaining popularity in recent years, especially during the fall season when maple flavors are abundant.
Vanilla Chai Tea Latte is a popular beverage that combines the flavors of tea, spices, and milk. It's a creamy and sweet drink that's perfect for those who love to indulge in warm beverages during cold weather. The vanilla flavor adds an extra touch of sweetness to the already delicious chai tea.
The Biscotti latte is a popular coffee drink that combines the delicious taste of biscotti with smooth and creamy espresso. The drink originates from Italy, where biscotti (a type of crunchy cookie) is traditionally served alongside espresso as a light snack or after-dinner treat.
The Salted Caramel Mocha Latte has a rich, sweet flavor that can satisfy your cravings for something indulgent. The combination of chocolate and caramel creates a perfect balance between sweetness and bitterness. The addition of sea salt adds a unique salty taste that enhances the overall flavor profile.
The Pumpkin Spice Frappuccino is made with a blend of pumpkin puree, cinnamon, nutmeg, and cloves. The mixture is combined with milk, ice, and espresso to create a creamy and flavorful beverage that's perfect for autumn. The drink is topped with whipped cream and a dusting of pumpkin spice seasoning for an extra burst of flavor.
White Chocolate Pumpkin Spice Mocha is a delicious coffee beverage that has become increasingly popular in recent years. This drink is a perfect combination of rich white chocolate, warm pumpkin spice, and bold espresso. It's the perfect fall treat that will warm you up on chilly autumn days.
Fall brings a variety of seasonal flavors to coffee recipes that will keep you warm and cozy throughout the season. With just a few simple ingredients, you can create delicious drinks like a pumpkin spice latte, maple latte, apple cider coffee, or even a gingerbread latte. These recipes are perfect for enjoying at home or sharing with friends and family during gatherings. So why not try out some of these fall-inspired coffee recipes today and let us know which one is your favorite! Happy brewing!