With autumn in full swing, it's the perfect time to explore some delightful fall cupcake decorating ideas that are sure to impress your friends and family. Whether you're hosting a cozy gathering or simply want to indulge in some autumnal treats, these beginner-friendly decorating tips will have you creating stunning cupcakes that capture the essence of this colorful season.
From adorable pumpkin designs to warm and spicy flavors, get ready to elevate your baking skills and embrace the beauty of fall with these creative cupcake decorations.
You might enjoy these recipes: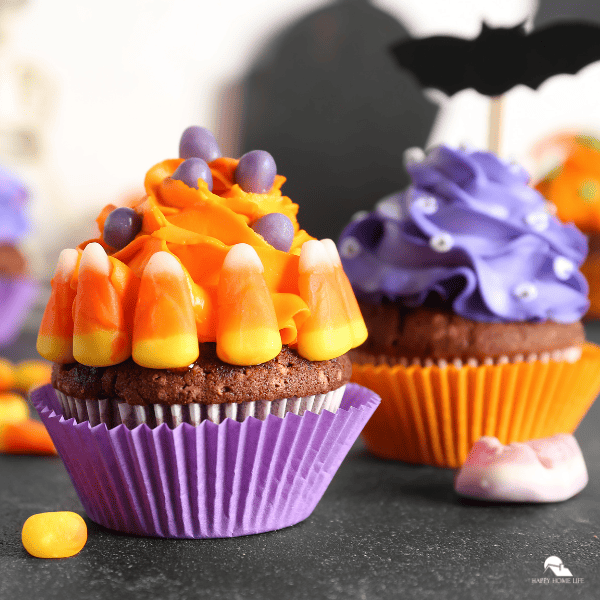 Why make cupcakes in the Fall Season?
The fall season brings with it an abundance of fresh produce like apples, pumpkins, and spices that perfectly complement cupcakes. Imagine sinking your teeth into a moist apple cinnamon cupcake topped with creamy vanilla frosting or indulging in a spiced pumpkin cupcake covered with spiced buttercream. The flavors alone can transport you to cozy evenings by the fire or crisp afternoons spent picking apples at an orchard.
Here's a list of must-try decorating ideas for your Fall cupcakes:
Harvest Apple
Are you ready to welcome the cozy and colorful season of fall? Look no further than the delightful harvest apple cupcake topper! This charming decoration is perfect for adding a touch of autumnal flair to your baked treats.
Pumpkin Patch
A pumpkin patch is the perfect solution to add some festive flair to your homemade cupcakes this fall! These adorable decorations are easy to make and will instantly transform any space into a cozy autumn oasis.
Buffalo Plaid
If you're looking to add a touch of rustic charm to your fall-themed cupcakes, then buffalo plaid cupcake toppers are a must-try! Whether you're hosting a get-together with friends or simply want to indulge in some seasonal baking, these cupcake toppers are sure to impress.
Acorns
Acorn cupcake toppers will instantly transform your ordinary treats into autumnal delights! With just a few simple steps, even beginners can create these cute and festive decorations for their cupcakes.
Candy Corn
So, what exactly is a candy corn cupcake topper? Well, picture a classic vanilla cupcake with creamy caramel frosting. But here's where it gets exciting – on top of that velvety icing sits a charming little candy corn made entirely out of caramel! These tiny confections are intricately crafted into the familiar orange, yellow, and white tri-color pattern that we all know and love. It's like having a bite-sized piece of traditional Halloween candy right on your cupcake!
Bright Mums
These adorable edible decorations are shaped like delicate chrysanthemum flowers, which are synonymous with fall and its vibrant colors. Chrysanthemums symbolize longevity, joy, and beauty in many cultures, making them an ideal addition to seasonal treats.
Jelly Bean Harvest Corn
The Jelly Bean Harvest Corn cupcake topper is made from vibrant and flavorful jelly beans that resemble the colors of corn kernels. With shades of yellow, orange, and brown, they bring a pop of festive color to any dessert. These delectable treats are easy to use – simply place them on top of your frosted cupcakes for an instant burst of fall flavor. The combination of the soft cupcake base, creamy frosting, and crunchy jelly bean topping creates a delightful texture that will have you coming back for more.
Pumpkin Spice Buttercream
The magic begins with a simple vanilla cupcake base, baked to perfection. But what makes this treat truly special is the luscious buttercream frosting that sits on top. The secret ingredient? Pumpkin spice! A delightful blend of cinnamon, nutmeg, ginger, and cloves adds an irresistible warmth and depth to the smooth buttercream texture. Each bite will transport you straight into cozy sweater weather.
Chocolate Leaves
These delightful decorations are not only easy to make, but they add a touch of elegance and autumn charm to any sweet treat. Whether you're hosting a Halloween party or simply craving something festive, chocolate leaves are the perfect way to transform ordinary cupcakes into a seasonal masterpiece.
Witch Cupcakes
Made from food-safe materials, these little witches come in a variety of designs and colors. From cute and whimsical to spooky and mysterious, there's a witch cupcake topper for every style preference. Plus, some versions feature glittery accents that will add an extra touch of sparkle to your cupcakes.
Spiced Vanilla-Brown Butter Frosting
Made with a rich and creamy vanilla-brown butter frosting, this delectable treat takes on a whole new level of deliciousness with the addition of warming spices like cinnamon, nutmeg, and cloves. The smooth texture of the frosting perfectly complements the light and fluffy cupcake underneath.
Spiderwebs
Are you ready to add a spooky twist to your fall cupcakes? Look no further than the spiderweb cupcake topper! This delightful decoration is perfect for Halloween parties or simply adding a touch of whimsy to your autumn treats. But what exactly is a spiderweb cupcake topper, and how can you create one yourself? Let's dive into this beginner-friendly guide.
Cookie Bats
If you're looking to add a festive touch to your fall baking, these cookie bats cupcake toppers are one of the best! These adorable decorations are perfect for Halloween parties or simply adding a spooky flair to your autumn treats. Cookie bats cupcake toppers are small bat-shaped cookies that can be placed atop cupcakes, instantly transforming them into a fun and unique treat.
Not only do these cookie bats look adorable, but they also add an extra layer of flavor and texture to your cupcakes.
Carrot Pineapple
The carrot pineapple cupcake topper is made with carrots and pineapple, giving it a moist and tender texture that pairs perfectly with the light and fluffy cupcake base. Its natural sweetness comes from the combination of these two ingredients, eliminating the need for excessive sugar in your recipe. Not only does this make it a healthier option compared to traditional cupcake toppings, but it also highlights the natural flavors of fall produce, making it an ideal choice for those who enjoy seasonal treats.
Peanut Butter and Chocolate
These delectable decorations combine the rich, creamy goodness of peanut butter with the decadent sweetness of chocolate in a convenient bite-sized form.
Edible Fall Flowers
Edible fall flowers cupcake toppers are made from various types of edible blooms that bloom during the autumn season. From vibrant marigolds and chrysanthemums to delicate pansies and violas, these flowers come in an array of colors and sizes, allowing you to customize your cupcake decorations according to your preferences. Not only do they bring visual appeal, but many of these blossoms also offer unique flavors that can enhance the taste of your cupcakes.
Orange Sour Cream Frosting
Are you ready to add a little autumnal flair to your cupcakes? Look no further than the delightful orange sour cream frosting cupcake topper! This vibrant and tangy treat is the perfect way to celebrate the arrival of fall.
Graveyard
A graveyard is a small, edible decoration that resembles a miniature cemetery scene. It typically consists of tombstones made from chocolate or fondant, eerie-looking trees crafted from black icing or cookie dough, and sometimes even tiny gummy worms peeking out from the "dirt." These toppers can be easily inserted into the top of your cupcakes, instantly transforming them into spooky masterpieces.
Chocolate Skeleton Cookie
A Chocolate skeleton cookie is one that you should try when you want a spooky twist to your fall baking! Made with delicious chocolate and decorated to resemble adorable skeletons, these cookie cupcake toppers will surely make you giggle in fear!
Mummy
A mummy cupcake topper is a small edible figure made from fondant or icing that resembles a wrapped-up mummy. It sits on top of your cupcakes, instantly transforming them into cute and creepy treats.
Smiling Scarecrow
The Smiling Scarecrow is a small decorative item that sits on top of your cupcakes, instantly transforming them into cute little scarecrows. Made from food-safe materials like fondant or edible clay, these tiny figures are handcrafted with great attention to detail. From the stitched smile on their faces to the button eyes and cornstalk arms, each scarecrow has its unique personality.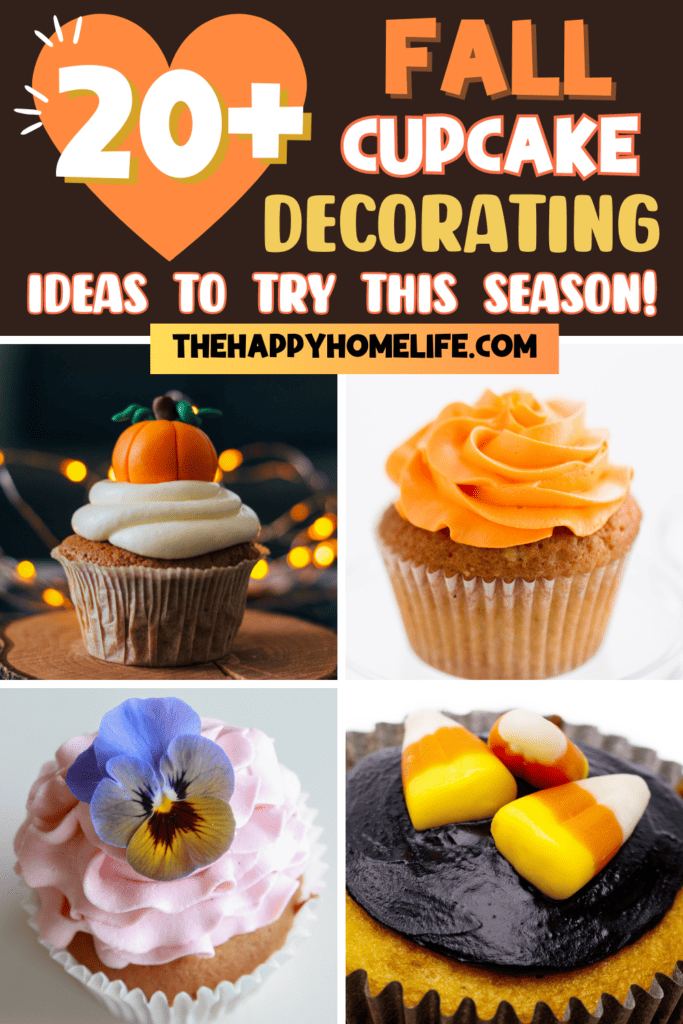 In conclusion, fall is the perfect time to get creative with cupcake decorating. Whether you choose to incorporate traditional autumn elements like leaves and pumpkins or experiment with bold flavors like caramel apple and cinnamon spice, there are endless possibilities for delicious and visually stunning cupcakes. With just a few simple tools and ingredients, anyone can create beautiful fall-themed treats that will impress friends and family. So why not embrace the cozy vibes of the season and try your hand at some fall cupcake decorating? Your taste buds will thank you!