Planning a cookout? These Memorial Day cupcake ideas are the sweetest way to mark the occasion. Who knew there were so many ways to make red, white, and blue cupcakes?
Memorial Day is a time to honor and remember the brave men and women who have given their lives in service to our country. While this solemn occasion invites reflection and gratitude, it's also an opportunity to come together with friends and family to cherish the freedoms they fought for. To help you honor the red, white, and blue in a sweet and meaningful way, we've curated a list of 13 Memorial Day Cupcake Ideas that strike the perfect balance between patriotic and tasteful.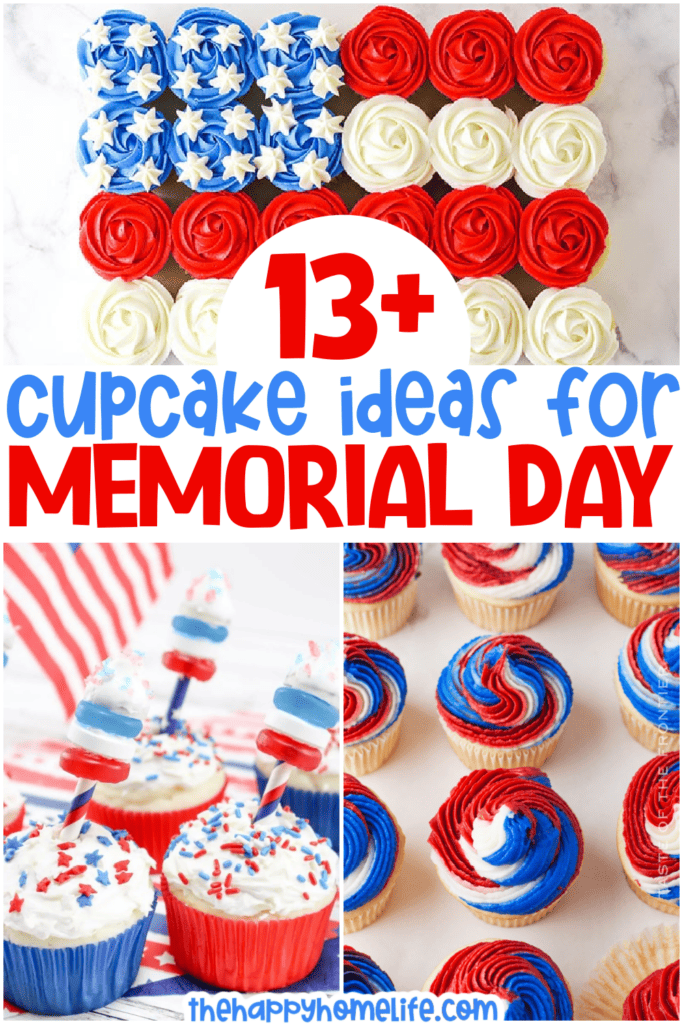 Gather around the table or grill, and enjoy these patriotic cupcake creations as we remember the sacrifices made for our freedom.
If you're planning a Memorial Day celebration, you'll also like our Gluten Free Memorial Day Desserts and Memorial Day Punch Recipes.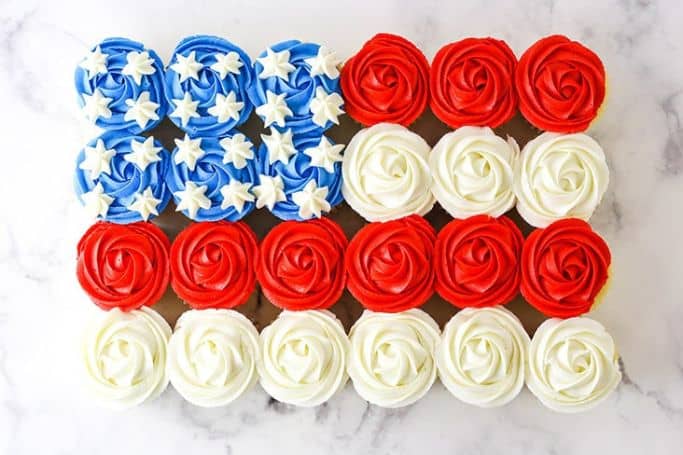 This creative dessert from Life Love and Sugar features individual cupcakes arranged to form an American flag. Top each cupcake with colorful frosting to create a visually stunning and dessert centerpiece for your table. This is the perfect "cake" for a large gathering because there's no need to worry about cutting and serving the cake — each guest can just take their own individual portion.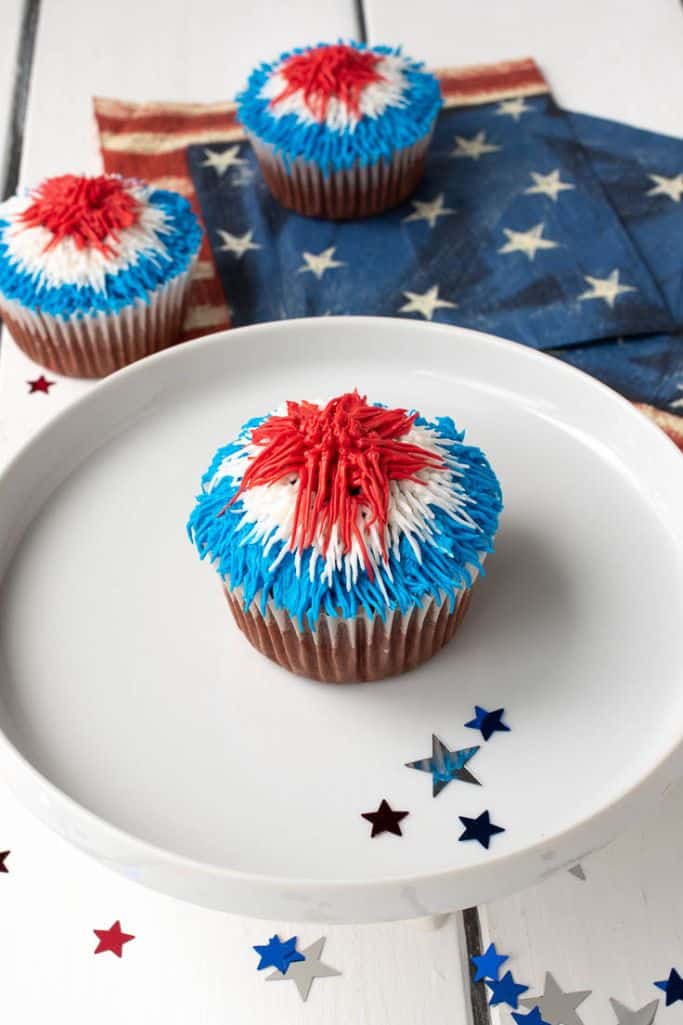 How incredible are these cupcakes with frosting that looks like fireworks? Culinary Ginger makes a dazzling impression with these cupcakes decorated with firework-inspired frosting designs. They're perfect for the 4th of July, too, when there will be actual fireworks, but they're also appropriate for Memorial Day. They almost look fuzzy, don't they?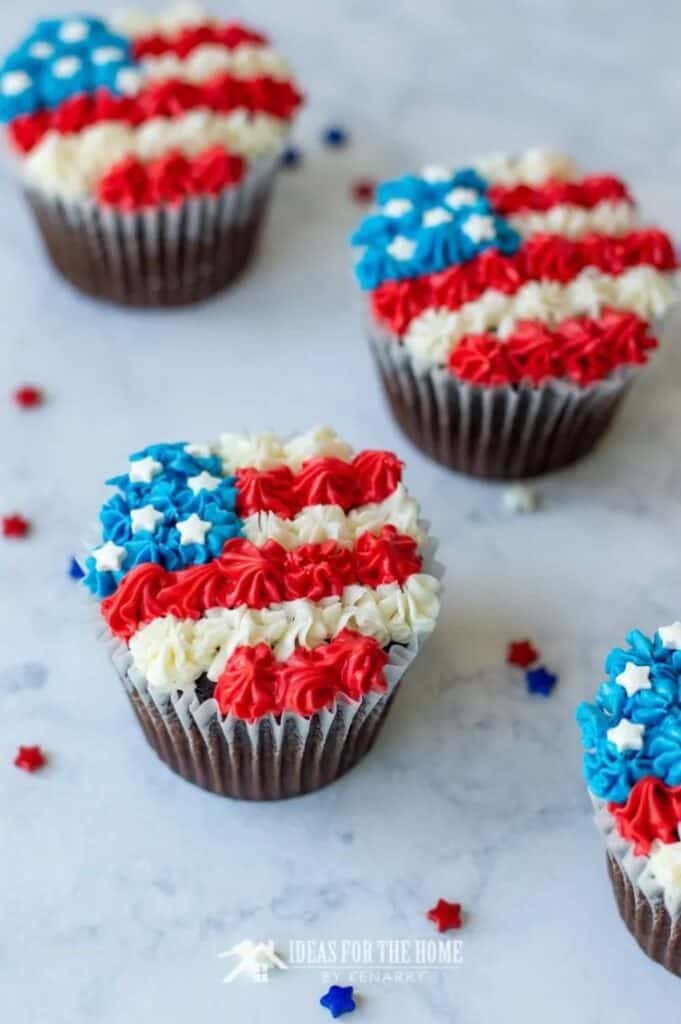 Bake classic chocolate cupcakes made with a cake mix and use red, white, and blue frosting and star sprinkles to create miniature American flags on top. This eye-catching design from Kenarry is super patriotic and would be amazing for a Memorial Day bake sale. You could also do this design with vanilla cupcakes or red velvet cupcakes instead.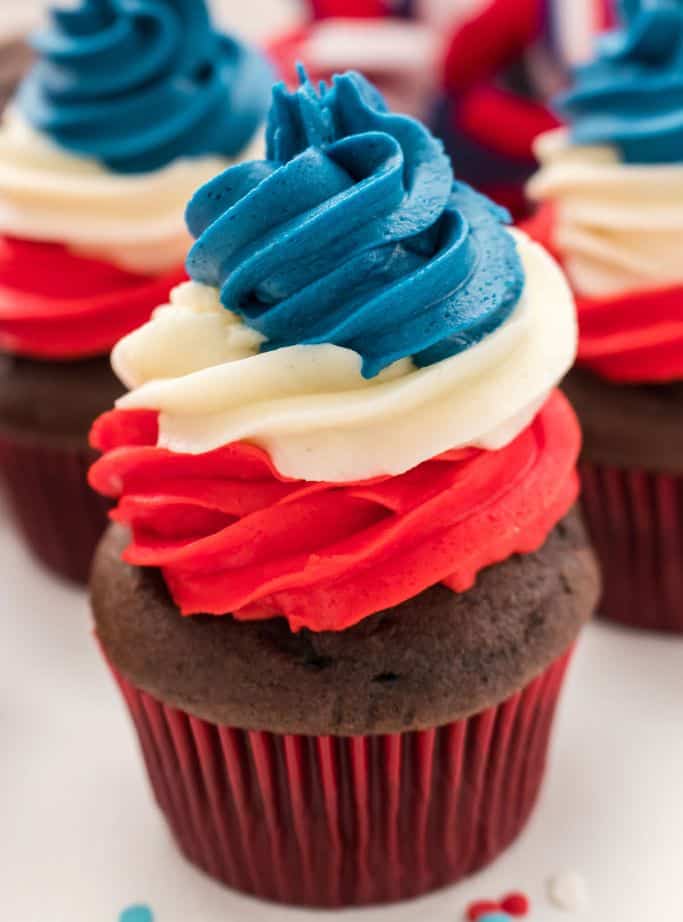 Whip up a batch of your favorite cupcakes (from a boxed mix or from scratch), and create swirls of red, white and blue to make these patriotic swirl cupcakes from Two Sisters Crafting. The key to this treat is the buttercream swirled high for a stunning dessert. Add some star sprinkles for an extra patriotic effect.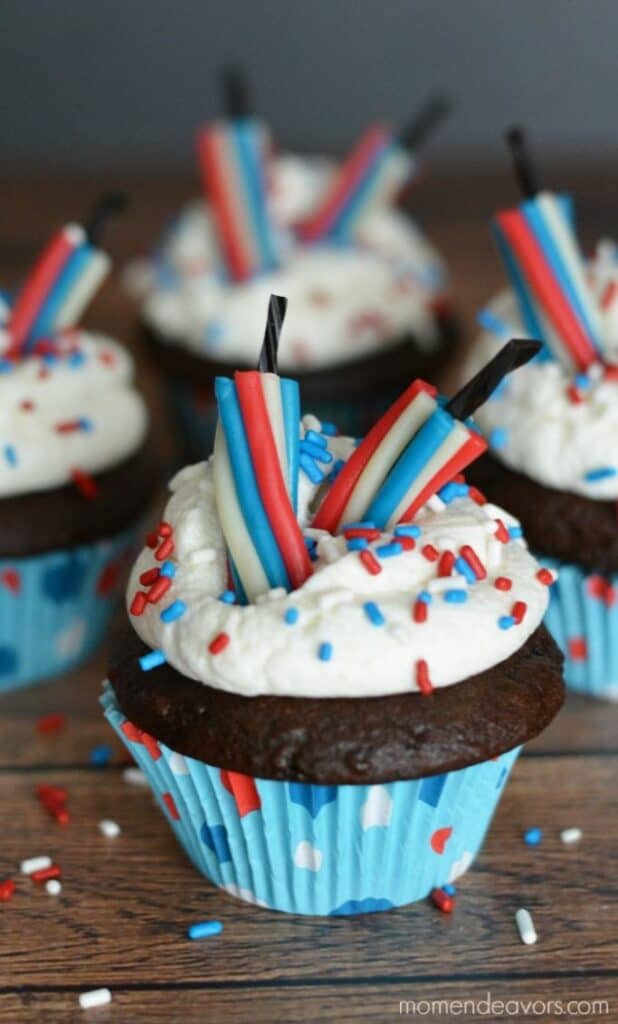 Mom Endeavors has the most fun patriotic cupcakes ever, complete with "fireworks" made out of Twizzlers. No part of the cupcake is made from scratch, so using boxed cake mix and canned frosting can be a great time saver. You could even order cupcakes topped with vanilla frosting from your local bakery and take them home to finish decorating with the sprinkles and Twizzlers.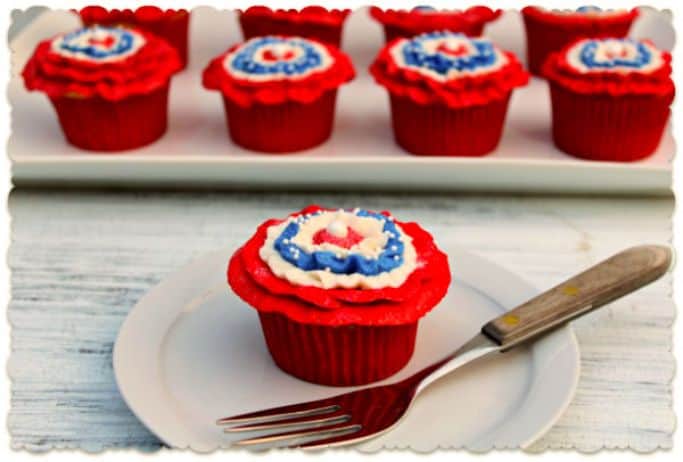 With elegant rosettes in patriotic hues, these cupcakes bring sophistication to any gathering. Choose your preferred cupcake flavor, and adorn each with beautiful rosettes for a timeless and delicious tribute. They look like those old-fashioned Americana banners and will be a real show-stopper on your table for Memorial Day. (From the Bear Foot Baker)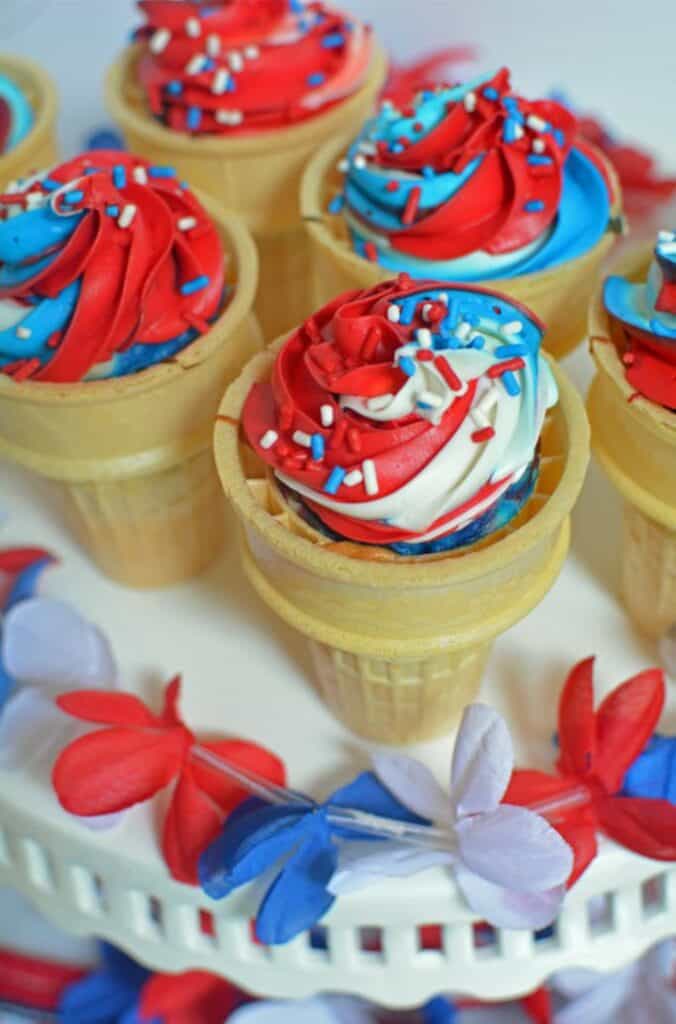 Combine the charm of cupcakes and with the fun and portability of ice cream cones with this unique recipe. Bake layers of red, white, and blue cake directly into ice cream cones, and finish with a swirl of frosting patriotic frosting on top. This is a GREAT way to keep kids' hands from getting messy with cupcakes. (via Mommy's Fabulous Finds)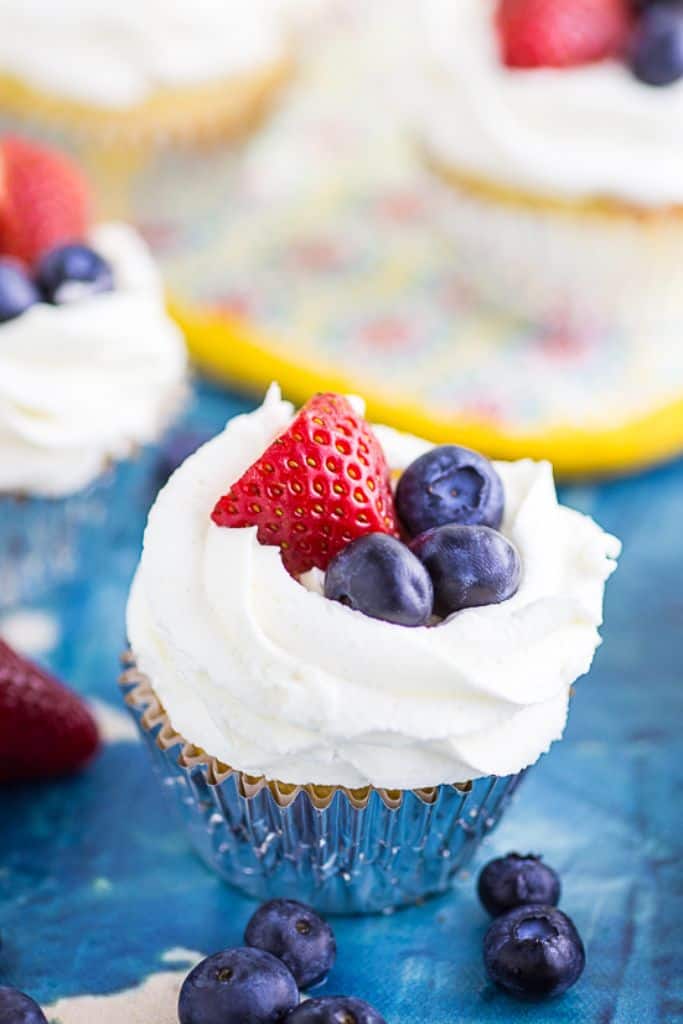 These light and airy cupcakes from The Gracious Wife are topped with a luscious cream cheese frosting and garnished with fresh berries. The combination of juicy strawberries, blueberries, and creamy frosting creates a refreshing and flavorful dessert. They're understated but delicious and are great for any patriotic holiday like Memorial Day, the 4th of July, and Veteran's Day.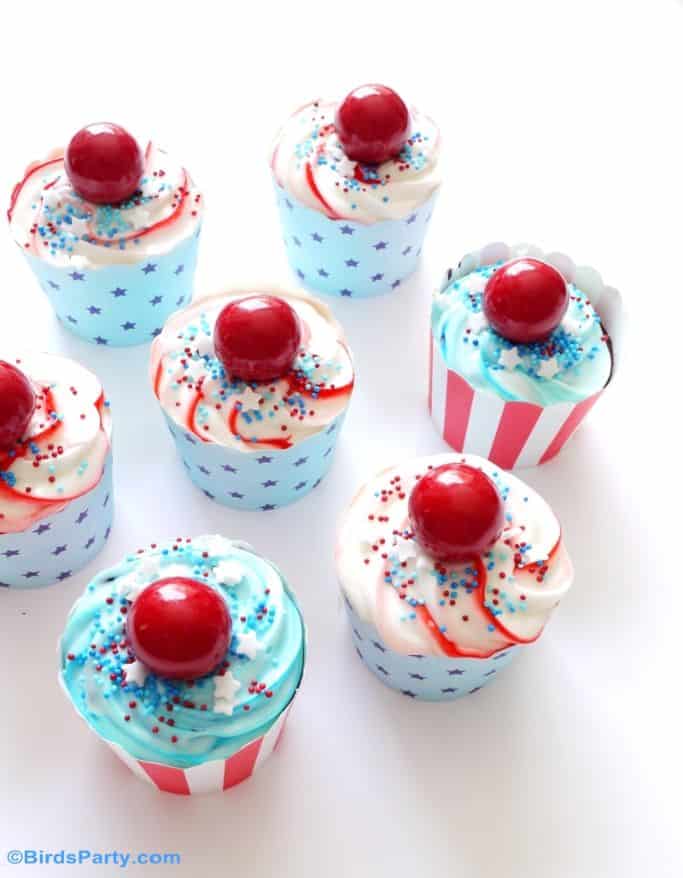 Indulge in the rich taste of chocolate cupcakes infused with Coca Cola, and add a captivating touch with stars and stripes swirl frosting. The combination creates a delectable and visually appealing treat for all to enjoy. Although the Coke flavor is subtle, you can taste it, and it makes the cupcakes really moist and fluffy, too. Get the recipe at Bird's Party.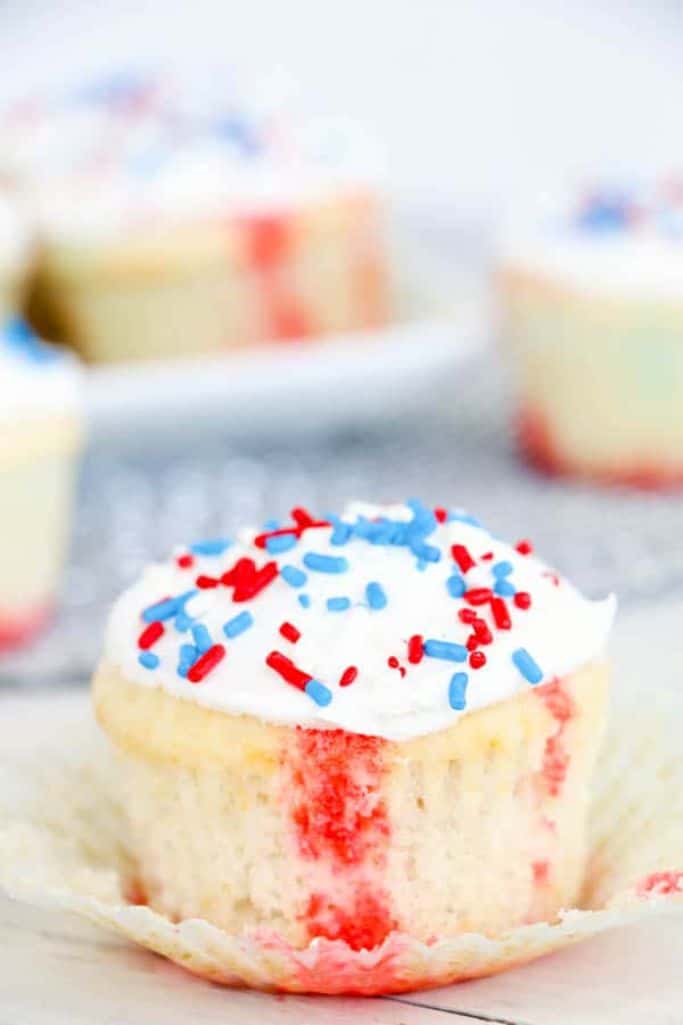 Kids and adults alike will love these Jello-infused cupcakes featuring red, white, and blue hues. The vibrant colors and unique texture create a delightful surprise in every bite. If you've never made a poke cake before, the process involves poking holes into the baked cake and then pouring a frosting, glaze, or in this case, Jell-O, over the cake so it seeps down into the holes. It's absolutely delicious!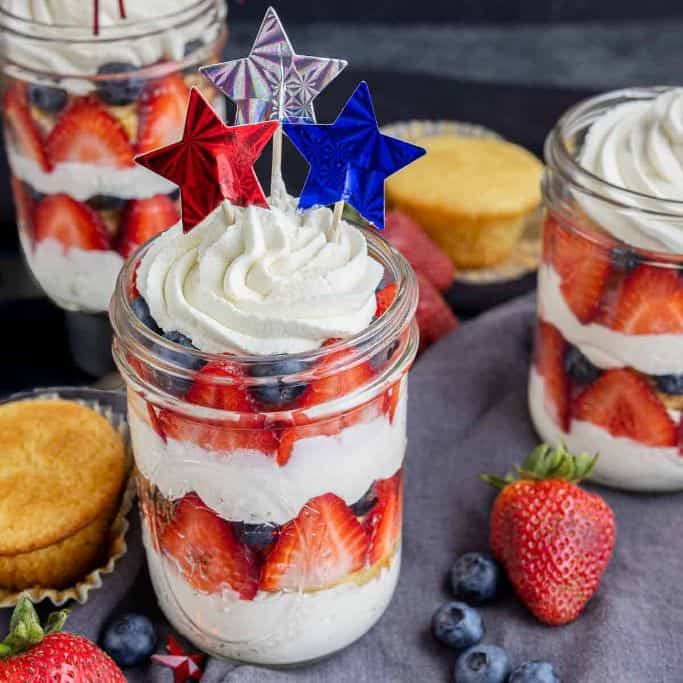 Layer delicious cake, berries, and whipped cream in small jars for an impressive and portable dessert. These gorgeous treats are perfect for picnics, outdoor gatherings, or as a fun twist on traditional cupcakes. If you'd like them to be more colorful, you can layer red velvet cake or colorful frosting in with the berries and whipped cream.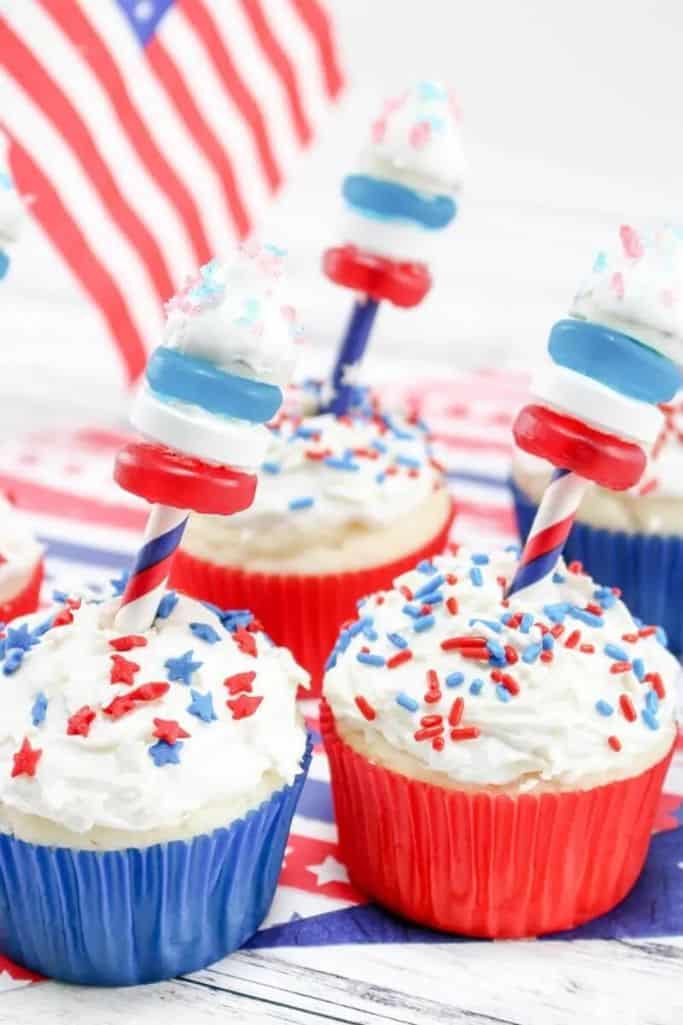 Here's another fun take on red, white, and blue firecracker cupcakes from Crayons and Cravings. This version uses Pop Rocks candy in one of the garnishes that go on the straw, so that'll be a fun surprise! The Lifesaver gummies and Pop Rocks-infused Hershey's kiss look like a rocket coming out of the cake.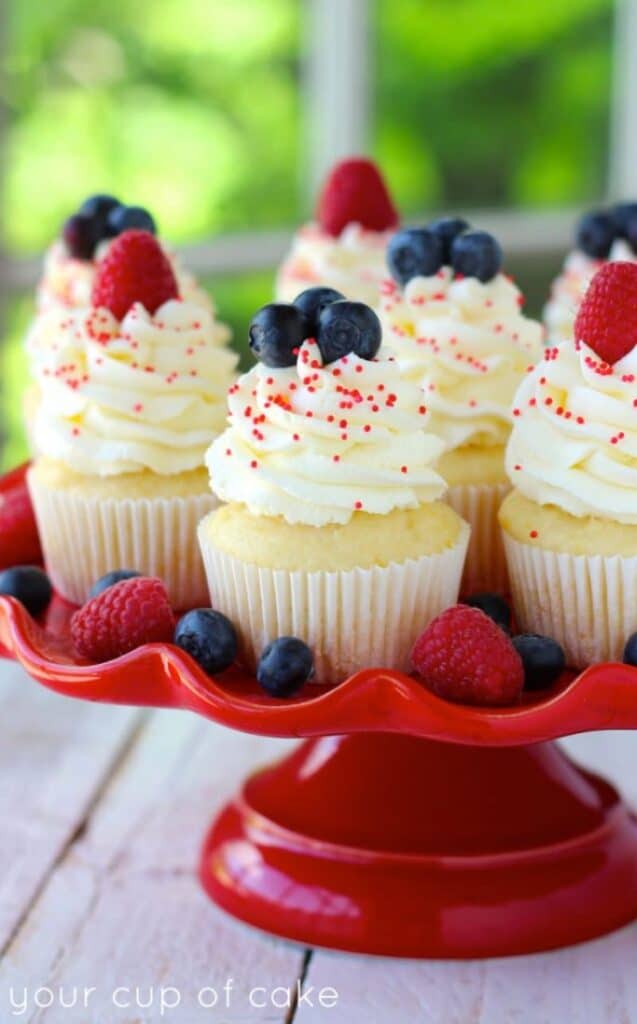 Enjoy the refreshing taste of lemon-infused cupcakes, complemented by a light and airy whipped cream frosting. This combination creates a perfect summer treat that will delight your taste buds, and the fresh berries add a pop of fruity sweetness and bright, patriotic color. A little bit of sprinkles doesn't hurt, either. (via Your Cup of Cake)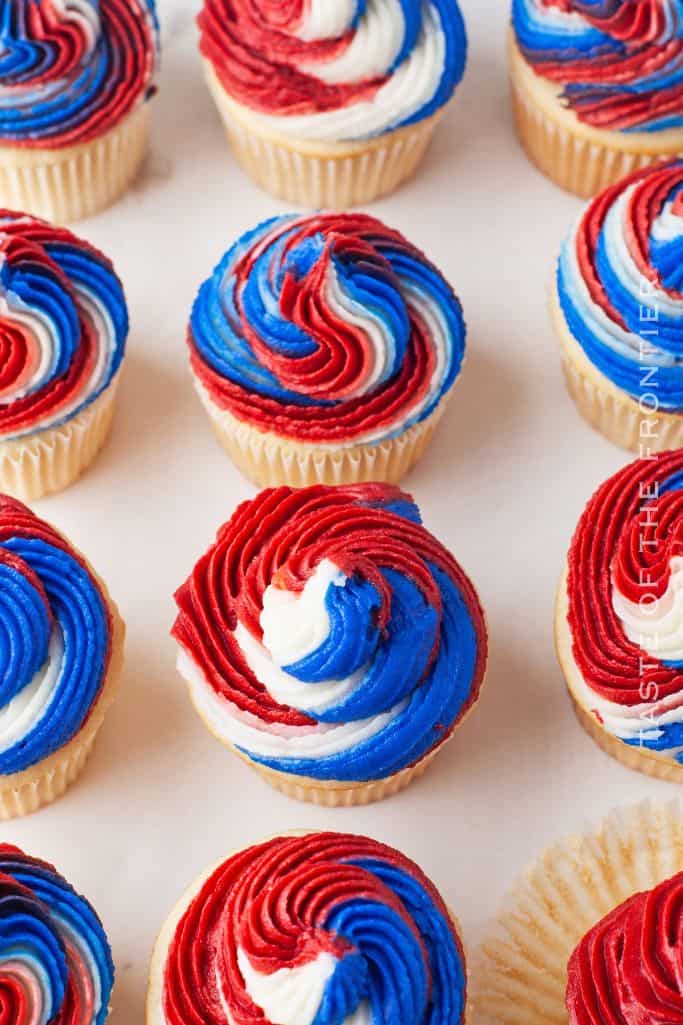 Treat yourself to decadent white chocolate cupcakes topped with a red, white, and blue white swirled buttercream frosting. These luxurious cupcakes made with white chocolate in the cake batter offer a sweet and indulgent way to enjoy dessert, while the colorful buttercream adds a patriotic touch. (via Kenarry)
As you prepare to celebrate this Memorial Day, we hope these patriotic cupcake ideas inspire you to create something special and delicious for your friends and family. Each recipe offers a unique way to incorporate the red, white, and blue, while showcasing a range of flavors and techniques to suit every taste. Don't forget to pin this post to come back to later!