Fall is my favorite time of the year, and if you want to create a cute fall cupcake this season, then you will love this Maple Leaf Autumn Cupcakes.
What I love about these Autumn cupcakes is that you can use a boxed cake mix to create the cupcakes or buy plain cupcakes at your local store. These cute fall cupcake creations are super simple to make and seriously will be the talk of your gathering.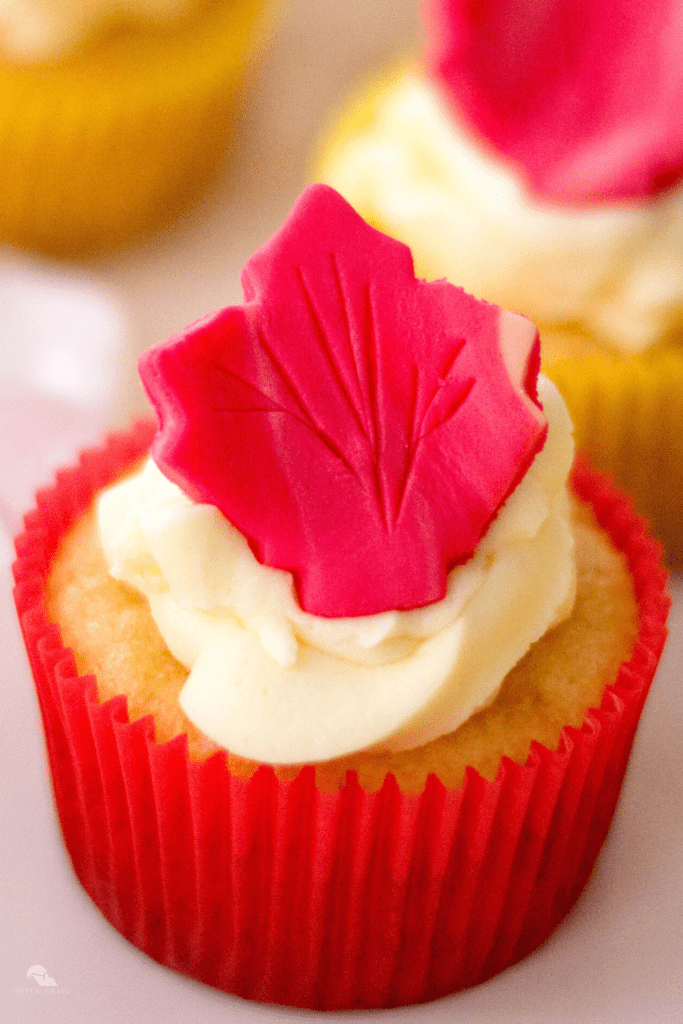 What is the secret to super moist cupcakes?
Canola or olive oil can be used in place of butter. Cupcakes made using oil will be more moister than those made with butter because of the oil's fat content.
Use one cup of butter for every 3/4 cup of oil if your original recipe calls for it. According to science, oil prevents the production of gluten.
Wheat contains a protein called gluten that holds baked goods together. Softer cupcakes will be produced if the bonds between them are weaker.
Why have cupcakes become so popular?
There are many reasons why cupcakes have become so popular. One reason is that they are a versatile dessert. They can be eaten as a snack or a dessert. Cupcakes can also be customized to match different occasions. For example, you can add different frostings and decorations to make them look like Christmas trees or hearts for Valentine's Day.
Another reason why cupcakes are popular is that they are easy to make. You just need a few simple ingredients and can bake them in a microwave or oven. This means that anyone can make them, regardless of their baking skills.
Finally, cupcakes are affordable; often, you can get a dozen for the price of one cake. This makes them a cost-effective option for large gatherings or parties.
What is special about cupcakes?
There are many things that make cupcakes special. For one, they are perfect for any occasion. Whether you're celebrating a birthday, anniversary, or just want a sweet treat, cupcakes are always a hit. They're also convenient because they can be eaten on the go.
Plus, they come in a variety of flavors and colors, so there's something for everyone. Lastly, cupcakes are relatively easy to make and can be customized to fit your needs. So if you're looking for a unique and delicious dessert, cupcakes are definitely the way to go!
Why do we eat cupcakes?
There are many reasons why people might eat cupcakes. One reason is that they are convenient and easy to eat. They also come in various flavors, making them appealing to many people. Cupcakes are also relatively small, so they can be a good snack option for people who are looking for something sweet but don't want to eat a lot of sugar.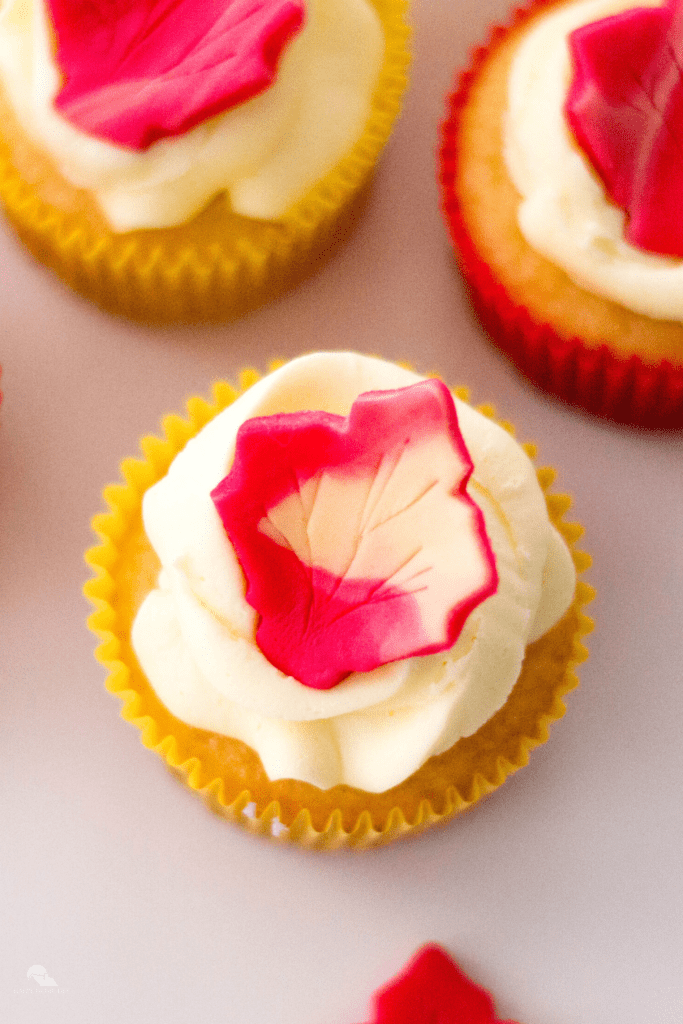 What do cupcakes symbolize?
Cupcakes can symbolize happiness, celebration, and love. They can also be used as a way to show appreciation or congratulations. Cupcakes are often given as a gift for special occasions such as birthdays, weddings, and anniversaries.
Accordingly, cupcakes stand in for the mythological pool where Narcissus perished after falling in. Cupcakes, which appear to be innocent little 'treats,' allow us to fantasize about who and what we want to be. However, cupcakes push us apart and exacerbate our sense of loneliness rather than bringing us closer to one another.
What is the most popular flavor of cupcake?
The most popular flavors are chocolate and vanilla. Even though chocolate and vanilla cupcakes only have two flavors, there are infinite ways to make them. A milk chocolate cupcake covered in creamy vanilla icing has a completely different flavor than a light vanilla cupcake with dark chocolate frosting.
What makes a cupcake Fluffy?
There are a few things that can help cupcakes to be fluffy. One is using baking powder or soda as a leavening agent; this will help the cupcakes to rise and become fluffy. Additionally, creaming the butter and sugar together well will help create air pockets in the batter, which will also lead to a fluffy texture. Finally, be sure not to overmix the batter; doing so can make it tough and dense rather than light and fluffy.
You might like these cupcake recipes:
How do you inject a filling into a cupcake?
There are many different ways to inject a filling into a cupcake. A few common methods are using a pastry bag, a Ziploc bag, or a squeeze bottle. The most important thing is to use a thick filling so that it doesn't run out of the cupcake when you bite into it. Before attempting to core and fill the cupcakes, make sure to let them cool completely.
Do you fill cupcakes before or after baking?
Cupcakes can be filled either before or after baking. Easy as pie, really! It's necessary to choose a filling that won't degrade or dissolve in the oven if you want to decorate your cupcakes before baking. The greatest choices are chocolates and fillings made of cream cheese.
Filling cupcakes before baking can be tricky, as you need to ensure that the filling doesn't spill over the cupcake's edges while in the oven. However, this method can result in a nice, smooth top on your cupcake if done correctly.
Filling cupcakes after baking is a bit simpler, but it can be difficult to get the filling all the way down into the center of the cake. Additionally, if you're using a wetter filling (like frosting or pudding), there is a higher risk of making your cupcake soggy.
What can I use to core a cupcake?
Regardless of the method you use, make sure to stop short of the bottom of the cupcake while coring the center.
Knife. Simply cut a 45-degree angle in your cupcake's center with your knife. From a cupcake, you will cut out a "cone."
Melon baller. Insert the baller, then remove the center by rotating the baller. Simply enter it once more to remove even more cupcakes if you want to go down further and remove more.
Large star pastry tip. Simply insert into the cupcakes using the end or the pointed edges. The center can be taken out by twisting and pulling. Just gently help remove the core with your fingertips if it doesn't come out straight.
Apple corer. Plunge the corer roughly halfway to three-quarters of the way, then lift it out.
What is fondant made from?
Sugar, water, and corn syrup are the ingredients of fondant. Sculpting fondant that is more structured typically also contains gelatin. Additionally, some bakers cover their cakes in marshmallow fondant, created by melting marshmallows, powdered sugar, and water.
Why is fondant not good?
When it comes to cake decorating, fondant is often the chosen medium. But is it really the best option? Here are four reasons why fondant is not good for cakes:
Fondant is not very flavorful.
It can be dry and crumbly.
It's difficult to work with.
It can be expensive.
Is fondant good to eat?
Well, that really depends on your taste preferences. You'll probably enjoy fondant if you're into very sweet things. However, if you're not a fan of overly sugary foods, then you're probably better off avoiding them. Fondant has a distinctive flavor that some people love and can't stand.
A completely edible icing fondant is prepared with just edible components. Although fondant is edible, people occasionally remove it from cakes before eating it because they dislike the flavor or texture of fondant.
Is fondant the same as icing?
There is a lot of confusion surrounding the terms "fondant" and "icing." Many people assume that they are one and the same, but this is not always the case. Icing is a type of frosting that is typically made from powdered sugar, butter, milk, or cream. It is often used to top cakes and cupcakes. Fondant, on the other hand, is a thick, malleable icing that is often used to create decorative designs on cakes. It can be flavored with various extracts or colors can be added to it to create different hues.
How to Make Maple Leaf Autumn Cupcakes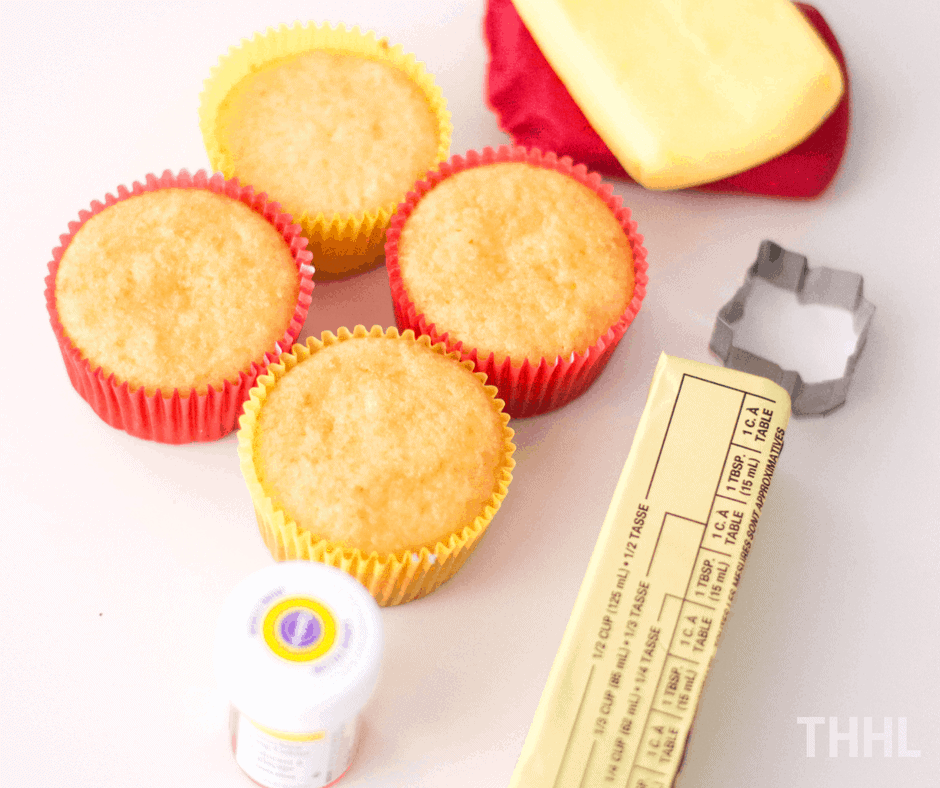 To make these Maple Leaf Autumn Cupcakes, you are going to need the following ingredients:
One dozen vanilla cupcakes
yellow fondant
red fondant
Cornstarch for rolling
unsalted butter
confectioners' sugar
milk
Yellow gel food coloring
Now that we have gathered our ingredients let's make this autumn cupcake.
Let's begin!
How to make maple leaf fall cupcakes
Step 1 – Before we begin, all cupcakes must be cool before decorating.
Step 2 – Get a baking sheet and insert wax paper.
Step 3 – Fold fondant colors with one another to create a "marble" look.
Step 4 – Dust cornstarch lightly on your working surface.
Step 5 – Roll your marbled fondant until it is about 1/4 inch thick.
Step 6 – Use your cookie cutter and cut out maple leaf shapes ( I make extra just in case).
Step 7 – Place the fondant leaves on your lined baking sheet.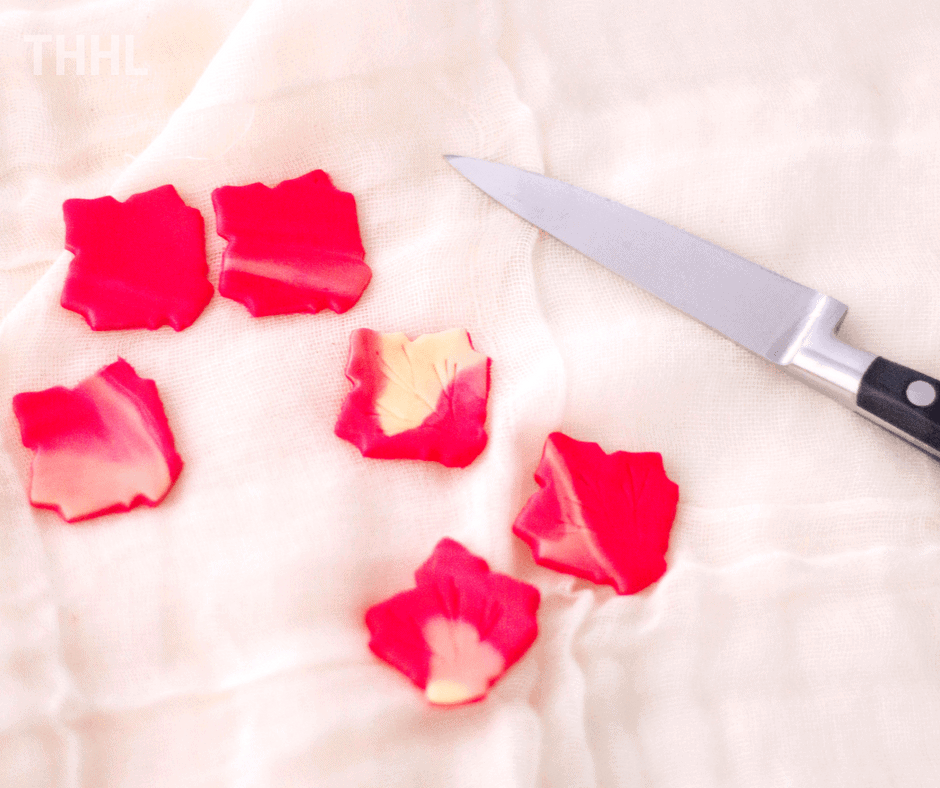 Step 8 – Use a paring knife and score lines on random areas of each leaf to give some texture.
Step 9 – Fold each leaf slightly to give it a more realistic look.
Step 10 – Use an electric mixer and mix the butter, sugar, and milk on slow speed.
Step 11 – Gradually increase the mixer to high.
Step 12 – Add the yellow food coloring until all the ingredients are smooth and form semi-stiff peaks.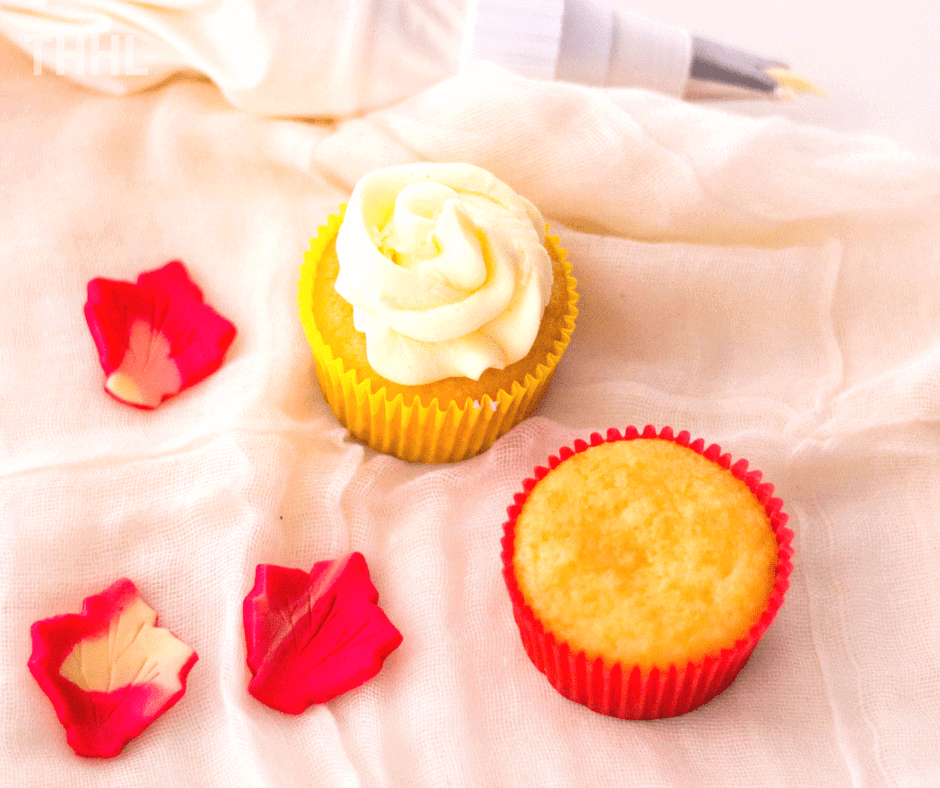 Step 13 – Using piping back, frost each cupcake.
Step 14 – Top each cupcake with a maple leaf fondant.

Now your Maple Leaf Autumn Cupcakes are ready!
You are ready to print this Maple Leaf Fall Cupcake recipe.
Yield: 12 Cupcakes
Maple Leaf Autumn Cupcakes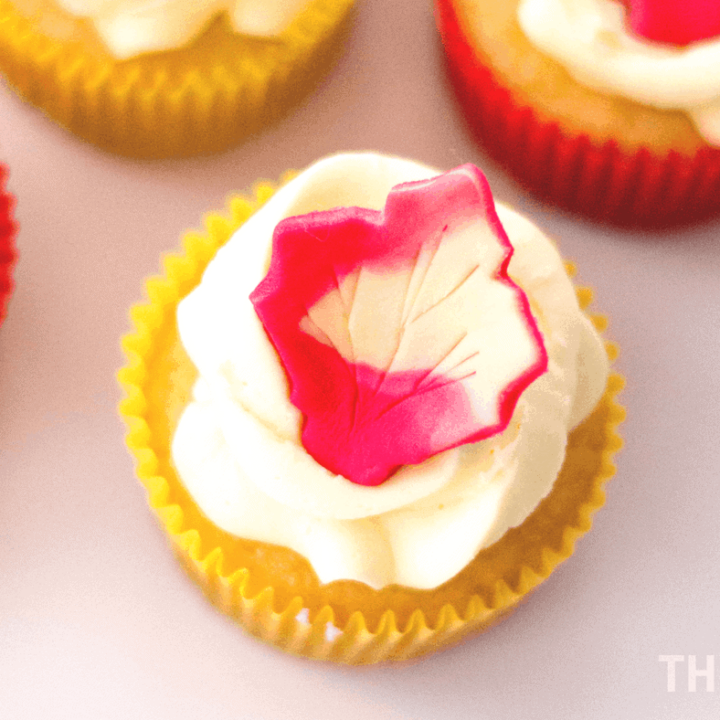 Fall is definitely in the air, and that means one thing… Thanksgiving is just around the corner! So as we all start to plan our menus, why not add a fun and festive dessert to the mix – maple leaf cupcakes? These adorable treats are easy to make and sure to impress your guests. Follow these simple steps, and you'll be able to whip them up in no time.
Total Time
1 hour
5 minutes
Ingredients
One dozen vanilla cupcakes
3 oz. yellow fondant
3 oz. red fondant
Cornstarch for rolling
Maple-leaf cookie cutter
1 stick unsalted butter, softened
2 cups confectioners' sugar
3-4 tbsp milk
Yellow gel food coloring
Instructions
Ensure that your cupcakes are completely cool before decorating. Line a baking sheet with wax paper and fold both fondant colors with one another, creating a "marbled" look
Lightly dust a clean working surface with cornstarch and roll out your marbled fondant, until it is about ¼ of an inch thick. Using your cookie cutter, cut out 12 maple leaf shapes.
Place each shape on your lined baking sheet. Using a paring knife, score lines on random areas of each leaf, to give them some texture. Fold each leaf slightly.
Using an electric mixture, beat butter, sugar and milk on slow speed. Gradually increase to high and add yellow gel food coloring. The buttercream is ready once the ingredients are smooth and form semi-stiff peaks.
Using a piping bag, frost each cupcake and top with a maple leaf fondant piece.
Nutrition Information:
Yield:
12
Serving Size:
1
Amount Per Serving:
Calories:

546
Total Fat:

22g
Saturated Fat:

7g
Trans Fat:

0g
Unsaturated Fat:

13g
Cholesterol:

78mg
Sodium:

221mg
Carbohydrates:

86g
Fiber:

0g
Sugar:

63g
Protein:

3g
Your turn: What are your thoughts and ideas about these Maple Leaf Autumn Cupcakes? Could you share it with us?
Love these fall cupcakes? Check out these fall cupcake recipes: